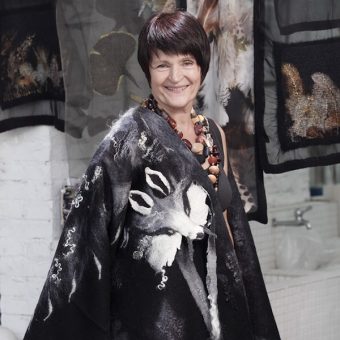 Igora Lucyna Opala
I have been recognised as a pioneering felt designer and fabric artist. I represent the Barossa Regional Gallery as an associate member of the World Craft Council-Asia Pacific Region My diverse portfolio of creative work has been recognised not only in Australia but also throughout USA, Europe, Central Asia and China. I am highly regarded as an inspirational teacher, workshop facilitator, collaborator and award-winning artist. Inspired by my connection to nature and human spirit, I mastered the art of sharing stories and dreams through the fabric medium.
The stories I tell in my works are collected from all over the world. I have been fortunate enough to have travelled extensively and the places, people and experiences I have encountered, are visible throughout my collections. These are 'yarns' spun in wool, transformed into tangible platforms to covey anecdotes, memories and legends, using millions of interwoven fibers to not only convey a picture but an entire story.
When anybody looks at my work, there is no doubt that they will see a strong current of my love of our natural environment. Like a rip tide, it pulls in the observer and takes them on a discoverable journey.
The process of storytelling is for me, neither deliberate nor planned. As such, I do not look at a bird or a blossom or memory and try to recreate it in my work; it is more of a poetic reminiscence, a vivid memory that is recorded, processed and accessed when the time is right. I do not actively plan a piece, it is never drawn as a design or forced into being. Besides the conscious awareness of the technical skills in felting, I view my creation of felting in the same way as the materialisation of a dream. Difficult to define and to pinpoint its origin, both the design process and fulfillment of a dream are dynamic but easily fleeting and require a concentrated, consolidated energy to fulfill into a tangible outcome.