Hear from some of the leading cultural minds of our time in Perspectives, an initiative developed by The Bob Hawke Prime Ministerial Centre, ACE Open and Guildhouse.
Proudly presented by ACE Open, Guildhouse and The Bob Hawke Prime Ministerial Centre, Perspectives; shaping the world through visual culture will bring leading international artists, makers and thinkers to Adelaide for an annual series of thought-provoking lectures.
Challenging, innovative and forward thinking, Perspectives presents an opportunity to learn and engage with the ideas and discourses shaping our world. Connecting our creative community with national and international networks, this series will inspire and ignite fresh dialogues and approaches to learning about contemporary life through visual culture.
2019, the inaugural year of the program saw acclaimed photographer Hoda Afshar (VIC) present Unmaking Images – Image Making and Representation, Adrian Franklin (TAS) present Anti-museums and the continuing crisis of art exhibition and New Zealand based artist and curator Ema Tavola present Is The Gallery Enough? More information and documentation on each presentation can be found on the event pages below.
In 2020 we welcome four incredible inter/national speakers to the program. The free lecture series will feature New York-based artist Jes Fan speculating on the fraught intersection between biology and identity (March 16); National Gallery of Victoria's recently-appointed Curator of Indigenous Art, Hannah Presley (date tbc); Arts/Fashion writer, curator Alison Kubler (3 September) and Sydney multidisciplinary artist David Capra on contemporary art's intersections with joy, humour, health and well-being (12 November).
 Perspectives is developed in partnership with the Hawke Centre, University of South Australia. The program is part of ACE Open and Guildhouse's wider strategy to foster diverse, critically rigorous professional development opportunities for the South Australian community.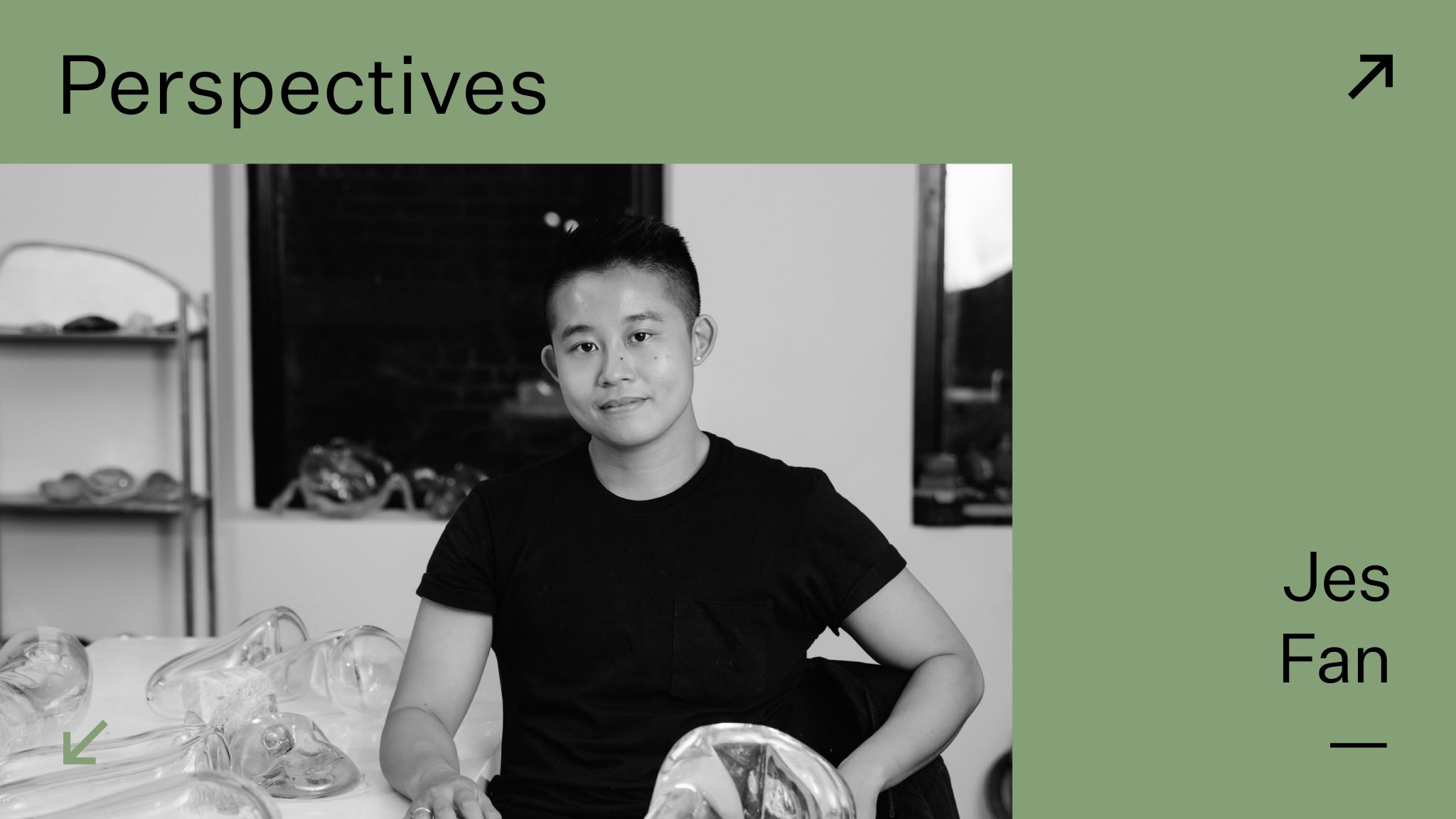 Image: Jes Fan, Photograph: Han Minu
Monday 16 March 2020, 6 – 7.15 pm

Pricing: Free entry

Location: Allan Scott Auditorium, Hawke Building, 55 North Terrace, Adelaide
Presenter: Jes Fan
We advise that Jes Fan's Perspectives lecture at 6pm tonight has been cancelled in light of the current climate. The Perspectives program is presented by the University of South Australia's Bob Hawke Prime Ministerial Centre, Guildhouse and ACE Open.  The Hawke Centre has made the decision to postpone all public events for the coming months in keeping with the latest advice from the Australian Government and Australia's Chief Medical Officers. 
 The safety of our attendees, speakers and staff is our chief priority, and we appreciate your understanding and patience in this challenging time. 
 If you registered any friend or guests for this event, please update them accordingly.
 We hope to be able to provide a videocast of Jes' lecture in the near future and we will be sure to let you know if this comes to fruition.
Jes Fan
Leakages, Puddles, Discharge, Infections and Bubbles …

The first talk of the program will be led by New York-based artist Jes Fan, with his lecture titled Leakages, Puddles, Discharge, Infections and Bubbles… Jes Fan's trans-disciplinary practice emerges from a sustained inquiry into the concept of otherness. Primarily working in the field of expanded sculpture, Fan navigates the slippery complexities of identity as guided by the tactile and material histories of his chosen media. In Fan's work, he incorporates materials imbued with erotic and queer signifiers, such as silicone, soap and glass, as well as biological substances such as estrogen, testosterone and melanin.
For Leakages, Puddles, Discharge, Infections and Bubbles… Jes Fan will discuss his body of work developed over the past few years and, in particular, his participation in NIRIN, the 22nd Biennale of Sydney (2020).
JES FAN is a Brooklyn-based artist born in Canada and raised in Hong Kong, China. He is the recipient of various fellowships such as the Joan Mitchell Painters and Sculptors Grant, Jerome Hill Artist Fellowship, Van Lier Fellowship at Museum of Arts and Design and John A. Chironna Memorial Award at RISD.
Fan has exhibited internationally; selected exhibitions include Kiss My Genders at Hayward Gallery (London/UK), Mother is a Woman at Empty Gallery (Hong Kong), An Opera for Animals at Rockbund Museum (Shanghai/CN), In Search of Miss Ruthless, Para Site, (Hong Kong), Paradox: Haptic Body in the Age of AI at Carnegie Mellon University (Pittsburgh/US), and Disposed to Add at Vox Populi Gallery (Philadelphia/US) Fan's work has been featured and reviewed by Artforum, Hyperallergic, Art21, AsiaArtPacific, BOMB, Frieze, and others. In 2020, Fan will be participating in the Biennale of Sydney and the Liverpool Biennale.
Photographs and/or video may be taken at this event.
By taking part in this event you grant the event organisers full rights to use the images resulting from the photography/video filming, and any reproductions or adaptations of the images for fundraising, publicity or other purposes to help achieve the group's aims. This might include (but is not limited to), the right to use them in their printed and online publicity, social media, press releases and funding applications.
If you do not wish to be photographed please inform the photographer or a Guildhouse staff member.

Image: Jes Fan, Photograph: Han Minu Monday 16 March 2020, 6 – 7.15 pm Pricing: Free entry Location: Allan Scott Auditorium, Hawke Building, 55 North Terrace, Adelaide Presenter: Jes Fan We advise that Jes Fan's Perspectives lecture at 6 pm...