Gus Clutterbuck, Mirima Lotus, 2018, Jingdezhen Porcelain tile, cobalt & underglaze decoration, decal, glaze framed, 120 x 80 m. Photograph Josef Muller.
As a creative professional there are many investments required on the path to a sustainable career. This is why Guildhouse offers the IF Loan – a commercial interest free loan service designed to support the realisation of creative outcomes.
IF Loan is available to practitioners working in any artform and at all career stages. The loan can be used almost any creative endeavour from design and production, to exhibition costs, equipment or materials purchase, research development, marketing and promotion costs through to grant top-ups or gap funding.
Guildhouse is not currently accepting applications for IF loans.
We understand that 
COVID-19 has had a devastating impact on artists; if you are experiencing financial difficulties or hardship we encourage you to view the resources on our 

Community Resource Hub.
To date Guildhouse has supported over 45 different creative outcomes with our IF Loan service, totalling in excess of $190,000 in funds loaned out since the service's conception.
Access to the IF Loan has made it possible for our members to realise creative outcomes that would have otherwise been difficult to achieve, creating opportunities for career development in a variety of ways.
Loan Amount
$1,000 – $5,000.
Bank Fees
A one off setup fee, equivalent to 10% of the loan (minimum $100) is included in the repayment schedule.
The Guildhouse Interest Free Loan Service has delivered over 45 loans valued at over $190,000 since its inception. Some of the creative practitioners currently utilising the IF Loan include curators, ceramicists, composers, textile artists, print makers, jewellers, glass artists, illustrators and shoe makers.
Flexible repayments will be set up to suit each specific project cash flow and budget of the borrower. Terms will be negotiated with individual applicants. You can nominate how you would like to repay the loan, e.g. weekly payments (from a regular job), as larger monthly payments, as a one-off lump sum, or anything in between.
Steven Bellosguardo, Donkaay, 2017 Steel, Automotive Paint 270 x 460 x 200cm. Photograph Steve Rendoulis
Applicants Need:
To be a current financial member of Guildhouse (Accredited, Allied or Associate Membership).
Be 18 years or older.
Be a permanent resident of Australia.
Have an Australian Business Number (ABN).
When Applying:
You need to describe your practice.
Outline your experience in your sector.
Provide supporting evidence of your work.
Provide 2 or 3 referees from your sector.
Outline what the loan is for.
Outline how it will benefit your practice.
Outline how the loan would be repaid.
Successful Applicants:
If your application is successful you will need to provide a signed direct debit form for your nominated bank account for repayments.
A certified copy of some form of photographic identification, such as a drivers license or passport.
Verification of the bank account in your name such as a bank statement.
Extra verification of your address such as a copy of a utility bill.
Before Beginning Your Application:
Please contact us at guildhouse@guildhouse.org.au or call us on 08 8410 1822 before you apply.
You'll also need to download and carefully read the following documents:
We would like to thank the following for their generous contribution towards this program:
Adelaide Moulding and Casting Supplies, Brian Tucker, Deborah Miller, Emma Hack, Geoff & Sorayya Martin, James & Diana Ramsay Foundation, Jane Barwick, Kambitsis Group of Companies and Marcia Del Thomas.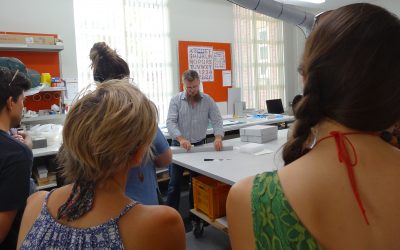 Image: Justin Gare, Senior Objects Conservator demonstrating packing techniques at Art Handling and Packing Workshop workshop held at Artlab Australia presented by Guildhouse.INFORM: Art Packaging and Handling Tuesday 11 July 202310:00am — 12:30pm ACST Pricing: $30...