Image by Elle Dawson-Scott
South Australian artist Dana Kinter is kicking goals left and right. If you're not familiar with her incredible woodblock paintings, you'll definitely remember recent collaboration with iconic Australian fashion label Gorman.
Well, Dana's at it again. This time she's collaborated with Australian homewares and home furnishings retailer Adairs. We interviewed Dana about her practice and her journey to becoming a household name.

Tell us about your creative process. What does an average day in your studio look like?
I am lucky enough to have a fabulous home studio, it's really a shed in my backyard but it's perfect for me.
My arts practice is my job and I try to be as focused as possible by being in the studio from 10 am to 6 pm each day with Sunday a day off spent in my garden. This doesn't always work but it's good to have a plan.
Mornings are usually computer/emails, then a walk with Honey, my dog, and after my favourite, making time.
Your art practice is so diverse! You're an art teacher, a graphic designer and a visual artist and you've also been incredibly entrepreneurial in collaborating with brands like Gorman and Adairs. How did you work to develop these opportunities?
I have undertaken a few studies, visual arts, teaching, graphic design and ceramics trying to find my thing. At the moment I seem to be doing lots of shorter workshops – from different painting techniques and ceramic practices to food and gardening. I get really inspired by being around other passionate people and always have new plans, the hard part is deciding which one to do.
I have been really fortunate to get some fabulous opportunities. Saying yes to things can sometimes be so scary but usually these are the things you learn the most from. The key is to always follow up on the conversations you may have with someone, just give ideas that little push.
I enjoy the marketing side of being an artist and find that social media works really well for me. It's been a bit of a snowball effect starting with the 2017 Gorman collaboration. It actually started when I did an artwork a day for a month and posted it on Instagram so so very long ago. That's where Lisa Gorman found my work. And then the Gorman collaboration found its way on to Pinterest and that's how my artwork made it on to the inspiration board of the Adairs design team!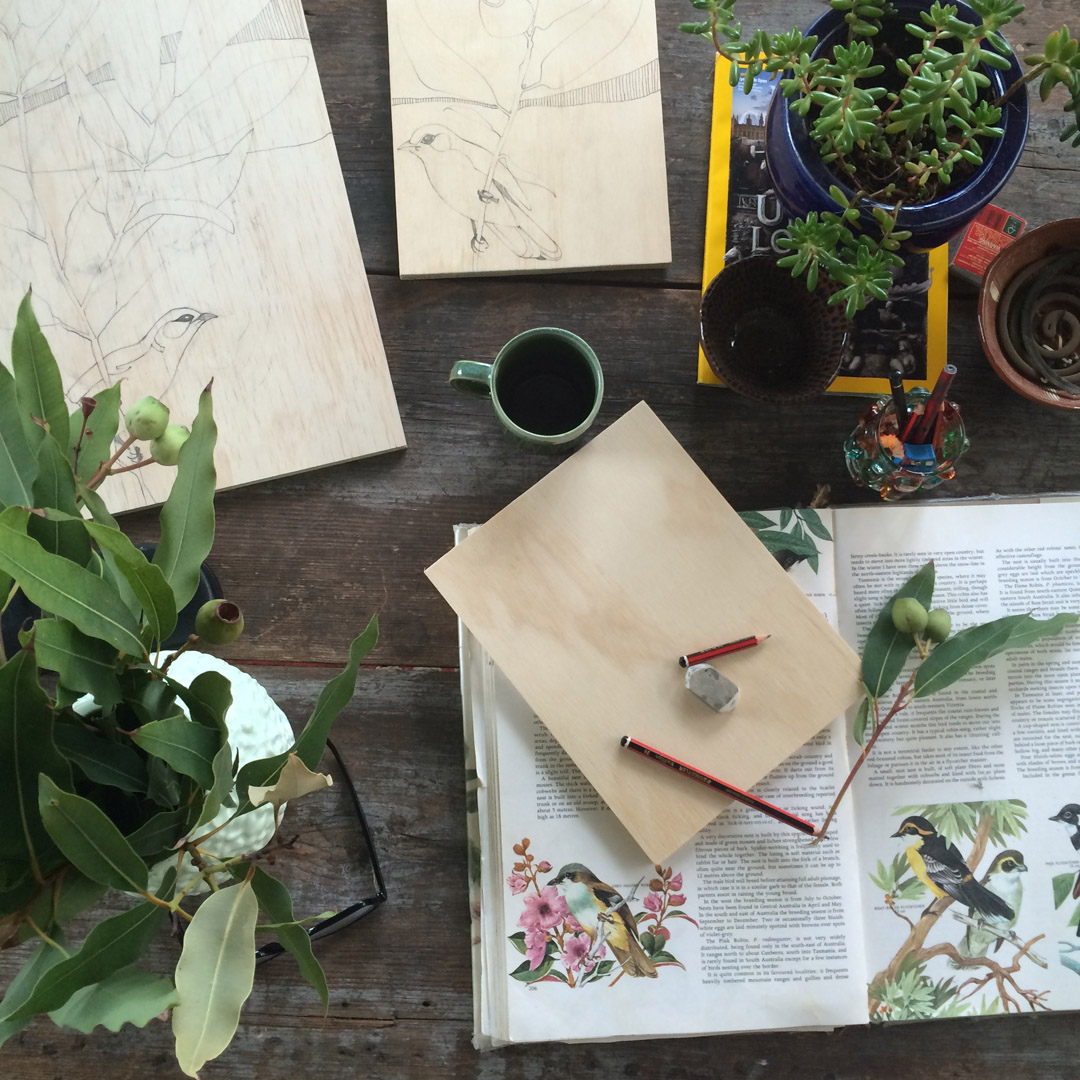 Image courtesy Dana Kinter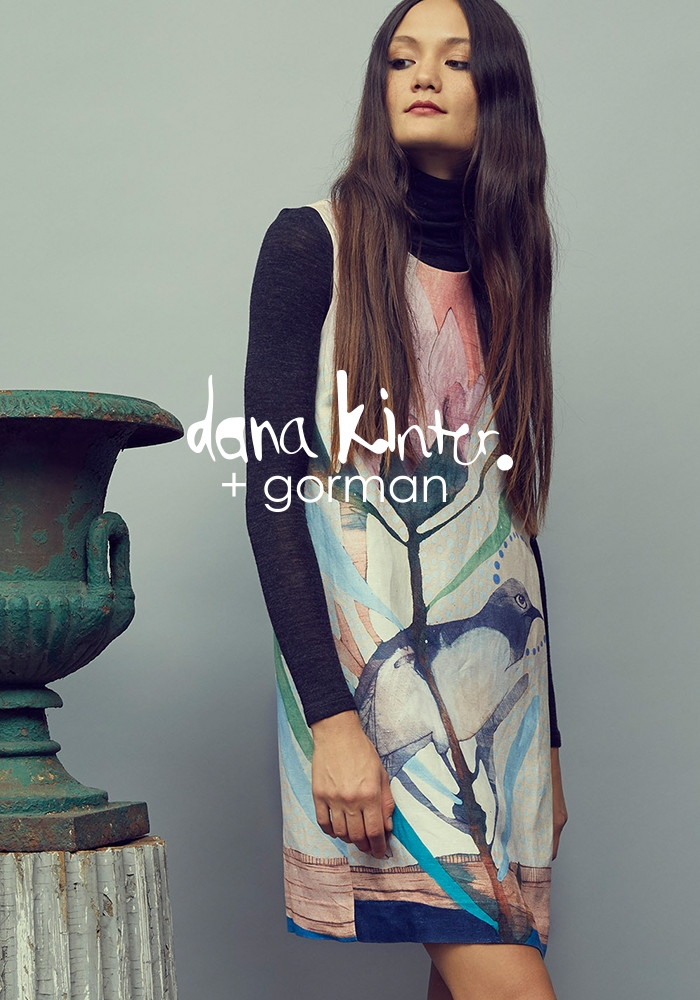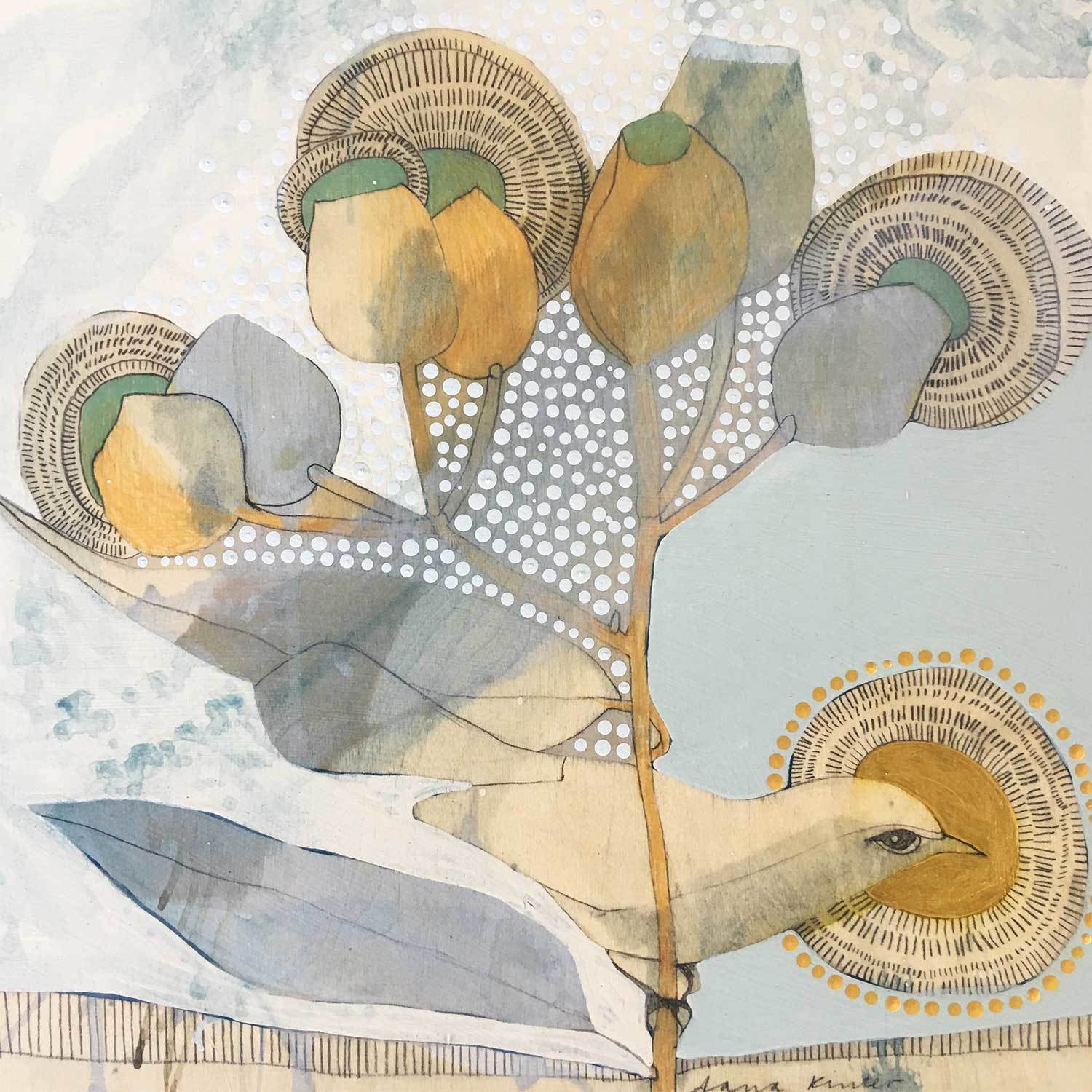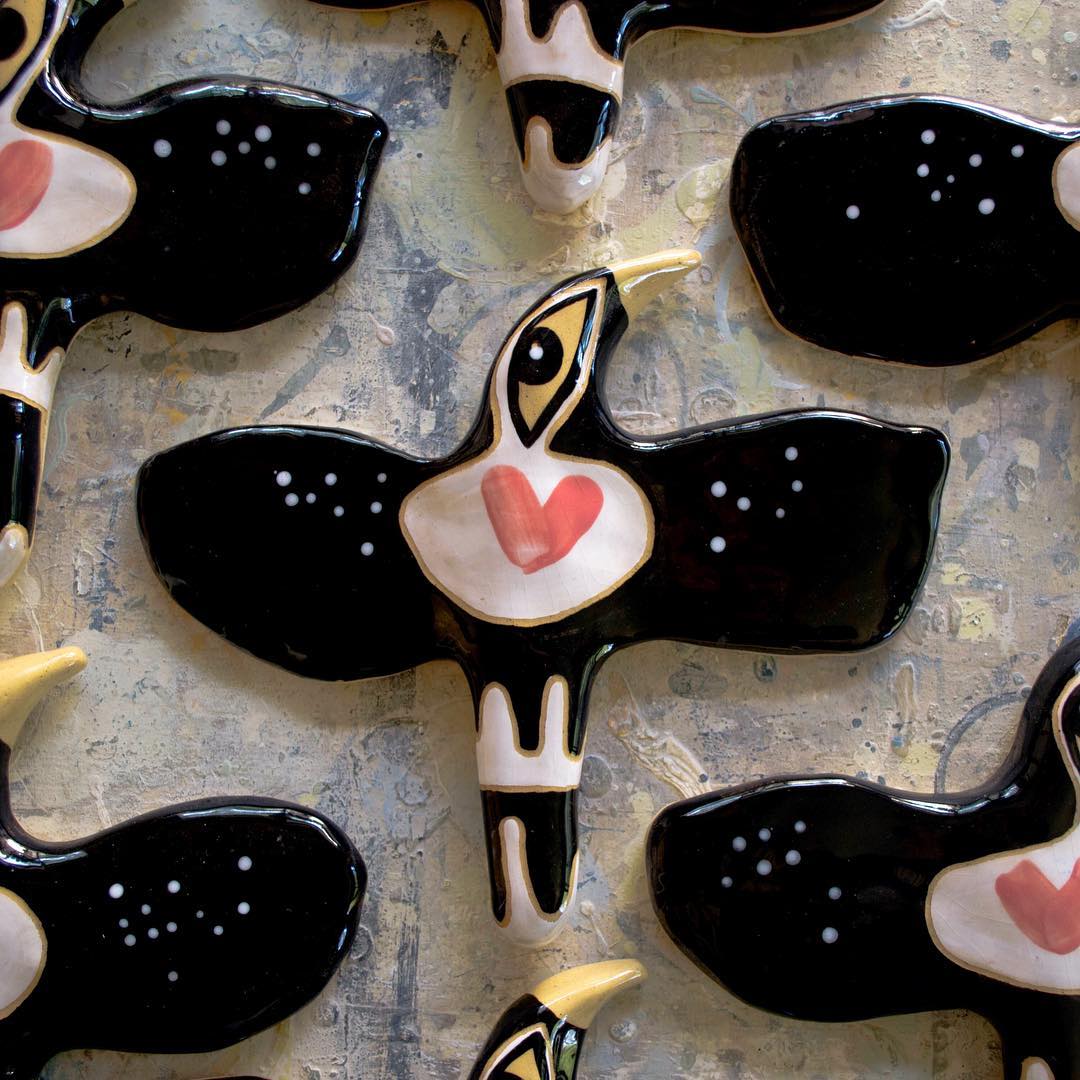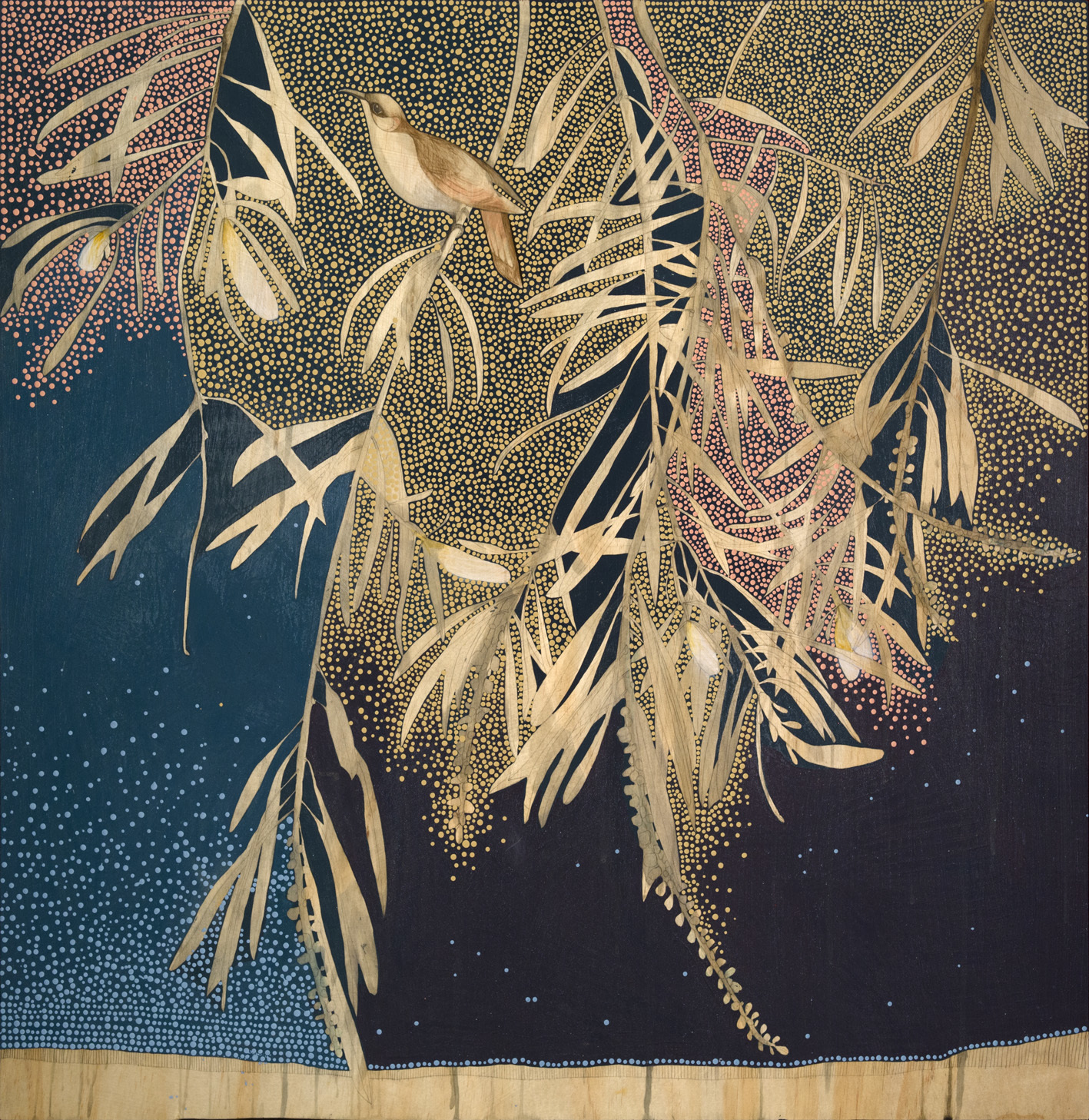 Images courtesy Dana Kinter
We love your new collection with Adairs. What drew you to working with them and how closely did you work with them on the collection?
This new collaboration with adairs has been amazing! Again, like Gorman, I love that they started as a small Melbourne-based business. But the icing on the cake was the conversations we had about Adairs's dedication to this collection becoming a starting point for undertaking environmentally conscious and sustainable practices.
No plastic has been used in the bedding packaging. All the linen comes in it's own matching reusable fabric tote bags. The filling in the cushions is made from recycled plastic bottles and even the cushions are fastened with buttons rather than zippers.
When I met with the design team we chose artwork that we thought would suit summer season and discussed layering different artworks within the fabric pattern to create a new image rather than just printing the artwork directly onto fabric. I think this gives the collection a nice depth and visual story.
We worked via email with some day trips to the Melbourne studio and designs were pushed and pulled over the months, I was included in conversations about different fabrics and fillings, packaging designs and marketing materials. It was a wonderful experience and being Adairs's first 'artist collaboration'. I really hope that it's a huge success.
Do you have a favourite piece from the collection?
Narrowing down my favourite piece from the collection is really tricky. A bit like asking what your favourite painting, which is all of them.
I love the wattle coverlet. It was one of the first things I received and is perfectly suited to layover the back of my sofa to look beautiful and something that I snuggle up to in the evening.
I fell in love with the black cockatoo cushion the other day when I saw it in person, it has so much personality and I love both the linen fabric and colour palette. Oh, and the lamps are divine, the bases are a mango wood that has a beautiful natural warm glowwhen the lights are turned on.
I gifted my dad the kookaburra euro cushion the other day. It's just cute and cuddly just like him. As for the quilt covers, the stars of the collection – I love them all and cannot choose.