Gail Hocking, Fragile Echoes, Installation view at Flinders University, 2018, found eucalyptus branches, muslin, white cement, water-based photo-luminescent paint, dimensions variable. Photograph Grant Hancock.
Our programs support and promote creatives. They offer opportunities for ongoing professional development, engagement with new audiences and an extension to the studio environment.
This opportunity has engaged me to look at the strengths and experiences and validate all the hard work, learning and experience I have gained over the last 15 years. Whilst my practice may seem varied in some cases, the core of it is an expanded approach with an ethics and inclusivity at the heart.

Laura Wills,
With the support of Guildhouse and the Museum of Economic Botany I was given the freedom to pursue independent research and the valuable opportunity to connect with professional staff and passionate volunteers across a range of disciplines, enriching the narrative of my work.
Heidi Kenyon,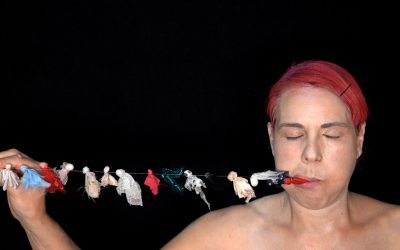 Ray Harris, On the tip of my tongue, 2018, HD digital video still. The Collections Project Ray Harris The Guildhouse Collections Project with Flinders University Museum of Art (FUMA) 20 July – 18 September 2020 Ray Harris is a South Australian artist whose visual...