What's On & Opportunities
Neville Cichon, A Line Has Been Drawn, 2016, 28 x 24 cm. Photograph Neville Cichon.
Guildhouse is dedicated to connecting you with sector news, events and opportunities. Here you can explore these discover what is happening across the creative industries.
These events, exhibitions, opportunities, studio spaces and equipment are independent from Guildhouse: please be sure to follow the links or contact information provided to inquire further.
Some of this content is available to members only, and will require you to login to view.
If you would like to submit content for promotion on the Guildhouse website or social media platforms please follow the link below.
SALA: PechaKucha Night
8 August, 6-9:30pm

PechaKucha 20x20 is a simple presentation format where you show 20 images, each for 20 seconds. PechaKucha Nights are informal gatherings where creative people get together and share their ideas, works, thoughts – just about anything, really. We've invited a range of South Australian artists to present in the PechaKucha 20x20 format for a night of art inspired frivolity. The bar will be open.
Artists this year include:
Brad Darkson, Jonathan Kim, Elizabeth Close, Sonja Porcaro, Tamara Ballie, Brad Lay, Thom Buchanan and Daniel Withey
Nexus Arts, Lion Arts Centre
Adelaide Central School of Art: Open Day
18 August, 10 – 4pm

Learn more about our courses, programs and exhibitions. Talk to students, hear from staff, tour our facilities and visit the ambitious Other Homes and Gardens exhibition by Nicholas Folland at Adelaide Central Gallery.
Check out the full open day program on their website.
Darwin Aboriginal Art Fair
9-11 August 2019

The Darwin Aboriginal Art Fair (DAAF) is unique in that it provides a genuine opportunity to purchase artwork directly from over seventy Indigenous owned community Art Centres, whilst being immersed in an exciting program of traditional dance, workshops, film, fashion and music!
Experience the rich diversity of these beautiful works that have been inspired by the country's most remote desert and coastal regions, to rural and urban communities.
Darwin

Craft Victoria: Annual Fundraising Dinner
7 September 2019

Craft Victoria is delighted to present their Annual Fundraising Dinner, Black Tie with a Touch of Craft.
Join them for a sumptuous banquet prepared by Sofitel Melbourne On Collins' award-winning team of chefs, local wines and entertainment.
All proceeds support state-wide craft initiatives and Craft's milestone 50th anniversary program of exhibitions and events in 2020.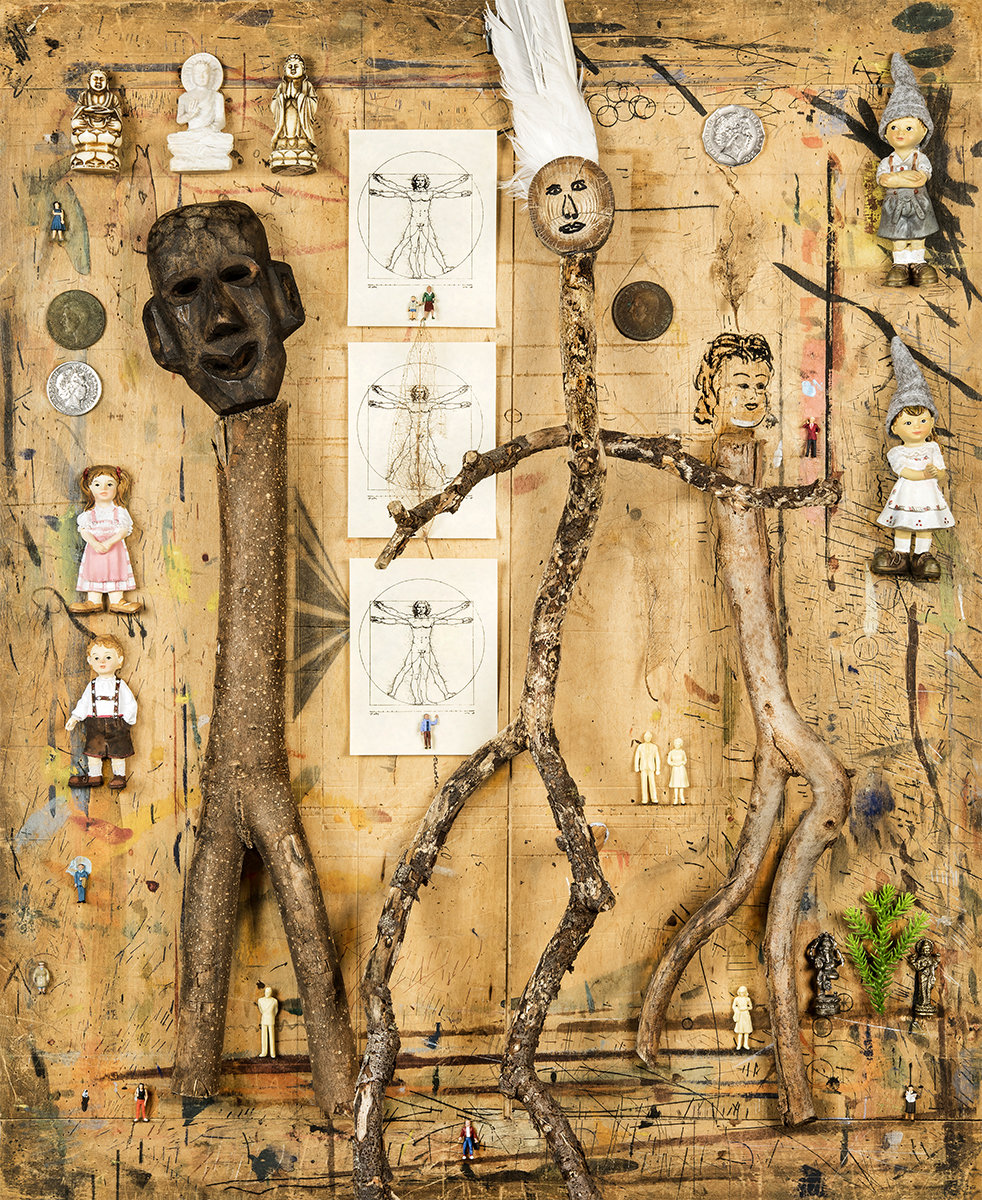 September 18 – October 14
Hahndorf Academy
South Australian Film Corp: SBS & NITV Meet the Broadcasters Pitching Sessions and Networking Event
20 August 2019

Apply to pitch your project to SBS / NITV
Attend a special presentation on SBS commissioning policies

The Meet the Broadcaster event on Tuesday August 20 will provide practitioners with the opportunity to expand their understanding of SBS commissioning and make connections with the Executive Team.
Mercury Cinema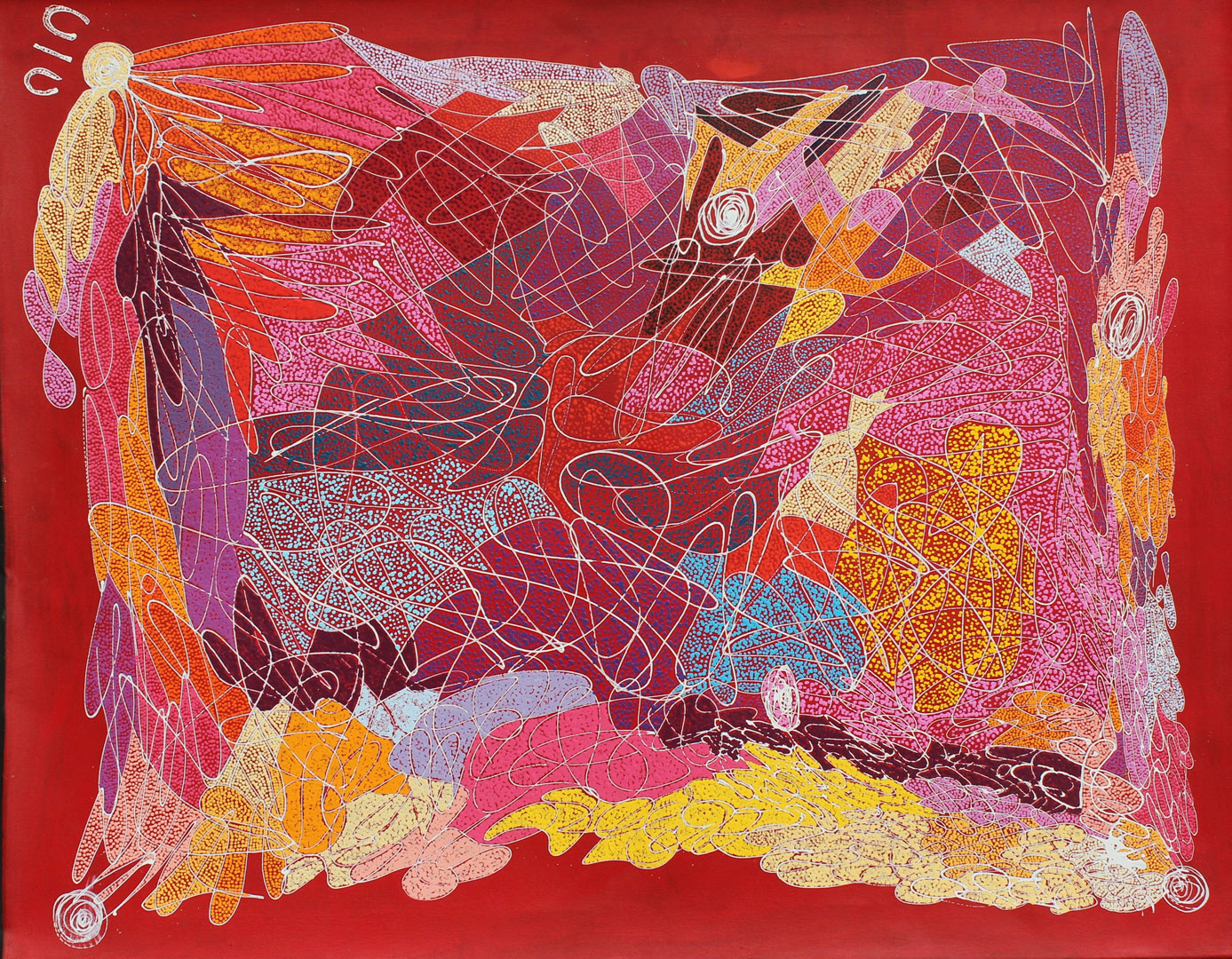 July 4 – August 11
Featuring works from the Adelaide Festival Centre's Works of Art collection
Prospect Gallery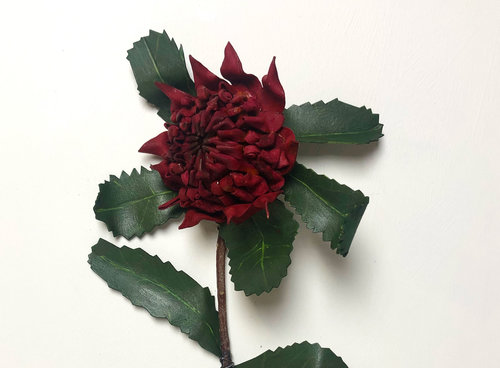 JamFactory: Kinder, Küche, Kirche
25 August 2019, 2-5pm

Join us for an afternoon of food and wine whilst enjoying demonstrations and talks by exhibiting artists.
Artist Talks by Kylie Waters and Ursula Halpin
Artist Demonstrations by Brigitte Jeanson (lace) and Joy Day (foilwork)
This is a FREE event.
JamFactory at Seppeltsfield
SALA: Parlour
1-31 August
Tue-Fri 11am-5pm
Sat 10am-4pm
Sun 11am-4pm

 An interactive pop-up pop-in art space for children and young people. Come and contribute to an expanding colour installation. Presented by SALA's education partner Credit Union SA.
South Australian Museum Lawn
West End Creative Precinct Artist Talk Series
24 August,

Hear from some of South Australia's most celebrated contemporary artists in this series of free artist talks held at ACE Open, JamFactory and Samstag Museum.
1:30pm: Hossein Valamanesh, ACE Open
2:30pm: Angela Valamanesh, JamFactory
3:30pm: Louise Haselton, Samstag Museum
Carclew: Write on the Money
Grants Information Session
20 August, 5:30-6pm

offers grant writing insights for individual artists applying for funding with either Carclew and/or Helpmann Academy. Learn how to summarise your project, respond to criteria, conquer your budget, and make a selection panel sit up in their chair and take notice.
Tandanya National Aboriginal Cultural Institute

SALA: Governor's Sculptural Garden
11-18 August, Sun 1-4pm

His Excellency the Honourable Hieu Van Le AC is a big fan of the annual SALA Festival. In what is becoming a wonderful SALA tradition, the Governor of South Australia has invited a range of artists to exhibit their sculptures at the most prestigious address on North Terrace. Grab a hot drink from the coffee cart onsite and see the sculptures up close while enjoying the open garden.
Government House Garden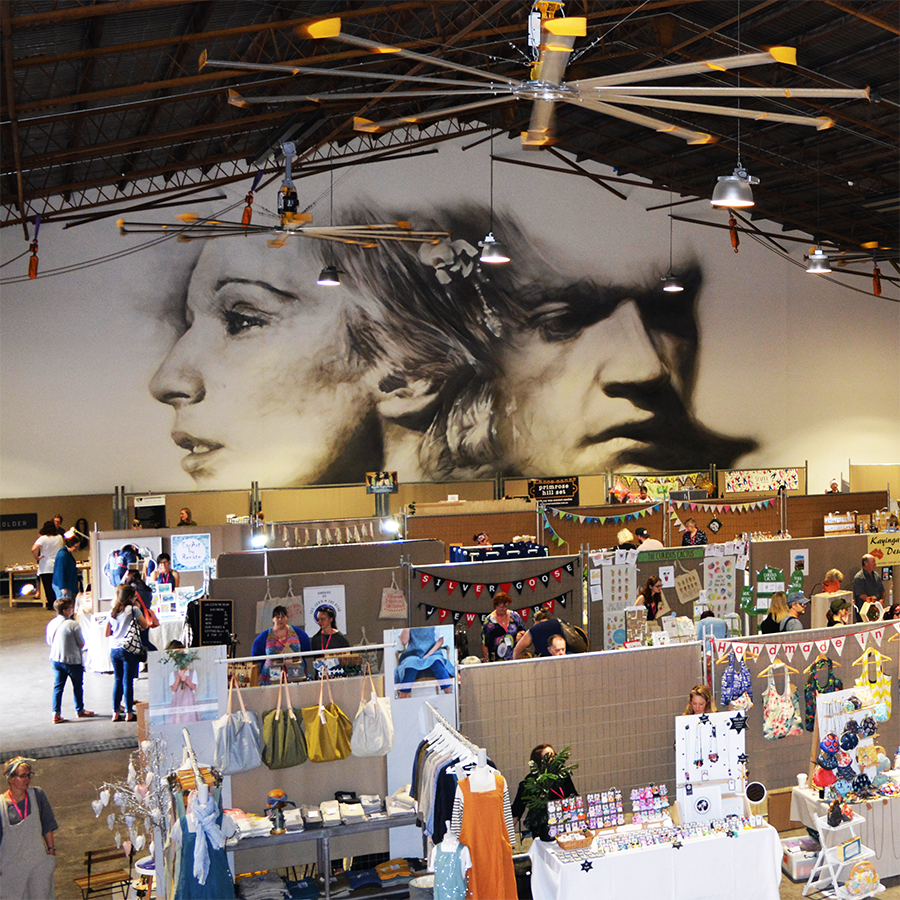 POSH Arts and Design Fair
6-8 December 2019

The POSH Arts and Design Fair pulls into Port Adelaide on December 6-8, and will transform the Hart's Mill precinct into an inspiring arts hub for three days. The Fair will play host to 100+ Australian Artists, Designers and Makers plus panel discussions, workshops, live art and interactive art installations. Site applications for exhibitors open 21 June and Close 7 August.

Port Adelaide

Inconversation: Art and cultural practice for wellbeing
8 August 2019

Join Christie Anthoney and Professor James Pawelski for a discussion on how artists and practitioners can enhance community wellbeing. Explore how your engagement in culture and the things you create can have a lasting impact.

City Library, Studio 1

This panel discussion focuses on the value of art for those experiencing homelessness as well as a society trying to make sense of homelessness and features speakers who have used art as a tool to overcome homelessness as well as academics and service providers.
August 6, 7pm
Fly Bird Fly Studio
The OUR MOB exhibition alongside OUR YOUNG MOB is the culmination of artistic activities throughout the state that bring Aboriginal artists together in a unique and outstanding exhibition of Aboriginal art across a diverse range of media.
August 23 – October 3
QBE Galleries, Festival Theatre foyer, Adelaide Festival Centre
SALA: Forum
15 August, 2-9:30pm

Sessions:
Decolonising Methodologies in Creative Praxis
What does it mean to be outside the canon and what emerges in those spaces? This panel looks at the issues impacting intersections of race, gender and disability and approaches institutional decolonisation.
Panel features members of the Unbound Collective.
South Australian Arts Practice – perceptions and perspectives
What does the South Australian visual arts landscape look like from the outside? What is unique about our practices, our artspaces and communities? Industry insiders discuss their experiences of the SA arts environment.
Panel features Patrice Sharkey, Erin Davidson, Kaspar Schmidt Mumm and Cynthia Schwertsik
Where Art Meets Life: Assessing the Impact of Dark Mofo, a New Midwinter Festival in Australia
In the context of the South Australian Living Artists Festival, Adrian Franklin considers the success of another midwinter festival, its social, cultural and economic impact, and how well it integrates its local community into its programming. In order to understand activation in contemporary cities you need to understand why and how they were de-activated in the first place.
Presented by Adrian Franklin.
Nexus Arts, Lion Arts Centre
Open House: Tamworth Textile Triennial
Exhibiting at JamFactory Seppeltsfield
20 September – 24 November 2019,

Tamworth Textile Triennial, held every three years, showcases the best of textile art from across the country, attracting artist participation from all states in Australia. The third Tamworth Textile Triennial has been curated by Glenn Barkley using an Open House theme.
Open House: Tamworth Textile Triennial celebrates the open-ended, porous nature of textiles practice today. It introduces a group of artists who have not previously exhibited in the triennial.
JamFactory Seppeltsfield

Studio Potters SA: Art & Culture Strategy Consulation
1 August 2019,

The PAE is working on an ARTS and Culture Strategy for 2020 – 2025
We want to be sure that everyone with an interest in our arts and cultural future has an opportunity to contribute their ideas, so we are running a number of open consultation sessions across the City, all of which will be facilitated by Maz McGann of Play Your Part
Studio Potters Clubrooms

ROOMAN
26 – 29 September 2019,

ROOMAN (my new show) tells the tale of a girl who meets a half-man-half-kangaroo in her dreams, and falls in love. Obsessed by becoming a part of his reality, she takes desperate measures. Like a Hi-Fi Paper Pop up Book or a low-tech hologram, the theatrical performance takes the audience on a journey inside worlds of animated universes as they unfold upon a giant 3-dimensional paper set. ROOMAN premiered at ARTS HOUSE in Melbourne before going on to tour in Slovenia, The Netherlands and New Zealand.
ROOMAN will perform in PORT ADELAIDE from the 26th-29th of September 2019,
Vital Statistix, Port Adelaide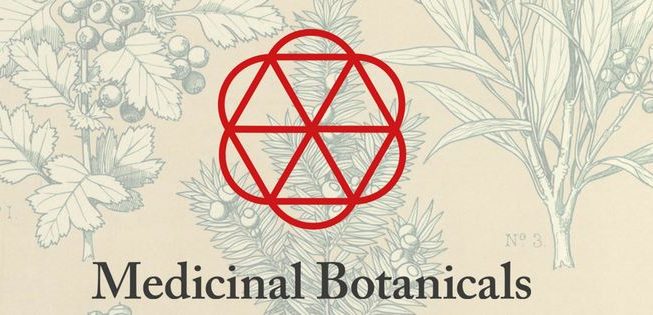 We'd like to invite members to share their interest in potential future projects. The Medicinal Botanicals Project brings together artists with botanist and pharmacologists to celebrate the important connection between people, plants, science and culture. Throughout 2019 – 2020 diverse partners will come together to produce and exhibit artwork, present symposia and host discussions in a variety of settings.
Opening of the Craft Cubed Festival
1 August 2019, 6-8pm

The Craft Cubed Festival, our month-long, state-wide celebration of making, community and creative experimentation returns with a program of events, exhibitions and happenings from across the Victorian maker landscape.
Craft Victoria, Melbourne
CEDA: Sustainable Indigenous Employment
12 August 2019

Join CEDA as theyr continue discussion beyond NAIDOC week, as they hear a series of case studies examining best practice and what does and doesn't work in boosting sustained employment for Aboriginal and Torres Strait Islander people within organisations.
Adelaide Convention Centre
Other Homes and Gardens Nicholas Folland
30 July – 30 August 2019

In this hugely ambitious new exhibition, South Australian art superstar Nicholas Folland imagines a world in which cosy notions of domestic security are thrillingly destabilised. Combining installation with kinetic sculpture, Other Homes and Gardens inverts the idea of the Anthropocene, depicting humankind at the mercy of dangerous and implacable natural forces. Simultaneously uncanny and darkly humorous, this never before seen exhibition is not to be missed!

Central Gallery, Adelaide Central School of Art

GiddyUp
9 August – 12 September

6 Manton

Equipoise
Drew Spangenberg
Opening: 9 August – 20 September

Worth Gallery

Paused and Painted

1 – 31 August 2019

Artist Bernadette Freeman invites you to take time out of your busy day to pause and reflect on some of South Australia's beautiful locations.
Flinders University, 182 Victoria Square

Student Exhibition: Adelaide College of the Arts
25 July – 24 August 2019

For the 9th year, Hill Smith Gallery in partnership with TAFE SA's Adelaide College of the Arts present an exciting selection of works from final year students in the Bachelor of Creative Arts including Honours (Visual Arts) co-delivered with Flinders University.
This exhibition will showcase the strength and diversity of artists emerging from the College including drawing, painting, printmaking, sculpture, ceramics, jewellery and photography.
Hill Smith Gallery

Uninvited Guests

August 2019

Sean Prentis and Sarra Tzijan are having an exhibition of black and white drawings and sculpture at Ayers House Museum for the SALA Festival. The work represents strange forces of nature which have infiltrated Ayers House. The opening night is on Thursday the 1st of August at 6pm. We are also hosting free workshops and an artist talk throughout the month of August. All details are included in the attached flyer for the show.
Ayers House Museum, North Terrace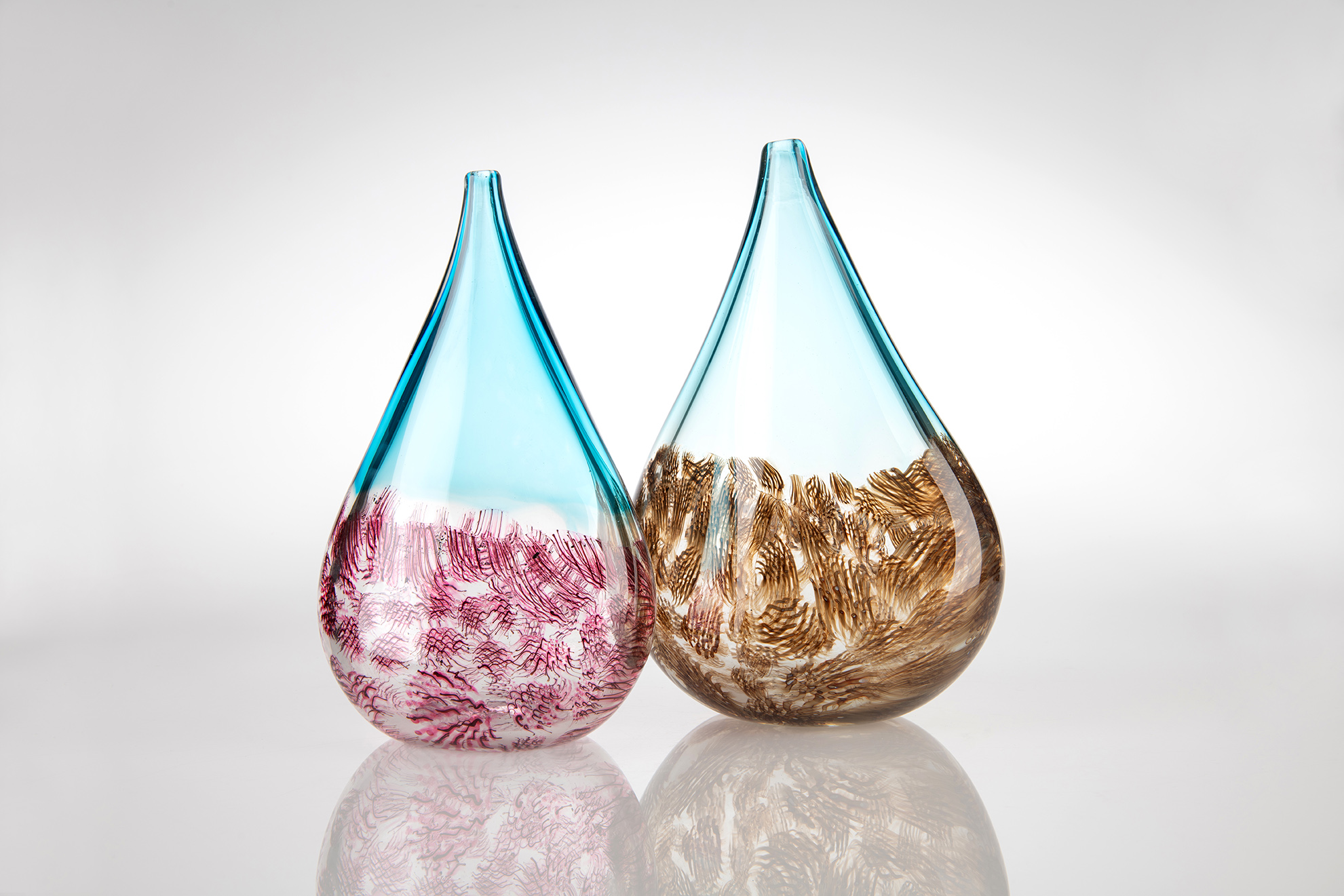 Coalescence
27 July – 31 August 2019

Moorooroo Park Vineyards,Tanunda

Revealing a Narrative
Chris Webb
2 August – 25 August 2019

Hughes Gallery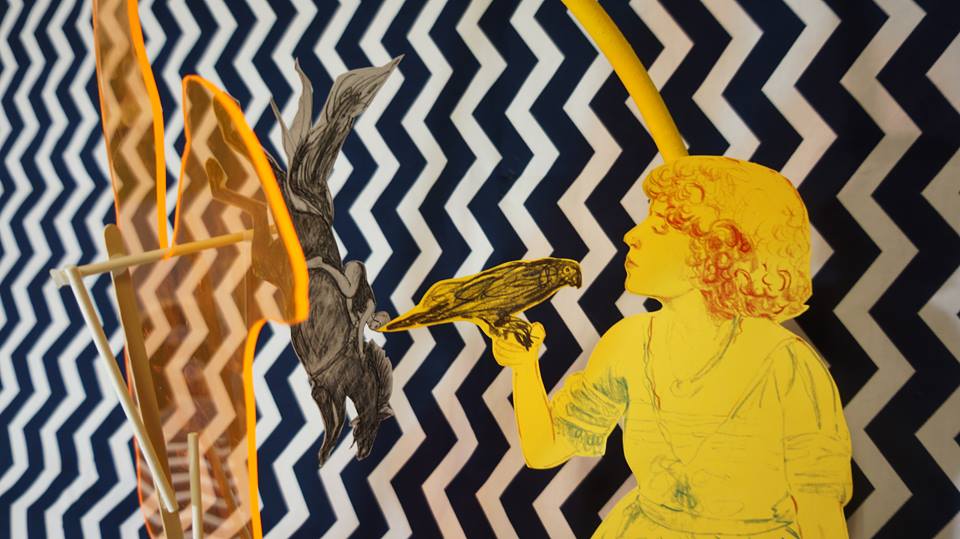 Idolatrous Centralis
Opening: 15 August 2019

Idolatrous Centralis is the exploration of emotive responses towards creative individuals who inevitably push boundaries within a personal environmental context. Whether these creative individuals are musicians, designers, artists or poets, there is a common thread of energy, which can transform thinking and open up a dialogue of intrigue, mystery and radical interpretation of a lived environment. The artists will interpret whimsical corners of these worlds in the production of artworks to showcase for this exhibition.

Collective Haunt
Closer
Sandra Elms

2 August – 27 September, 2019

An exhibition of works by the late South Australian artist Sandra Elms that underscores the transportive possibilities of the photograph.
In the first major gallery presentation of the work of Sandra Elms — an artist and graphic designer with a practice spanning three decades — Closer presents as a meditation on the pleasure found in careful observation, and in returning to a quiet and familiar moment in time.

Samstag Museum
JamFactory's Icon series is an annual solo exhibition celebrating the achievements of South Australia's most influential artists working in craft-based media. Valamanesh's artwork elicit intrigue and a strong sense of personal investigation, as she manipulates seemingly familiar botanical and parasitic forms in beguiling and unusual ways.
Image: Angela Valamanesh, The Story of the Eye, part 2, no 2 2018. Photo: courtesy the artist.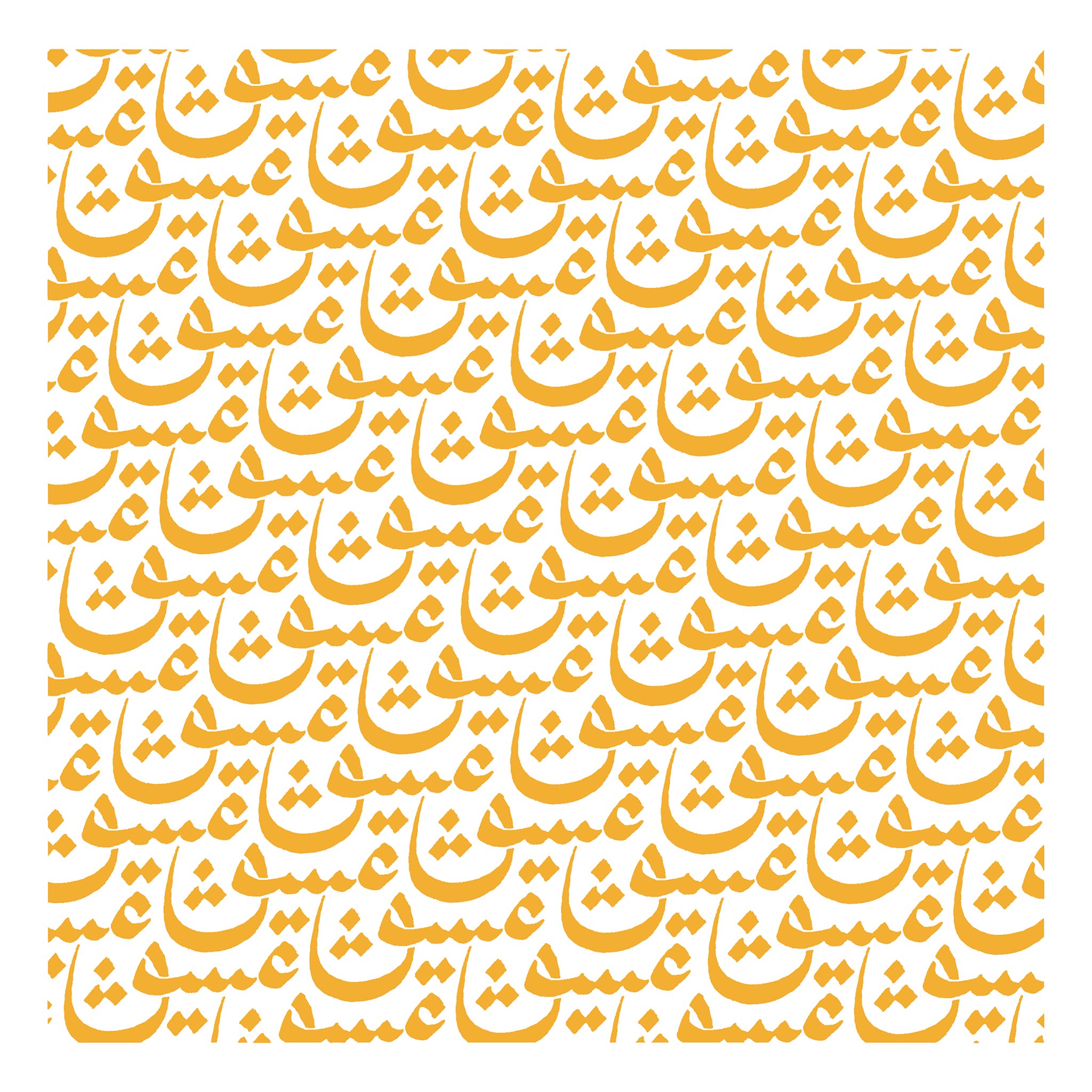 Hossein Valamanesh, textile design detail for Enter, 2019, featuring the word 'eshgh' (Farsi for love). Courtesy the artist and GAGPROJECTS.
As one of South Australia's most respected visual artists, Hossein Valamanesh's In Love celebrates the artist's renowned enigmatic practice, and expands upon his preoccupation with ideas of love, existence and the nature of being.
8 August – 28 September
ACE Open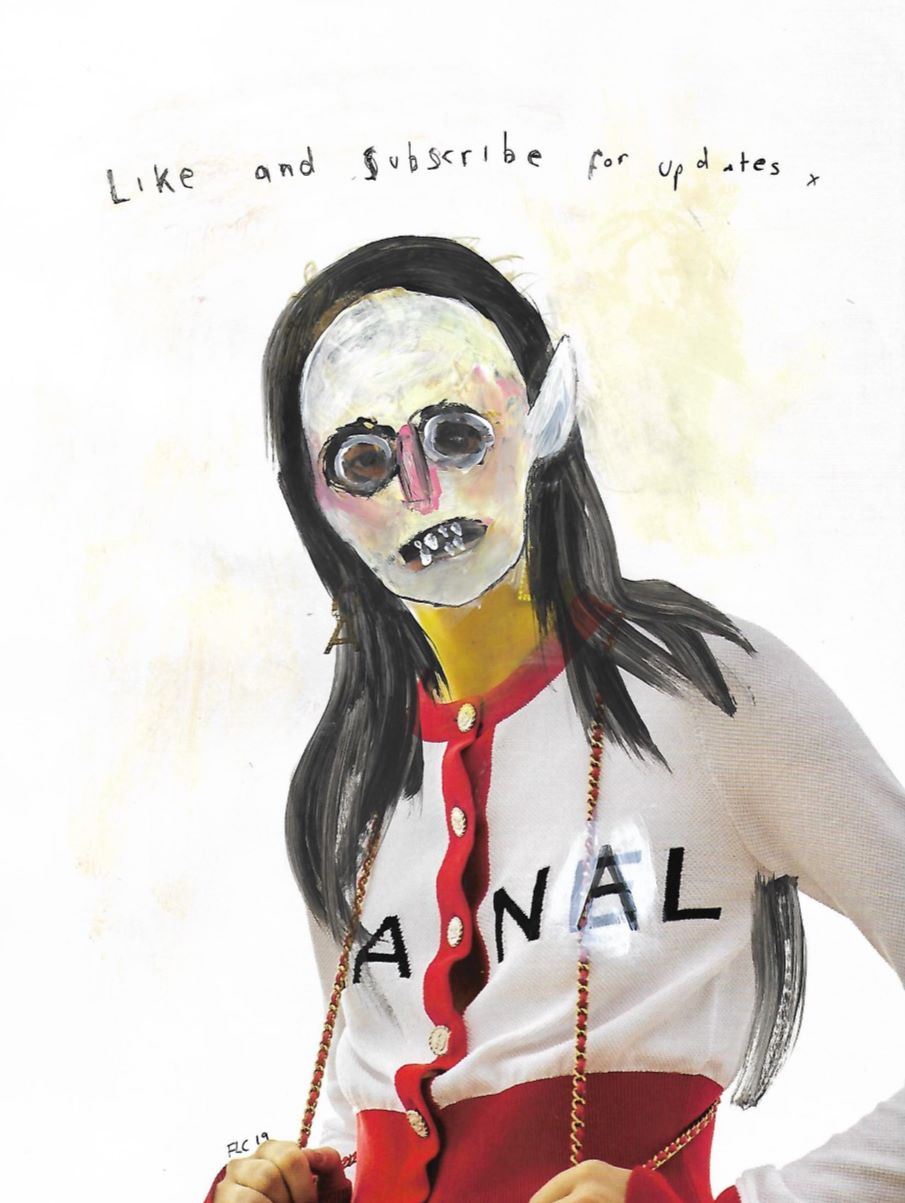 June 4 – August 
Hahndorf Academy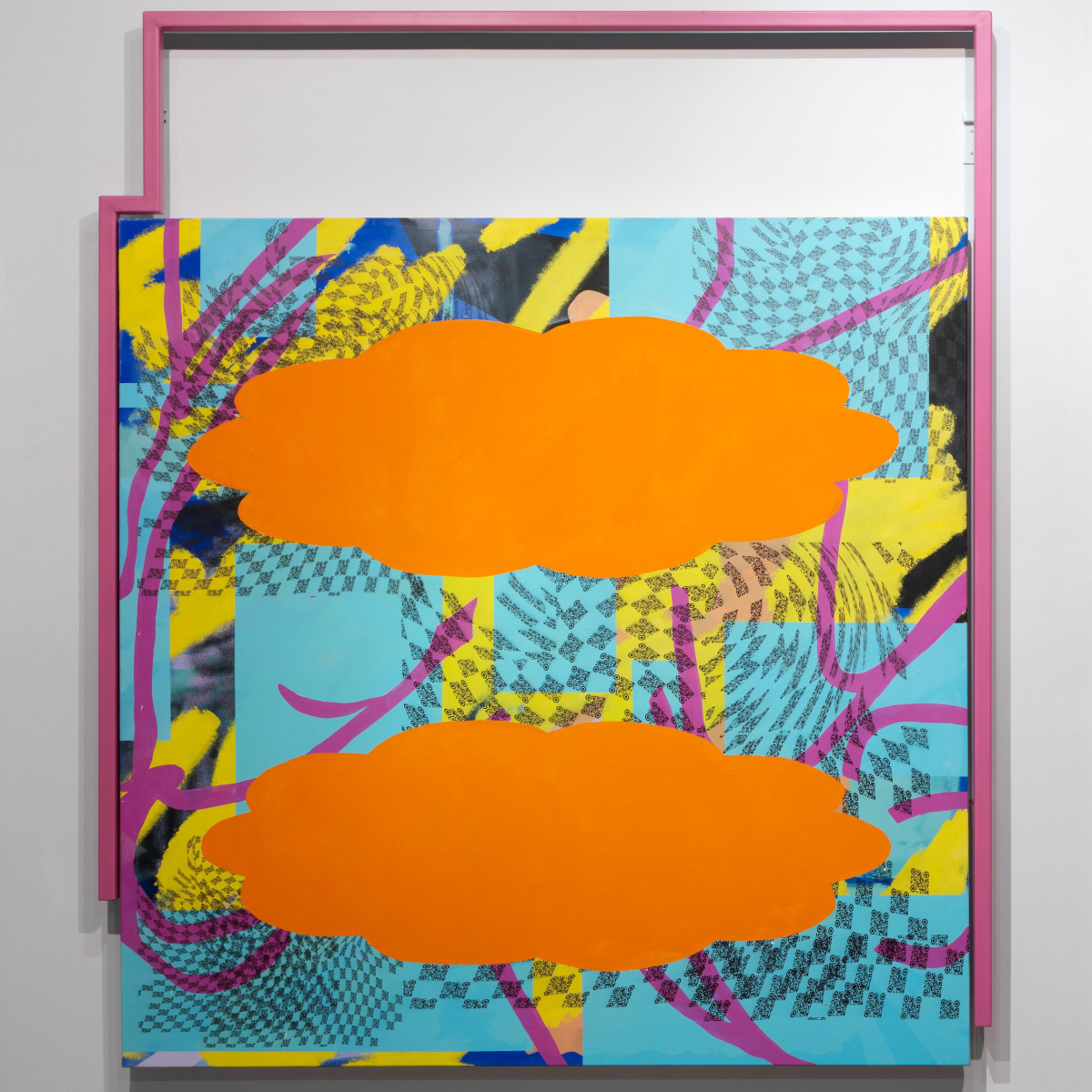 Tara Rowhani-Farid, Bussy Boy, 2018
Steven Bellosguardo, Maxwell Callaghan, Nicholas Elliott, Thomas Folber, Joel Gailer, Anna Gore, Sam Howie, Jonathan Kim, Nerissa Kyle, Eric Loeschmann, Monika Morgenstern, Loren Orsillo, Tara Rowhani-Farid and Joshua Searson.
25 July – 25 August 2019
West Gallery, Thebarton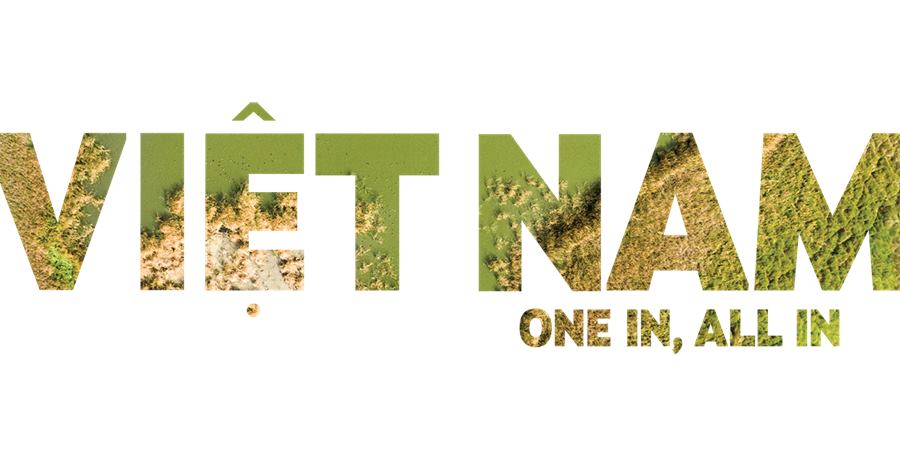 This is a contemporary exhibition that explores, expresses, and acknowledges Aboriginal veterans service in the Vietnam War – before, during and after.
24 April – 14 August 2019
Various venues.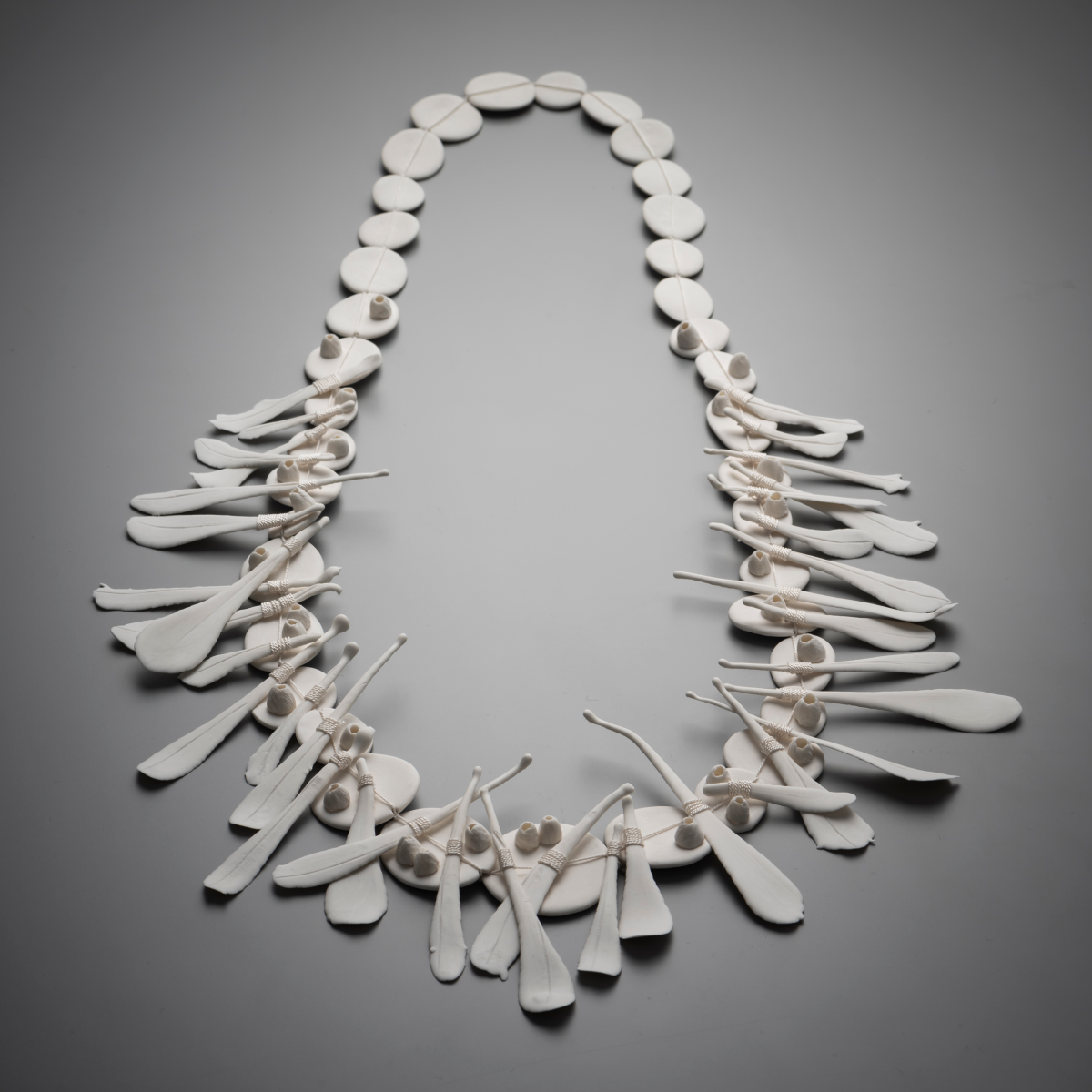 Alice Whish, Crossing the Shoreline, 2018. 
Jane Bowden, Liv Boyle, Michelle Cangiano, Jess Dare, Anna Davern, Nicky Hepburn, Kath Inglis, Pennie Jagiello, Sim Luttin, Vicki Mason, Belinda Newick, Lauren Simeoni, Lucy Simpson, Manon van Kouswijk, Alice Whish, Melinda Young
3 August – 29 September 2019,

Migration Museum
Collect: From Left Field

26 July – 25 August

The Production Managers from JamFactory's Glass, Jewellery and Metal, Ceramics, and Furniture Studios are accomplished artists and designers in their own right. This exhibition showcases their personal work and the collaborative opportunities that result from working in a creative hub. Featuring Andrew Carvolth (Furniture), Liam Fleming (Glass), David Pedler (Ceramics) and Alice Potter (Jewellery and Metal).

JamFactory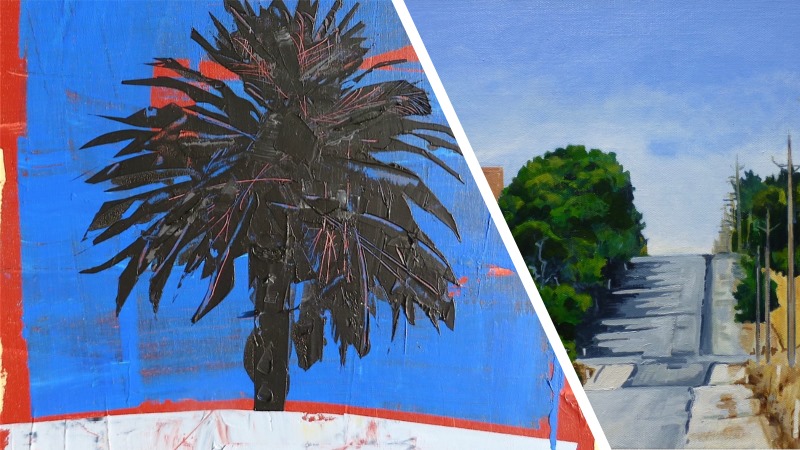 Peter Congdon, Sharyn Louise Ingham, Cathy Milne & John Neylon
Open now!
Gallery Opening Hours are Wed – Sat 11am – 4pm
or by appointment
Collective Haunt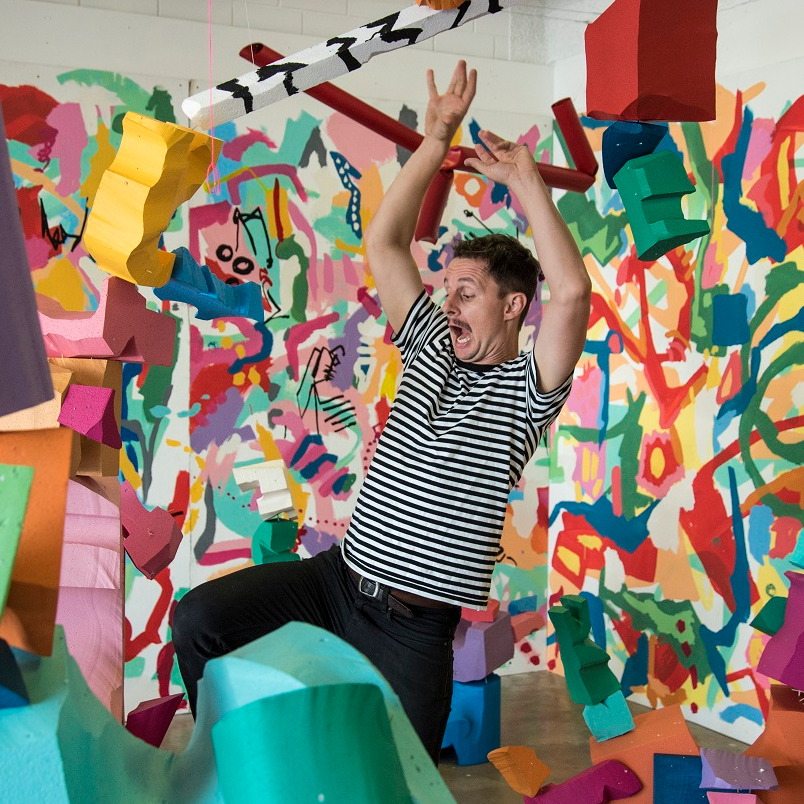 Lana Adams, Narges Anvar, Bridget Fahey, Steph Fuller, Arlon Hall, Claire Ishino, Kirsty Martinsen, Ban She
1 August – 29 September
City Library
9 August – 12 September 2019,

6Manton Gallery

The Scene is the seen

Opening: Thursday 27th August, 6-9pm
Ekphrasis workshop: Saturday 31st August, 1:30-2:30pm
No Wave poetry night: Thursday 12th September, 6-7pm
Performance night: Saturday 21st September, 6-9pm

This exhibition, performance and critical writing event of emerging and mid-career South Australian practitioners explores the potent relationship between text and art. Responding to a curated selection of writing from notable artists and theorists, each artist will conceive an ambitious work that transforms meaning and translation whilst echoing the principles of the original text. Each piece of writing touches on themes of ongoing critical and artistic concern – melancholia, displacement, identity, culture and language. For this exhibition artists will be challenged to experiment with the very process of art making whilst considering the creative potential of language.
The performance night will include a succession of performances amongst the exhibited works. A series of curated public programs will further explore the themes of the exhibition including a poetry night lead by No Wave collective and an Ekphrasis workshop delivered in partnership with Writers SA and SALA.
The exhibition will be accompanied by a full colour catalogue and essay from co-curator Rayleen Forester and poetry from Unbound Collective.
Holy Roller Studios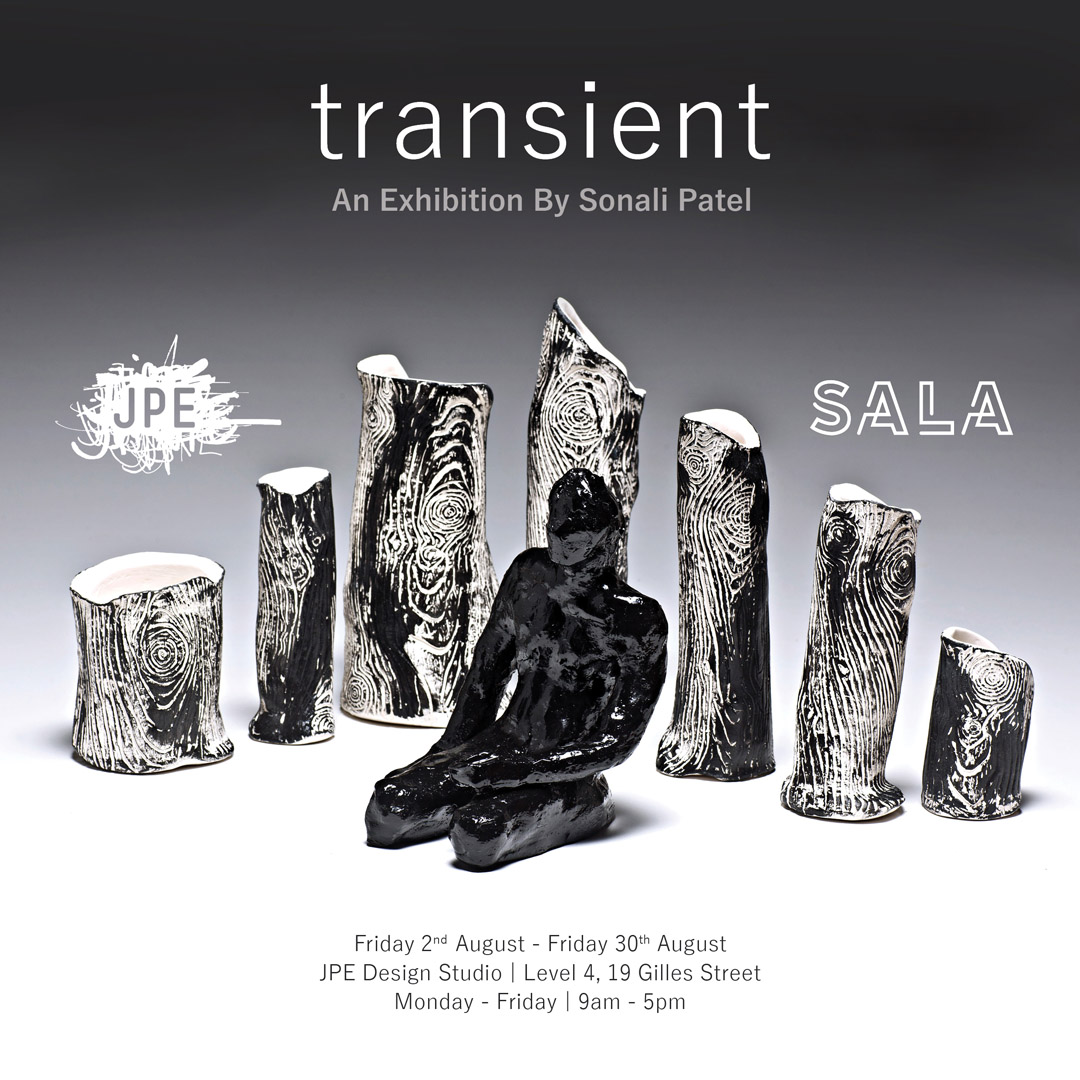 Pins and Needles

Opening: 2 August, 6pm

Showcase of brooches and pins by South Australian artists.
Zu Design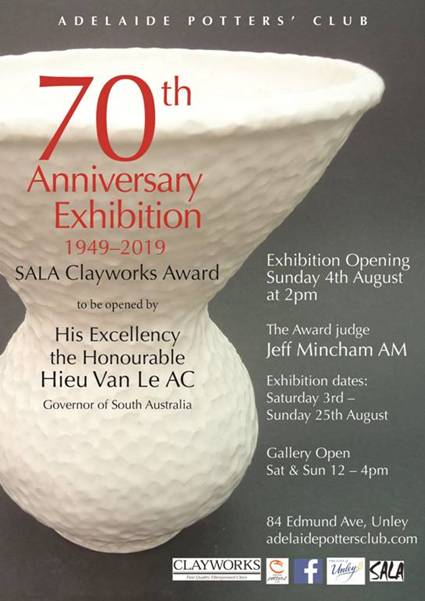 Tat Tvam Asi (I am you and you are me) Madhu Saraf

1 – 31 August

Malcolm Reid Building
Lee Walter
SALA and Centre for Creative Health Artist in Residence Exhibition

1 – 31 August 2019

Guided by her conversations and cherished interaction with patients and families living with dementia during her Centre for Creative Health and SALA artist residency at the Royal Adelaide Hospital, Lee Walter has created a body of work representing the essence of the time she has spent with each individual.
Royal Adelaide Hospital Level 3 Centre for Creative Health
UNDER GROUND

August 2019

Adina Apartment Hotel, 2 Flinders Street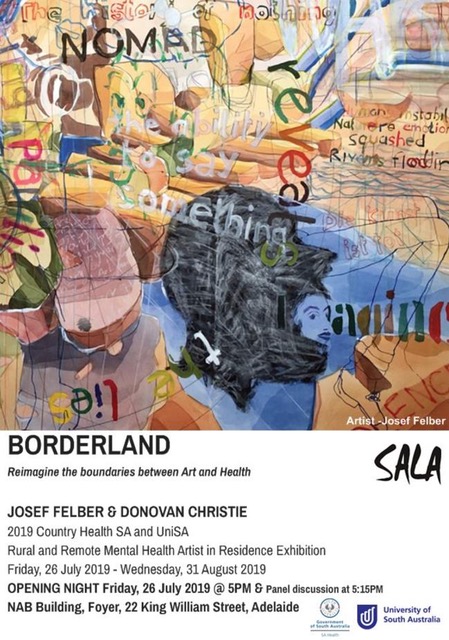 MOTION
James Dodd

8 August – 15 September 2019

James Dodd has a practice that meanders across a range of different outcomes. He has a curiosity for machines, tinkering, backyard adaptation and the way in which these things might be incorporated into a visual arts practice. This exhibition includes a selection of recent paintings created as part of Dodd's Painting Mill project alongside a number of contraptions that are part sculpture, part tool and part performance prop.

Hahndorf Academy
Intrinsic

Opening: 5 August, 5:30 – 7:30pm

A collaboration between 2019 Emerging Curators, Chiranjika (ChiChi) Grasby, Christina Massolino and Jack McBride presented as part of the SALA Festival and the City of Adelaide Emerging Curator Program.
Intrinsic seeks to explore ideas of connection to place, land and home. The artists exhibiting are from various cultural backgrounds including Australian Aboriginal and new migrant heritage. Connections as well as differences are created and comparatively curated in reference to feelings of belonging and place, with a focus on artistic process and the importance of expressing and conversing through this important dialogue.
Adelaide Town Hall

Dictatorship of Gravity (and other micro-politics)

Opening: 8 August, 5:30 – 7:30pm

Emerging South Australian artists Felicity Townsend and Loren Orsillo began their Artist in Residence roles at Carclew at the beginning of 2019. This opportunity has enabled the two young artists to develop and explore their practices, as well as the freedom and space to create new bodies of work.
Exploring both compliance and rebellion against rules, conventions and forces that construct our reality, both artists employ installation to push boundaries both real and imagined. From the fundamental interconnectedness of sub-atomic forces through to mundane specimens of material culture, this exhibition examines the micro-conditions that collectively govern our lived realities.
Carclew Foyer Gallery & Ballroom

Was ist los Hahndorf
Rachel Harris

8 August – 6 October 2019

"There is no new history only new historians" Rachel Harris is a new historian and for SALA 2019 she has turned her disruptive eye on Hahndorf.

Hahndorf Academy
Super Natural Geologies
Amy Joy Watson

1 August – 24 August 2019

Hugo Michell Gallery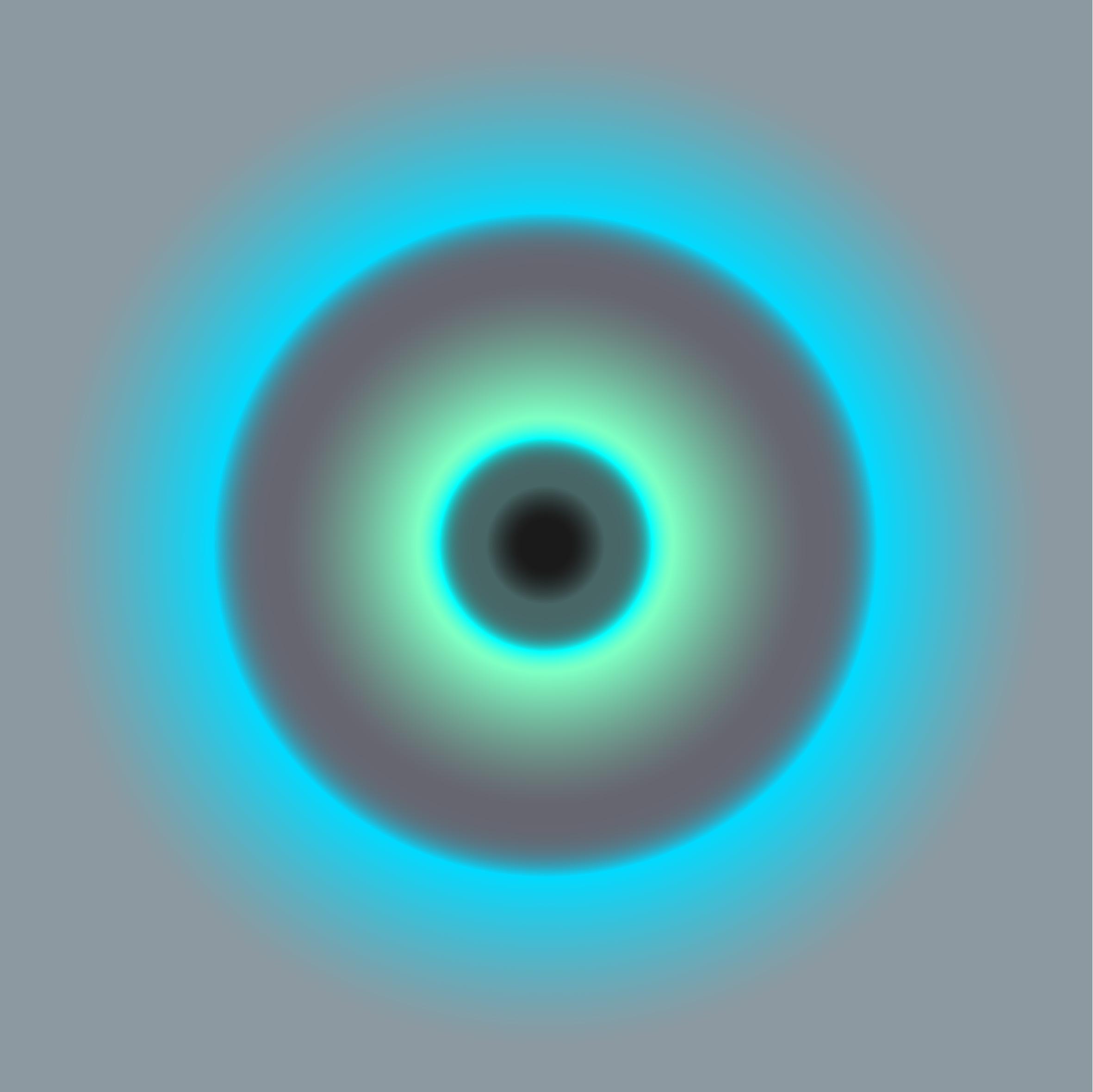 Extra Virgin

August 2019

West Gallery Thebarton's 2019 SALA exhibition features a group of exciting and emerging artists including Steve Bellosguardo, Max Callaghan, Nicholas Elliott, Thomas Folber, Joel Gailer, Anna Gore, Sam Howie, Jonathan Kim, Nerissa Kyle, Eric Loeschmann, Monika Morgenstern, Loren Orsillo, Tara Rowhani-Farid and Joshua Searson. An exhibition of exciting and emerging artists, who discuss some of the pressing issues facing young contemporary artists today.

West Thebarton Gallery
2019 SALA Feauture Artist: Louise Haselton

Like Cures Like

Opening: 1 August, 5-7pm

Samstag Museum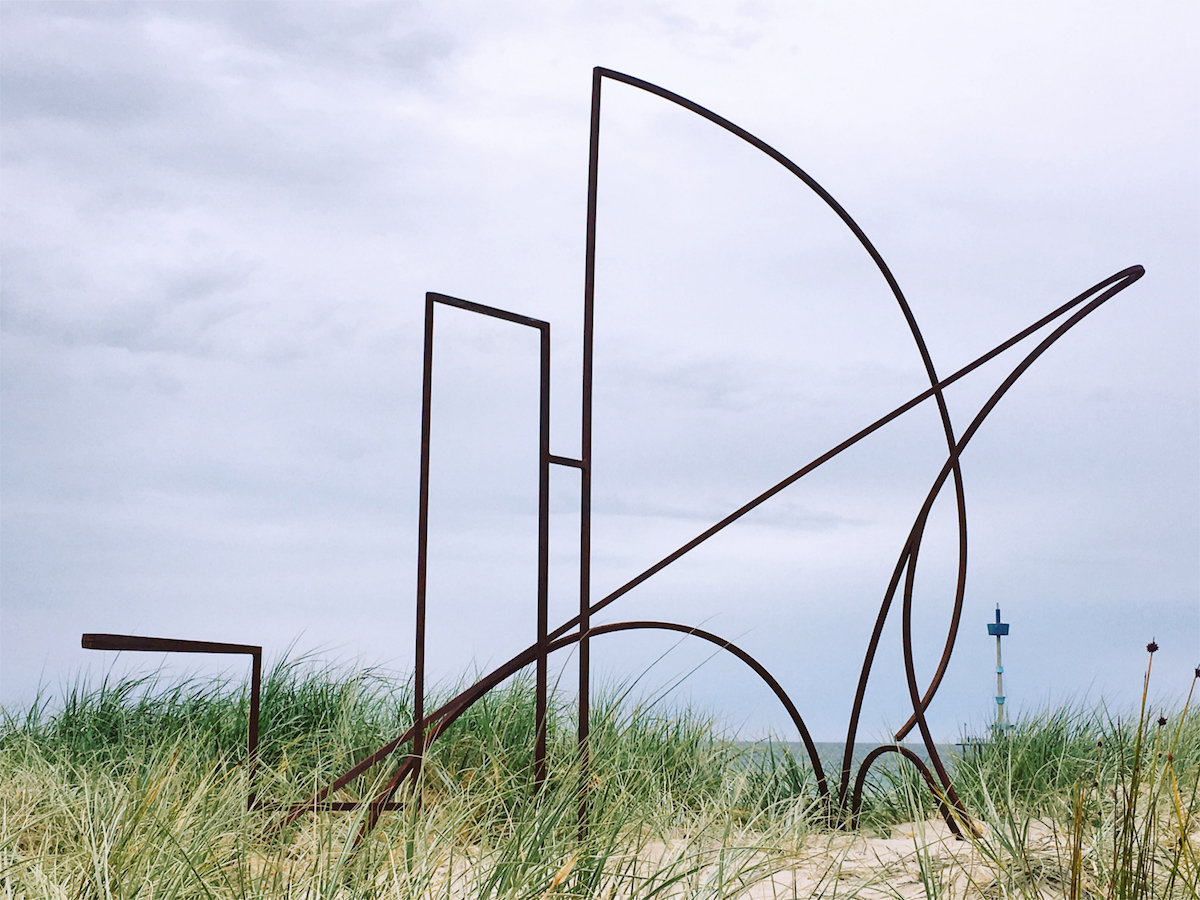 Steven Bellosguardo, Myspace, 2018. Image courtesy of the artist.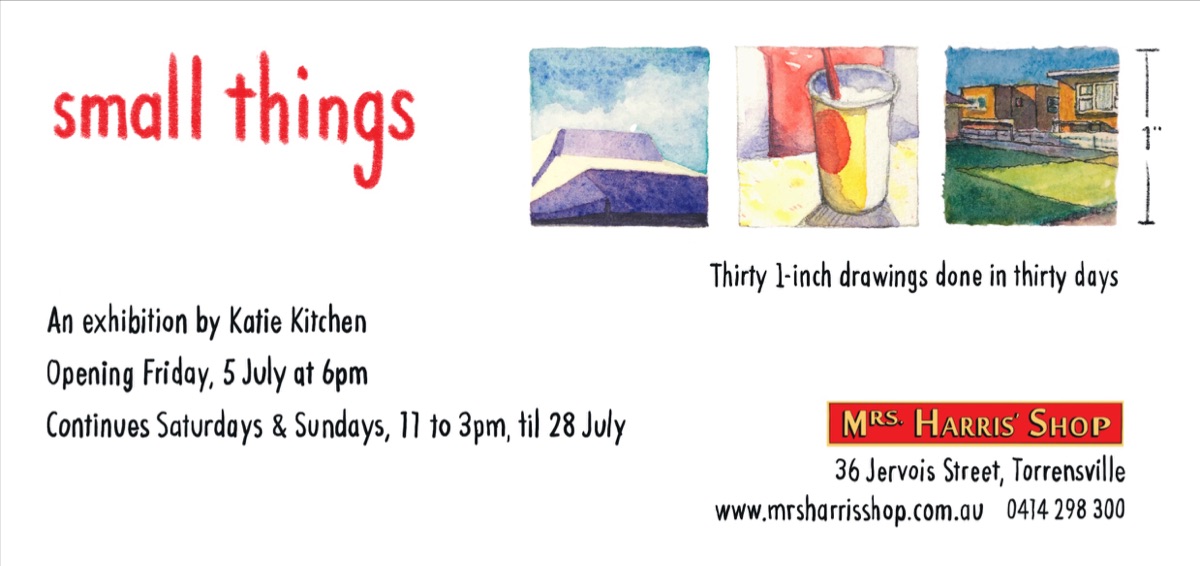 5 July – 28 July 
Mrs Harris Shop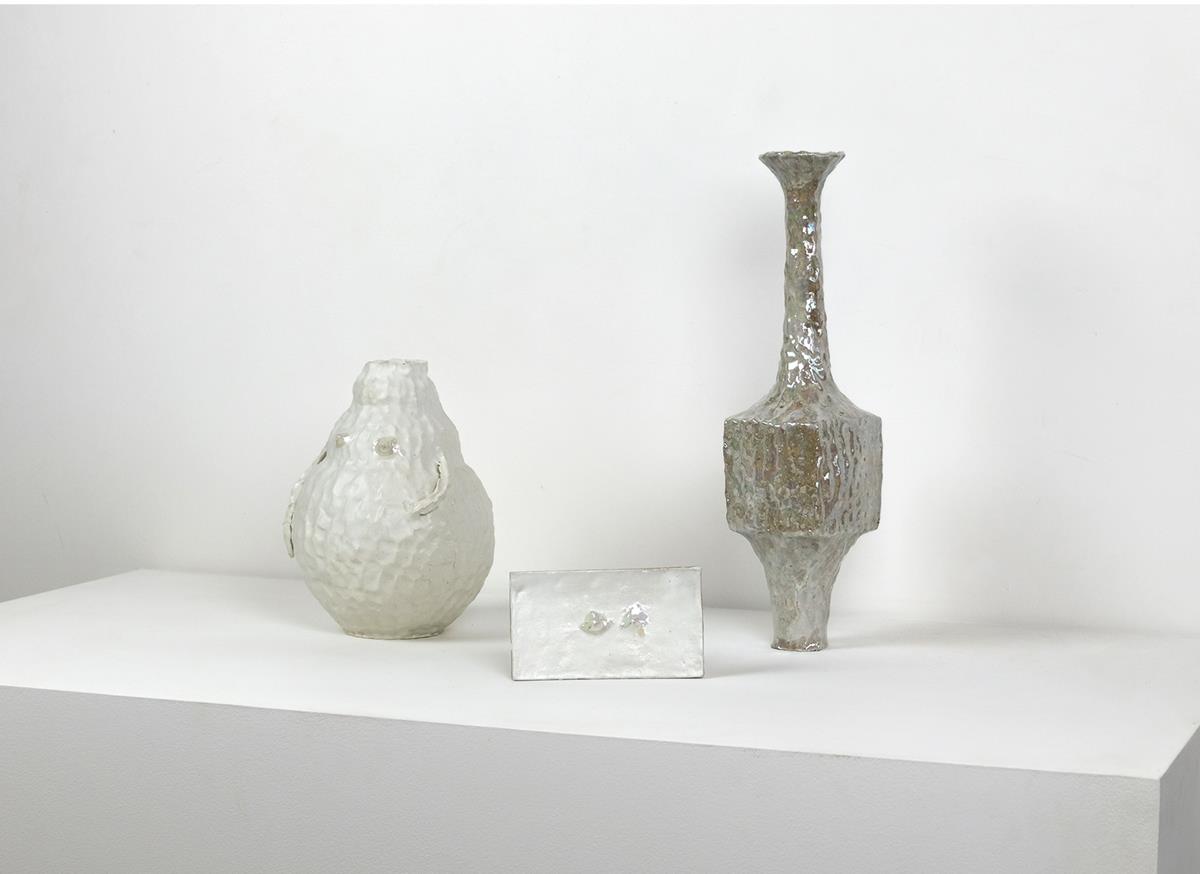 Connie Augoustinos, untitled vessels, 2019.
26 July – 22 September 2019
JamFactory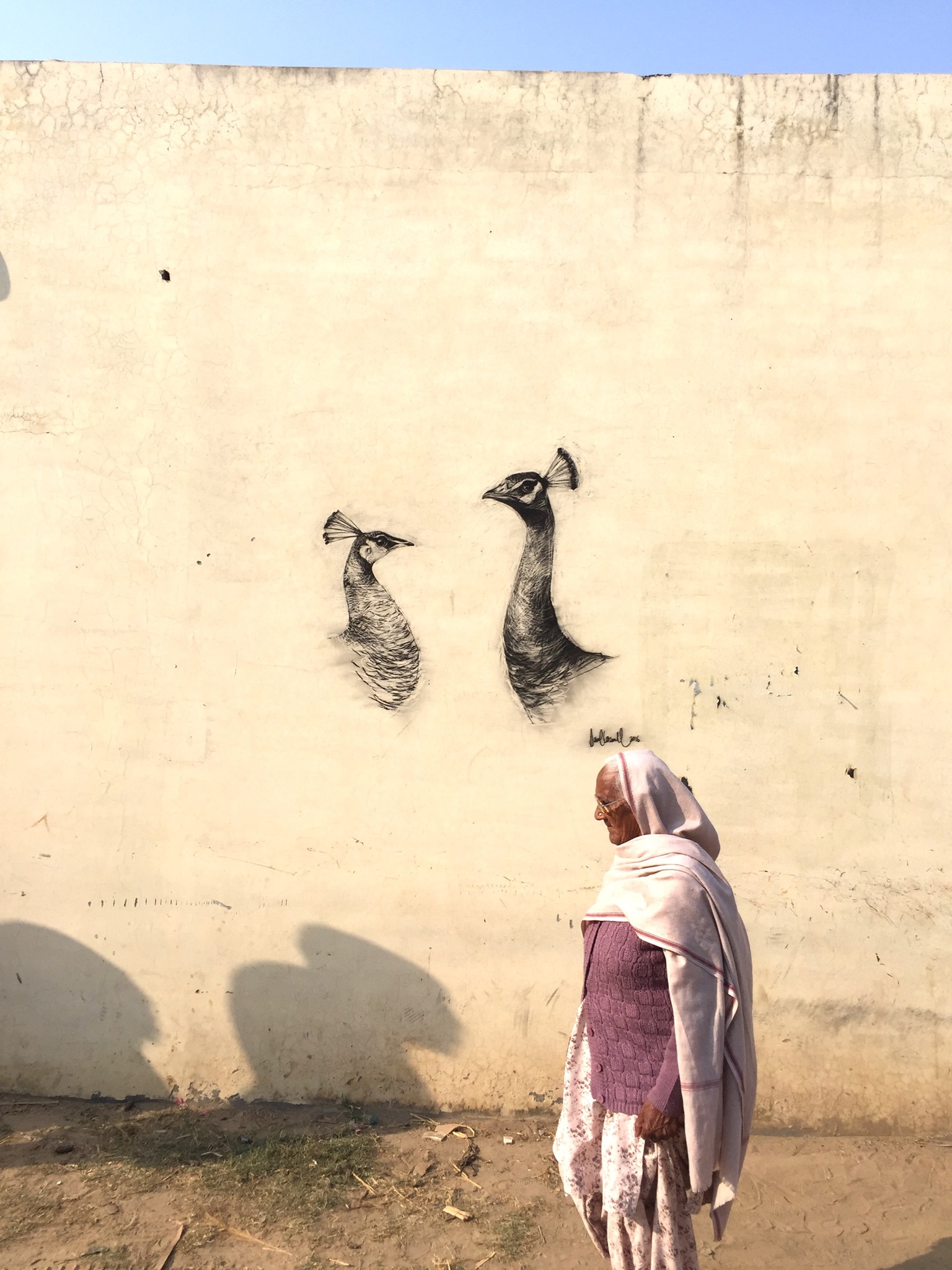 Daniel Connell, Mor and Mornee (charcoal on wall) and Aunty, Gawaddi Village, Punjab, 2014.
July 19 – August 7 2019,

SASA Gallery

The Inland Sea: Kate Kurucz
An exhibition of oil paintings on copper exploring the fraught legacy and strange romance of doomed expeditions. What is sought? What is taken? What is lost?

Hunger of the Void: Ray Harris
Hunger of the Void uses performative video, installation and diorama to explore internal narratives and psychological spaces of distress, escape, engulfment and surrender.
Opening: 22 August, 6-8pm
praxis ARTSPACE

Arthur
August, 2019

Currie Street, Adelaide
New Sculptural Works
Tsering Hannaford

Opeing: 31 July, 6-8pm

Portraiture is the focus of my practice and I'm interested in examining the roles and expectations of women through self-portraiture. This body of work presents a departure from traditional tonal realism, and an exploration of the psyche through sculptural form. In a hyper self-conscious culture, individualistic preoccupations can become disempowering obstacles to agency in the world.
GAGprojects
Substance That Promotes Healing
Laura Wills and Elizabeth Close

Placebo
John Blines
Opeing: 31 July, 5:30-6:30pm

Promenade Gallery A & B, Flinders Medical Centre
Borderline: Sampling the Edge

9 August – 1 September

Exploring the edges of textile practice in South Australia: the experimental, conceptual, and playful alongside masterful, carefully honed, traditional techniques.
Building 20, Fabrik, 1 Lobethal Rd, Lobethal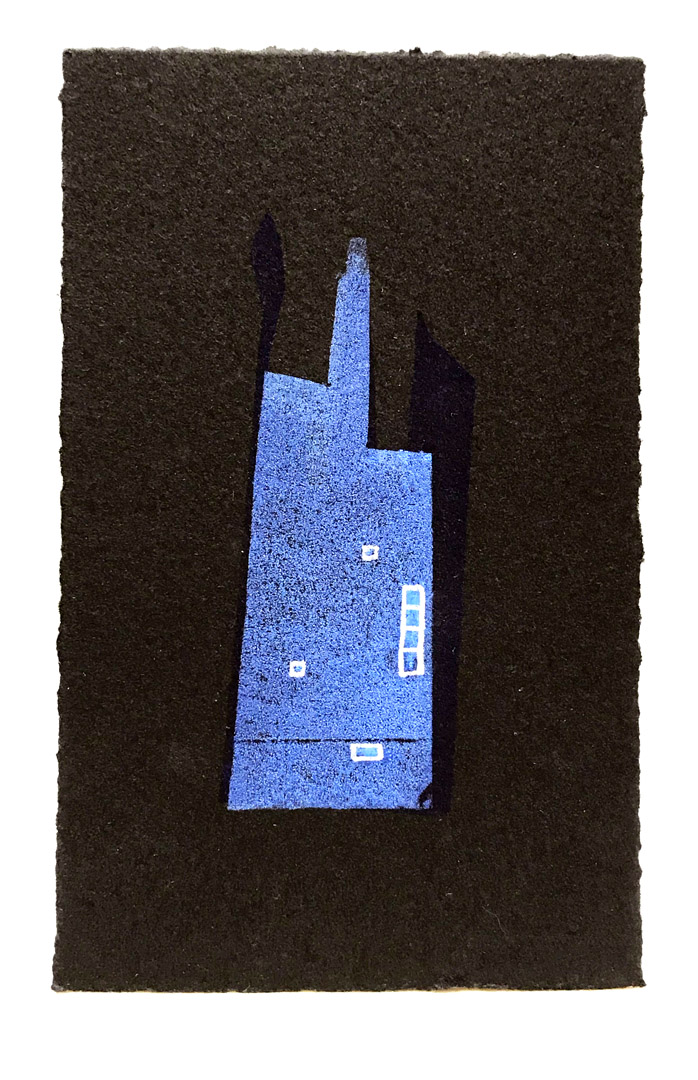 Swatch

9 August – 1 September

Swatch: a small sample that demonstrates the look of a larger piece.
Knowing that good things come in small packages, the artists in this exhibition have responded to the challenge to represent their practice on a small scale, with all works no larger than 9″ x 9″.
Building 20, Fabrik, 1 Lobethal Rd, Lobethal
Bijou
Stephen Bowers

Opening: 8 August, 6pm

"My works are mostly ceramics along with two surfboards done in collaboration with professional surfboard maker Peter Walker. Collaboration plays an important part in my work and I make particular mention of master-potter Mark Heidenreich (collaboration in the pair of Chintz vases) and sculptor Andrew Stock. Scale ranges from modest to magnified, from seriously elaborate to designs off-set by touches of surreal whimsy."
David Roche Foundation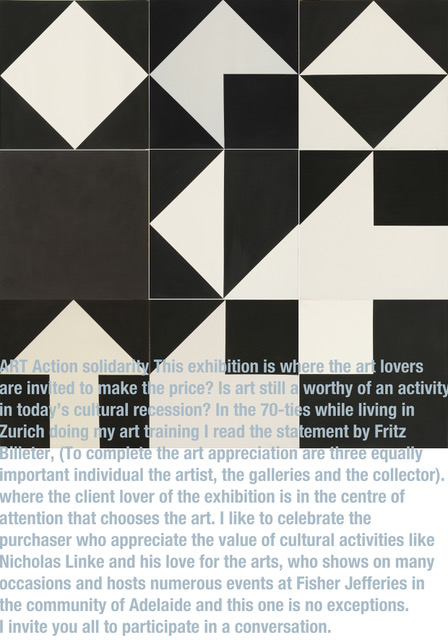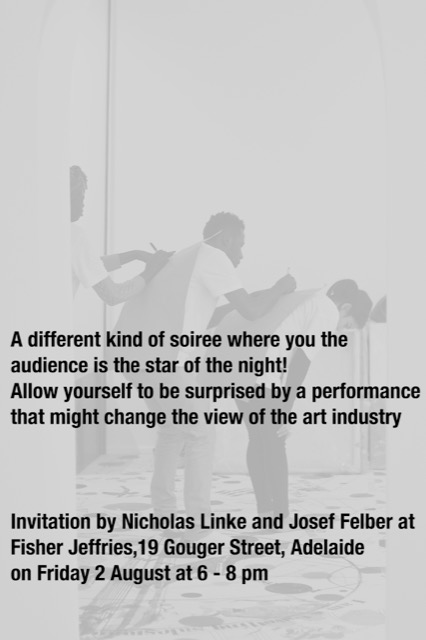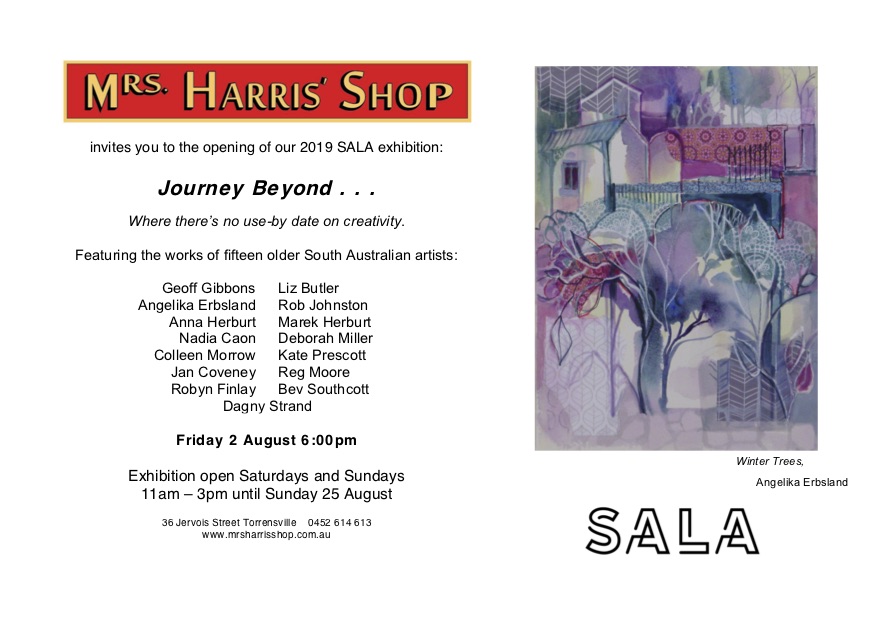 Conversations with Friends…..

5-30 August 2019

Conversations with Friends presents the work of 24 artists responding to the work and friendship of two significant Australian artists Margaret Preston and Gladys Reynell.

Light Square Gallery
Through the Stars Gavin Wanganeen
25 July – 24 August 2019

Hill Smith Gallery presents Through the Stars, an exhibition by contemporary indigenous artist Gavin Wanganeen, as part of this year's SALA (South Australian Living Artists) Festival.

Hill Smith Gallery
DADIRRI

20 July – 8 September 2019

"Water is life and is a connection between all of us, no matter what place we come from… Find the Stream Within is our way of saying find your inner peace. Through our artworks, each of us expresses how we find peace within ourselves, within our culture and our country, within connectedness with each other and with the world around us."

Red Poles
VIVID

Opening: 4 August, 2-5pm
7 August – 14 September, 2019

Curated by Ellen Schlobohm, this SALA Festival exhibition features artworks by 26 artists from Tutti Arts whose uncompromising use of colour and fearless style achieve outcomes that are truly vivid.

Gallery 1855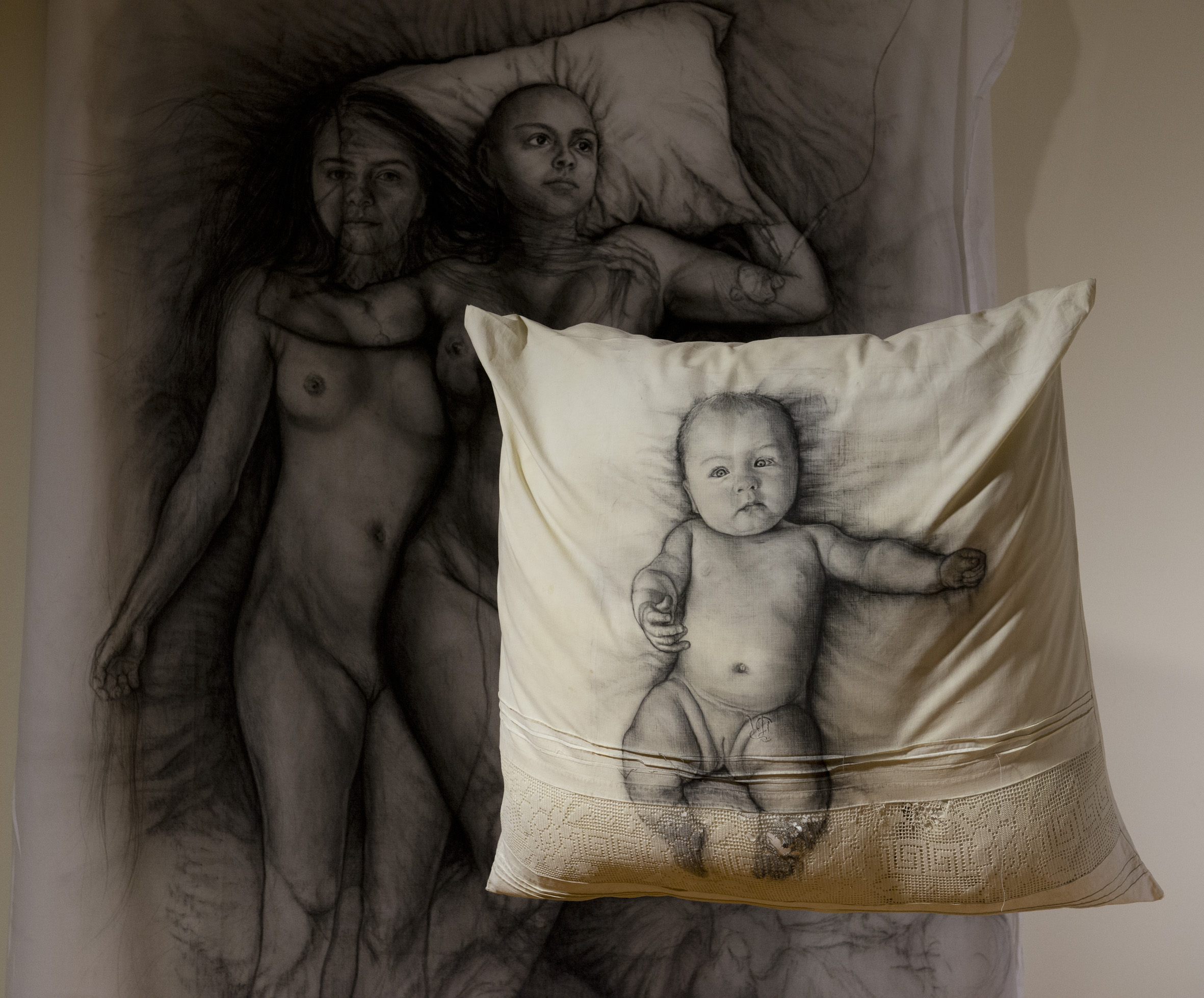 Margaret Ambridge, Installation view of 'Meriani' with pillow portrait, 2019.  Photographed by Mark Fitz-Gerald
19 July – 16 August
praxis ARTSPACE
Audacious

August: 11, 31 2019
11 am-5pm

Cheryl will showcase thought provoking fine art embroideries, her unique visual language is laced with dreams, feelings and passion. Cheryl will be present to demonstrate at each day of exhibition, with her sketchbooks on show.

Beltana House Gallery Address 2: 364 Carrington St Suburb: Adelaide 5000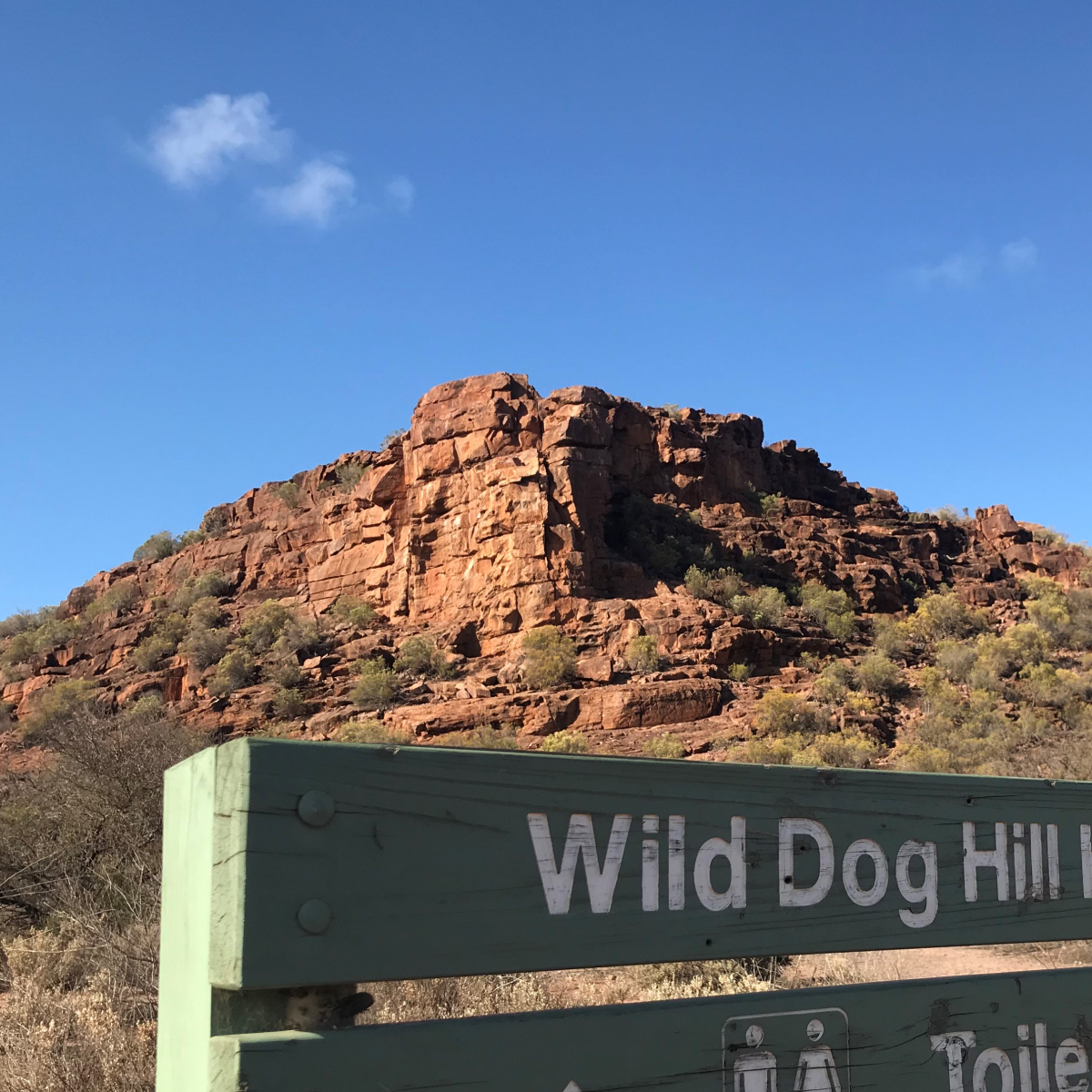 Joseph Matthews, Wild Dog Hill, 2019.

Helen Burt, Geraldine Gillen, Michal Hughes, Deborah Hughes, Karl James, Eileen Jones, Terissa Sheperd, Jane Skeer, May Walker-Jeffreys, Olivia White
8 – 29 August 2019

Old Civic Library, Whyalla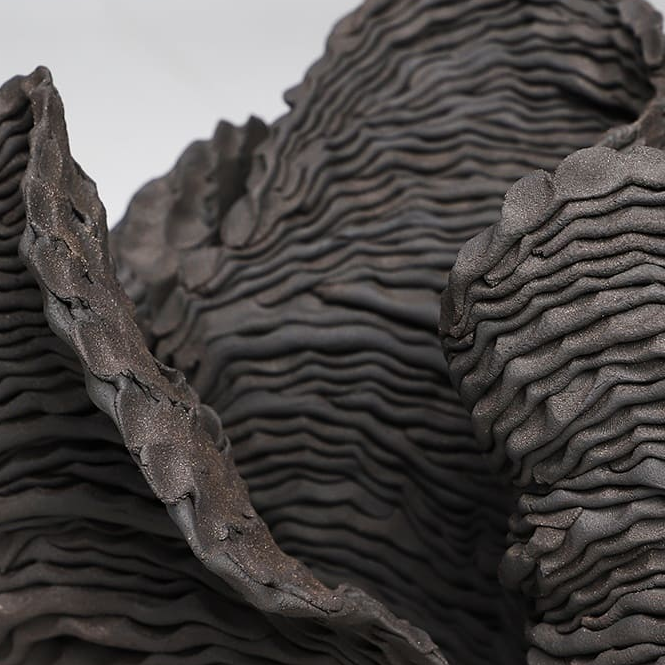 Sam Gold, Obsidian. 2108.

9 August – 1 September, 2019
Floating Goose Studios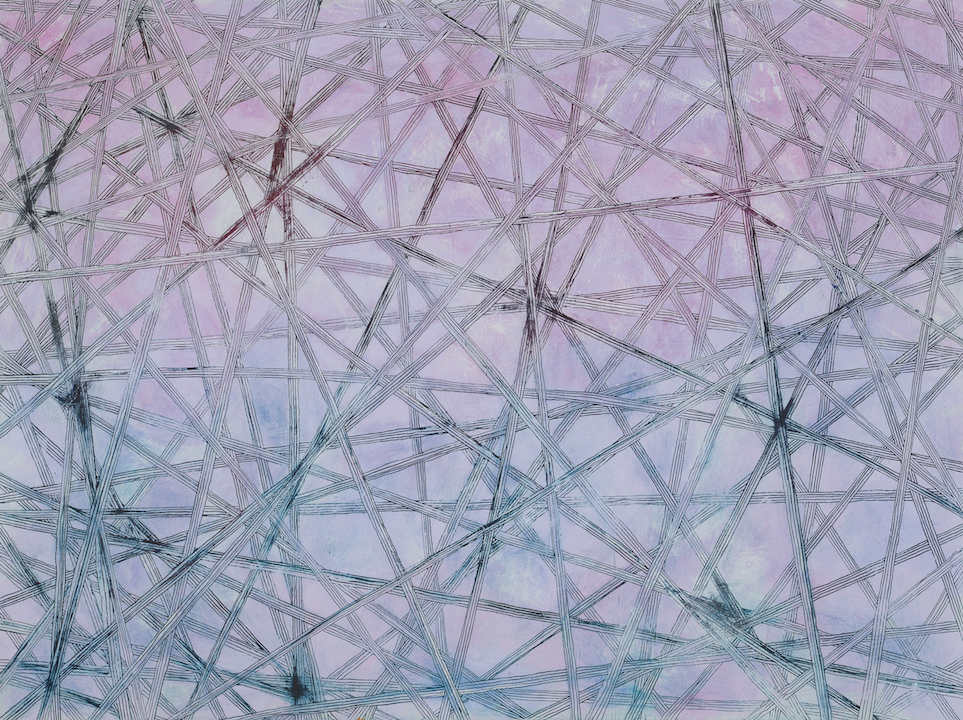 Yoko Lowe, Life as Lines III, 2018, egg tempera on plywood panel. Photograph James Field. Image courtesy the artist.

1 – 31 August

City of Mitcham Foyer Art Gallery 

Guildhouse is all about connecting creatives with opportunities.
We share a variety of opportunities on offer through our partner organisations and the wider industry. In this section you can explore a variety of Art Prizes, Commissions, Proposals, Call-Outs, Residencies, Mentorships, Career Development, Grants and Funding opportunities.
This content is available to members only and requires a login.
Up Your Insta Game: For Artists + Crafts Peeps
Join Ilona G @ottimade+

Once a week for 6 weeks
Starting 13 August

Learn how to take your insta from something you think you should be doing to the money making attention creating tool that it is.
Numbers are strictly limited
If you are interested please contact:
Grants to cover the course may be applicable for regional applicants but are time senstitive, so please dont delay.
The Barossa Regional Gallery

4th Biennial RSASA/SALA Portrait Prize Exhibition: Portrait Demonstrations

30 July – 20 August

Royal South Australian Society of Arts Inc

Pepper St Arts Centre: Watercolour Classes

Fridays 10:15 am – 1:15pm
26 July – 13 September 2019

Suitable for all levels including beginners, Lorraine seeks to inspire all levels of painters to create exciting, colourful watercolours.
Techniques, colour theory and composition will be covered, along with plenty of demonstrations including creating paintings with minimal or no drawing. Suggested materials list available. 8 week terms.
Pepper Street Arts Centre

Learn to sew a sustainable living kit
In this workshop you can build on sewing basics and make a number of projects to create your own sustainable living kit. Cindy from Wonder What You Were will help you sew the perfect kit to hold all your reusable products to carry with you everywhere.  Learn to sew a reusable and washable cutlery wrap, drawstring bag, produce bags, tote bag and more.
Open Studio: Painting with Deidre But-Husaim
Over this two-day nature inspired workshop, you will be guilded through open-ended creative exercises, play with a variety of materials and learn how to paint.
Thursday 6.00pm – 9.30pm
18 Jul – 31 Oct | 14 weeks
No classes held Thu 12 – 19 Sep
Adelaide Central School of Art
'The Body Caught – drawing the body in motion' masterclass with Chris Orchard
This intensive masterclass is constructed around the body in motion vs. stillness. A model will 'choreograph' movememnt for participants to capture in drawings – sometimes as fleeting as the moment, at other times held in suspension for longer periods
August 3 and 4
Individual & Team glass blowing

Individual Workshop: Experience an intensive one-on-one session in the glass studio…practice glass blowing techniques taught by experienced practitioners in a professional environment. Participants then design and make their own glass piece whilst developing skills in gathering, forming and design.
Session Times: Saturday or Sunday 8am – 12pm or 12.30pm – 4.30pm
Group Workshop: Live glass blowing demonstrations and tuition, where everybody will be dipping into the furnace with a chance to make their very own paperweight or drinking glass. This program is perfect for social, corporate and school groups.
Session Times: Negotiable
Time & Date: Duration: 4 hours
Cost: Individual Workshop $520 | $480 concession Team Workshop $3200 (max 16 people)
To book contact Karen Cunningham on (08) 8410 0727 or karen.cunningham@jamfactory.com.au
STUDIO SPACE: Adelaide Hills Art, Craft & Design Centre – EOIs

Tim Shaw is investigating the feasibility of setting up an art, craft and design centre in the Adelaide Hills. It would be centrally located in a popular tourist destination, and would incorporate a retail/gallery area and individual studio spaces. It would be open to the public and offer the opportunity for direct sales and exhibiting of work. He would be offering a variety of studio sizes suitable for artists, creatives, designers and craft practitioners. The centre would also include a dedicated teaching space that would be available for hire to studio tenants.

To submit an expression of interest contact Tim Shaw: tim@timshawglass.com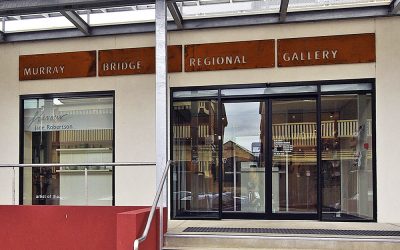 The Murray Bridge Regional Gallery. Image courtesy the gallery.Friday 11 October 2019 Pricing: Guildhouse Financial Members: Free Non-members: $10 Location: Murray Bridge Regional Gallery, 27 Sixth Street, Murray Bridge Presenter: Guildhouse Executive Officer Victoria...