What's On & Opportunities
Neville Cichon, A Line Has Been Drawn, 2016, 28 x 24 cm. Photograph Neville Cichon.
Guildhouse is dedicated to connecting you with sector news, events and opportunities. Here you can explore these discover what is happening across the creative industries.
These events, exhibitions, opportunities, studio spaces and equipment are independent from Guildhouse: please be sure to follow the links or contact information provided to inquire further.
Some of this content is available to members only, and will require you to login to view.
If you would like to submit content for promotion on the Guildhouse website or social media platforms please follow the link below.
Guildhouse is all about connecting creatives with opportunities.
We share a variety of opportunities on offer through our partner organisations and the wider industry. In this section you can explore a variety of Art Prizes, Commissions, Proposals, Call-Outs, Residencies, Mentorships, Career Development, Grants and Funding opportunities.
This content is available to members only and requires a login.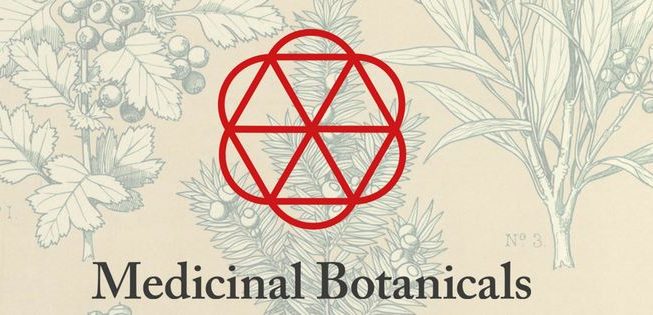 We'd like to invite members to share their interest in potential future projects. The Medicinal Botanicals Project brings together artists with botanist and pharmacologists to celebrate the important connection between people, plants, science and culture. Throughout 2019 – 2020 diverse partners will come together to produce and exhibit artwork, present symposia and host discussions in a variety of settings.
Tarnanthi

18 October 2019 – 27 January, 2020

Shedding new light on contemporary Aboriginal and Torres Strait Islander art
The name (pronounced tar-nan-dee) comes from the language of the Kaurna people, the traditional owners of the Adelaide Plains. It means to come forth or appear – like the sun and the first emergence of light.
Tarnanthi is a platform for Aboriginal and Torres Strait Islander artists from across the country to share important stories. It encourages new beginnings by providing artists with opportunities to create significant new work and to extend their practice.
It illuminates the diversity and depth of Aboriginal and Torres Strait Islander art by presenting an annual exhibition, art fair, artist talks, performances and events. Tarnanthi is led by Artistic Director Nici Cumpston, AGSA's Curator of Aboriginal and Torres Strait Islander Art.
With the heart of the Festival at the Art Gallery of South Australia, partner exhibitions are featured at diverse venues – from regional galleries to city hospitals, town halls to university campuses and museums to artist studio spaces.
Tarnanthi is presented in partnership with BHP and with the support of the Government of South Australia.
Tarnanthi at AGSA

18 October, 2019 – 27 January, 2020

Tarnanthi at AGSA presents works of artistic excellence, creative daring and groundbreaking innovation by Aboriginal and Torres Strait Islander artists from across the country. This unmissable experience begins from the moment visitors enter the Gallery.
Vestibule
An imposing sculptural linocut by Brian Robinson greets visitors inside the entrance, alongside new work by Damien Shen.
Gallery 1
Bunha-bunhanga reveals how Aboriginal agriculture shaped the Australian landscape over millennia. This is the first presentation through visual art of the groundbreaking research into pre-colonial land use by Uncle Bruce Pascoe and Bill Gammage. It brings together historical landscape paintings and rarely seen Aboriginal agricultural tools amid a soundscape of seed grinding and Wiradjuri spoken word, through the curation of artist-researcher Jonathan Jones.
Gallery 7
Darrell Sibosado presents large-scale steel sculptural reimaginings of pearl-shell carving designs from the Kimberley coast. Pauline Sunfly represents her Western Desert homeland in bold graphic patterns and vivid blocks of colour.
Gallery 8
In a dialogue across generations, Western Aranda watercolourists respond to historical 'Hermannsburg School' works in a tribute to the legacy of Albert Namatjira.
Gallery 9
Tiwi artists demonstrate their rich artistic tradition with an installation of carved Pukamani ceremonial tutini (poles) and painted tunga (bark baskets). Nearby are Garry Sibosado's monumental incised pearlshell works and paintings by Peter Mungkuri and Judy Watson.
Gallery 10
Nyaparu (William) Gardiner honours the stockman and the strikers of the Pilbara in his endearing paintings and drawings.
Gallery 11
Peggy Griffiths-Madij's paintings present an immersive vision of her Miriwoong homeland in the East Kimberley, while Ryan Presley's Blood Money paintings reimagine Australia's national currency as a celebration of Aboriginal history.
Atrium Breezeway
Etchings of intricate pearl shell carvings by Garry Sibosado and Darrell Sibosado.
Downstairs galleries 22–25
The must-see exhibition Gurruṯu reveals cutting-edge Yolŋu contemporary art from north-east Arnhem Land, with works including complex etchings of traditional designs on aluminium panels, interactive moving-image projections, an award-winning video in Yolŋu sign language, and audacious bark paintings in the vivid pink of leftover photocopier toner. Also downstairs are the Dhawuṯ display of Yolŋu bark paintings, a fun short film sharing Iwantja women's love of pop culture, Ngupulya Pumani's ambitious triptych, Robert Fielding's sandblasted car-wreck sculptural work Mutaka, uplifting paintings and semi-animated videos from Alice Springs' Town Camps and Thea Anamara Perkins' poignant portraits of Town Camp artists. There is also the moral kapow! of teenager Layne Dhu-Dickie's Aboriginal comic-book superhero Captain Hedland, wonderful wood carvings by Badger Bates, Miriam Charlie's confronting images from her community of Borroloola, new works from Tony Wilson and Sandra Saunders, and memories of frontier conflicts given form in wood, paintings and tjanpi (woven grass).
AGSA

Tjina Nurna-ka, Pmarra Nurna-kanha, Itla Itla Nurna-kanha
Our Family, Our Country, Our Legacy

25 October, 2019 – 27 January, 2020

This exhibition of works by Western Aranda watercolourists associated with Ntaria (Hermannsburg) pays tribute to the enduring legacy of famed artist Albert Namatjira. In a dialogue across generations, the exhibition features recent and decades-old paintings drawn primarily from practising artists of Iltja Ntjarra Many Hands Art Centre in Alice Springs and the collections of Flinders University Museum of Art, Art Gallery of South Australia and South Australian Museum.
Curated by Marisa Maher, Assistant Manager, Iltja Ntjarra Many Hands Art Centre with
Nic Brown, Collections Curator and Madeline Reece, Exhibitions and Programs Assistant, Flinders University Museum of Art.
Presented in partnership with the Art Gallery of South Australia and Iltja Ntjarra Many Hands Art Centre for Tarnanthi: Festival of Contemporary Aboriginal & Torres Strait Islander Art, 2019.
This event will also celebrate the opening of our new gallery at Finders University, Bedford Park.
Please note Tjina Nurna-ka, Pmarra Nurna-kanha, Itla Itla Nurna-kanha: Our Family, Our Country, Our Legacy is showing across two sites.
Ground Floor | Social Sciences North Building (off Humanities Road)
Flinders University | Bedford Park

Rebooted & Wrapped
Chrissy Pudney and Glenys Hughes

3 December 2019 – 29 February, 2020

Partners in art, Chrissy Pudney and Glenys Hughes have put together an exhibition of their work over the past twelve months. These talented ladies have each selected individual forms to explore in their chosen styles and materials.
Chrissy has taken the challenge to "reboot" items found in our local area along with items gathered on her travels in Australia. She has placed a strong focus on the reuse of bailing twine, electrical wires and paper.
Glenys has "wrapped" her explorations in new methods while working with natural fibres, summer weight yarns and silk. She has been focusing on texture, eco dying and the use of plants to produce subtle colours in her wearable art.
This fine exhibition of work will be on show over the Christmas period. Chrissy and Glenys will invite the public to join them at the Gallery for conversation and afternoon tea on Sunday 19th January, 2020, from 1.00 to 3.00pm.
Port MacDonnell Community Complex

Little Gems: Lilliputian Works in a Variety of Media"

8 December, 2019 – 31 January 2020

Gallery 54, Penola

2020 Palmer Sculpture Biennial

14 March – 12 April, 2020

The curatorial selection for the Palmer Biennial 2020 has been made. The Palmer Sculpture Biennial has engaged a number of Australia's most academically recognized curators/writers on sculpture in the selection for the event, often from outside South Australia, this they believe has strengthened the quality of the event.
Palmer

Learn to sew a sustainable living kit
In this workshop you can build on sewing basics and make a number of projects to create your own sustainable living kit. Cindy from Wonder What You Were will help you sew the perfect kit to hold all your reusable products to carry with you everywhere. Learn to sew a reusable and washable cutlery wrap, drawstring bag, produce bags, tote bag and more.
Individual & Team glass blowing

Individual Workshop: Experience an intensive one-on-one session in the glass studio…practice glass blowing techniques taught by experienced practitioners in a professional environment. Participants then design and make their own glass piece whilst developing skills in gathering, forming and design.
Session Times: Saturday or Sunday 8am – 12pm or 12.30pm – 4.30pm
Group Workshop: Live glass blowing demonstrations and tuition, where everybody will be dipping into the furnace with a chance to make their very own paperweight or drinking glass. This program is perfect for social, corporate and school groups.
Session Times: Negotiable
Time & Date: Duration: 4 hours
Cost: Individual Workshop $520 | $480 concession Team Workshop $3200 (max 16 people)
To book contact Karen Cunningham on (08) 8410 0727 or karen.cunningham@jamfactory.com.au
Taking the photographs you dream of

PART ONE – Gets you up to speed with the way your camera works and it's main controls
PART TWO – Starts you off using the full control of your camera for specific creative results
PART THREE – Gives you an insight into storytelling and light and how to create meaning in your photos
Presenter Nat Rogers spent the last twelve years as a working photographer — photographing catchy images for newspapers — and it's her mission to help photographers stop wasting money on cameras they don't know how to use. The truth is… you need a few simple hacks and bits of knowledge to succeed with any camera. Nat knows this because she's mentored and taught hundreds of people and watched them have AHA moments with their camera.

Online 3 hour video course $257

Adelaide Central School of Art: Term 4 Short Courses

Enrol now and save 10% on our exciting range of studio-based short courses in drawing, painting and sculpture.
All our courses are taught by professional artists, many of whom also lecture within our degree program. Small class sizes ensure you will receive individual, expert attention.
Enrol early to avoid disappointment – places fill up fast! Courses commence Saturday 21 September.
View the Program here. Book online, email Reception or call 08 8299 7300.
Workshops in Jewellery Making from recycled & reclaimed materials

Sue Garrard is a South Australian based artist working in the areas of jewellery, print-making and installation. Much of her arts practice focuses on the use of recycled and reclaimed materials.
Sue will soon be teaching workshops in jewellery making from recycled and reclaimed materials at her studio at the JamFactory Seppeltsfield.
Powerhouse invests $180,000 into Australian artists
Setting an agenda to support contemporary practice, the Powerhouse has awarded six $30,000 commissions to Australian glass and ceramic artists.
The launch of the Willoughby Bequest 2020 Commissioning Program this week is part of a suite of new programs recently announced by the Powerhouse which supports living artists – the first for the collecting institution.
'This is an $180,000 investment into the practice of Australian artists', Lisa Havilah, Chief Executive, Powerhouse Museum, told ArtsHub.
'With this Bequest we are doing something we haven't done before at the Powerhouse Museum – we are focusing on commissioning new works to build our collections, and deliberately turning to the practice of living artists.'
Powerhouse

New Pay Standards for Artists & Arts Workers
As part of NAVA's major revision of the Code of Practice, we have drafted a set of new Pay Standards for Artists and Arts Workers that responds to the urgency for our collective work on improving the sustainability of Australian artists' careers. Feedback on this draft is open until 30 September 2019.
NAVA

New Countess Report
Independent sectors lead the visual arts in gender equality, while state institutions fall behind.
The latest Countess Report, Australia's premier reference point on gender representation in the contemporary visual arts, has been released today.
The Report reveals significant gender equity gains across public galleries, artist-run initiatives, major museums and university galleries, biennales, commercial galleries and contemporary art organisations, alongside declines at state galleries and museums.
A total of over 13,000 artists across 184 organisations were counted.
The Report's highlights include:
Women are equally represented (at 50% or higher) in the following categories: art prizes, contemporary art organisations, boards and executive staff, and artist-run spaces;
Artist-run spaces have exhibited 61.38% women (up from 49.37%), 34.78% men, and 2% non-binary artists;
Commercial galleries have exhibited 53% women (up from 39%), and 43% of represented artists are women (up from 39%);
State-owned galleries have exhibited 33.98% women (down from 36.90%) and 66.02% men (up from 56.80%), with no data available on non-binary artists;
Director or CEO-level roles are held by 61.36% women and 38.63% men overall, while among state-owned galleries, the figures are 12.50% women and 87.50% men.
NAVA, Countess Report, Sheila

SA Artists For Climate Change

Dear artists across Australia concerned with political inaction on our climate emergency.
This is a call to action.
As artists we declare a climate emergency. Let's act as individuals together across the month of October. It has been shown that contacting our leaders, our decision makers, in a targeted way, directly, personally, and individually, is the most effective strategy to create and continue change. This project is about encouraging those that are part of this change.
We invite you to make a climate badge that reflects the materials and methods of your art practice and addresses your climate emergency concerns. Send this to your politician/leader/local member/decision maker/researcher/board member/person of influence of choice with an explanatory note (you can use the template below). Do this to propel their good work further, to give encouragement to keep going, or to spur someone into action who can do more.
Work individually, or gather your friends, run a badge-making session in your studio or your place of work, take this project wherever you can. Share this call to action far and wide. Your art voice is valuable.
Post it, with your note, to your leader of choice. Share your badge and note on Instagram using #climatebadges and tag your selected badge recipient where possible. Follow this hashtag to see other contributions.
Thank you for taking action. Collective action has power.
SA Artists for Climate Action.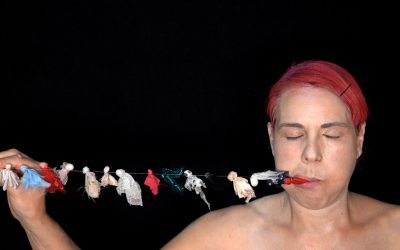 Ray Harris, On the tip of my tongue, 2018, HD digital video still. The Collections Project Ray Harris The Guildhouse Collections Project with Flinders University Museum of Art (FUMA) 20 July – 18 September 2020 Ray Harris is a South Australian artist whose visual...