What's On & Opportunities
Neville Cichon, A Line Has Been Drawn, 2016, 28 x 24 cm. Photograph Neville Cichon.
Guildhouse is dedicated to connecting you with sector news, events and opportunities. Here you can explore these discover what is happening across the creative industries.
These events, exhibitions, opportunities, studio spaces and equipment are independent from Guildhouse: please be sure to follow the links or contact information provided to inquire further.
Some of this content is available to members only, and will require you to login to view.
If you would like to submit content for promotion on the Guildhouse website or social media platforms please follow the link below.
Guildhouse is all about connecting creatives with opportunities.
We share a variety of opportunities on offer through our partner organisations and the wider industry. In this section you can explore a variety of Art Prizes, Commissions, Proposals, Call-Outs, Residencies, Mentorships, Career Development, Grants and Funding opportunities.
This content is available to members only and requires a login.
STUDIO SPACE: CBD Workspaces with The Mill

Base yourself in the CBD – and grow your business!
The Mill's creative industry offices offer small businesses, start-ups, designers and artists a chance to keep a centrally-located studio in a not-stuffy, not-boring, definitely-not-not-fun venue. Studio residents (past and present) include Naomi Murrell Studios, Hey Reflect'o, XO L'Avant, Millicent Elizabeth and others.
New Countess Report
Independent sectors lead the visual arts in gender equality, while state institutions fall behind.
The latest Countess Report, Australia's premier reference point on gender representation in the contemporary visual arts, has been released today.
The Report reveals significant gender equity gains across public galleries, artist-run initiatives, major museums and university galleries, biennales, commercial galleries and contemporary art organisations, alongside declines at state galleries and museums.
A total of over 13,000 artists across 184 organisations were counted.
The Report's highlights include:
Women are equally represented (at 50% or higher) in the following categories: art prizes, contemporary art organisations, boards and executive staff, and artist-run spaces;
Artist-run spaces have exhibited 61.38% women (up from 49.37%), 34.78% men, and 2% non-binary artists;
Commercial galleries have exhibited 53% women (up from 39%), and 43% of represented artists are women (up from 39%);
State-owned galleries have exhibited 33.98% women (down from 36.90%) and 66.02% men (up from 56.80%), with no data available on non-binary artists;
Director or CEO-level roles are held by 61.36% women and 38.63% men overall, while among state-owned galleries, the figures are 12.50% women and 87.50% men.
NAVA, Countess Report, Sheila

SA Artists For Climate Change

Dear artists across Australia concerned with political inaction on our climate emergency.
This is a call to action.
As artists we declare a climate emergency. Let's act as individuals together across the month of October. It has been shown that contacting our leaders, our decision makers, in a targeted way, directly, personally, and individually, is the most effective strategy to create and continue change. This project is about encouraging those that are part of this change.
We invite you to make a climate badge that reflects the materials and methods of your art practice and addresses your climate emergency concerns. Send this to your politician/leader/local member/decision maker/researcher/board member/person of influence of choice with an explanatory note (you can use the template below). Do this to propel their good work further, to give encouragement to keep going, or to spur someone into action who can do more.
Work individually, or gather your friends, run a badge-making session in your studio or your place of work, take this project wherever you can. Share this call to action far and wide. Your art voice is valuable.
Post it, with your note, to your leader of choice. Share your badge and note on Instagram using #climatebadges and tag your selected badge recipient where possible. Follow this hashtag to see other contributions.
Thank you for taking action. Collective action has power.
SA Artists for Climate Action.
New Pay Standards for Artists & Arts Workers
As part of NAVA's major revision of the Code of Practice, we have drafted a set of new Pay Standards for Artists and Arts Workers that responds to the urgency for our collective work on improving the sustainability of Australian artists' careers. Feedback on this draft is open until 30 September 2019.
NAVA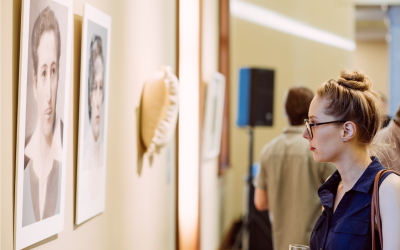 Image: Jenna Pippett, Tender Thing, 2015, installation view Adelaide Town Hall. Courtesy the City of Adelaide.Guildhouse is calling for expressions of interest from emerging curators for ART WORKS 2020, an exhibition and residency program delivered by Guildhouse in...