What's On & Opportunities
Neville Cichon, A Line Has Been Drawn, 2016, 28 x 24 cm. Photograph Neville Cichon.
Guildhouse is dedicated to connecting you with sector news, events and opportunities. Here you can explore these discover what is happening across the creative industries.
These events, exhibitions, opportunities, studio spaces and equipment are independent from Guildhouse: please be sure to follow the links or contact information provided to inquire further.
Some of this content is available to members only, and will require you to login to view.
If you would like to submit content for promotion on the Guildhouse website or social media platforms please follow the link below.
The OUR MOB exhibition alongside OUR YOUNG MOB is the culmination of artistic activities throughout the state that bring Aboriginal artists together in a unique and outstanding exhibition of Aboriginal art across a diverse range of media.
Exhibition callout closes June 5
August 23 – October 3
QBE Galleries, Festival Theatre foyer, Adelaide Festival Centre
Urban Cow Studio presents Relatively Speaking, an exhibition showcasing the works of South Australian artists Rachel Porter and Lydia Webb-Quayle.
June 5 – June 29
Urban Cow Studios
Robyn Rankin's bold, figurative interpretations of childhood transport the audience into an exuberant yet introspective world.
May 24 – June 23
Art Images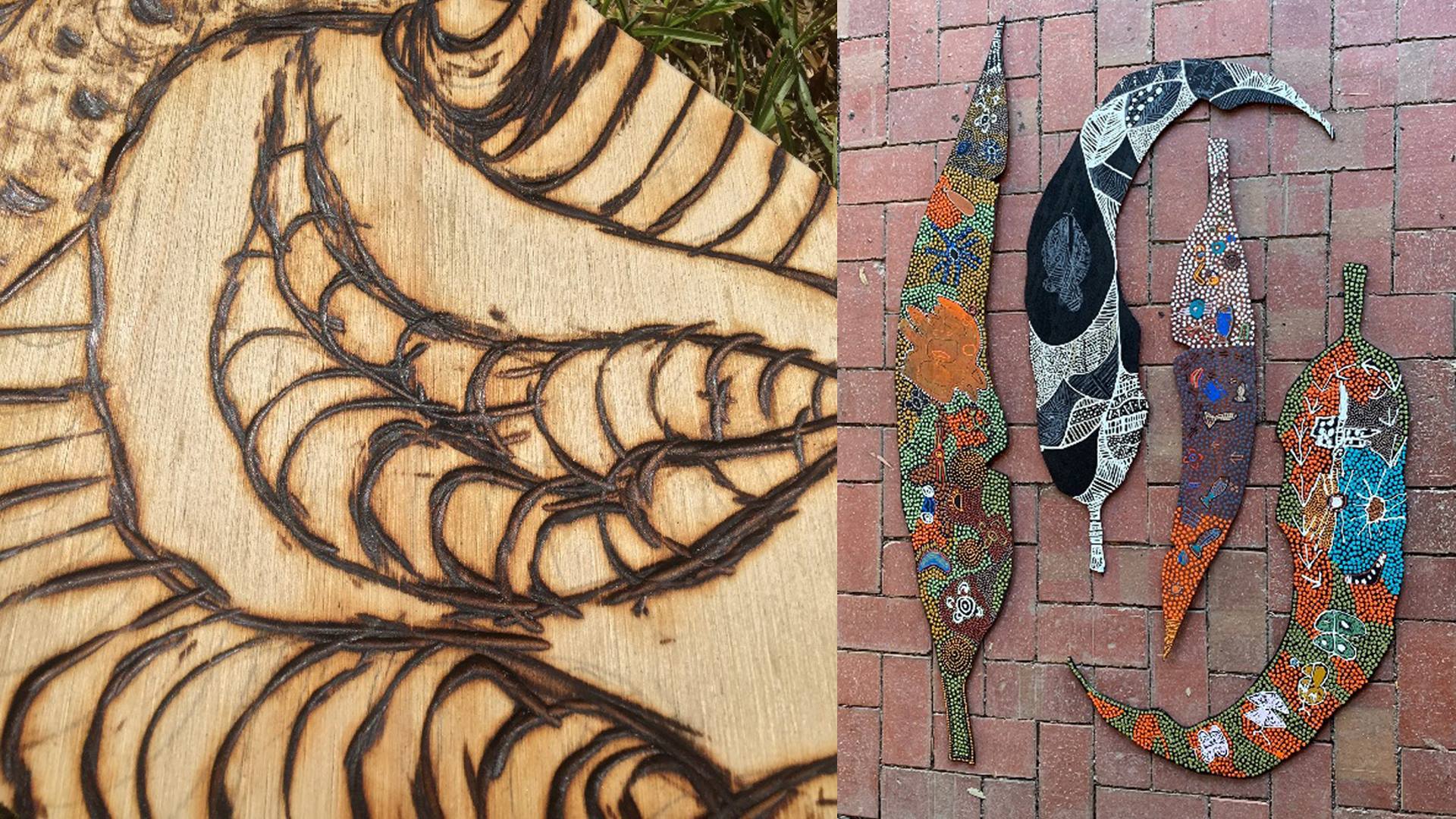 A dedicated arts project, producing laser cut timber leaves as the base for artworks by emerging and established Aboriginal artists residing in South Australia, in response to the Stringy Bark leaf, found predominantly throughout the Fleurieu Peninsula and SA.
Red Poles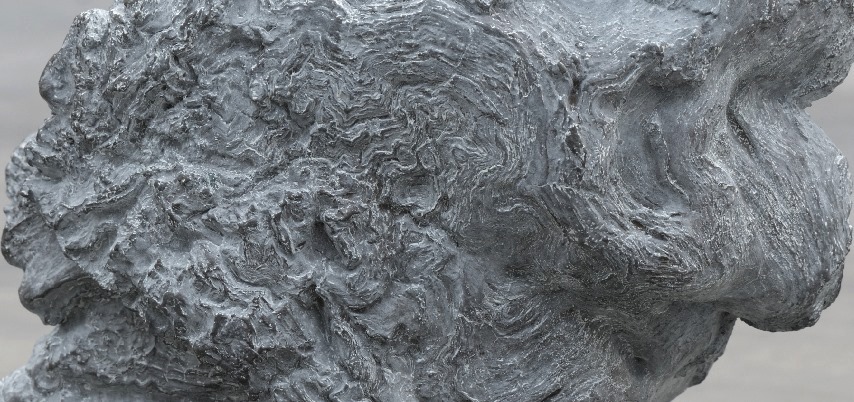 Ariel Hassan, Post-Trauma-Brancusi-Head, detail, white patina bronze and granite.
This exhibition is one version of this, it includes works produced with broken, discarded and found materials, that after surviving traumatic transformations are presented again heroic, as poetic figures which in their regenerated structures, are symbolic of the fluid nature of attested conceptions of what is original.
May 22 – June 26
The Last of The Creatives market
This inaugural event is not to be missed! ONE DAY ONLY where artists, designers and crafts people sell their discontinued ranges, samples, past creations, beautiful mistakes and one of a kind pieces. A great chance to meet the artist behind the creation and support local.
June 30
The two day Festival will offer opportunity for visitors to enjoy and engage with artists, performers, elders and youth at this unique event at Red Poles situated in a beautiful natural bush reserve and on traditional Kaurna land.Friday 17 May, 6:30pm
Red Poles
UnCommon Ground' EXHIBITION FLOOR TALKS:  1.30pm, Saturday 1 June
A chance to discuss the exhibition with Dr Christine Nicholls and Exhibition Curator Sophie Green in a relaxed and informal atmosphere.  Free entry, all welcome.
Gallery M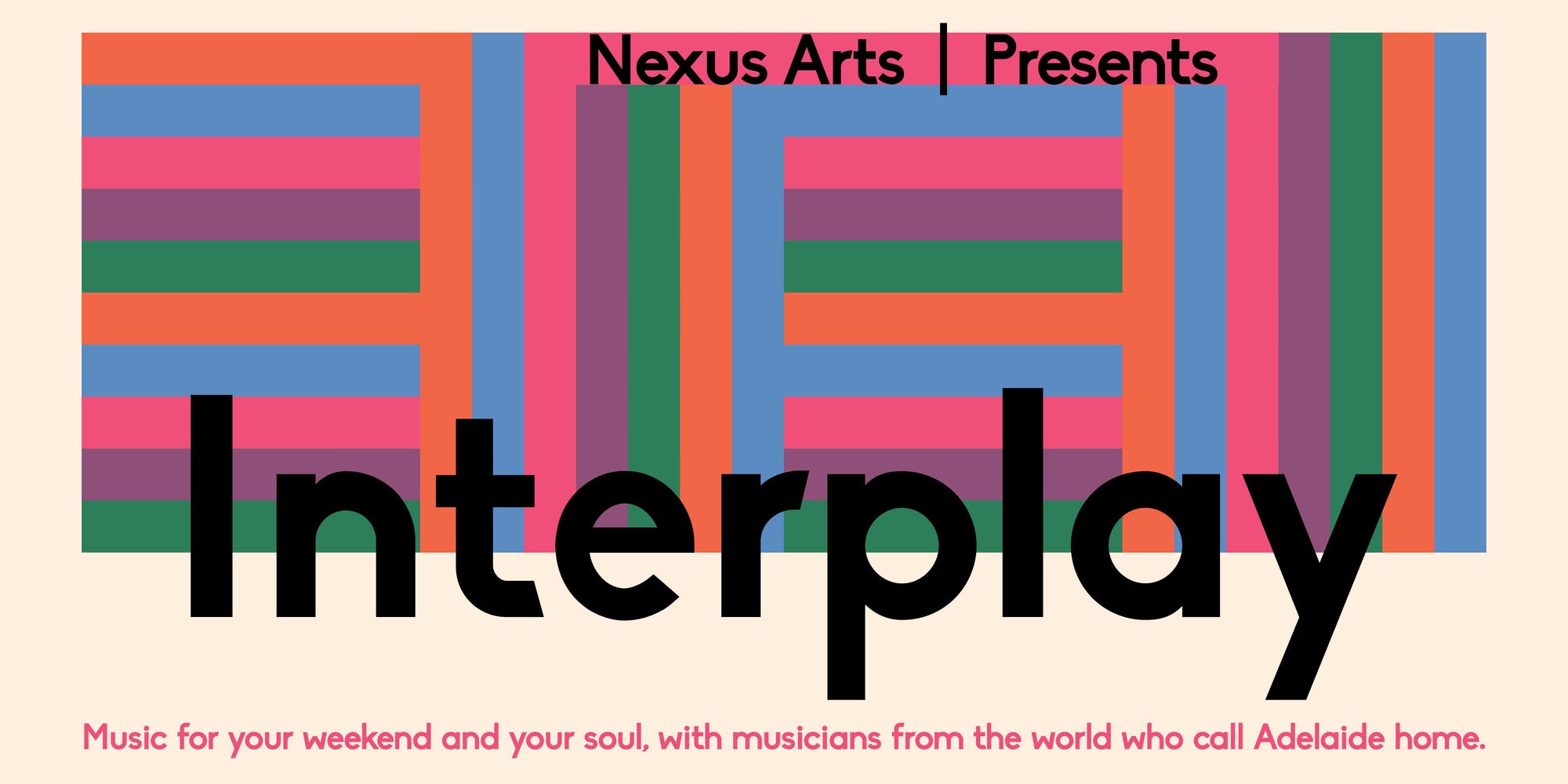 Abdul Nanou is a Syrian violin player with over 25 years of performance experience in famous theatres in the Middle East, playing a multitude of Arabic, Hebrew, Indian, Persian, Turkish, other oriental, European, and Western styles.// Renowned Ghanaian singer-songwriter Manadi Lopa speaks from the heart, performing music with messages of peace, love and harmony. Born into a family rich in cultural traditions, Manadi's carefully nurtured knowledge and wisdom is conveyed through his soulful music.
June 14, Nexus Arts
Twisted: A Yarn Festival for Creatives
Gallery One presents Twisted at Princes Road in Mitcham. Discover weaving, knitting, crochet, felting, macramé, dyeing. Yarn and craft sales, demonstrations and workshops
Sunday 30 June, 10am
Mitcham Cultural Village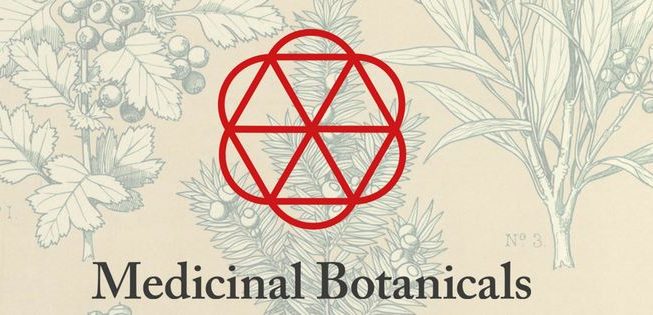 We'd like to invite members to share their interest in potential future projects. The Medicinal Botanicals Project brings together artists with botanist and pharmacologists to celebrate the important connection between people, plants, science and culture. Throughout 2019 – 2020 diverse partners will come together to produce and exhibit artwork, present symposia and host discussions in a variety of settings.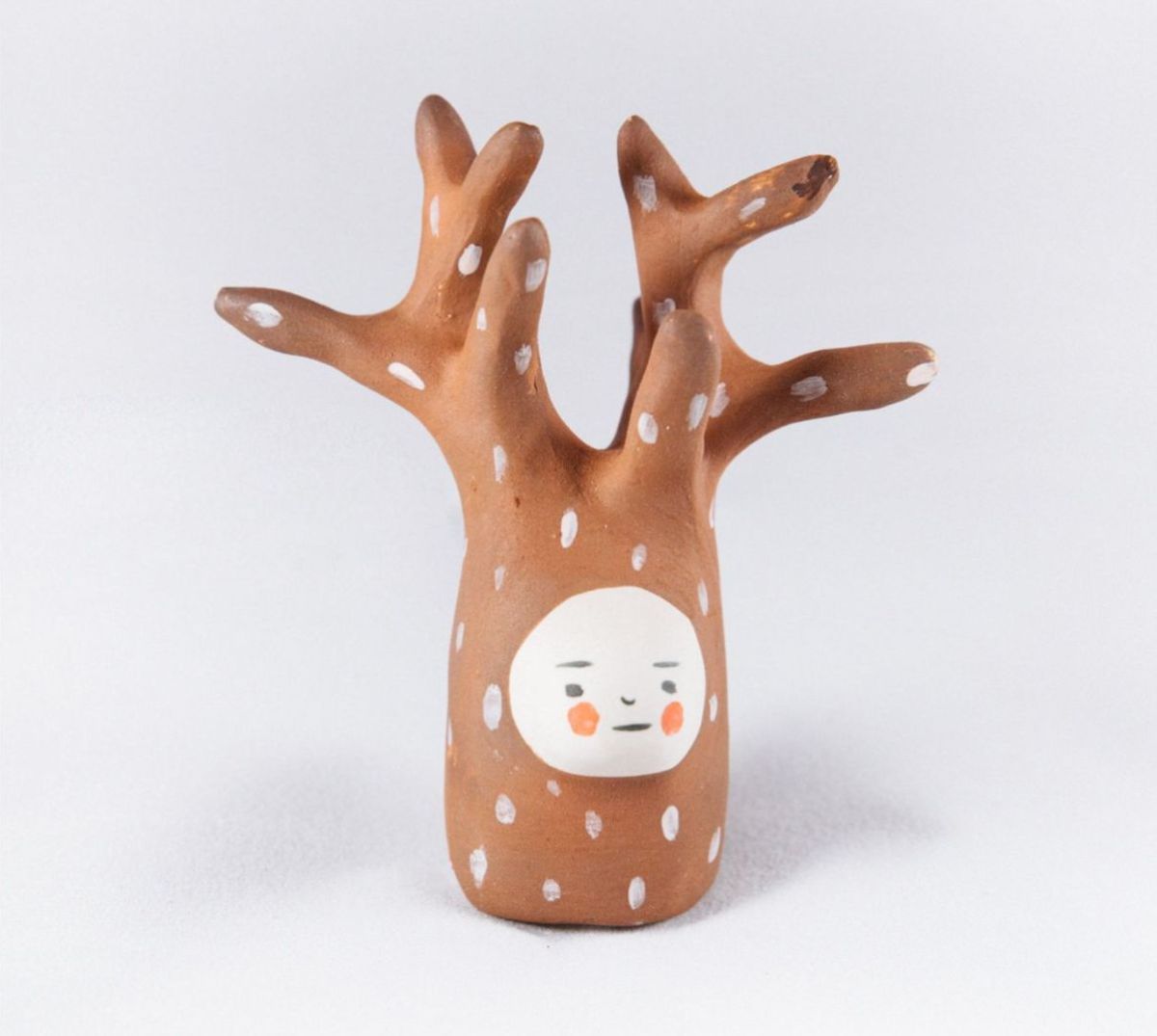 In The Neighbourhood/ It Came Like Lights Out Of The Walls
West Gallery Thebarton welcomes you to a Victorian doubleheader, featuring much loved printmaker Kyoko Imazu and collaborators Gracia Haby & Louise Jennison, who are besotted with all things paper.
Image: Kyoko Imazu, Baby tree, Porcelain
13 June, 6pm 
West Gallery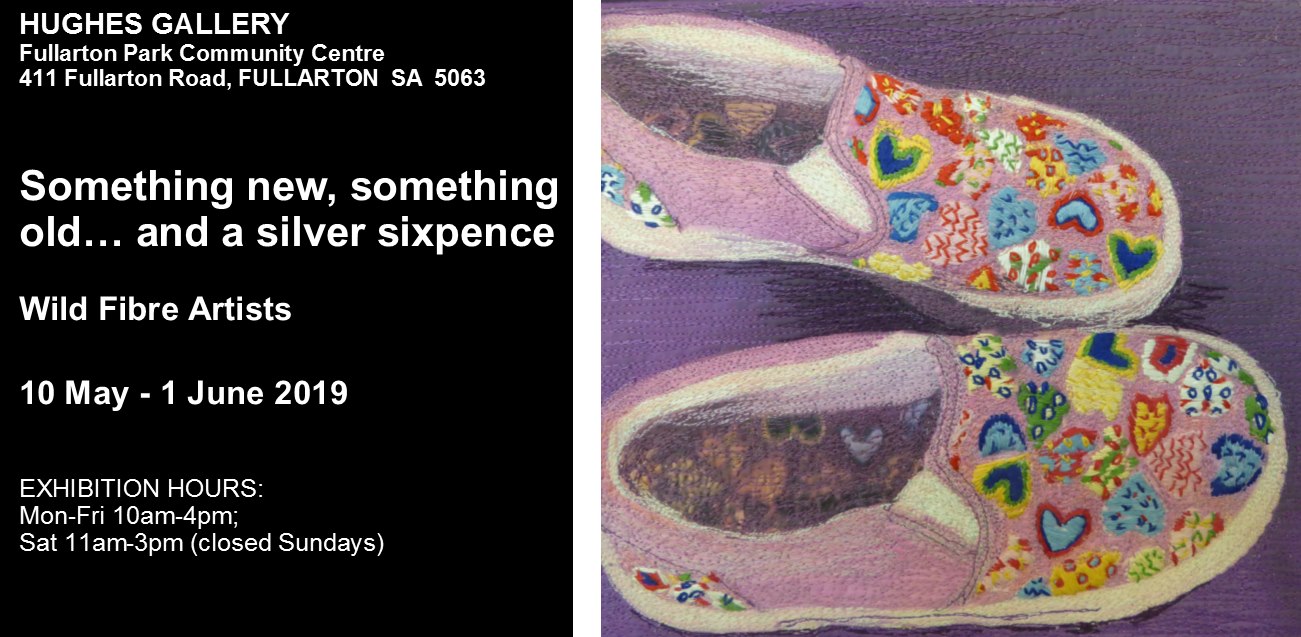 Something new, something old… and a silver sixpence
Wild Fibre artists exhibition featuring Bev Bills, Gem Congdon, Jackie Pearce, Charmain Quintrell, Lynne Radcliffe, Liz Stevenson, Vikki Wallerand Liz Yates.
Till June 1 2019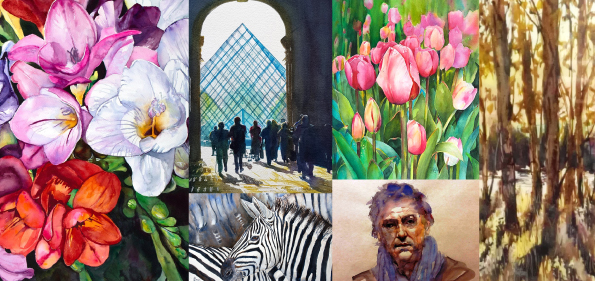 Splash 19 South Australian Water Colour Society

Watercolour is one of the most challenging and exciting painting mediums. Splash 19 is an exhibition by members of South Australian Watercolour Society (SAWS), which is a showcase of the breadth and versatility of the medium.  Paintings range from the very precise representations to totally wild and free depictions, depending on how each artist has used watercolours. 

Artist Demonstrations
Saturday 1 June 2 pm – 4 pm
Haley O'Shea – Portraits
Saturday 8 June 2 pm – 4 pm
Lyn Robins – Landscapes
Saturday 15 June 2 pm – 4 pm
Lorraine Brown – Florals
Exhibition concludes Friday 21 June at 4 pm.
May 31, 6pm – June 21

Pepper Street Arts Centre
To celebrate Refugee Week we are inviting a local speaker to talk of their experience of being a refugee, while sitting Adelaide artist Daniel Connell will paint their portrait live.
Their conversation and the emerging likeness on canvas will create a fascinating visual story of courage and encounters.
July 18, Prospect Gallery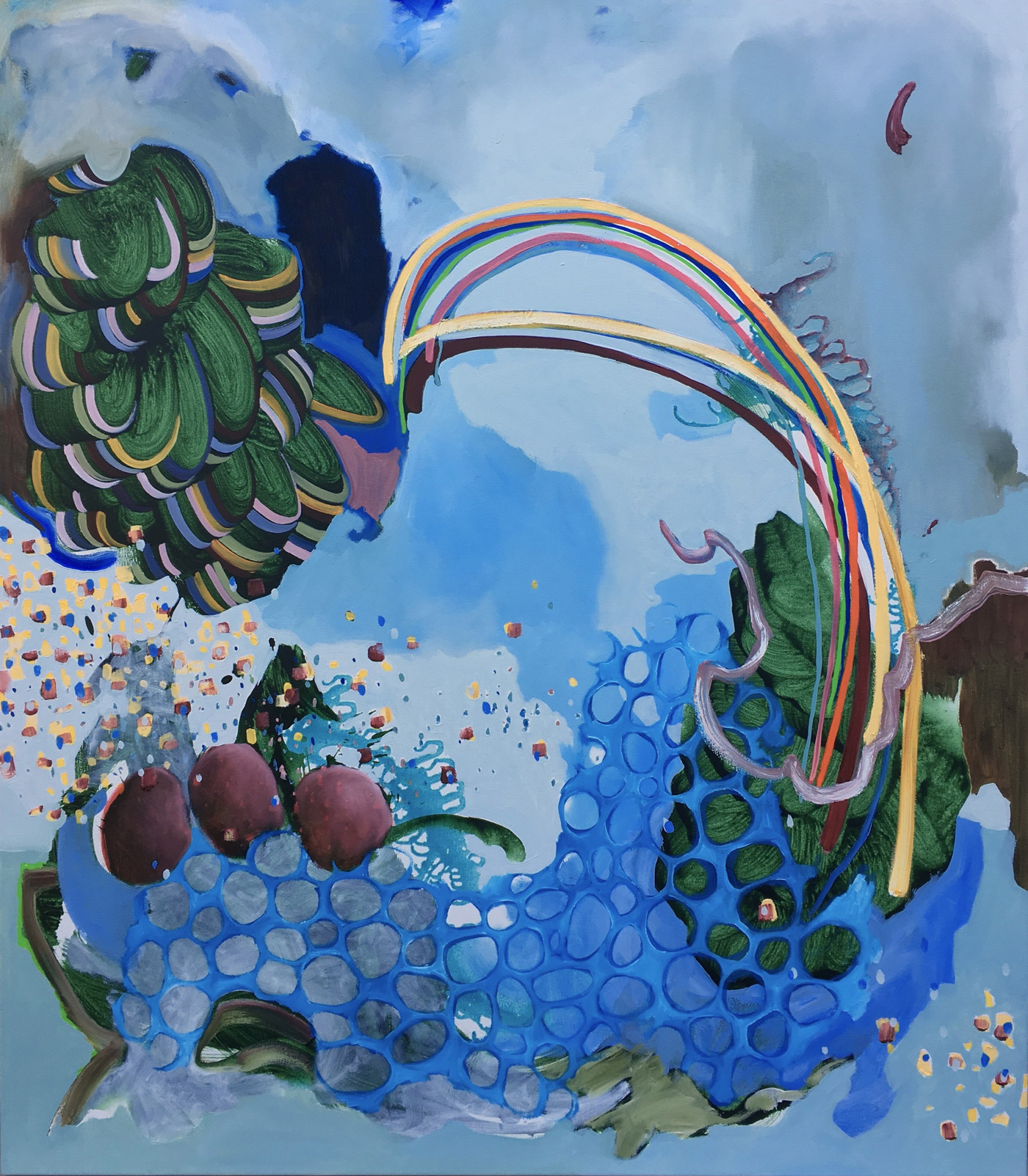 Eleanor Zecchin, Rest in Play, oil on canvas, 2019.
May 30 – June 22
Hill Smith Gallery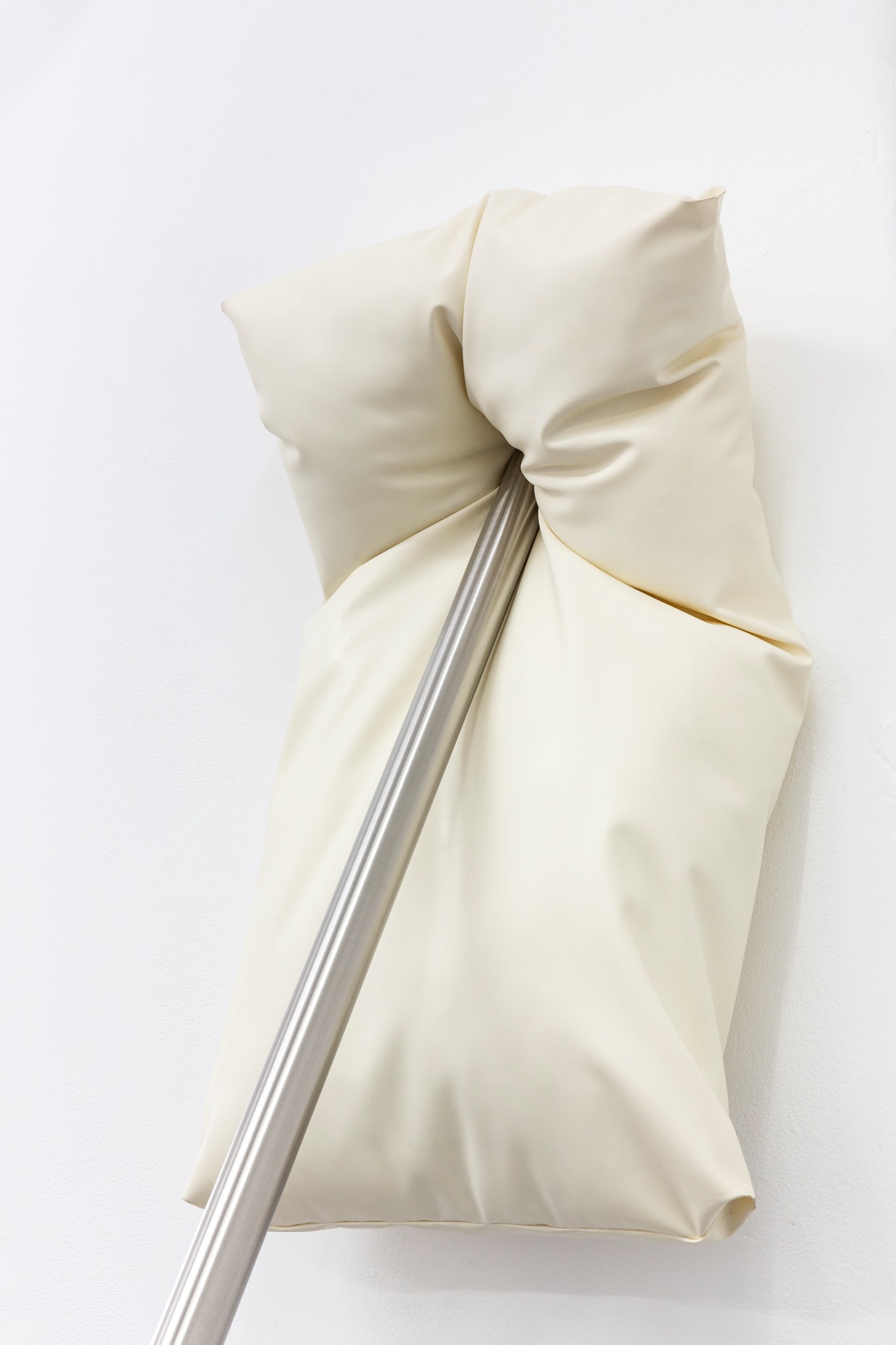 Kate Bohunnis, 'with each little death', 2019, installation detail, stainless steel, latex, thread.
Photograph Janelle Low
Kate Bohunnis (SA)
Renuka Rajiv (India)
24 June – 22 June 2019
FELTspace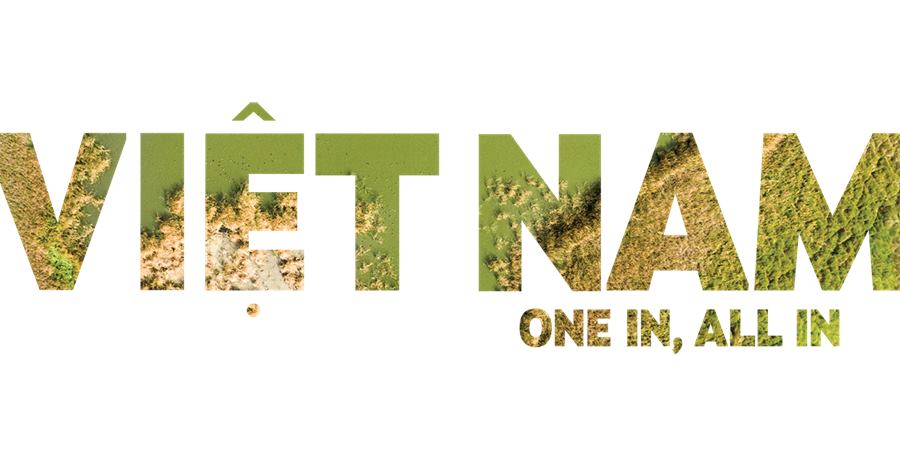 This is a contemporary exhibition that explores, expresses, and acknowledges Aboriginal veterans service in the Vietnam War – before, during and after.
24 April – 14 August 2019
Various venues.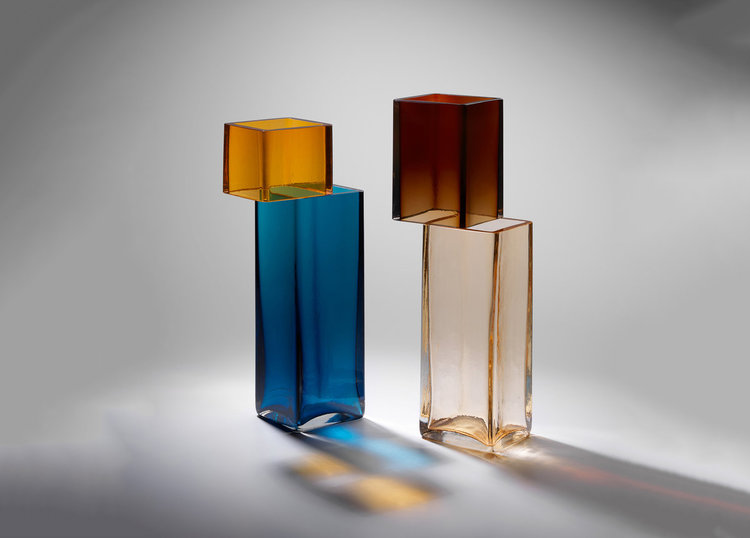 Liam Fleming, Graft Vase, 2018. Photo: Courtesy the artist.
17 May – 14 June 2019,

JamFactory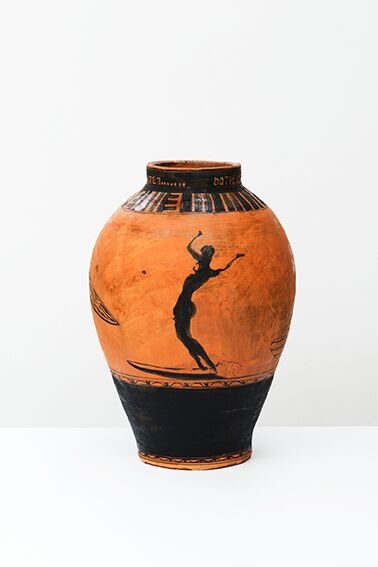 Gerry Wedd, Gram Jar, Coil built terracotta, coloured slip decoration 1120°, 640x430mm. Photo:Andrew Cowen.
24 May – 30 June,

Hahndorf Academy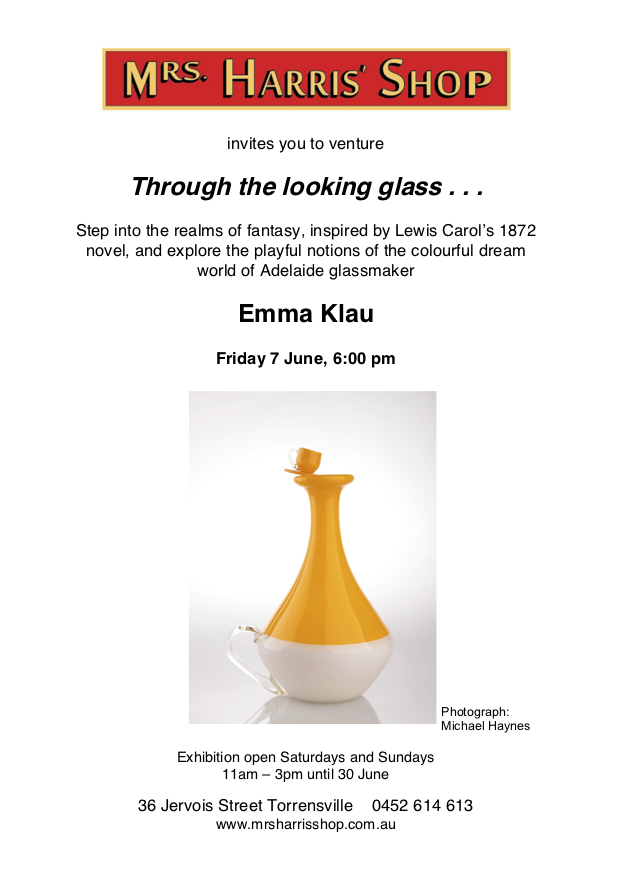 7 – 30 June 

Mrs Harris' Shop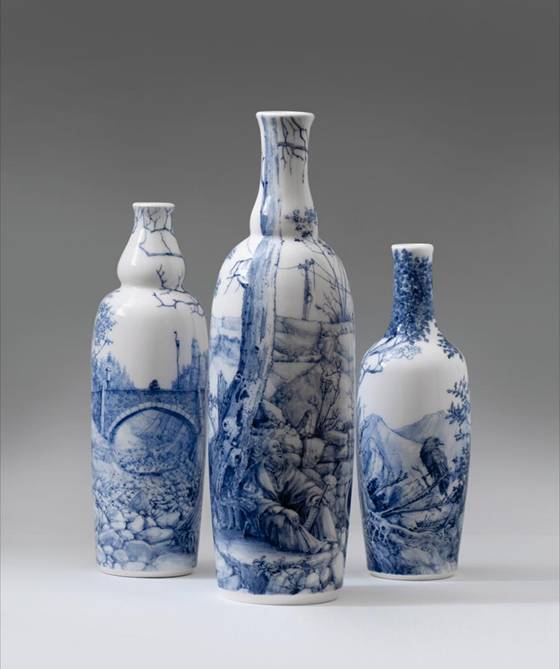 Geoff Mitchell, Dry Places #3, Dry places #2,Journeyman. Underglazed paintings on wheel thrown bottles, 2019.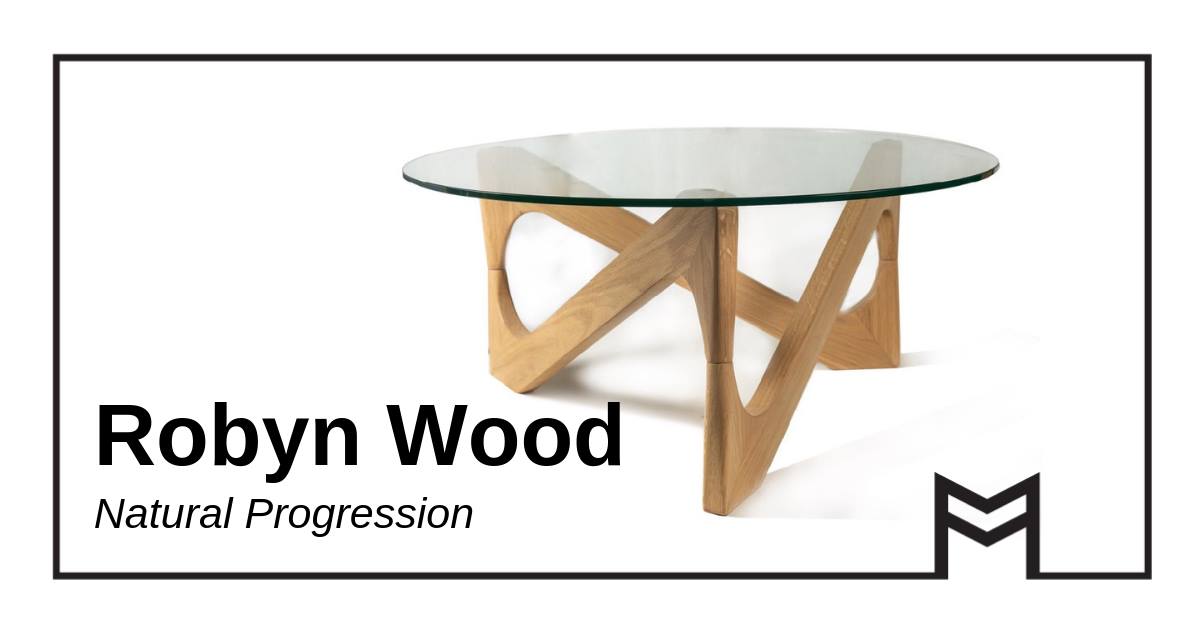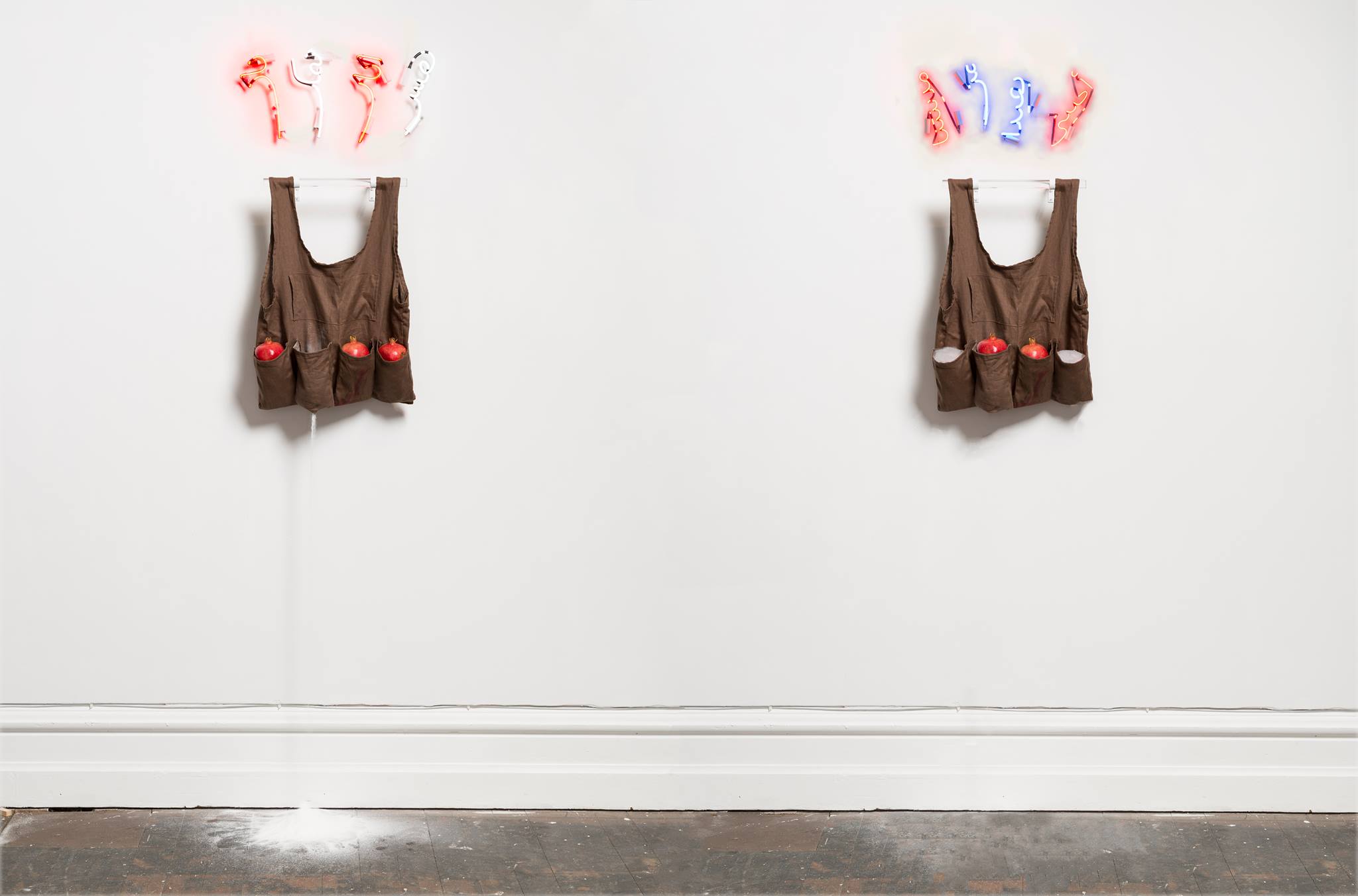 Elyas Alavi, Salt and Pomegranate, 2018, pomegranate, salt, neon, light, suicide bomber's vest dimensions variable. Photo Christo Crocker.
17 May—20 July
OPENING, ARTIST TALK AND PUBLICATION LAUNCH
Saturday 18 May 4pm-6pm
ACE Open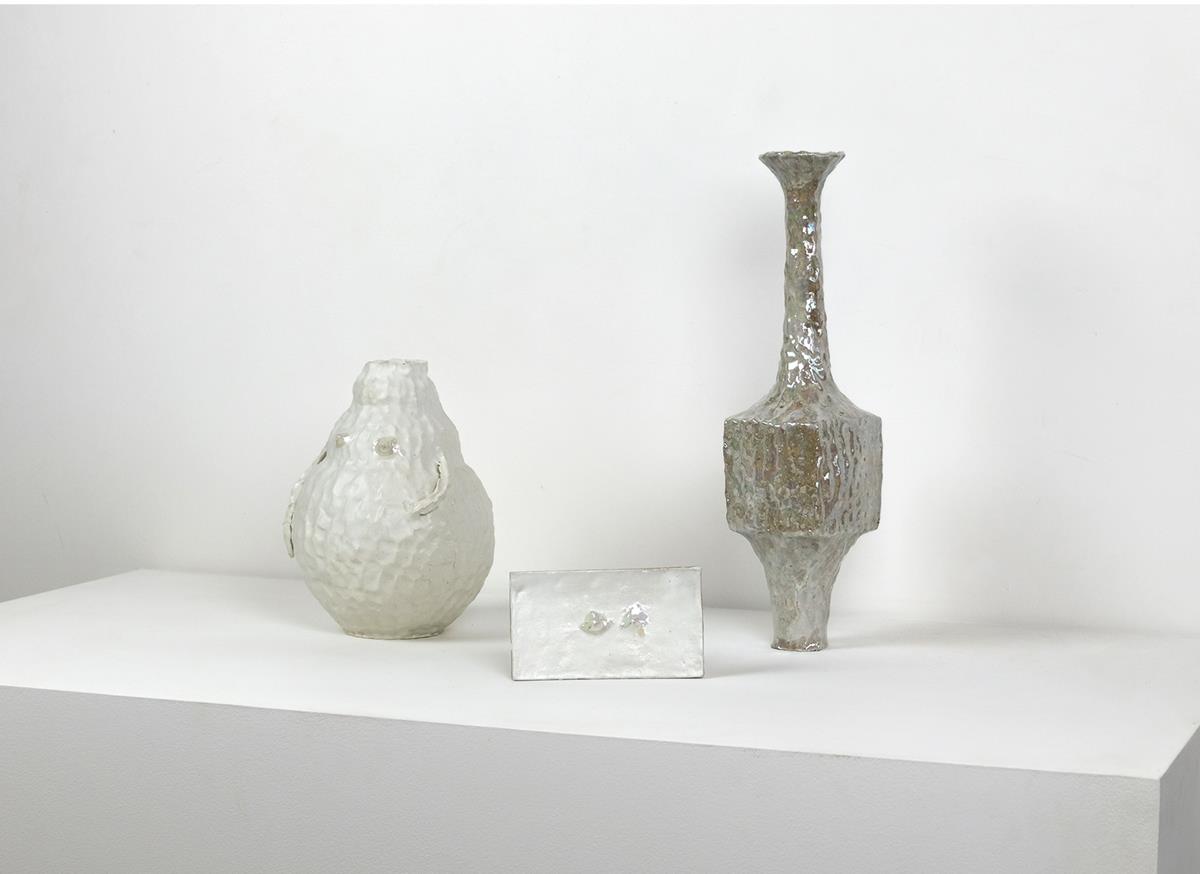 Connie Augoustinos, untitled vessels, 2019.
26 July – 22 September 2019
JamFactory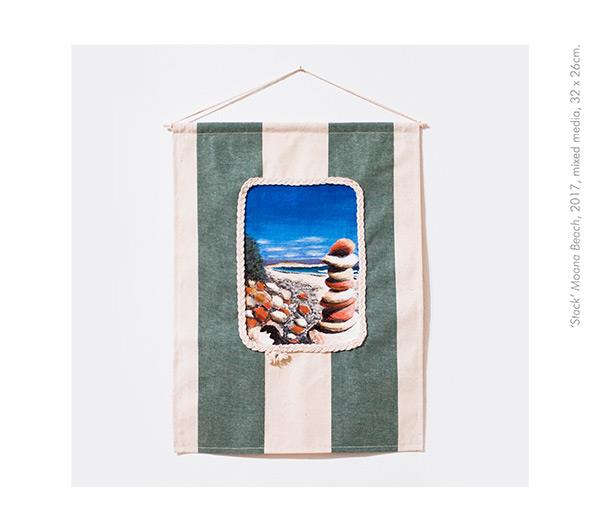 Kirsty Darlaston, Black Mountain colour sketches – orange (work in progress), 2015, wool thread on canvas., Image courtesy artist.

Walk Draw Stitch Write: Kirsty Darlaston
April – June 2019,

Sauerbier House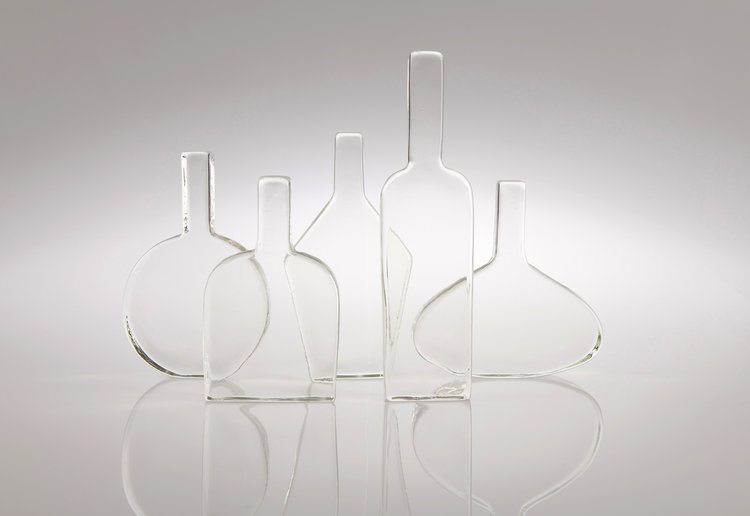 Bastien Thomas, Solids, 2019. Photo: Michael Haines.
17 May – 16 June 2019,

JamFactory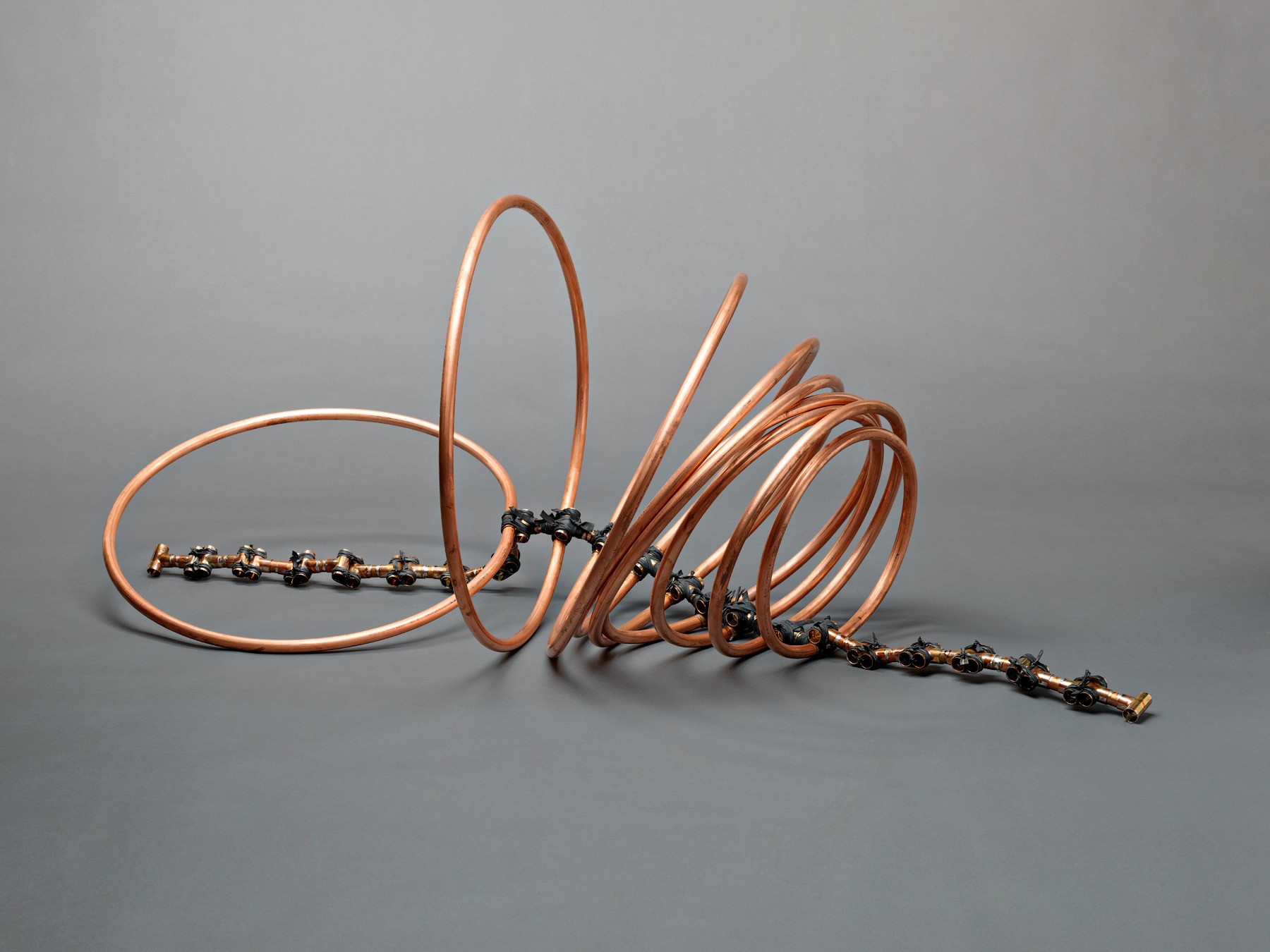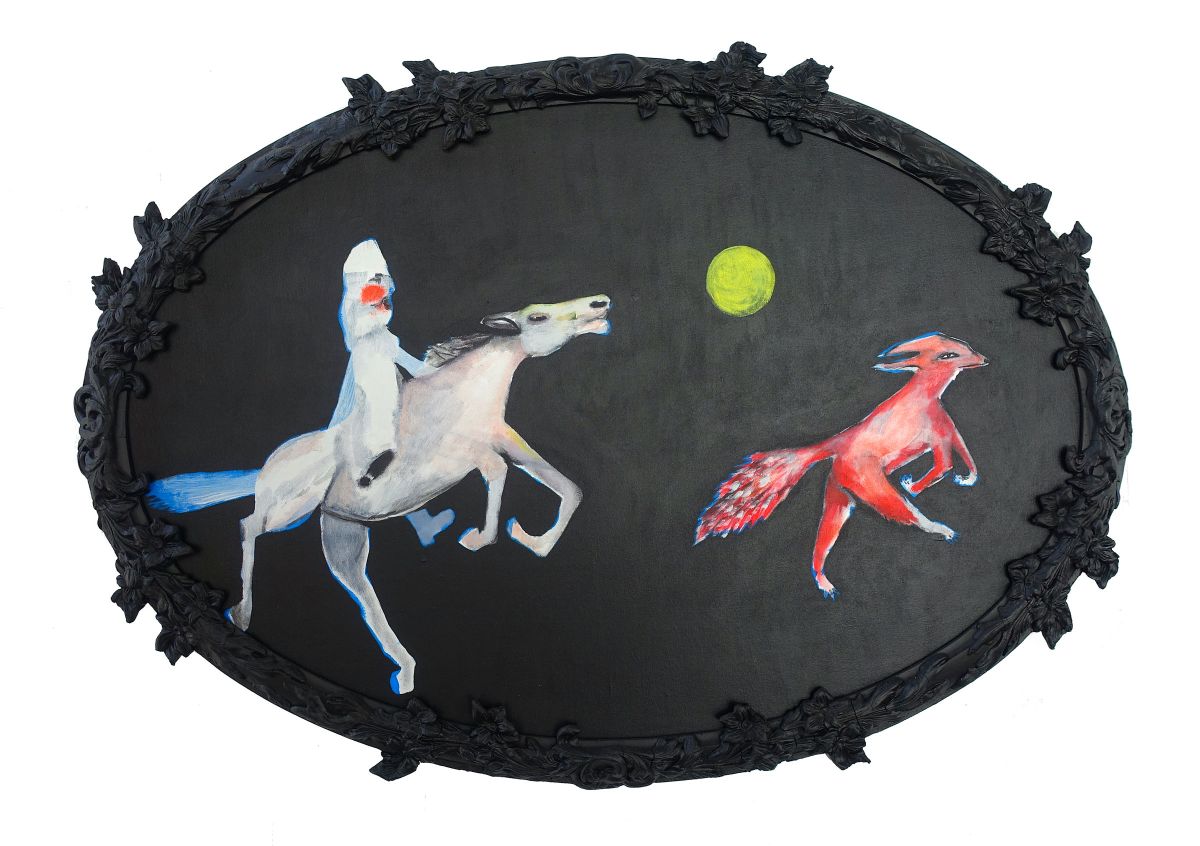 Sally Bourke, The Wild Hunt, 2019.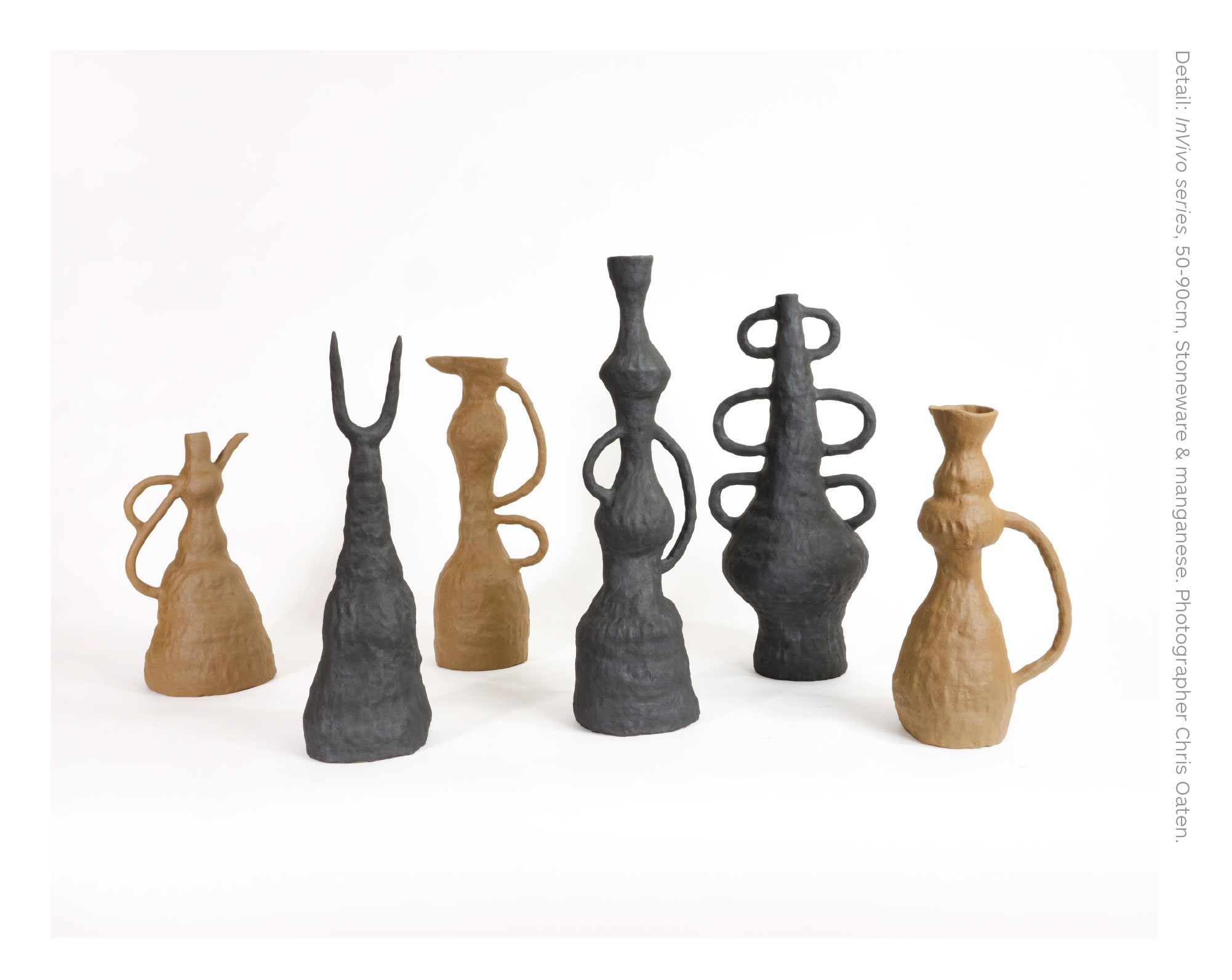 Karlien Van Rooyen, Invivio series, detail, 2019. Photograph Chris Oaten.
Opens 14 June 2019,

Worth Gallery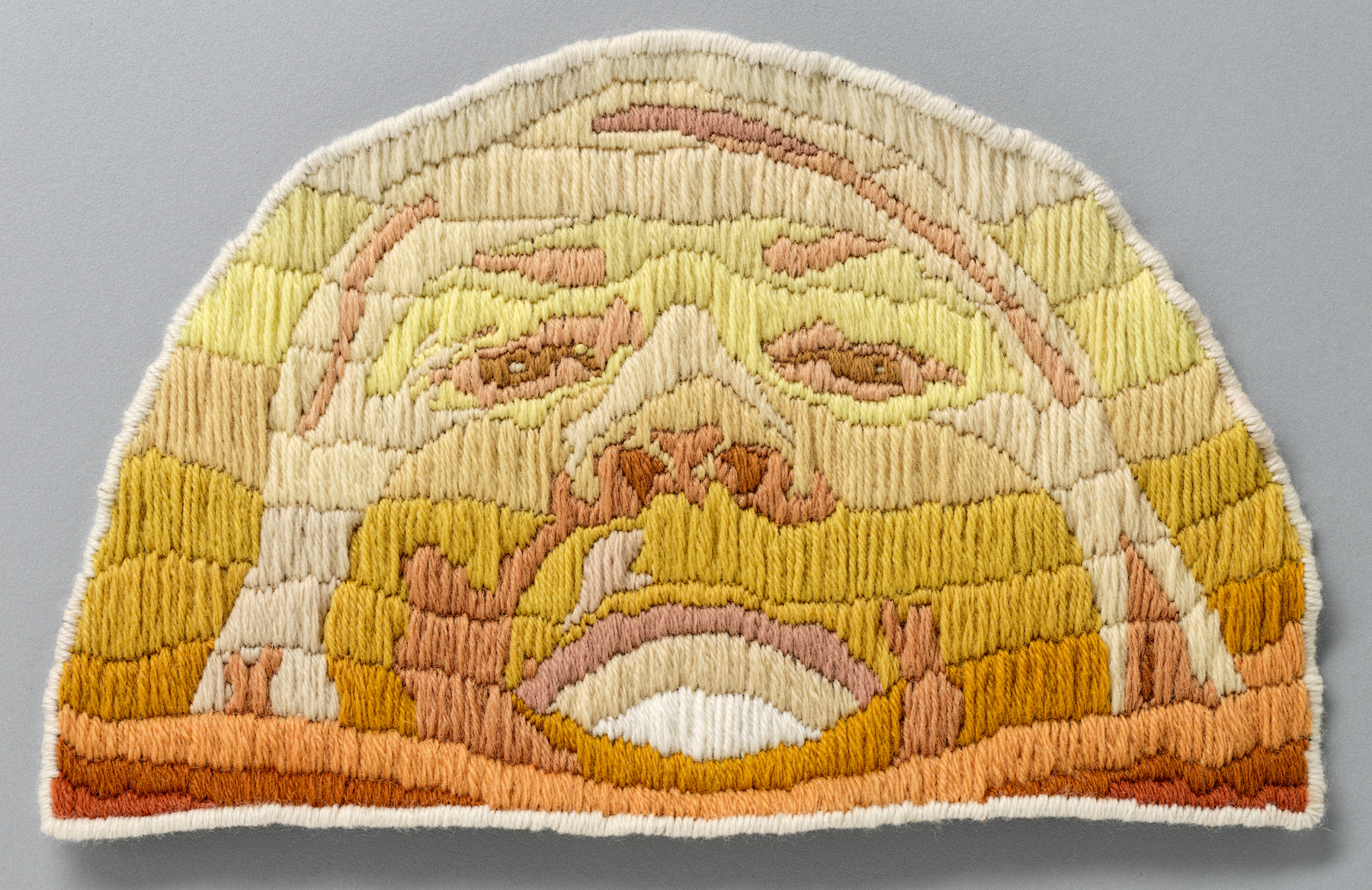 'Self-setting-sun', 2018, vinyl wallpaper (adhesive backed and removeable), 270 x 425 cm irregular.
16 May , 6pm – 8pm
Hugo Michelle Gallery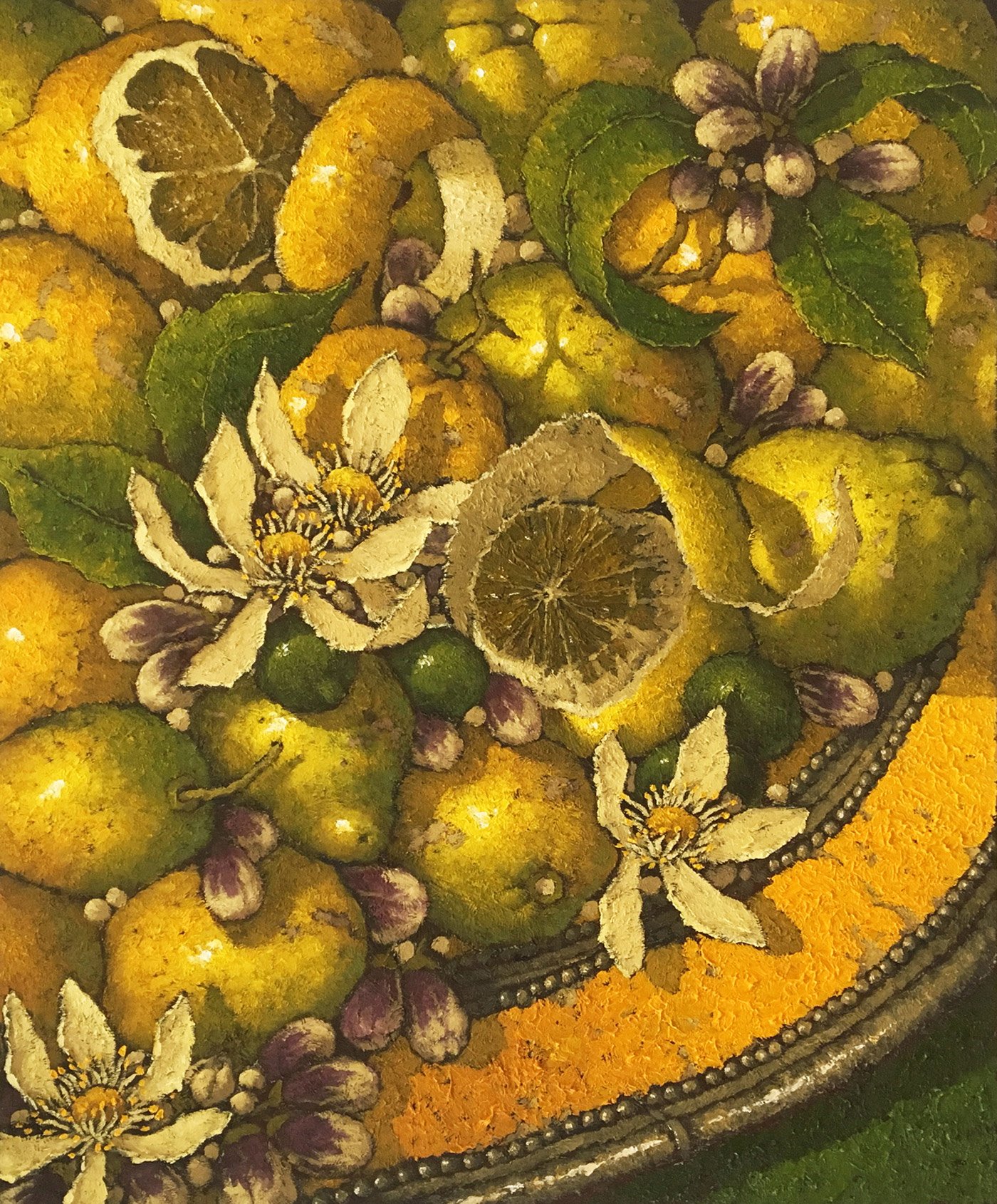 Stephen Trebilcock, Bowl of Lemons, oil on canvas, 120 x 100 cm.
30 May –  22 June
Hill Smith Gallery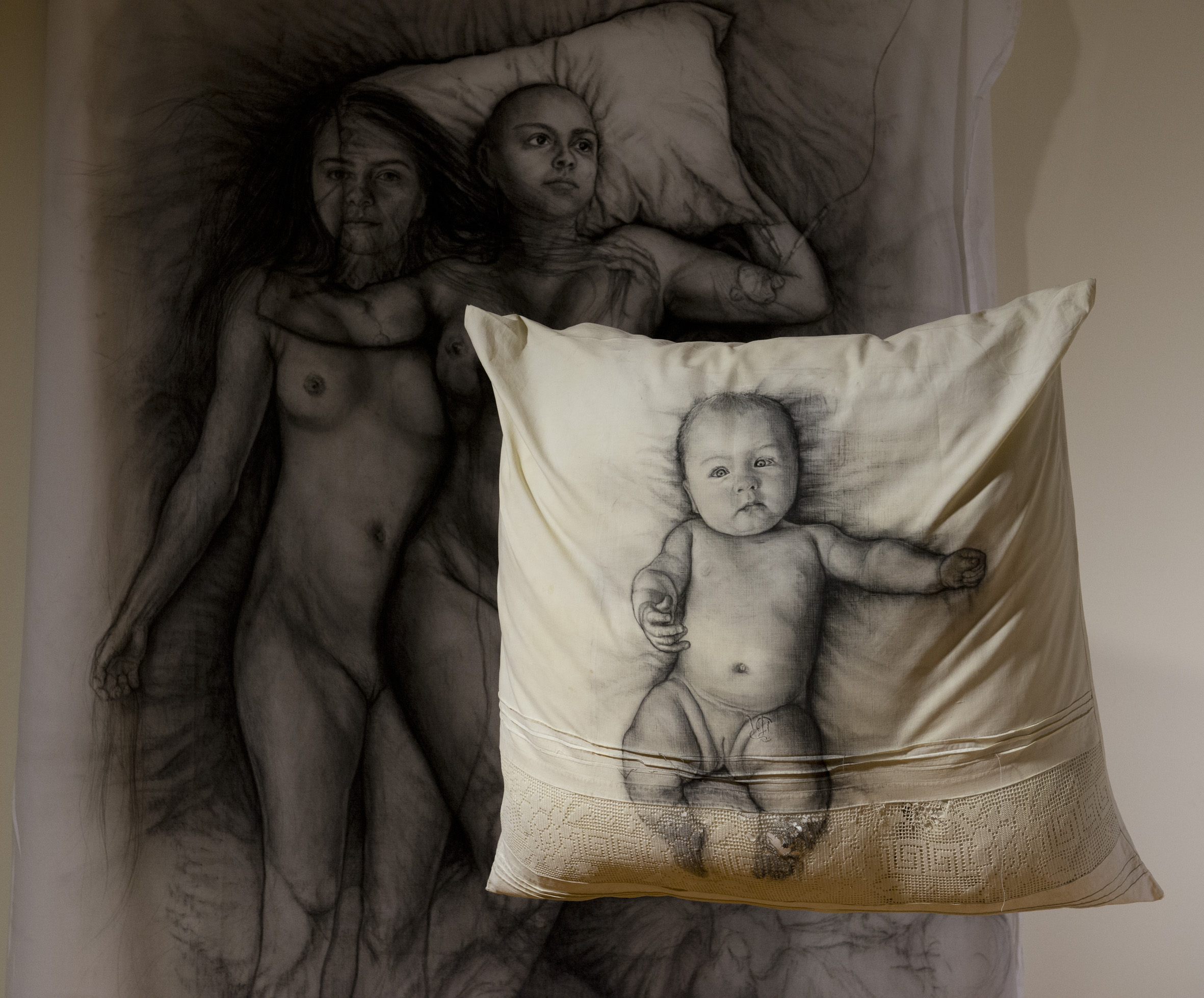 Margaret Ambridge, Installation view of 'Meriani' with pillow portrait, 2019.  Photographed by Mark Fitz-Gerald
19 July – 16 August
praxis ARTSPACE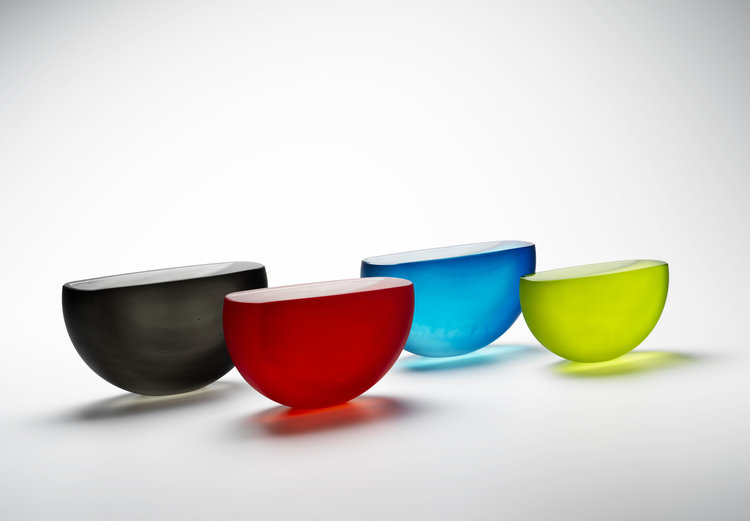 Llewelyn Ash, Yacht, 2019.

2 May – 9 June 2019,

West Gallery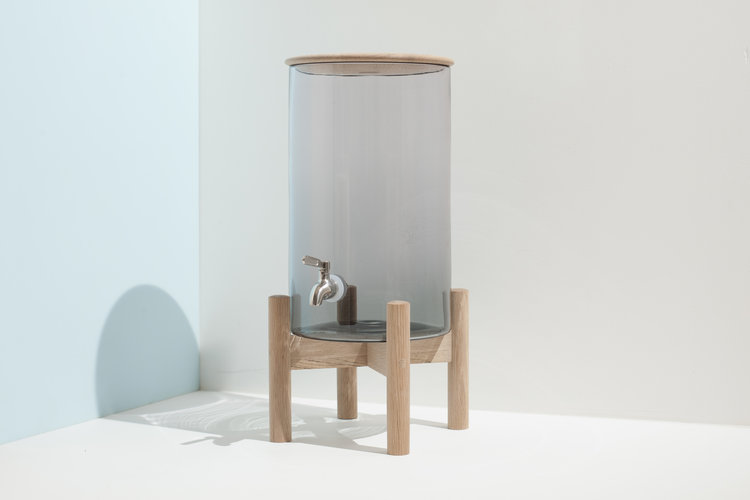 James Howe and Thomas Pearson, Water Dispenser. Photo: James Howe

till 14 June, 2019
JamFactory

Louise Flaherty,  Forgotten Plants – Adelaide CBD, 2018, ink on paper. Image courtesy artist.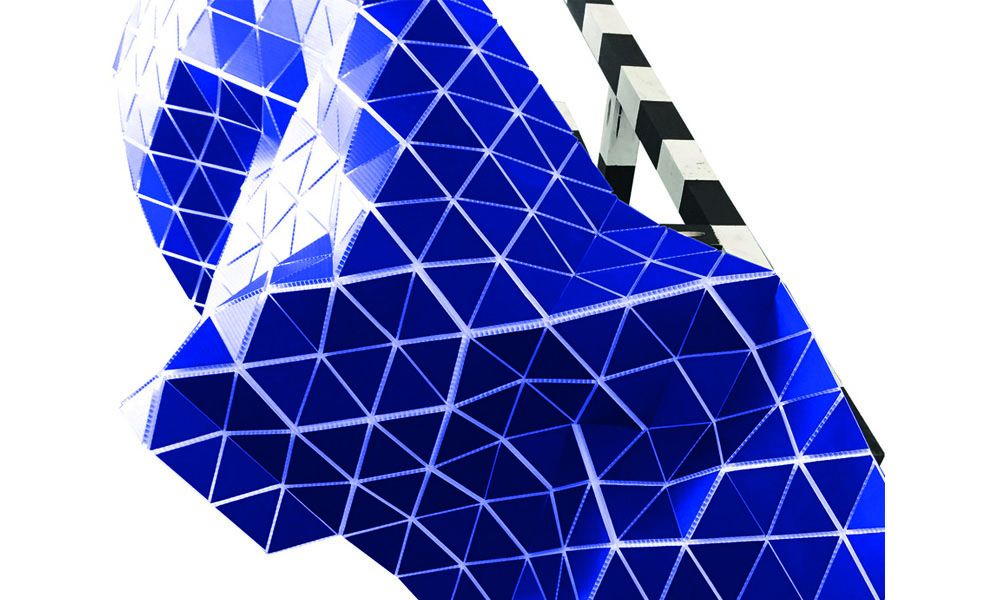 Tom Borgas, Triangulation studio study (edited detail), 2019, Timber, polypropylene, adhesive vinyl, fixings and acrylic paint. Image courtesy the artist.

3 June – 29 August 2019,

Yungondi Building, UniSA, City West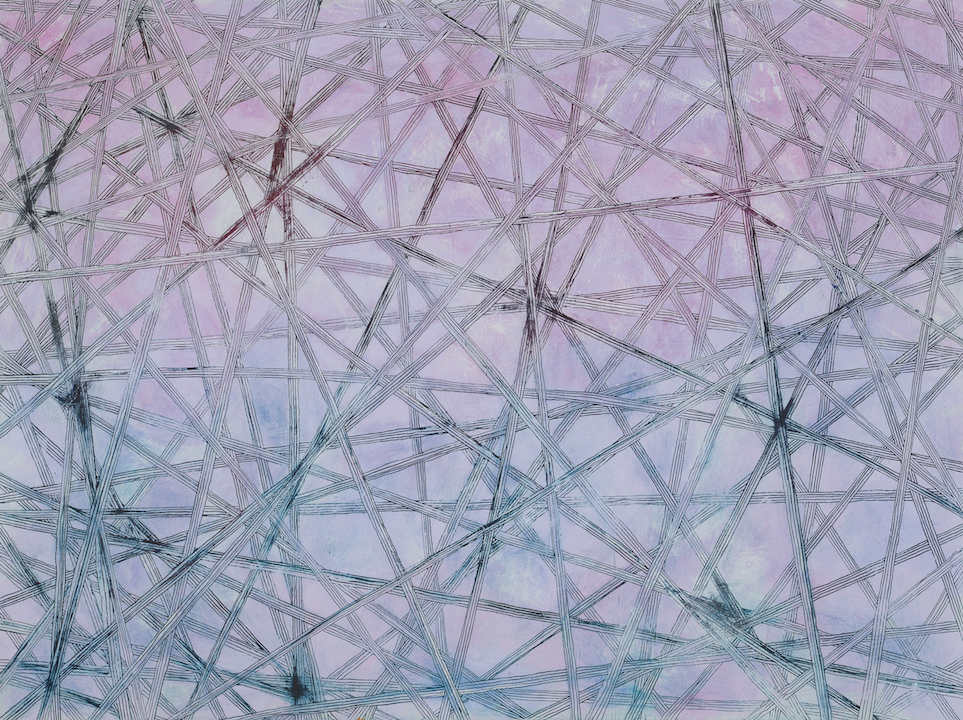 Yoko Lowe, Life as Lines III, 2018, egg tempera on plywood panel. Photograph James Field. Image courtesy the artist.

17 June – 5 July 2019,

Guildhouse Office

Guildhouse is all about connecting creatives with opportunities.
We share a variety of opportunities on offer through our partner organisations and the wider industry. In this section you can explore a variety of Art Prizes, Commissions, Proposals, Call-Outs, Residencies, Mentorships, Career Development, Grants and Funding opportunities.
This content is available to members only and requires a login.
STUDIO SPACE: Adelaide Hills Art, Craft & Design Centre – EOIs

Tim Shaw is investigating the feasibility of setting up an art, craft and design centre in the Adelaide Hills. It would be centrally located in a popular tourist destination, and would incorporate a retail/gallery area and individual studio spaces. It would be open to the public and offer the opportunity for direct sales and exhibiting of work. He would be offering a variety of studio sizes suitable for artists, creatives, designers and craft practitioners. The centre would also include a dedicated teaching space that would be available for hire to studio tenants.

To submit an expression of interest contact Tim Shaw: tim@timshawglass.com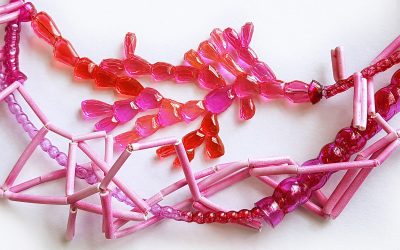 Image: Kath Inglis, Pinkepiphyte necklace (detail), 2019. Image courtesy the artist. The Collections Project Kath Inglis: Of uncertain value Santos Museum of Economic Botanics July 14 - September 29, 2019 Guildhouse and the Botanic Gardens of South...