What's On & Opportunities
Neville Cichon, A Line Has Been Drawn, 2016, 28 x 24 cm. Photograph Neville Cichon.
Guildhouse is dedicated to connecting you with sector news, events and opportunities.
The events, exhibitions, opportunities, studio spaces and equipment listed here are independent from Guildhouse. Please follow the links or contact information provided to for further information.
Some of this content is available to members only, and will require you to login to view.
If you would like to submit content for promotion on the Guildhouse website or social media platforms please use the link below.
Guildhouse is all about connecting creatives with opportunities.
We share a variety of opportunities on offer through our partner organisations and the wider industry. In this section you can explore a variety of art prizes, commissions, proposals, call outs, residencies, mentorships, career development, grants and funding opportunities.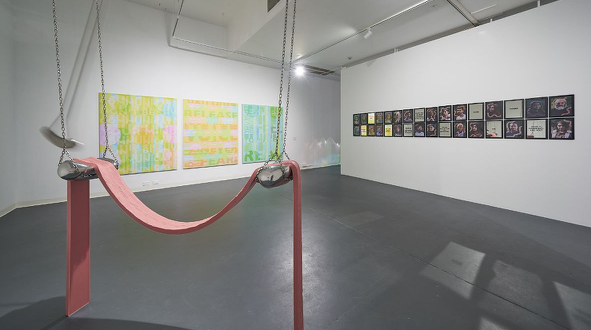 West End Art Talks
Saturday 21 November 2020
Hear from some of South Australia's most celebrated contemporary artists in this series of free artist talks held at ACE Open, JamFactory and Samstag Museum to coincide with exhibitions of new work by each artist.
2pm: Kirsten Coelho at Samstag
3pm: Survey artists at ACE Open
4pm: Tom Moore & Peta Kruger at JamFactory
5pm: post-event drinks at West Oak
Community Steamroller Event
15 November, 2020
The theme is 'Critters' – real, imaginary, cute, magical, monstrous and mythical. So any kind of furred, scaled, feathered, amoebic, imaginary thingie that catches your imagination.
15x15cm grey lino only.
Finished blocks to be delivered by end October in a clearly labelled envelope (with all your details) to 6MSt … or within the first couple of days of November at the very latest!
The info sheet is attached. All welcome, so please share and spread the word… the more the merrier 🙂
Union Street Printmakers

The Designer Maker Revolution
Podcast series by Adrian Potter

In the podcast series The Designer Maker Revolution Adrian Potter talks with designers and makers about their lives and especially about how and why they do the things they do. Cross material and cross discipline this series investigates what makes creative people tick.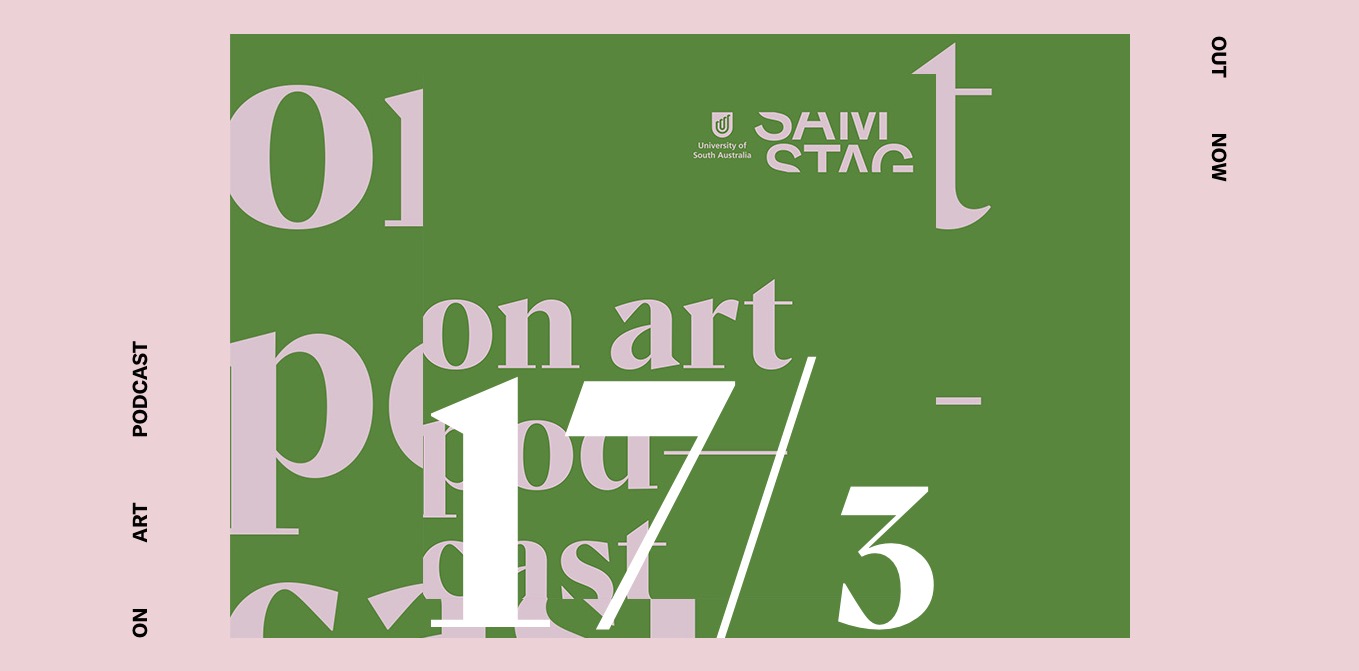 ON ART podcasts
by Samstag Museum

Samstag will be focusing their efforts on digital channels for the time being and will continue to share their exhibitions with you through their Publications & Podcasts.
Expereince their ON ART podcast series of talks and discussions that follow the lead of contemporary art.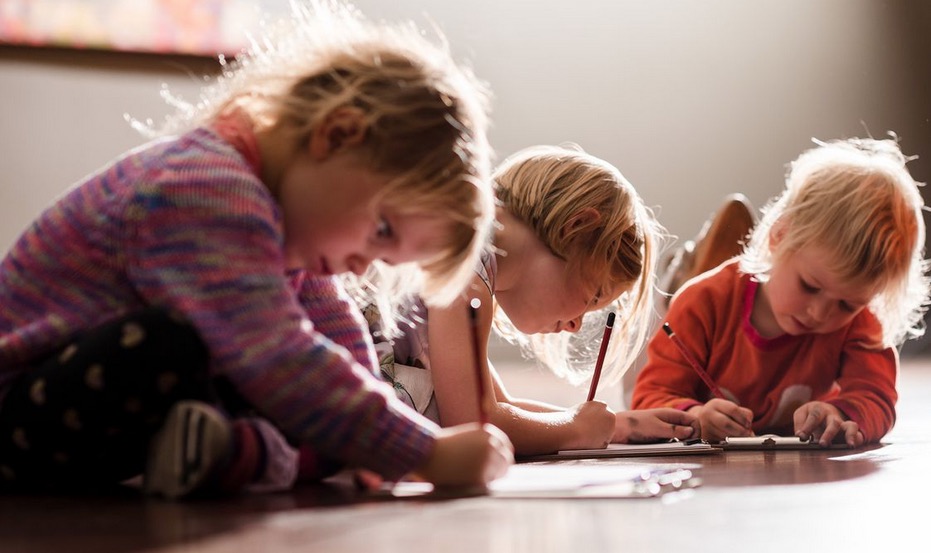 Start at Home Activities
from AGSA

Available through the Art Gallery of South Australia's website are extensive activities for children and families to create art at home to engage and inspire families and broader audiences in these unprecedented times.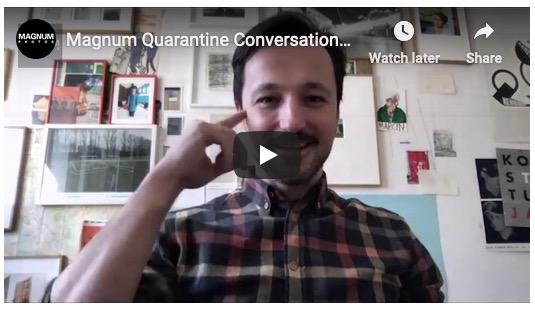 Magnum: Quarantine Conversations

A new video series, Quarantine Conversations, will see two randomly selected Magnum photographers engaging in unedited dialogue about work, current affairs and everything in-between. For the first episode, Rafal Milach and Newsha Tavakolian discuss guilt, dreams, and seeing yourself in the other, as well as Tavakolian's new project. Magnum will be uploading new work by their photographers on their Instagram feed; a talk with Martin Parr will also be live-streamed on 03 April 2020 at 16:00 GMT.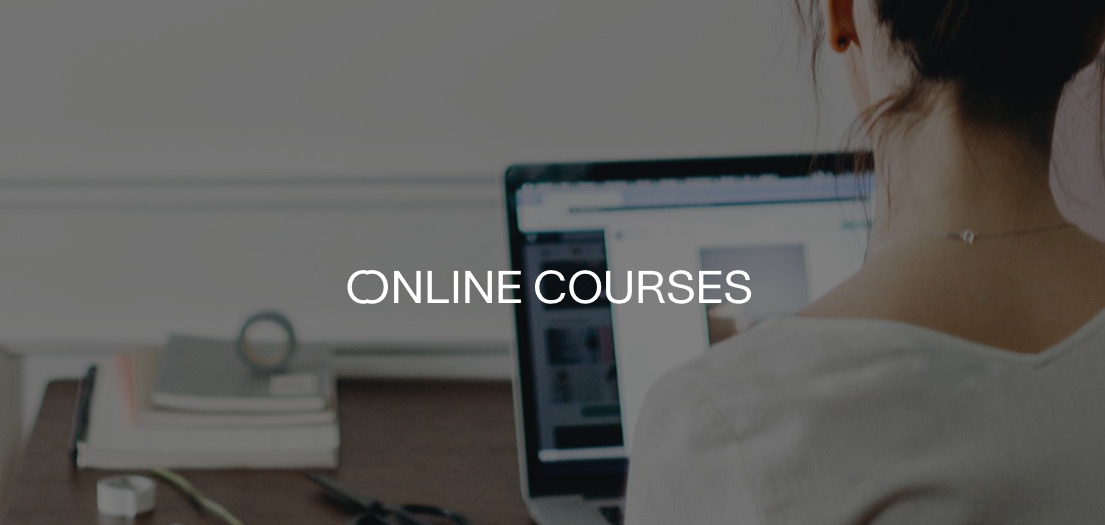 Learn online with AFTRS
AFTRS offers a range of online courses developed and delivered by top industry practitioners.
They combine the latest in industry-relevant contemporary practice and theory into all our coursework. You will walk away with skills and knowledge that can be immediately applied, and return to update and renew as needed.
The AFTRS course catalogue supports all levels of development, from introductory skills for beginners right through to advanced development for industry practitioners wanting to sharpen their skills or take on new ones.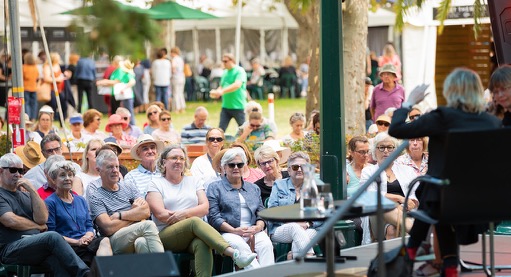 Writer's Week at Home Kit
From the Adelaide Festival

Writers' Week Session Podcasts
Immerse yourself in the amazing range of literary minds once more by listening to one (or all!) of our AWW podcasts now online.
Read one of our Top 10 Writers' Week Books
Available from our favourite bookshop, Imprints (they are open for business and also deliver!) get lost in one or all of these wonderful books that were this year's best sellers in the book tent:
Cut out Girl: A story of War, Bart van Es
The Science of Fate: The New Science of Who We Are – And How to Shape our Best Future, Hannah Critchlow
Greenwood, Michael Christie
Celestial Bodies, Jokha Alharthi
Disappearing Earth, Julia Phillips
Adults in the Room, Yanis Varoufakis
And the Weak Suffer, Yanis Varoufakis
The Weekend, Charlotte Wood
Sand Talk, Tyson Yunkaporta
Superpower: Australia's Low-Carbon Opportunity, Ross Garnaut

Creative Revolutionaries: Jon Lemon in Conversation with Troy Sincock
12 November, 2020. 6–7:30pm
Creative Revolutionaries, the Sia Furler Institute and the Elder Conservatorium at the University of Adelaide are proud to present a conversation with Jon Lemon, world-renowned sound engineer and Troy Sincock, music industry leader, DJ and presenter and former general manager of Fresh FM.
Special thanks to St Paul's Creative Centre, the Music Development Office and the Government of South Australia.
This event will be also be streamed live, please register your interest to be notified of the stream link the day before.
This event is on Level 1 of St Paul's Creative Centre, accessible only by stairs. For questions on access, please contact St Paul's staff on 7320 3337.
Watch live-performances at the Tate in London
Congolese choreographer and dancer Faustin Linyekula had already travelled to London when his show at Tate Modern was cancelled due to coronavirus. He made the most of it though, and filmed his performance in the moody, empty mid-century industrial gallery with fellow performers who had also made it to London for the show. Each of the Tate's four galleries (the Britain and Modern in London, Tate Liverpool and Tate St Ives) also displays works online, and there's a series of videos, podcasts and online classes to keep you going between visits.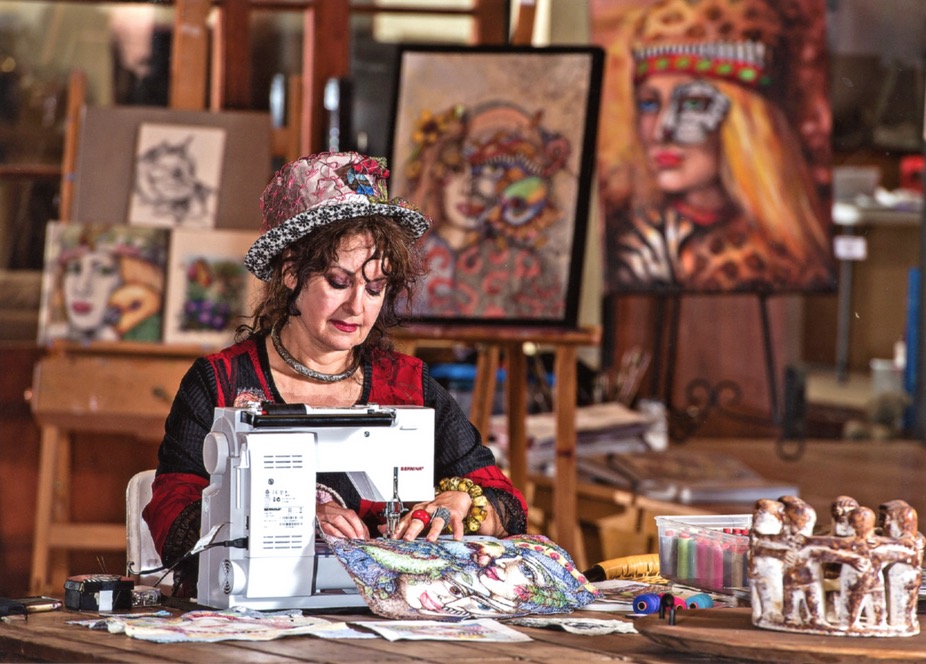 Textile Art with Cheryl Bridgart | Colour In Your Life
Textile art and fine art freestyle machine embroidery with textile artist Cheryl Bridgart Join Cheryl in her studio as she demonstrates her incredible freestyle embroidery technique. Textile art techniques and tutorial for beginners or artists of all ages and skills.
In this fine art TV show episode Cheryl Bridgart is interviewed by Colour In Your Life. In this episode Cheryl Bridgart demonstrates machine embroidery and textile art creating a fantasy abstract portrait. Cheryl's extraordinary talent and imagination for freehand embroidery is utterly mesmerising. Watch as she shares her tips for creating beautiful textile art on a freestyle sewing machine.
ICP presents: Photography from Isolation to Communication
The International Centre of Photography (ICP) in New York is offering a program of lectures by international experts including Elinor Carucci, Ben Gest and David Campany. Topics covered include how to turn your personal life into an editorial assignment, photobook editing, and digital post-processing. Each speaker will be delivering a series of three lectures, priced at $35 and delivered via Zoom.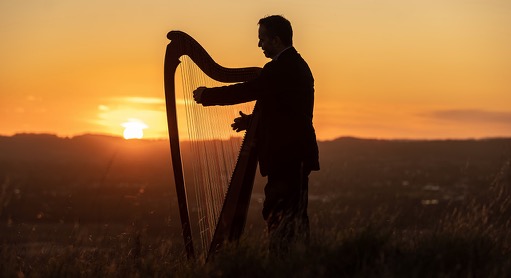 Listening Pleasures
From the Adelaide Festival

AF Concert Recordings
Thanks to our friends at ABC Classic, you can listen to some of the exceptional concerts from our 2020 Festival online:
UKARIA Chamber Landscapes
The Heath Quartet perform a beautiful program of Beethoven and Tippett.
Acclaimed violinist, Anthony Marwood was joined by cellist Timo-Veikko Valve, and pianist Stefan Cassomenos for an electrifying concert of Beethoven and Shostakovich in One Among Many.
Chamber Landscape's curator and harpist, Marshall McGuire and his ensemble Ludovico's band were joined by soloists soprano Bethany Hill and oboist Ben Opie for a program showcasing works by female composers for The Female Voice.
150 Psalms:
A Celebration of Life – performed by Netherlands Chamber Choir with The Norwegian Soloists' Choir, The Tallis Scolars and The Song Company, conducted by Peter Dijkstra
Berlin Philharmonic Digital Concert Hall
The Berlin Phil have made their extraordinary digtial archive of live-recordings and movies free for everyone. Just redeem voucher code BERLINPHIL and receive free access – time to indulge!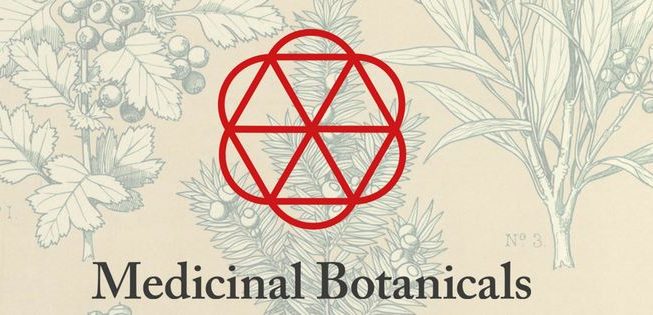 We'd like to invite members to share their interest in potential future projects. The Medicinal Botanicals Project brings together artists with botanist and pharmacologists to celebrate the important connection between people, plants, science and culture. Throughout 2019 – 2020 diverse partners will come together to produce and exhibit artwork, present symposia and host discussions in a variety of settings.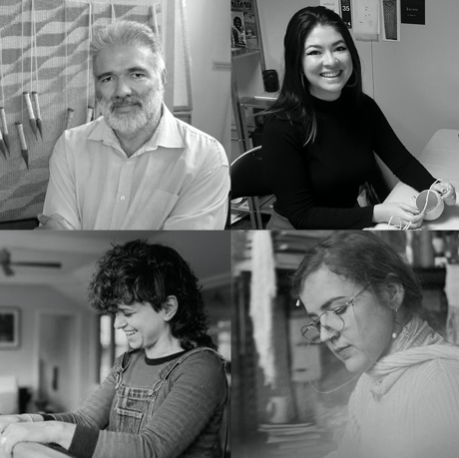 Textiles Today Round Table
19 November, 2020. 6–7pm
Online discussion with Ana Petidis, Tim Gresham, Jenna Lee and Daisy Watt.
Textiles Today Round Table brings together contemporary textile artists and weavers Ana Petidis, Daisy Watt, Jenna Lee and Tim Gresham to discuss perspectives on making, sources of inspiration, collaborative working and contemporary issues facing the field. Led by Ana, the conversation will engage experienced makers and craft-enthusiasts alike.
Audiences can tune in via Zoom. There will be an opportunity for audience questions at the end of the conversation.
Craft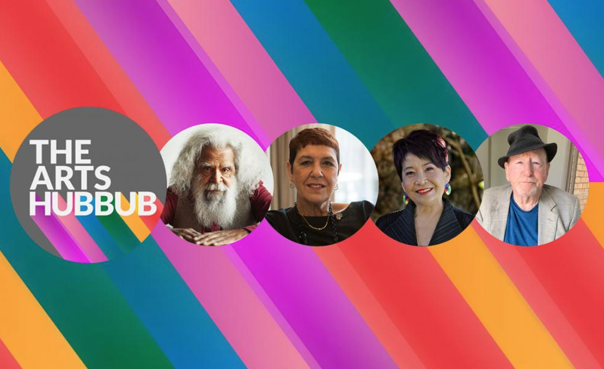 The difference between older and Elder: The ArtsHubbub episode 9
Featuring Uncle Jack Charles, N'arweet Dr Carolyn Briggs AM, Annette Shun Wah and Tony Barry.
In a culture which fetishes youth, The ArtsHubbub takes time out to value experience, celebrate age, and honour wisdom. We learn about the difference between getting older and being an elder, discover how elders reconnect us with culture, and discuss the importance of sharing your experience with younger artists.
ArtsHub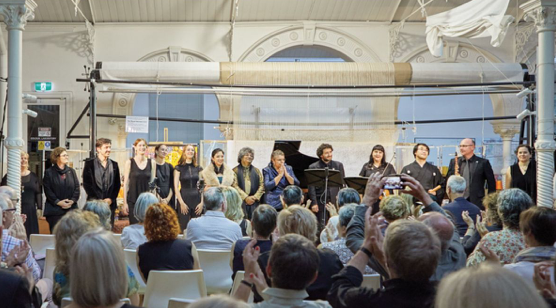 Australian Tapestry Workshop: WOVEN SONG + ABC Classic
In February 2020 the ATW continued its exciting collaboration with Deborah Cheetham AO and Short Black Opera presenting 'WOVEN SONG' to Australian audiences for the very first time as part of the 2020 Asia Triennial of Performing Arts (Asia TOPA).
This recording will be available to stream online until 30 October 2020.
Recorded live in concert at the Australian Tapestry Workshop, South Melbourne, on February 15, 2020, by ABC Classic. Producer Jennifer Mills. Engineer Chris Lawson.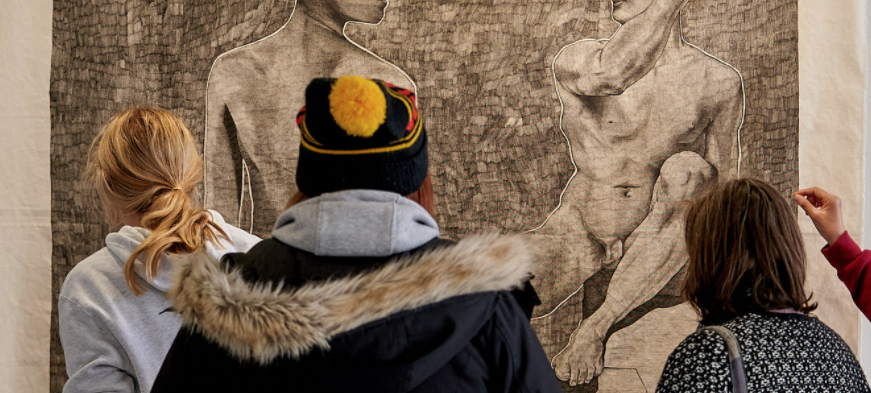 SALA Podcast
The SALA Podcast aims to engage South Australian visual artists and arts industry professionals in interviews about their arts practice and creative lives, and in discussion about topics relevant to the arts. The SALA Podcast is available wherever you get your podcasts.
SALA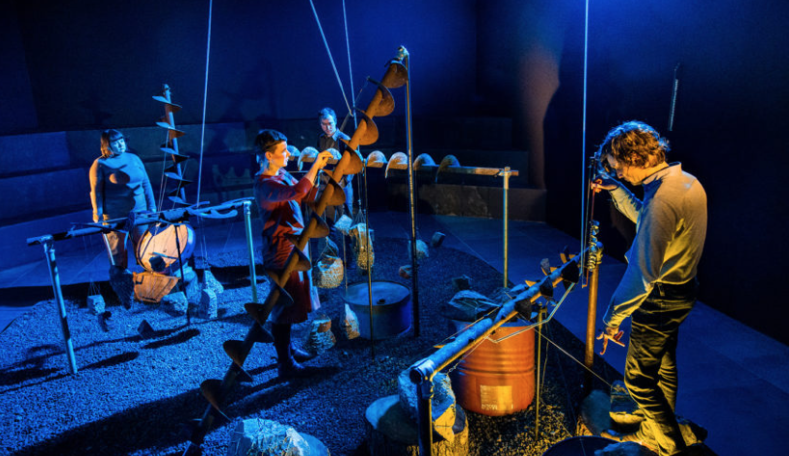 Online recording of Megan Cope's work 'Untitled (Death Song)'
When Rio Tinto blew up the 46,000-year-old Juukan Gorge rock shelters in the Pilbara in May, the traditional owners of the land, the Puutu Kunti Kurrama people, told the ABC they were in mourning.
They were "deeply troubled and saddened" by the mining megacorp's act of destroying this place of significance, severing a millennia-long tether to the land and their past.
Megan Cope's work 'Untitled (Death Song)' captures this pain – but also extends beyond it.
"People say 'Wow, it's like you predicted Rio Tinto,'" Megan tells CityMag, "but colonialism is predictable. It's predictable because it's violent."
The Quandamooka woman and artist responded to the 2020 Adelaide Biennial of Australian Art Monster Theatres theme with 'Untitled (Death Song)', a piece that is an extension of a previous work, 'Old Kahibah', but with a new twist.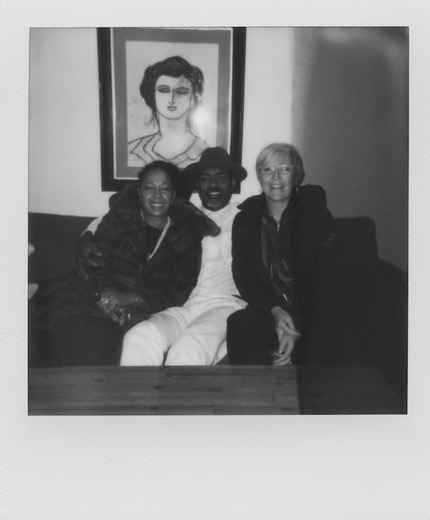 David Zwirner: Dialogues

With Covid-19 causing the temporary closure of its physical galleries, David Zwirner has expanded its digital presence. This includes its podcast series Dialogues, for which several makers or thinkers are invited to discuss how art shapes, elevates and shifts our experience. Lauded as one of the best visual art podcasts by the Financial Times, the series enters its third season with an exciting group of artists, writers, curators, and editors. New discussions will be airing every other Wednesday, with upcoming episodes including a conversation between photographer Tyler Mitchell and writer, curator, and cultural critic Antwaun Argent. Current, and past, exhibitions are also accessible via David Zwirner's online viewing rooms, including Wolfgang Tillman's Blushes #76.
Iltja Ntjarra, Namatjira School of Art: Watercolour Masterclasses
Workshop #4
Theme: Tree Study
*Leading Artist: Hubert Pareroultja Supporting artists: Vanessa Inkamala, Selma Coulthard
When: Tuesday 10/11/20,12:45 pm – 2:00 pm
Duration: 75 min
Inspiration image: White Ghost Gum
*Workshop via: ZOOM
Workshop #5
Theme: Rutjipma (Mt Sonder) dreaming
*Leading artist: Vanessa Inkamala Supporting artists: Ivy Pareroultja, Benita Clements
When:Tuesday 24/11/20,12:45 pm -2:00 pm
Duration: 75 min
Inspiration image: Rutjipma (Mt Sonder)
*Workshop via: ZOOM
*Please note: Specific artists' participation is pending their availability on the day.
*Artists currently residing in Alice Springs are welcome to attend the workshop in person. (Please advise when making the booking that you will attend in person as seats are limited)
Iltja Ntjarra, Namatjira School of Art: Watercolour Masterclasses
Workshop #6
Theme: The legacy of his father, Wenten Rubuntja
*Leading artist: Mervyn Rubuntja
When: Tuesday 01/12/20,12:45 pm – 2:00 pm
Duration: 75 min
Inspiration image: Hermannsburg School artist, Wenten Rubuntja
*Workshop via: ZOOM
Workshop #7
Theme: My family's history of Tempe Downs
*Leading artist: Selma Coulthard
Supporting artists: Benita Clements, Mervyn Rubuntja
When: Tuesday 08/12/20,12:45 pm -2:00 pm
Duration: 75 min
Inspiration image: Tempe Downs
*Workshop via: ZOOM
*Please note: Specific artists' participation is pending their availability on the day.
*Artists currently residing in Alice Springs are welcome to attend the workshop in person. (Please advise when making the booking that you will attend in person as seats are limited)
Warehouse Studio Adelaide
Looking for artists/makers in any medium to join their thriving group studio space.
Located in Edwardstown, they are a collective of artists sharing a 6-space warehouse, with 2 of these spaces becomming vacant from October. Some features include:
Affordable and secure
15 minutes from CBD
Full shared cold-shop
Unlimited street parking
All-hours access
Three-phase power
Lots of natural light
Bi-annual studio sale
For expressions of interest call Rebecca on 0413 565 955, or Nicole on 0402 944 233
The Mill Adelaide
Situated in the heart of the Adelaide CBD, The Mill's Artist Studios provide space for visual artists and makers of any discipline to operate an affordable studio in a professional and arts-compatible environment. Current and past uses include sculpture, ceramics, woodworking, illustration, fashion, painting, photography and more.
Expect: Your own designated open studio space (approx 15m2), 24hr studio access, wifi and access to shared spaces (workshop, kitchen and meeting space). Leases start from 3 months.
Gate 8
Gate 8 Workshop have short to mid term project spaces available.
They have different spaces and equipment available depending on your project with prices starting from $85 per week (exGST and outgoings).
Send them an email about you and your project through to Jess Loughlin (jessloughlin@internode.on.et)
or for more info visit
George Street Studios
36 George St, Thebarton SA
Studio space is currently available and suitable for artists, designer makers and artisans working across furniture, sculpture and mixed medium. We welcome expressions of interest from artists and makers at all career levels. Younger and emerging artists are encouraged and will be offered access to learn from experienced practitioners.
For further details or to organise a visit please contact Tony Rosella
M: 0402 114 702

Artisans' Vise
Shared studio/workshop facility
1/5 Waverley Ave, Edwardstown
"Artisans Vise is a makers dream space"
They have room for more designer/makers in their collegial, extensive factory.
They are ideally located in an established industrial area close to suppliers and manufacturers at 1/5 Waverley Ave Edwardstown
Access to workspace and a professional range of woodworking and metal equipment is available.
Current members are Gray Hawk, Andrew Bartlett, Taku Kamikawa and James Howe.
For further information please contact Gray Hawk
M: 04 1142 1713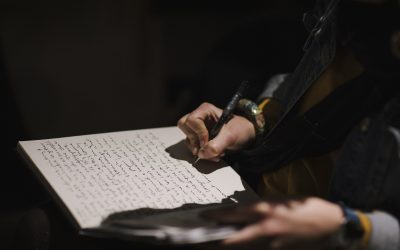 Tuesday 2 February 2021, 10 am – 2 pm Pricing: Free for Guildhouse financial members Location: Phone or video conference Presenter: Guildhouse Artistic Programs Manager Debbie Pryor COVID-19 Update To ensure the safety of our staff and our community, our one-on-one...