Simone Tippett, a leader in the South Australian printmaking scene and self-made curator, shares her tips on organising an exhibition.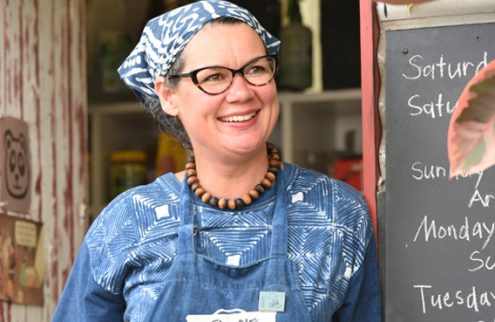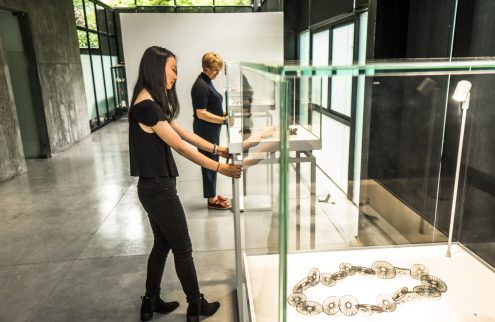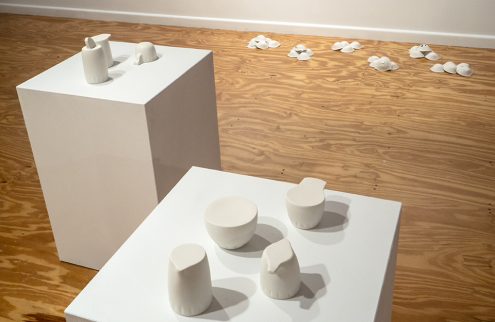 At the time of this interview, Simone had never applied for a government funding or support for an exhibition; her approach to organising an exhibition is to just do it: all you need to get started …  is to get started.
Simone says that later, when you've made a name for yourself, you might do things differently.
But for now, when you are starting out, just give it a shot… and think smart. It is amazing what you can achieve if you are thoughtful, resourceful and hard working.
How do I find the right venue for my work?
Do your research.
Ask artists who make similar works to you – where they have exhibited and how.
Attend as many openings and galleries as you can. Talk to people at the openings: to other artists, to gallery goers and (if you can politely make an opportunity) introduce yourself to the gallery owner/manager. Don't talk about yourself too much and never bumble or ramble about your own work.
Go with intelligent questions and comments about the space and the exhibition. If asked what you think about a gallery or an exhibition, find something constructive and interesting to say.
Rehearse something brief, concise, clear and intelligent about your own work – your "elevator pitch". Have a professional business card ready, listing your contact details, website, and relevant social media. (And yes, you do need an online presence with professional images. Think of your website as a curated gallery of your current work.)
When the opportunity arises, speak briefly and confidently about your work, and offer your business card.
Ask gallery owners and curators about their criteria for exhibiting – but only after you've done your homework – if their criteria is already on their website, read it first. If a gallery/curator has an email list, subscribe to it. Galleries will often put calls out for exhibition proposals one to two years in advance.
When asking about exhibiting, make it clear that you've researched the gallery or curator. And never ask questions that are already answered on their website.
Address any emails to the name of the gallery manager, e.g. "Dear Julie," even if the email address is generic, e.g. "hello@abcgallery.com".
A good way to start exhibiting is through group shows, with likeminded artists. Group shows enable you to spend more time making fewer and more evolved works. They allow you to participate in more exhibitions per year, thereby raising your exposure.
Group shows allow you develop your professional profile at the same time as your artwork, whilst sharing the risks amongst a group. (A solo show can be overwhelming when you are starting out, and can involve tremendous responsibility, effort, time and resources.) Once you have participated in a few group shows, and have started making a name for yourself, you will have the documentation, resources and reputation to apply for your own shows.
What costs should I be budgeting for?
When you start out, most likely, everything.
Best to assume you will need to pay for the cost of making the work, framing/presenting it, venue hire, transporting and installing the work, any hard copy invites, drinks and nibbles for the opening, photography, commission on sales, uninstalling the work, packaging/delivering sold and unsold works, etc…
But you can be smart about this.
If you are paying venue hire and commission on sales, the venue/gallery should contribute in some way: hard copy invites, effective promotion via social media, liquor licensing, drinks and nibbles, packaging of sold works, something. An established gallery will have clear guidelines, so ask for this information up front and early.
A temporary space, popup or ARI (artist run initiative) may require you to organise all this for yourself. More than likely, any venue hire will cover just the cost of the venue and the liquor licence. (By definition, ARI's are DIY. Think of them as a way to creatively learn, from the ground up.)
When starting out, you can do a lot to make your exhibition a success without blowing your miniscule (or non-existent) budget.
Promotions via social media, your website and Guildhouse are free. Don't forget to do these in time to generate and perpetuate interest in your event. But don't spam or stalk people. Offer beautiful photos (taken for at no cost on your smart phone) that people will share on social media… And include a subtle reference to your exhibition that can be clicked and followed back to you, if they want. Give people something fabulous – a picture, not words – and they will promote your show for you. Easy and free.
Organise a wine sponsor. Ask close friends/family to support you by bringing cheese and dips to your opening night. Publicly thank your friends/family and your wine sponsor. Generosity at an opening or a viewing makes everyone feel good.
Offer an artist talk or a special viewing. Make sure people book into it. Have a colleague/friend on hand with carefully designed questions so you can shine. And use your leftover cheese and wine to lubricate the proceedings.
And if you are fortunate enough to have a sellout show, but no ready funds to package up the work… recycle old clean t-shirts and pillowcases, make your purchasers smile and help them to think they are saving the world by eschewing plastic and bubblewrap. You are an artist: creative is your middle name, so be creative. And in the process, give a people a great story to tell at their next dinner party.
What should the gallery or exhibition space contribute to the exhibition?
This depends on the space, and how well established you are.
In a perfect world, you will be paid to make and exhibit amazing art, people will be paid to help you, your exhibition will sell out and everyone – especially you – will be paid handsomely.
But when starting out, be prepared for the reality to be somewhat different.
When I started out, I made my own opportunities, organised shows for me and my friends to be in, paid for all the extra materials to install (and occasionally remount) works, called in huge favours to install the shows well, purchased the wine, organised the opening speakers, arranged gifts to thank them, etc, etc.
You do what you have to, to get started. Later, when you have made a name for yourself, you can choose between opportunities, negotiate better terms and call the shots.
And it is fun – making something out of nothing is really satisfying. The freedom in doing something your own way is a gift. (Later, when you are famous and in demand, you'll probably look back on these moments with nostalgic reverence.)
Can you give us a good timeline to work to in preparation for an exhibition?
It depends… Professional galleries book their exhibition programme one to two years in advance. A year is a good amount of time to plan and execute an interesting and professional group exhibition. A solo exhibition may take longer, as you will need to develop a new body of work, make it, AND organise the exhibition.
If you make artworks regularly and consistently, you may be able to put an exhibition together more quickly.
Likewise you may be able to organise a group show with 1-3 months notice if you have cultivated a circle of peers who are like-minded in their professionalism, approach and interests. If this is the case, tell curators about your ideas. At some point, every venue or curator has an artist cancel at short notice. If you have great ideas, promote yourself carefully, and are agile and professional… You could find yourself with an amazing opportunity at very short notice.
How should I publicise my exhibition?
Social media is your friend. It is free and ubiquitous. If you post in interesting and savvy ways, others will spread the word for you.
If you are a member of Guildhouse or any other arts/crafts organisation, remember to promote your event via their platforms. (If you don't tell them about your exhibition, they can't promote it.)
If you have a colleague who reviews events and exhibitions on a blog, online in Broadsheet, CityMag or via Weekend Notes, give them a one-on-one preview, professional images and a thoughtful blurb, and ask them to review your show.
Remember, they must be allowed to write what they want, so it is up to you to make sure they understand and appreciate your work as easily and efficiently as you can. Ask if you can check their draft before it goes to print – purely to ensure the dates, gallery hours and contacts are correct. If they have misunderstood your work, this will give you a valuable opportunity to shed further light – without undue influence, of course!
If you are reviewed positively, link the review to any online platforms you are associated with. If you want someone to feature you, provide them with professional images and insightful text, in the exactly the format they require… Make it easy for others to promote you.
What is your exhibition preparation check-list?
Go to the NAVA website, click "Guides", and read all of the documents under "Exhibitions". If you need to join NAVA to do this, you should. Just like Guildhouse, NAVA is an amazing resource. Join both and read everything.
Any other advice?
Always be professional and easy-to-deal-with.
If you have been provided with correspondence or information, save and re-read it as necessary. Always check the gallery/curator's website and/or correspondence before asking a question. Chances are, they've already given you the information you need.
If you are unsure, ask.
Put yourself in the shoes of the gallery/curator: think about what they need for the exhibition they are organising and (without changing or compromising your work) tailor your approach to suit them. They are really busy and deal with lots of artists, so make sure they remember you for the right reasons.
If you can, learn from other people's experiences rather than making unnecessary mistakes yourself… And there is always something new to learn!
Never assume anything. Always document everything. And never say or write anything to or about anyone that you wouldn't feel comfortable saying to their face at a dinner party.
Be honest and sincere, and always kind and generous.
Things have a habit of coming full circle, so it is always best treat others the way you'd like to be, yourself.
Never forget that you do this because you want to, because making things is your way of communicating with the world. Regardless of how you exhibit – or the outcomes – the important thing is to make the work. Fads come and go. It is the making that is important.
Guildhouse financial members are able to obtain one on one professional development support about many areas of their practice.

 

Find out more about membership here.
Images (L-R): Simone Tippett, photograph Aise Dillon; Ann Lai and Rae O'Connell installing Nature at San W Gallery /Studio in Shanghai; Shifting Senses, Curated by Rayleen Forester. Photograph David Campbell.