Image: Brooke Rigney (Rigney-Lively) – Ngarrindjeri/Kaurna, Clinpath on Kaurna Yerta, installation view, Clinpath, 2023, photograph Lana Adams.
Clinpath

invited Guildhouse to facilitate the commissioning of a Kaurna artwork for the foyer in their new state of the art Mile End laboratory.
Artist Brooke Rigney (Kaurna/Ngarrindjeri) was selected via a limited commissioning process to create an artwork representing Kaurna Country. The predominant blues in the work symbolise the Karrawirra Parri and the Ngarrindjeri rivers and waterways of South Australia.
Artist Statement
This painting was created for Clinpath by Brooke Rigney to support them in celebrating and respecting Kaurna culture, and the many Aboriginal people who share this beautiful country.
The predominant blues symbolise two areas of significance. Firstly, blue represents Karrawirra Parri – the River Torrens, one of the most integral water ways of Kaurna country. Secondly, as a Ngarrindjeri and Kaurna artist I have always felt a strong affinity with blue as Ngarrindjeri are also connected deeply to the rivers and waterways of South Australia.
The animal tracks highlight two of the most significant representatives of Kaurna dreaming, the kangaroo and ibis. Swan tracks are also interwoven into the work as I have memories of sitting by Karrawirra Parri as a child and being greeted by these magnificent birds which also play a significant role in Ngarrindjeri culture – another example of how my Kaurna and Ngarrindjeri cultures intertwine.
Influences from traditional patterns and shapes are woven into the background to represent the balance of country and the waterways that sustain all of us who share country together.
This piece also depicts Clinpath sitting on Kaurna Yerta (Country), sharing it with the vast Aboriginal community who call this place home. In sitting on country with and alongside us, Clinpath listen, learn, and celebrate our many cultures.
Biography
I am a proud Ngarrindjeri and Kaurna woman. I am a mother, musician, advocate and artist, passionate about working with our young people and community.
I paint my own stories, experiences and perspectives as a Ngarrindjeri and Kaurna woman living on Kaurna yerta and connected to Ngarrindjeri ruwi. Influenced by the artists and musicians in my family, many of my pieces depict or represent my personal journey, family and connection to our country and waters.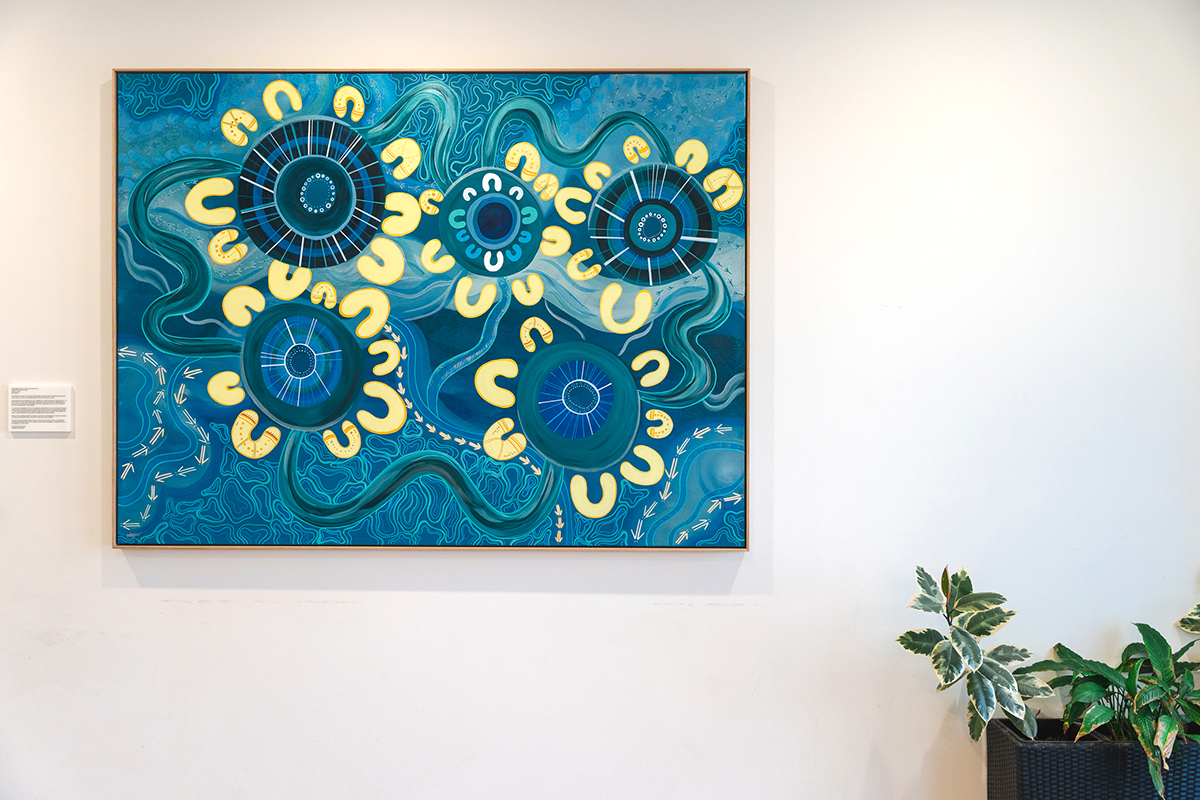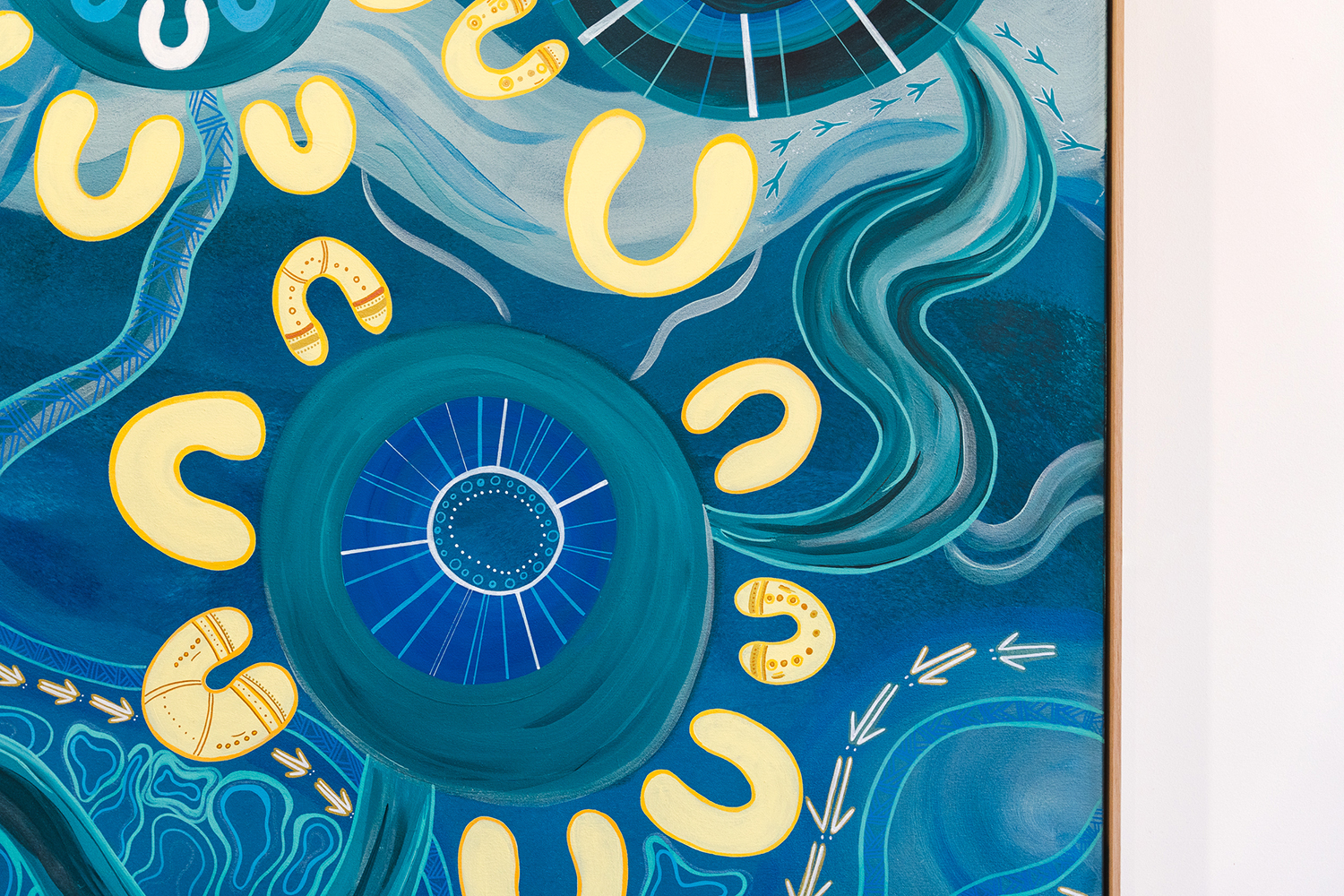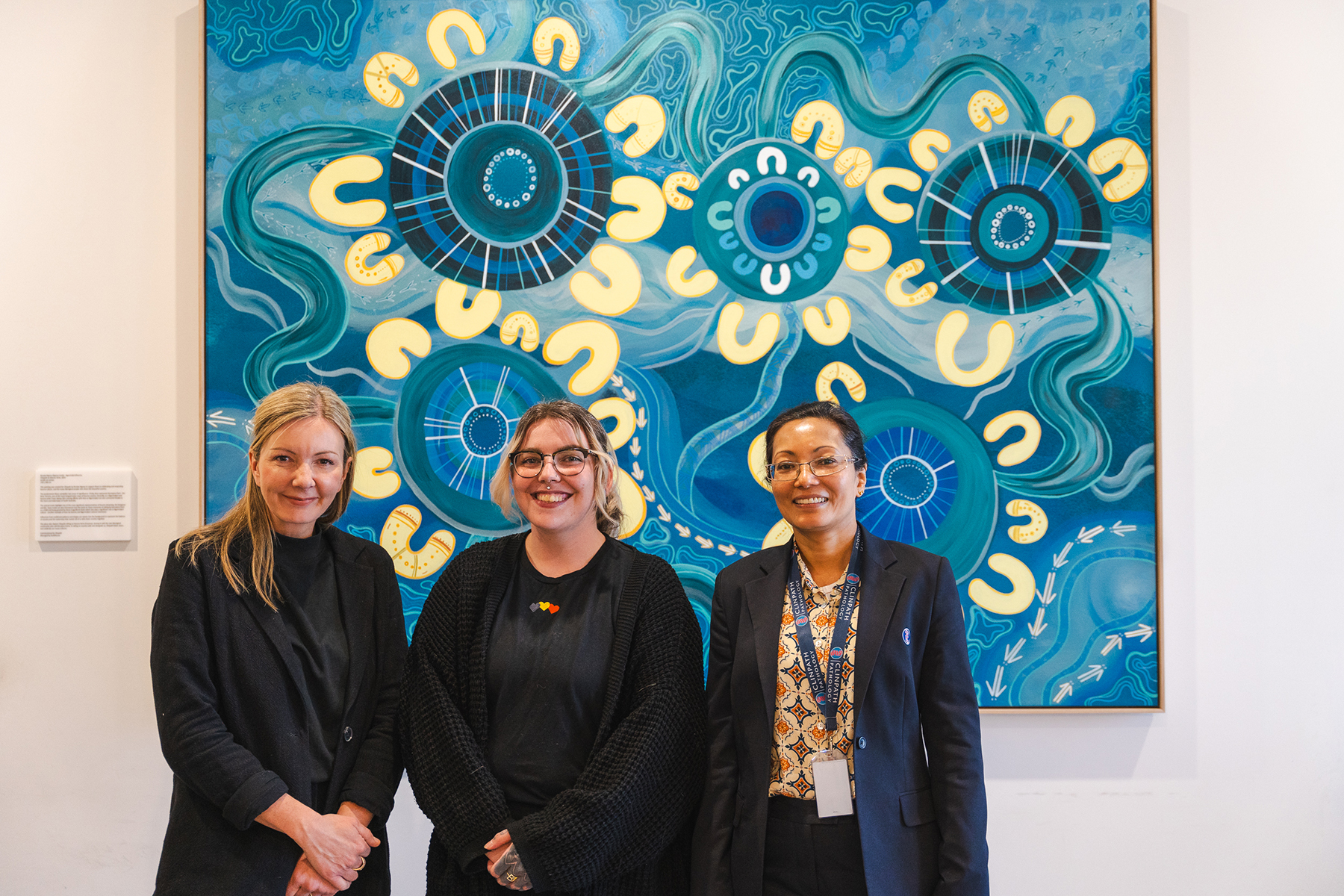 Images: Brooke Rigney (Rigney-Lively) – Ngarrindjeri/Kaurna, Clinpath on Kaurna Yerta, installation view, Clinpath, 2023, photographs Lana Adams.
Guildhouse Professional Services
Harness South Australian creative excellence.
Guildhouse offers a range of customisable professional services to support organisations and individuals to engage with South Australia's exceptional artists, craftspeople, and designers.

As the peak industry body for professional visual art and contemporary craft in South Australia, Guildhouse has contributed to a vibrant artistic community for over 50 years. We are trusted for our deep understanding of artistic practice, sector knowledge, unique networks and a highly experienced team. Guildhouse works with over 1000 artists from diverse artistic practices.