FELTspace Graduate Award Program 2018
The FELTspace Graduate Award Program is an annual initiative, which provides three outstanding Visual Arts graduates the opportunity to present their work at FELTspace during the highly competitive August period, which aligns with the South Australian Living Artists Festival. FELTspace offers this award to a graduate from the Bachelor of Visual Arts degree from each of the South Australian tertiary providers: Adelaide Central School of Art, Adelaide College of the Arts and the University of South Australia. For a second consecutive year, FELTspace are proud to be supported by Guildhouse in partnership for the Graduate Award Program.
Encouraging the development of new work, each recipient is allocated one of FELTspace's three galleries that best suits their practice, and receives mentoring throughout the course of the program from an artist or arts professional of their choice, the FELTspace Committee, Guildhouse, and an industry leader to bring their exhibition to fruition.
FELTspace and Guildhouse are excited to announce the mentorships for this year's Graduate Award Program:
Craig Glasson and Roy Ananda
Angelique Joy and Aaron Schuppan
Nancye Turnbull and Tamara Baillie
We are pleased to welcome back Andrew Purvis, Exhibitions Curator, Adelaide Central
School of Art Curator, as the industry mentor again for 2019.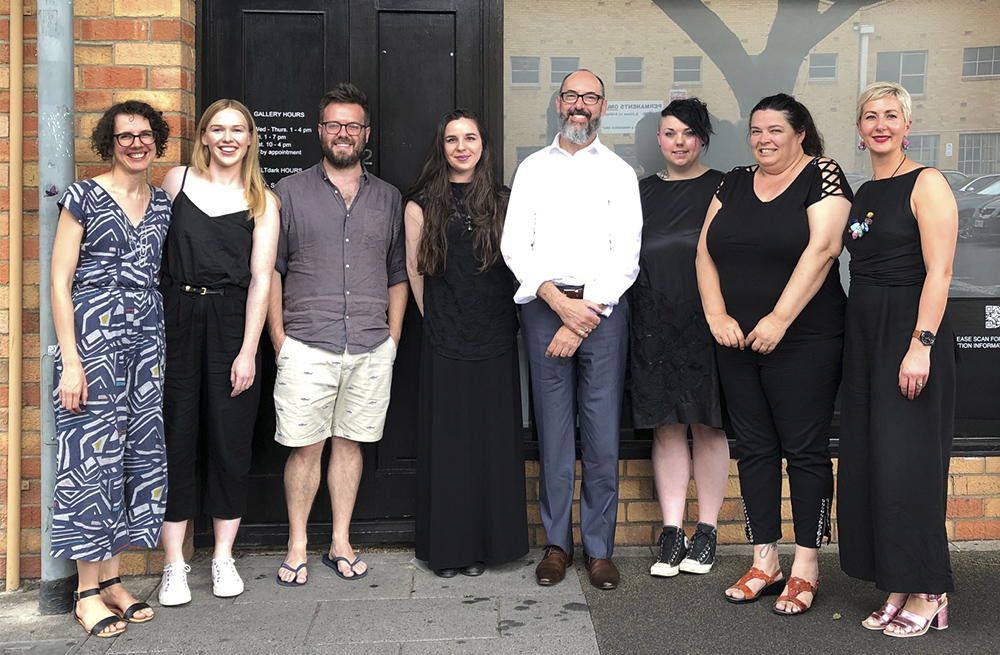 FELTspace Graduate Award 2019 recipients, mentors and administrators. L-R: Heidi Kenyon, Bernadette Klavins, Andrew Purvis , Elise Bonato, Craig Glasson (ACSA), Angelique Joy (UniSA), Nancye Turnbull (AC Arts) and Emma Fey. Photograph Guildhouse.
Through the Graduate Award Program and associated mentorships, FELTspace aims to provide a supportive platform to assist and advocate for the establishment of emerging, sustainable and experimental practice of promising visual artists in our local arts industry.
FELTspace
Established in 2008, FELTspace is an artist run organisation supporting, developing and presenting emerging, experimental, and diverse exhibitions and public programs. Encouraging and promoting new work by South Australian visual artists within the gallery, in offsite projects and through involvement in interstate and international projects. FELTspace also extends its programming to both national and international artists, curators and writers, allowing further exposure and networking, and engaging South Australia within a broad Australian visual arts sector.