Image: Cedric Varcoe, Kaurna Wirltu Tidna, University of Adelaide, 2022. Photograph Sam Roberts.
An original mural is now a permanent fixture of the University of Adelaide's North Terrace campus, connecting people to Country.
The mural, named Kaurna Wirltu Tidna, depicts many links to the University, such as the Southern Cross and a shield, that are also significant to Kaurna culture.
Cedric Varcoe, a Ramindjerri yuraldi man of the Ngarendjerri nation, and Narunga artist, created the mural art, which has been installed on the western side of the Hub at an impressive 41 metres long and 5 metres wide.
Mr Varcoe was commissioned to create the mural artwork Kaurna Wirltu Tidna in a partnership between the University of Adelaide and Guildhouse, supported by Visualcom.
Mr Varcoe said his artwork has found the perfect home: "Where the campus is situated, where people go when they're finished having lunch, they go and sit down and enjoy it, where for thousands of years the Kaurna people have enjoyed it as well, and they're still connected to it today."
"Wherever [people] tread, there's history to that place, that place has got a spirit."
The artwork also features the Milky Way, and a flowing river representing the nearby River Torrens/Karrawarri Pari.
"And then there's parts of it where little people are sitting in camps, and they're learning and hearing stories. You'll see tools amongst the people that are sitting in the shelters, and the shelters [represent] the various different fields that people go and study into, [with] tools of learning, of discovery," Mr Varcoe said.
Mr Varcoe's art was originally painted on canvas, and then scaled and adapted for the Hub's glass façade, which took four days to install. The original canvas is now part of the University of Adelaide Library's Visual Art collection.
Mr Varcoe's artwork was installed following consultation with Uncle Rodney O'Brien, respected Kaurna Elder and Cultural Advisor at the University of Adelaide.
"It's an exciting opportunity to tell, not only a Kaurna story, but Cedric's story as well, because our people believed in sharing of knowledge, and story. It's about sharing our culture with the wider community, by bringing in people to be part of that community," Uncle Rod said.
"The mural is about maintaining that connection from the past into the future, and encouraging our young people to do the same."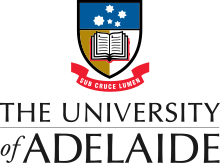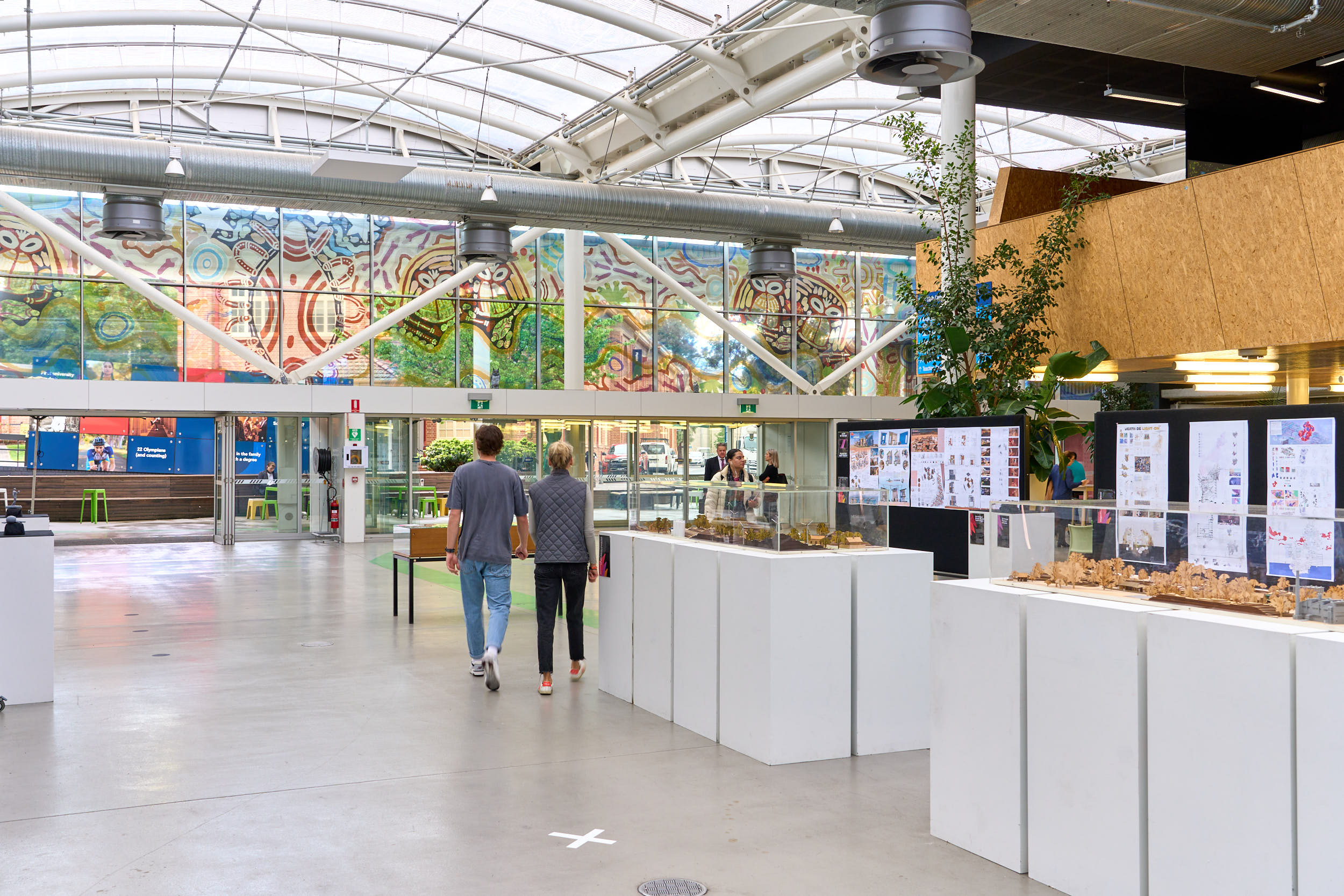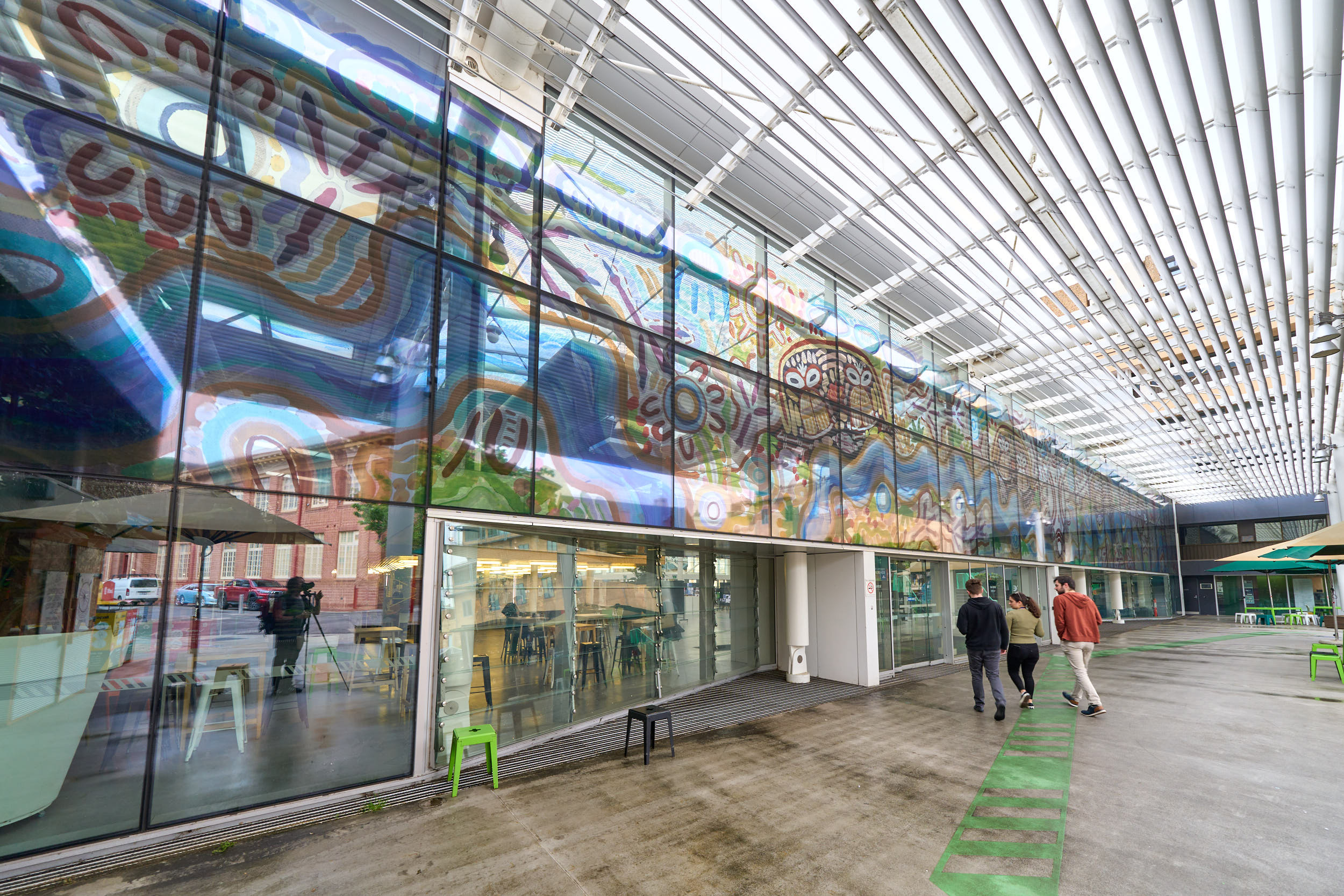 Images: Cedric Varcoe, Kaurna Wirltu Tidna, University of Adelaide, 2022. Photograph Sam Roberts.

Image: Cedric Varcoe, Kaurna Wirltu Tidna, 2022. Image courtesy the artist.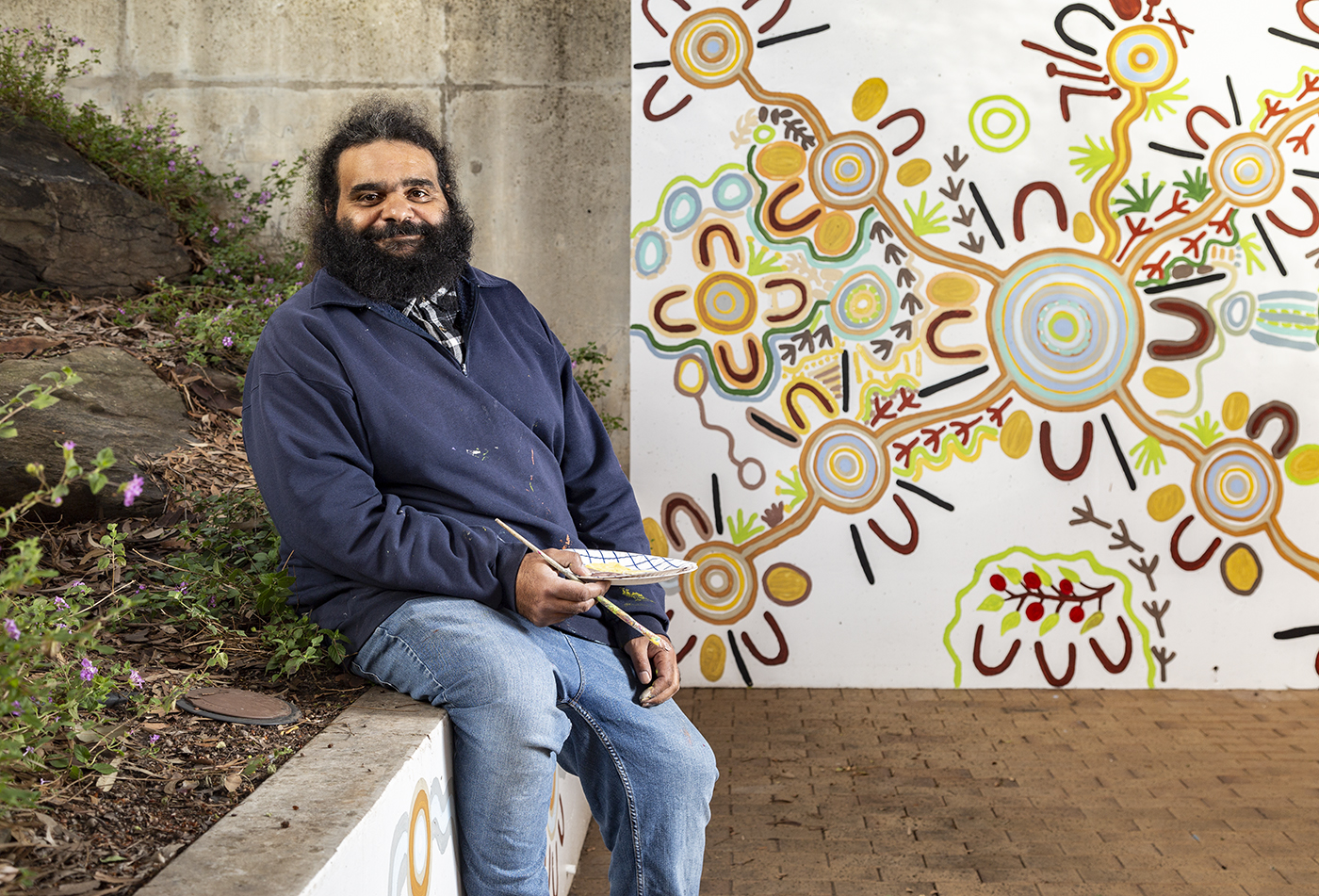 Image: Cedric Varcoe. Photograph Saul Steed.
Cedric Varcoe was born in Adelaide in 1984 with strong family connection to Raukkan and Point Pierce. His language groups and tribes are Ngarrindjeri and Narangga. Cedric Varcoe is a contemporary artist, painting the creation stories of his Ngarrindjeri lands and waters, from the lower River Murray and the Lower Lakes to the Coorong, the South Coast to Kangaroo Island. 
He started painting at the age of eight, watching his sisters and mother, aunties and uncles. Fascinated by paint, he mainly painted lizards and snakes, and developed highly stylized corroboree men. 
Cedric Varcoe has painted on and off for over 15 years. In 2008 he completed a mural in one of the cells at the Port Pirie Police Station, hoping to inspire young people who are getting arrested, to try to help them to have a better outlook on life, to think that they might be able to paint and express themselves creatively. 
In 2015 an Arts SA ATSI development grant supported him to research and learn new techniques working with a range of colours. He also has worked extensively across community arts projects in regional South Australia. 
Cedric Varcoe has teamed up with Better World Arts, which has supported him to display his works in galleries across Australia and to sell his work globally. Together, they also developed a series of innovative point of sale artefacts, ranging from printed ceramics to handbags, featuring his unique designs. As a result, he is able to support his work and his family as a proud, contemporary Ngarrindjeri artist. 
Cedric Varcoe's work is held in private and public collections across Australia and overseas. In 2010 and 2014 he won the Port Augusta 'Malka Art Prize'. 
Guildhouse Professional Services
Harness South Australian creative excellence.
Guildhouse offers a range of customisable professional services to support organisations and individuals to engage with South Australia's exceptional artists, craftspeople, and designers.

As the peak industry body for professional visual art and contemporary craft in South Australia, Guildhouse has contributed to a vibrant artistic community for over 50 years. We are trusted for our deep understanding of artistic practice, sector knowledge, unique networks and a highly experienced team. Guildhouse works with over 1000 artists from diverse artistic practices.