Wednesday 4 November, 6pm
Pricing: Free entry
Location: Online
Guests: Professor Susan Luckman, Dean of Reseach, UniSA Creative, University of South Australia, artists Lauren Simeoni and Simone Tippett, and Lord Mayor Sandy Verschoor.
Host: Emma Fey, CEO Guildhouse

Join thought leaders and artists as they discuss the long-term impact of a mentorship on an artists trajectory.
Professor Susan Luckman of the University of South Australia, discusses the interim findings of a longitudinal research study examining the impact of mentorships in the ongoing development of creative careers. Artists Lauren Simeoni and Simone Tippett discuss their mentorship through Guildhouse in 2016, observing their collaborative approach to learning and the ongoing professional and artistic outcomes. Lord Mayor Sandy Verschoor will lead a Q&A session between artists and researchers with a focus on the importance of developing creative enterprise for the benefit of the South Australian community.
'Role modelling is just so important in society and so when you can role model behind someone that you admire and they can mentor you, the outcomes are just amazing.'
The research study titled Mentor Mentee: A creative relationship offers initial findings from a three-year project undertaking research-informed evaluation of Guildhouse mentorship programs over the past decade. The report seeks to fill the gap in published research and to document the value of mentorships to provide artists to share their experiences to shape the best artist-led learning going forward.
Interview quotes and surveyed statistics illustrate how mentorships have expanded capabilities, embedded meaning and provided connection within professional practice. Mentees and mentors shared openly, and at times anonymously, of their mentorship experience, revealing barriers and pathways encountered as they traverse through the stages of emerging, mid-career and established practice.
Artists Simone Tippett and Lauren Simeoni discuss their 2016 Limber up mentorship and the impact the experience as teacher and student has had on their working practices. Under the mentoring of Simone, Lauren extended her screen-printing and 2D skills to integrate with her existing contemporary jewellery practice. The learning of new skills was the outcome of this mentorship, however Lauren leveraged the learning to showcase her newly developed skills extensively in exhibitions and opportunities, including presenting new work in Shanghai to correspond with Shanghai Fashion week.
Guildhouse acknowledges the generosity and leadership of the Ian Potter Foundation and the University of South Australia for their support of this important research. We also acknowledge the City of Adelaide for their support of this event through the Business of Being Creative initiative.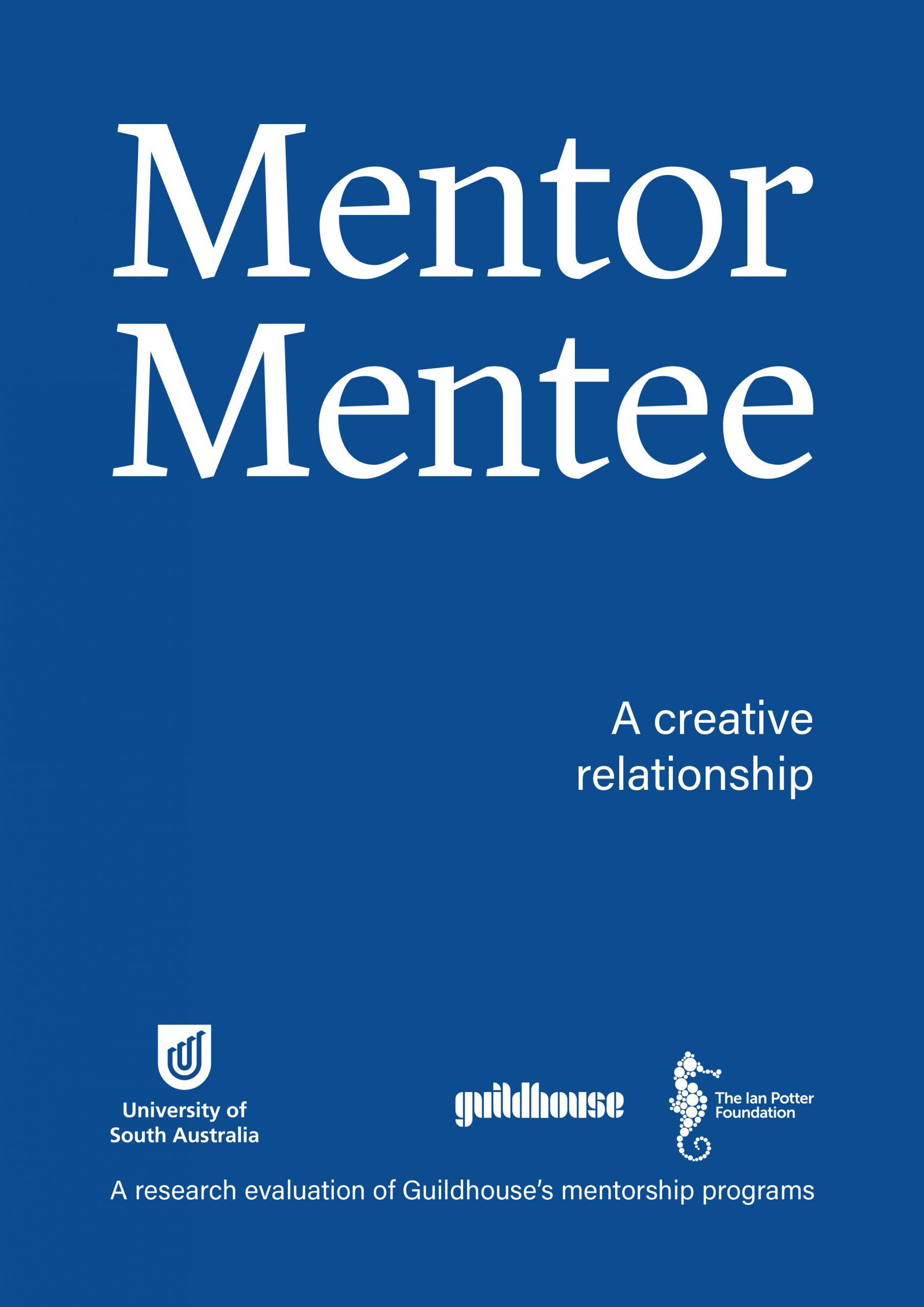 Professor Susan Luckman
Dean of Research, UniSA Creative, University of South Australia
Susan Luckman is currently Dean of Research at UniSA, Professor of Cultural and Creative Industries and (when not Dean) Director of the CP3: Creative People, Products and Places Research Group (CP3) at the University of South Australia. She is the author of Craftspeople and Designer Makers in the Contemporary Creative Economy (Palgrave 2020), Craft and the Creative Economy (Palgrave Macmillan 2015), Locating Cultural Work: The Politics and Poetics of Rural, Regional and Remote Creativity (Palgrave Macmillan 2012), co-editor of Pathways into Creative Working Lives (Palgrave 2020), The New Normal of Working Lives: Critical Studies in Contemporary Work and Employment (Palgrave 2018), Craft Economies (Bloomsbury 2018), and Sonic Synergies: Music, Identity, Technology and Community (Ashgate 2008).
Simone Tippett
Simone runs printmaking classes and workshops, hosts masterclasses, curates exhibitions, holds print events, co-ordinates a community printmaking newsletter and has begun retailing original prints and printmaking supplies through a new online shop during COVID-19.
She is co-founder of an exciting new print studio in Hindmarsh called Stone and Quoin Studio. Together with co-founder Damien Warman, she has run several community steamroller print events at the new studio, as well as hosting guest printmaking workshops with South Australian, interstate and overseas artists.
Tippett has taught printmaking as Union St Printmakers since 2009. She is passionate about anything printmaking and has a longstanding love of watery surfaces and the colour blue. She is the SA contact for Enjay Presses and has been a committee member for the Print Council of Australia for many years.
Lauren Simeoni
Simeoni's work is a homage to the senses – a wearable passport to a whimsical 'other' reality, finding the beautiful and seductive in what is otherwise thought of as mundane. The rich colours and textures of found objects are important triggers of inspiration, and a limited pallet provides more possibilities. Her work toys with mass-production processes and she frequently reconfigures mass produced objects to create interactive conceptual jewellery and 2D works.
Simeoni has a BA in Gold and Silversmithing from Canberra School of Art, ANU which she followed by a Design Associateship at the Jam Factory and a mentorship at Gray Street Workshop in Adelaide.
Lord Mayor Sandy Verschoor
Sandy is a first-generation Australian of Dutch, French, Portuguese and Ceylonese descent. Her parents gave her a deep-rooted understanding of business, an adventurous spirit, commercial acumen and a love of the arts.
Sandy is married to Gregg Mitchell, a graphic designer and artist, and has two daughters, and a son.
Sandy was elected as an Area Councillor in the 2015 by-election and served as Deputy Lord Mayor from June 2017 to November 2018. She has been in the role of Lord Mayor since 2018. She has had a career in both the public and private enterprise, not-for-profits, and local and state government, including three years as General Manager City Culture and Community Services for the City of Adelaide.
Sandy has contributed to the success of Adelaide's thriving arts and culture community for more than two decades, including having been CEO of the Adelaide Fringe and the Adelaide Festival, as well as producer of the Adelaide Festival of Ideas in 2018.
She has been on numerous boards including the Adelaide Convention Bureau, Premier's Climate Change Council, Adelaide Film Festival, Capital City Committee, as well as a trustee of the Adelaide Festival Centre Trust and chairs a disability housing solutions organisation Aliro Ltd.
As Lord Mayor, Sandy is keen to keep costs low for residents and businesses by reducing red tape, strengthening Adelaide's global reputation for culture, climate change action, and entrepreneurialism, preserving Adelaide's heritage, and enhancing the city's precincts and main streets for the benefit of local small business owners and the community.
This event will be recorded.
By taking part in this event you grant the event organisers full rights to use the recording and any reproductions or adaptations of the recording for fundraising, publicity or other purposes to help achieve the group's aims. This might include (but is not limited to), the right to use them in their printed and online publicity, social media, press releases and funding applications.
If you do not wish to be recorded please inform a Guildhouse staff member.

Images (L-R) : Mentor Mentee: A creative relationship. Design Amy Milhinch; Professor Susan Luckman. Photograph courtesy the speaker; Simone Tippett. Photograph Aise Dillon; Lauren Simeoni. Photograph Aise Dillon; Lord Mayor Sandy Verschoor. Photograph: Tony Lewis.