Image: Steven Bellosguardo installing work at the Adelaide Airport, 2019. Photograph: Brianna Speight.
Dates: Monday 20 January, 4 pm to 7 pm; Tuesday 28 January, 4 pm to 7 pm and Monday 3 February, 4 pm to 7 pm
Location: Boardroom at Dentons Fisher Jeffries, Level 1, 19 Gouger Street, Adelaide
Presenters: Jill Gael, Hossein Valamanesh, Steven Bellosguardo and Tony Rosella
Learn how to deliver public art like a pro with this three part workshop series presented by Guildhouse and Helpmann Academy.
Are you keen to develop your skills in managing public art projects?
Helpmann Academy and Guildhouse have partnered to present a program of workshops with project management expert and arts consultant Jill Gael.
Over three focused and intimate sessions, Jill will guide you through the essential phases of project management, focusing specifically on how to develop and deliver a public art project for local government or private commission.
Each workshop will feature a special guest speaker with South Australian artists Steven Bellosguardo, Hossein Valamanesh and Tony Rosella talking about their experiences and sharing their tips on what it takes to successfully deliver a project on time and on budget. You will hear first hand about working with clients, developing your pitch, negotiating challenges and balancing project delivery with external expectations.
Monday 20 January: Workshop 1 with Steven Bellosguardo
In this workshop you can expect to:
Learn from Steven about starting out in the local public art environment, and taking your project from pitch to completion
Hear about different commissioning models and where to find opportunities
Gain insights into setting up your project for success
Tuesday 28 January: Workshop 2 with Hossein Valamanesh
In this workshop you can expect to:
Learn from Hossein about his arts practice and some of the ingredients for a successful public art commission
Gain insights into responding to briefs and pitching your concept
Understand how to build a profile and sustainable career working in the public realm
Monday 3 February: Workshop 3 with Tony Rosella
In this workshop you can expect to:
Learn from Tony about successful collaboration, how works evolve and the trouble shooting needed to complete public art works
Consider fabrication options
Improve your time and resource management
Better understand risk, contingency and budget planning and management
This is an essential opportunity for emerging or established artists who are interested in breaking into the world of public art, as well as any artist or arts worker who is keen to expand their project management skills.
Places are strictly limited to 25 participants, bookings are essential.
Cost: $120 for Guildhouse members / $80 for Helpmann Academy emerging creatives (booking fees and GST apply)
Please ensure that you are available for all 3 sessions.
Steven Bellosguardo fuses contemporary techniques with a traditional approach to sculpture's original subject, the human figure. Utilizing mediums associated with modernist sculpture, figures are rendered from flat sketches on steel, cut out and assembled, creating an interplay between two and three-dimensional elements. Constructing abstract figures he explores ideas of what it is to be human and the reciprocal relationship that they have with nature.
Bellosguardo's hot pink sculpture Donkaay (2017) joyfully resides on the corner of Morphett and Hindley Streets, and most recently he was commissioned by Adelaide Airport to carry out a major public artwork (2019). Bellosguardo has exhibited in galleries including Praxis Artspace, West Gallery – Thebarton, the Palmer Sculpture Biennial, Fontanelle Gallery, and the Helpmann Academy Graduate Exhibition.
Image: Steven Bellosguardo, Donkaay, 2017, installation view. Photograph Brianna Speight Sculpture Hire Program supported by City of Adelaide.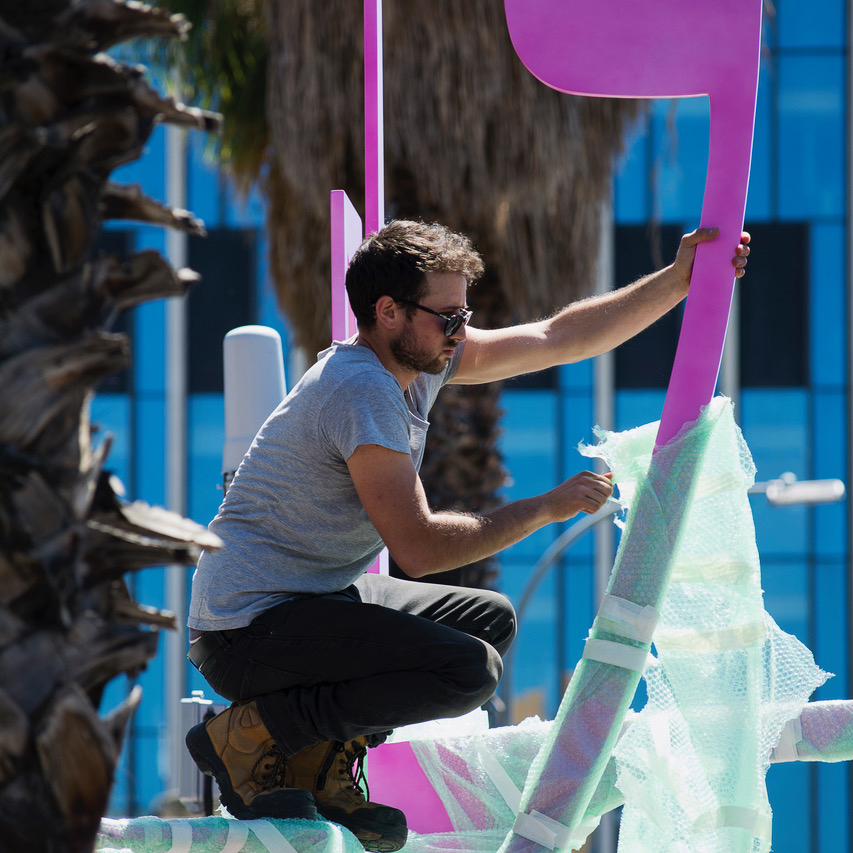 Hossein Valamanesh works with a variety of media including installation, sculpture, painting and collage. Inspired by personal experiences and memories, he uses ordinary objects and natural materials to create visual poetry that reflects on his life in Australia and his experiences of his birthplace, Iran.
In addition to a prolific career exhibiting as a contemporary artist, he has completed a number of major public art commissions with artist Angela Valamanesh including Ginkgo Gate, Adelaide Botanic Garden (2011); 14 Pieces on North Terrace, Adelaide (2005); and An Gorta Mor, a memorial to the Great Irish Famine at Hyde Park Barracks, Sydney (1999).
Image: Hossein Valamanesh, After Rain, 2013. Photograph Saul Steed. Courtesy Art Gallery of South Australia.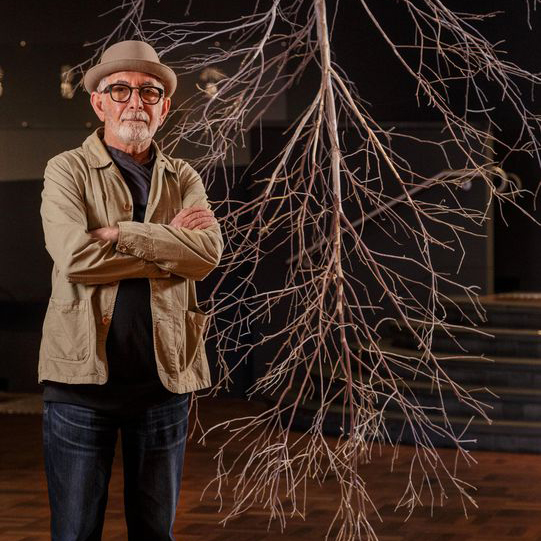 Tony Rosella is a dedicated professional artist, sculptor and metalworker with significant experience in the areas of public art and commission-based projects. His formal training commenced in 1984 at North Adelaide School of Art along with woodwork and blacksmithing technical courses. He then undertook a BAFA at Sydney College of the Arts, and also holds a Diploma of Education and an Engineering mechanical qualification (Fitting and Turning).
Rosella has been self-employed now for 25 years, and has progressively reshaped his practice to incorporate his sculptural roots and training to collaborate on, design and construct significant commercial and public works. He is a founding member of George St Studios, a commercial collaborative studio from which he currently operates. This unique professional and commercial facility has facilitated numerous projects and works as an artistic creative collaborative hub that supports the creation of major works.
Image: Tony Rosella, George Street Studios. Photograph John Geelen. Courtesy CityMag.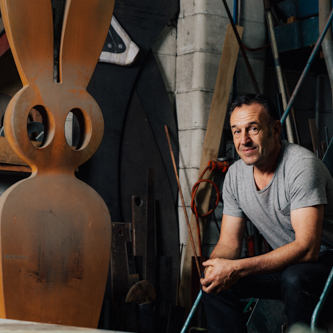 Jill Gael is a highly skilled facilitator, project manager and educator. She is renowned for her creativity and innovation in bringing about fundamental and sustainable change for individuals, organisations and communities.
Gael has previously held senior management positions in both the SA and Victorian public sector spanning the arts, health, education, and information services. She is now the co-founder of CPD BIZ Consulting the director of the Centre for People Development and CPD ARTS BIZ where she works with clients to deliver high quality learning and development programs to the Australian public sector.
Image courtesy Jill Gael.
Photographs and/or video may be taken at this event.
By taking part in this event you grant the event organisers full rights to use the images resulting from the photography/video filming, and any reproductions or adaptations of the images for fundraising, publicity or other purposes to help achieve the group's aims. This might include (but is not limited to), the right to use them in their printed and online publicity, social media, press releases and funding applications.
If you do not wish to be photographed please inform the photographer or a Guildhouse staff member.