INFORM: Brave New World, 2019, ACE Open. Photograph Rosina Possingham.
Sat 11 May 2019, 12:00 – 6:00pm

Pricing:
Guildhouse Members: $15.00.
Non Members: $45.00
(The member cost of attendance covers simply costs for a light lunch, tea and coffee, afternoon snacks and a beverage.) 
Location: praxis ARTSPACE, 68-72 Gibson St, Bowden SA 5007
Presenters: Please see below

Guildhouse is proud to present a symposium unpacking the trajectory of an artists practice From Studio to Gallery. The symposium will feature four panel discussions chaired by industry leaders, who will shape conversations between emerging, mid-career and established practitioners.
Providing further context to the conversations, the event will be held at the reputable Praxis Gallery + Studios in Bowden. The Symposium will conclude with a showing of the Praxis Studios, and discussions with studio artists over light snacks and a beverage.
Running Order
12:15 Intro
12:20 Panel: Studio Practice
1:10 Break
1:40 Panel: Supporting Your Practice
2:30 Lunch
3:00 AGM
3:30 Panel: What art school doesn't prepare you for
4:30 Panel: In The Gallery
5:30 praxis studio tour and drinks
6:30 close
Studio Practice
Panel Chair: James Dodd
Panelists: Tom Borgas, Ray Harris, Mary-Jean Richardson
Artists from various stages of their career discuss what studio practice means to them and how they transitioned from training to working in their own studio. Mid career and established artists discuss the studios and residencies they have been involved in and reveal how to create the studio that suits them and their practice.
Supporting Your Practice
Panel Chair: Catherine Truman
Panelists: Kath Inglis, Deborah Prior
Catherine Truman guides a conversation with artists around a creative practitioners well being. Looking after both body and mind, the discussion looks at endurance performance, to juggling the life / art balance, or developing working practices to support the longevity and momentum of an arts practice.
What art school doesn't prepare you for
Panel Chair: Christian Lock
Panelists: Troy-Anthony Baylis, Tara Rowhani-Farid, Gerry Wedd
Experienced artists discuss how and what they learnt outside of the institutional structure. Whether returning to the studio after completing a major project or or straight from art school, how does one retain focus?
In The Gallery
Panel Chair: Patrice Sharkey
Panelists: Margaret Hancock, Mia van den Bos
Curators discuss their relationship with artists and the gallery. Unpacking their personal process around curating an exhibition or a gallery program and their methods to building a mutually beneficial connection with artists.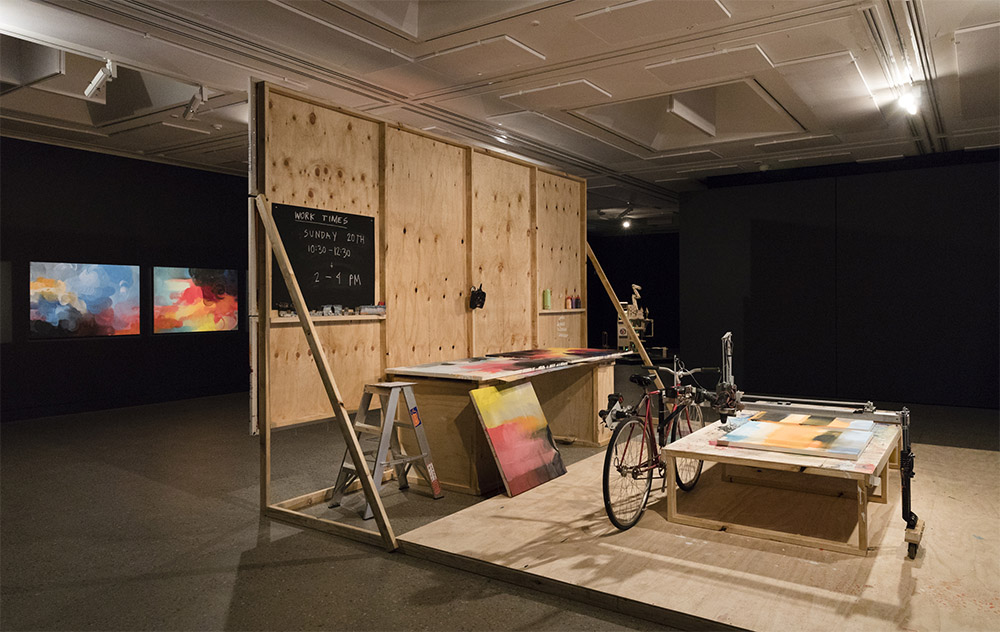 James Dodd, Painting Mill, 2017, Installation as part of Dream Machines at Hazelhurst Regional Gallery. Image courtesy the artist.
James Dodd

James Dodd is an artist who works across a wide range of mediums. He is interested in the splashes of creativity that can be found in public spaces, especially suburbia. This has many manifestations, from simple paintings to strange contraptions or sculptures that look like they have been "home-brewed in the garden shed". Since completing his Masters in Visual Arts at the University of South Australia, Dodd has gone on to create an extensive body of work that he has exhibited in both solo and group exhibitions. He challenges traditional notions of genre, fitting comfortably into a traditional gallery setting whilst also exploring new frontiers in visual street culture and the creative use of urban spaces. Painting has always been a core part of his practice. However, his impressive body of work also encompasses built structures, murals and a diverse catalogue of public art. Dodd teaches at the Adelaide Central School of Art, leads community projects and exhibits regularly across Australia.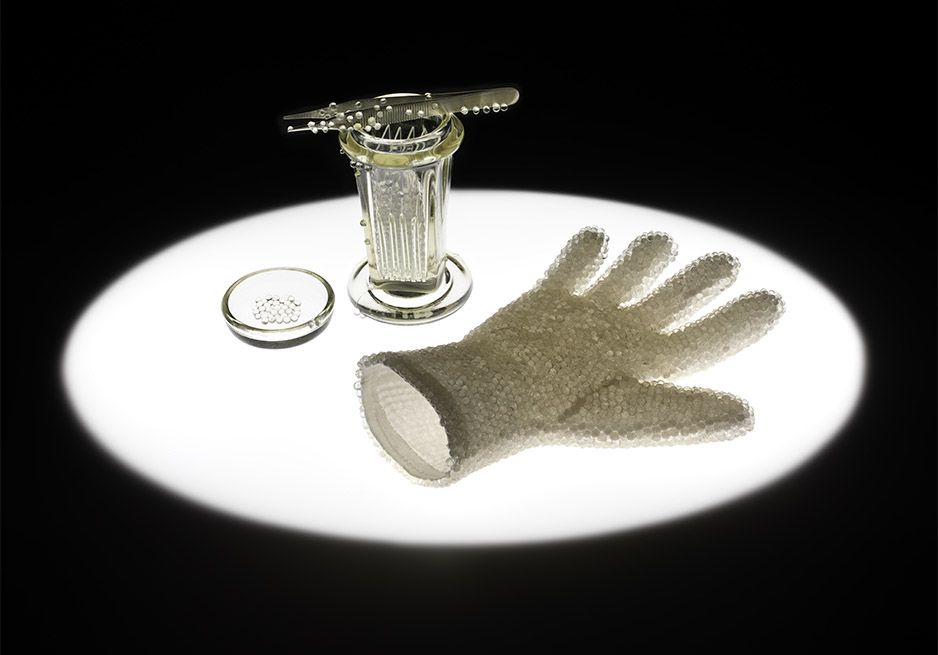 Catherine Truman, In Preparation for Seeing: Cell Culture Glove, 2015, White cotton glove encrusted with glass spheres, Coplin jar, microscope slides, steel forceps inlaid with glass spheres, stell, light pad, dimensions variable. Photograph Grant Hancock.
Catherine Truman
Catherine Truman is an established artist working across the disciplines of art and science. She is co-founder and current partner of Gray Street Workshop- an internationally renowned artist-run workshop established in 1985 in Adelaide, South Australia. Truman's practice is renowned for its diversity and incorporates contemporary jewellery, objects, digital image and film installation with a focus upon the parallels between artistic process and scientific method. Qualified in the Feldenkrais Method of movement education, Truman has researched historical and contemporary anatomical collections world-wide and has participated in a number of art/science- based projects.
Truman was awarded an Arts South Australia Fellowship in 2016 and was selected as the 2016 SALA (South Australian Living Artist) feature artist. She is the subject of a SALA monograph- Catherine Truman: touching distance, written by Melinda Rackham, published by Wakefield Press. A major survey exhibition Catherine Truman was held at the Art Gallery of South Australia in 2016. In 2017 the Jamfactory, Adelaide held a major exhibition of Truman's work entitled no surface holds. Truman is also a committee member on the Guildhouse Artist Advisory Group.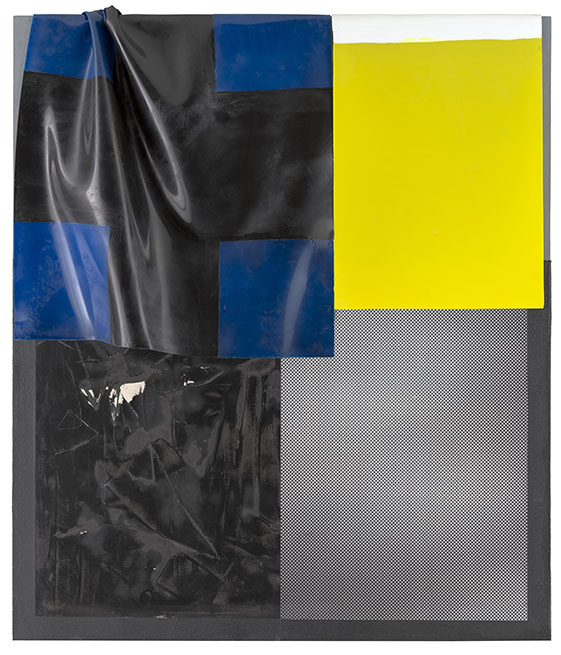 Christian Lock, Third Encounter. Image courtesy the artist.
Christian Lock

Devoting many years to studying the visual arts in Adelaide, Christian Lock has built a strong artistic profile both in South Australia and nation wide. Lock has referred to his way of working as that of a 'sampler' and 'remixer' and is known for his experimentation amongst material, form, colour and compositional exchanges. Since winning a Prize for Excellence in Visual Art at the beginning of his arts career in 1997, he has received various awards, prizes and grants including an Oscarts Award for painting in 2006, and is represented in the collections of the Art Gallery of South Australia and Artbank.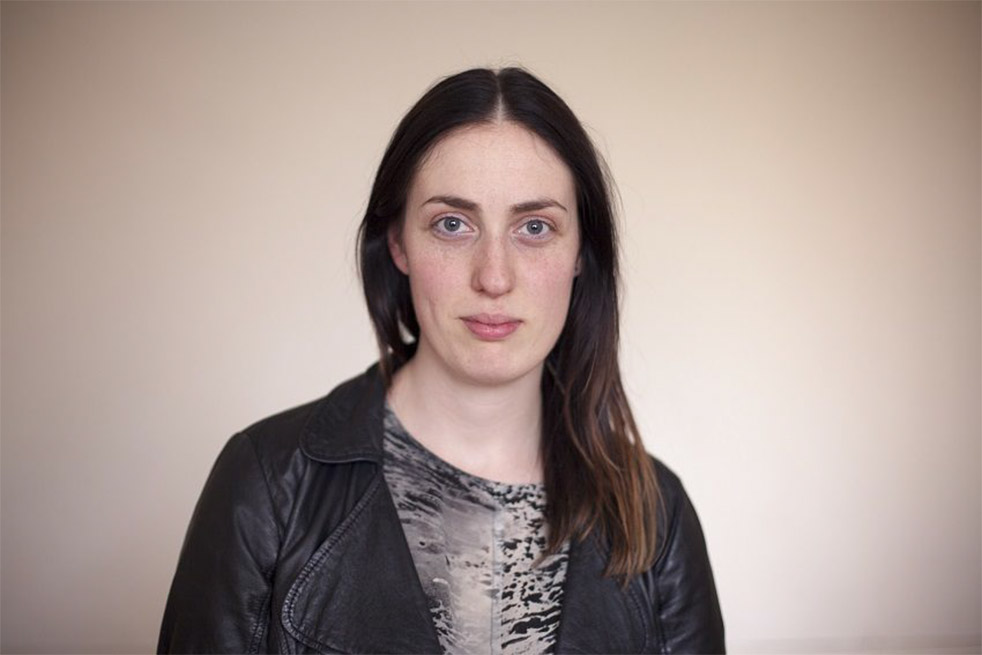 Patrice Sharkey, ACE Open Curator and Exhibitions Manager.
Patrice Sharkey

Patrice Sharkey is currently the Curator at ACE Open and was previously the Director of West Space in Melbourne (2015 – 2018). At West Space she curated the group exhibitions Real Life Fantasies and The Drawing is Just Not There (with Christopher L G Hill), and commissioned solo projects by Fiona Abicare (Rose Moon, 2019), Gavin Bell, Jarrah de Kuijer & Simon McGlinn (Open Window, 2018), Lisa Radford (Dear Masato, all at once (get a life, the only thing that cuts across the species is death), 2016) and Jason Phu (my parents met at the fish market, 2017). Other curatorial projects include Auto Body Works, Arts Project Australia, Melbourne, 2018. Patrice completed a Bachelor of Arts (Honours) majoring in Art History at the University of Melbourne in 2010. From 2011 to mid 2015, she was Assistant Curator at Monash University Museum of Art (MUMA). Patrice has published writing in Art Monthly Australia and Discipline. She is a previous member of un Magazine's Advisory Committee and was a Board Member of the artist-run space TCB art inc, 2012 2015.