Image: Susan Bruce, Mythical Place (detail), 2018. Photograph courtesy the artist.
Tracing the Anthropocene is a collaborative partnership between Guildhouse and the South Australian Museum as part of the project STEAM Incubator Series: A creative exploration of sustainability at the fusion of the Arts, Culture and Science, supported by Arts South Australia.
In this program, artists Susan Bruce and Tanya Voges have been selected to explore​ the South Australian Museum's biological and earth sciences collections in a series of workshops on the theme of Tracing the Anthropocene. These residencies will result in the creation of new participatory experiences for audiences unpacking and focusing on the power and complexity of the natural world.
Both projects will generate opportunities for the public to engage with the Museum's vast collections and broader themes around the environment, conservation and biodiversity.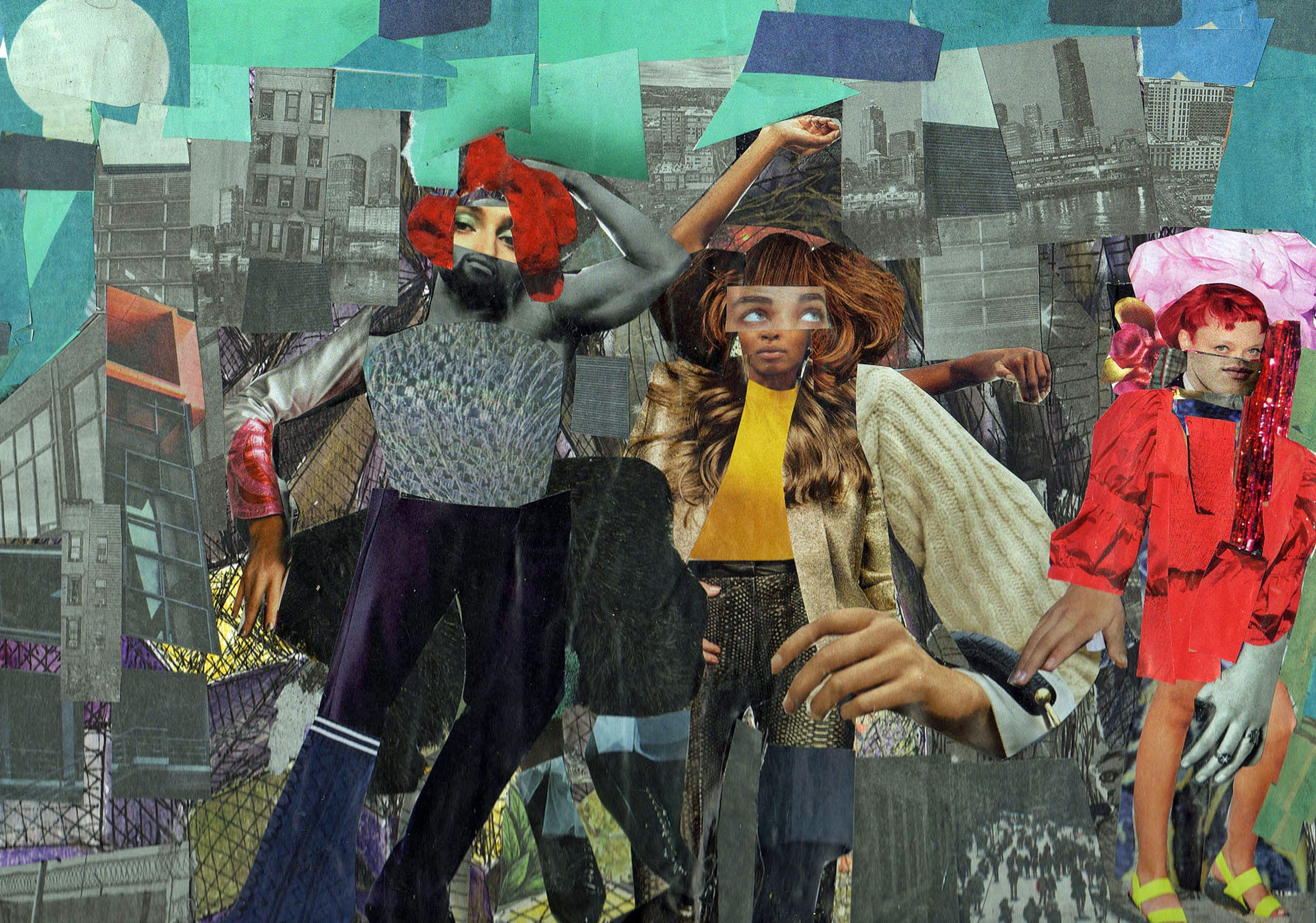 Image: Susan Bruce, Collage Dystopia (screenshot), 2017. Photograph courtesy the artist.
ARTIST BIOGRAPHIES
Susan Bruce
Susan Bruce's practice includes moving image work, experimental short films, collage, drawings, prints and artist books. Her work has been shown in Australia, Europe and the United States in galleries, video and film festivals, and public spaces including the outside of buildings and the large screens outside a football Stadium.
Her current work uses practices of drawing, painting and collage to distort and fragment newspaper and magazine clippings for the purpose of creating new environments. Underlying the work is an engagement with current day events, including catastrophic weather, housing insecurity, and the global movement of refugees, environmental and natural world precarity.
In 2016, she was one of 10 South Australian artists to participate in Vitalstatistix's national art hothouse Adhocracy, to perform Lz Dunn's Aeon a new work involving sound and audience to perform the concept of "bird flocking".
As an artist, Susan is inspired by the textural qualities of film and the interrelationship between digital and analogue. Her process upends the 'normal' hierarchy between analogue and digital: her collages serve as the material that is manipulated and textured to form her digital work, and vice versa.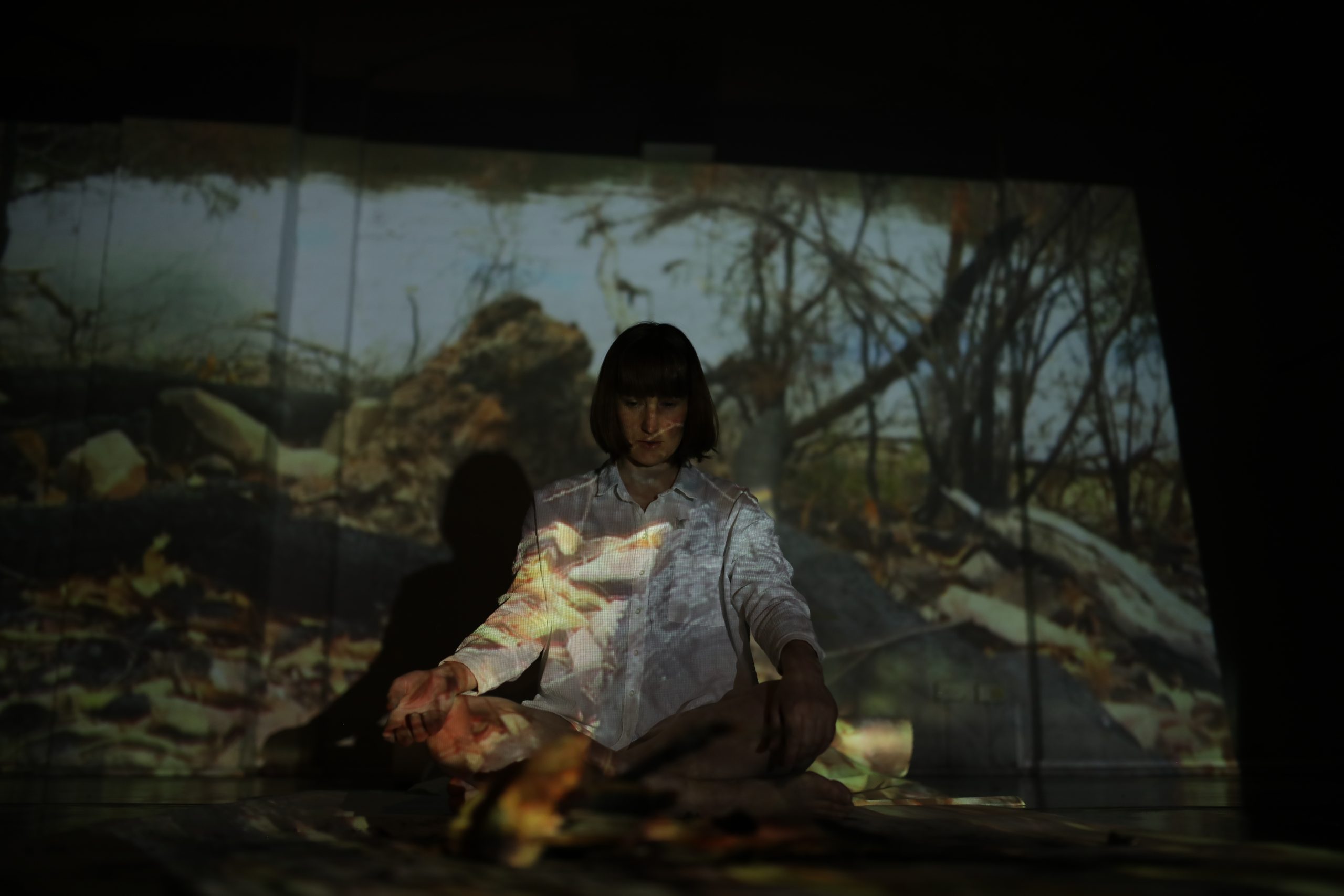 Image: Tanya Voges, From Charcoal and Fallen Leaves (video still), 2020. Photograph: Tim Standing.
Tanya Voges
Dance Artist Tanya Voges creates choreography for theatre and gallery spaces which invite the viewer to engage, participate, feel immersed in memory, embodiment and explore trace
Tanya resides and makes work on the unceeded lands of the Peramangk peoples of the Adelaide Hills. She is part of the Artist Residence in Motherhood, an open source residency created by Lenka Clayton, to use the constraints of Motherhood as parameters to make work, not see them as obstacles. She has created an alternative mothers' group MAMAA- Mother Artists Making Art, Australia which has both an online community and studio sharing in Adelaide.
Engaging with collaborators of various disciplines she brings her experience in dance, drawing, community engagement and dance film making to make multimedia performance works, live dance pieces and dance for screen. Tanya has presented site-specific work at SUE Festival, SALA, Alt Fest, Vivid Festival, SA Museum, Crack Festival Newcastle, Alaska Projects Sydney and solo dance works for IOU Dance at Carriageworks, Short+ Sweet Dance, Fringe, Art Not Apart and You Are Here Festivals.
She has curated dance events at the Museum of Contemporary Art, choreographed for youth group youMove, Ryde Youth Theatre and undertaken Artist Residencies at The Mill Adelaide, STRUT Perth, Blacktown Arts
Centre, Bundanon Trust and Choreographic Laboratories with DirtyFeet.
A 2004 Graduate of the Victorian College of the Arts, in Dance, she has furthered her research into choreographic strategies by attending workshops at Critical Path in Sydney and travelling to NYC to undertake internship with Punchdrunk/Emmersive Theatre's show Sleep No More and to research interactive performance modalities.