Image: Lisa Vertudaches, Visiting hours, 2022, posca markers & sticky notes. Image courtesy the artist.
Creativity and collaboration are at the heart of innovation. Since 2018 UniSA Business has partnered with Guildhouse to present works by contemporary South Australian visual artists to encourage reflection and inspire new ideas.
Connection
Lisa Vertudaches
13 February — 12 May 2023
Yungondi Building, UniSA City West Campus
Artist Statement
Connection is a series of works created over the course of 5 years. Each piece touches on the theme of connection, either with ourselves, our relationships or our communities.
Materials vary throughout the series, from use of collage, Posca markers, acrylics and digital methods. 
These works were created as a way of reconnecting with myself as an artist, exploring the possibilities of my creativity outside of my commercial pursuits. Some of the pieces in this series are reflective of my own experiences, trying to untangle the complex perception I have of myself. Others are more abstract as I work through ways of exploring what it is to be a part of a community.
Throughout my career I have been inspired by Don Hertzfeldt, Lisa Hanawalt and Pendleton Ward, as well as many other artists with a background in comics or film making.
About Lisa Vertudaches
Lisa is an independent illustrator, animator and an emerging tinkerer. She specialises in cute but emotionally impactful work with a twist of whimsy.
Working as a commercial artist for ten years now, Lisa has collaborated on projects with Disney, Nickelodeon, Scholastic and Ted Education.
Lisa's characters and narratives are often drawn from her own life experiences, but may appeal to those who constantly reflect on every mistake or misplaced word they've ever uttered.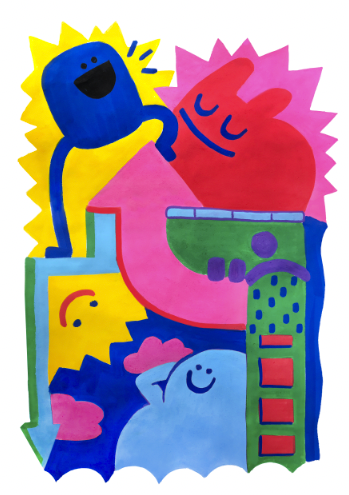 Images: Lisa Vertudaches, So Happy Together, 2021, posca markers. Image courtesy the artist.
Please note: The UniSA Business School Yungondi Building is open Monday-Friday, 9am-5pm.