Image: Louise Flaherty, Resurface, 2020, ink on paper. Image courtesy the artist.
Creativity and collaboration are at the heart of innovation. Since 2018 UniSA Business has partnered with Guildhouse to present works by contemporary South Australian visual artists to encourage reflection and inspire new ideas.
Plants and Plant Carers
Louise Flaherty
15 May
—  4 August 2023
Yungondi Building, UniSA City West Campus
Artist Statement
Plants and Plant Carers is an exhibition of recent works over the past few years including Resurface and a selection of Plant Carer drawings.  
Resurface was created in response to visiting the Bush for Life site at Tuttangga Park 17 in the Adelaide Parklands. I was inspired by the group of Trees for Life volunteers who painstakingly hand weed the area, allowing native plants to grow back. The site is a testament to the resilience of native plants and proof that with the right amount of care, seemingly disappeared plants can re-appear. 
Plant Carers is a body of work created in response to my long-term research into native flora across South Australia. Plant Carers depicts a collection of portraits of hands caring for plants, which have been collected during periods of research. I am inspired and motivated by all the work done by the range of people who work and volunteer in plant conservation and research.  These people range from scientists, researchers, artists conservationists and passionate volunteers.  I hope to highlight the important work that they are doing in caring for our precious flora.
I am still growing the Plant Carers body of work and I am on the lookout for more subjects to draw.  Are you someone who looks after our native flora in South Australia or do you know someone who does? These drawings will be exhibited in a solo exhibition in August 2023.  For more info go to: https://www.louiseflaherty.com/plantcarers
About the artist
Louise Flaherty is an artist and arts worker based on Kaurna land in Adelaide. Informed by quiet reflection on the natural environment, she is a socially engaged artist and her current practice spans drawing and installation with a focus on collaborative community driven projects. 
Founding Director of Downtown Arts Space, she has worked at the South Australian School of Art, was Arts Program Manager at Barkly Regional Arts in the Northern Territory and most recently worked on the Centenarian Portrait Project.  Louise studied Visual Arts at the South Australian School of Art.
She has exhibited widely and in 2019 was the winner of the Tatiara Art Prize at Walkway Gallery. During a residency at The Mill in Adelaide CBD she created work based upon research of local native plants which was expanded upon in a later residency at Sauerbier House Cultural Exchange, Port Noarlunga. In 2018 she was recipient of a Guildhouse LimberUp mentorship with artist Laura Wills, focusing on community engagement and participatory practice. In 2019 she was Artist in Residence at the Women's and Children's Hospital.
In 2021, projects included presenting a new collaborative work for OSCA's Parklands Project, participating in Vitalstatistix's Adhocracy program, and creating a collaborative audio-led workshop for Nature Festival. In 2021 Louise worked with Laura Wills to undertake a Guildhouse Collections Project with Adelaide Botanic Gardens, developed an installation in the Museum of Economic Botany, developed an audio tour/workshop, community workshops, finishing with an ephemeral mural at the gates of the gardens. In 2022 Louise presented new drawings at the RAH with the Centre of Creative Health and is currently in the process of developing a new work with Tanya Voges and Belinda Gehlert for Lobethal Bushland Park with Fabrik Arts.  Louise is a studio resident at Post Office Projects, Port Adelaide.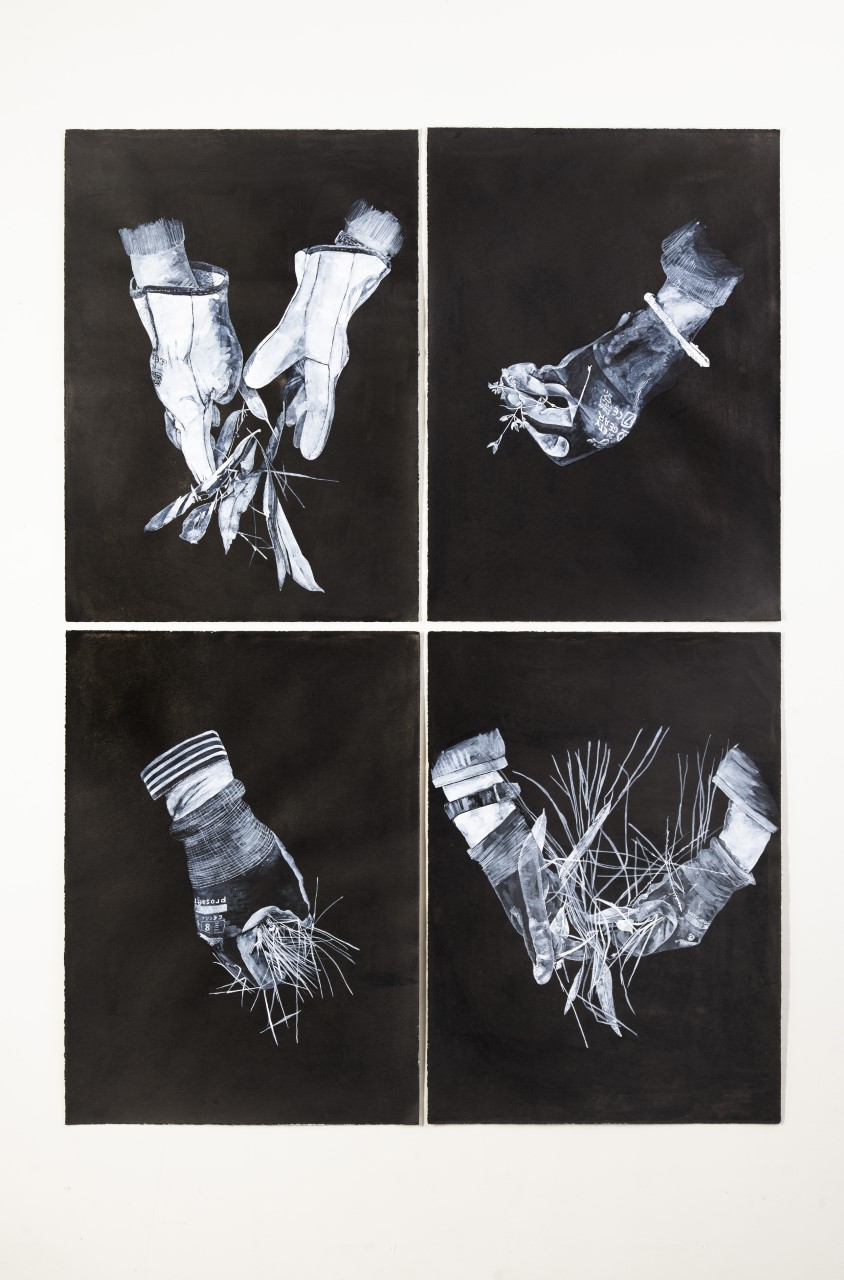 Images: Louise Flaherty, Plant Carers, series of 14 drawings, 2022, ink on paper. Image courtesy the artist.
Please note: The UniSA Business School Yungondi Building is open Monday-Friday, 9am-5pm.