Image: Max Ballard, The Backyard, 2022, acrylic on canvas. Image courtesy the artist.
Creativity and collaboration are at the heart of innovation. Since 2018 UniSA Business has partnered with Guildhouse to present works by contemporary South Australian visual artists to encourage reflection and inspire new ideas.
Structure
Max Ballard
6 November 2023
—  9 February 2024
Yungondi Building, UniSA City West Campus (see map)
Artist Statement
Composition is always the most important aspect of my paintings, and it is usually my starting point when beginning a piece. In each of these paintings, I've used a snapshot from my everyday life to create a visually interesting composition. I enjoy using the rigid horizontal and vertical lines found in the architecture around me to create structure within the 2-dimensional picture plane, and the interaction between flat objects and objects portrayed with linear perspective. I have a personal connection to each of these scenes, but I like to leave them free of inhabitants to allow the viewer to form their own narrative based on what is depicted in the paintings and some clues in their titles.
About the artist
Max Ballard is an emerging artist living and working on Kaurna Land in Adelaide. Ranging from acrylic and oil pieces on canvas to large scale murals, his work explores the way in which we perceive everyday spaces, and how these perceptions are impacted by familiarity, memory and nostalgia. Often switching between realism and completely abstract, a common element in his work is the tension and harmony between rigid structure and free flowing forms.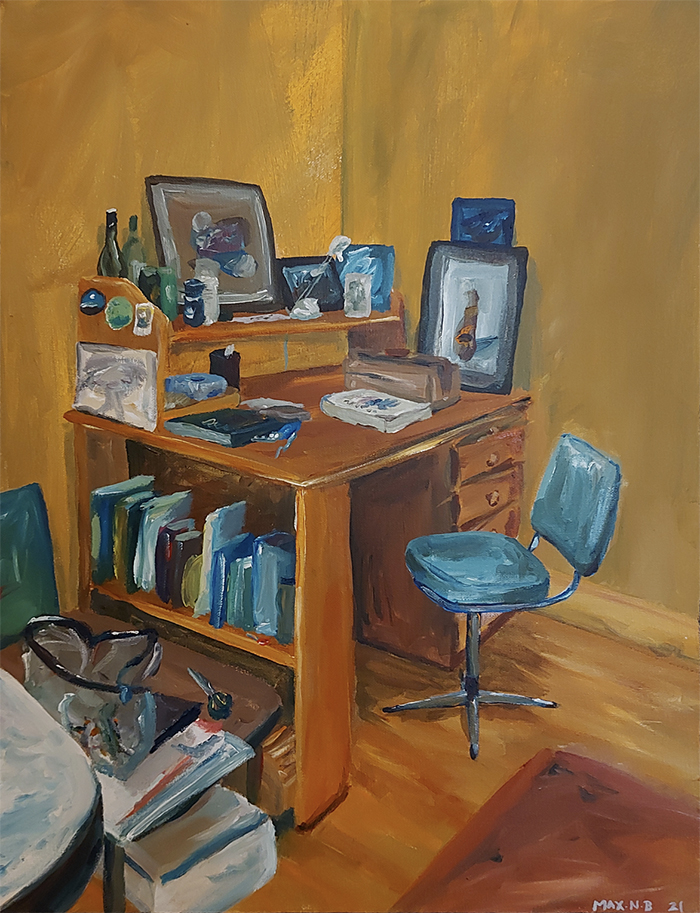 Image: Max Ballard, Home Workspace, 2022, acrylic on canvas. Image courtesy the artist.
Please note: The UniSA Business School Yungondi Building is open Monday-Friday, 9am-5pm.