Image: James Dodd, Installation view, Backwoods Gallery, Melbourne, 2019.
James Dodd had long admired established artist Cameron Robbin's execution of large-scale, permanent kinetic artworks. To help guide his own practise in a similar direction, James has been undertaking a CATAPULT mentorship with Cameron and the pair have spent the past few months sharing technical skills and industry knowledge.
We interviewed James about what it's been like to undertake this mentorship and the impact it has had on his practise so far.
Describe your practice.
My practice has 2 main fronts – contraptions and painting – sometimes they converge. I grew up on a farm, around things always being taken apart, fixed and tinkered with. I embrace this sense of adaptation and make-do in many areas of my practice. I also have a great love of colour and painting. Drawing machines and painting machines offer me a chance to fuse a broad range of my interests.
As a bit of a return point, I have always enjoyed public space as a great site for creativity and cultural critique. I regularly look towards was I've taking my projects beyond the confines of gallery spaces.
What were your aims for your practice when you applied? Did they change during the course of the mentorship?
The aims for this mentorship were to work with Cameron as someone who was familiar with the field that I have been playing in and be able to offer an objective sounding point as someone who has more experience than me on many fronts. This has certainly been the case over many phone and email conversations. We had been working towards a couple of sessions of working together on some concurrent ideas. This physical work period has been interrupted by CV-19.
How did you decide on and approach your mentor?
I had met Cameron a couple of times and been a long-term admirer of his practice. We were able to easily strike up conversations before the mentorship formally cam along so it seemed logical to me to try and pursue a structure that could give us more time together to work on something.
What aspect of your mentorship has had the biggest impact so far?
We have had a number of ongoing conversations with SA Museum about objects that are currently held as part of the Mawson collection. There is a pedal powered metal lathe and wind-drawing instrument called a 'puff-o-meter'. We had been working towards spending some time with these objects and brainstorming some possible responses to them. It has been great to find a common conceptual ground to work together in that can be a spine for more conventional mentorship discussions.
What advice would you give artists who are considering undertaking a mentorship?
I think we all need mentors and connections with more experienced people in all areas of our lives. I strongly encourage people to recognise these and foster these relationships as much as they can. They form invaluable threads throughout our communities.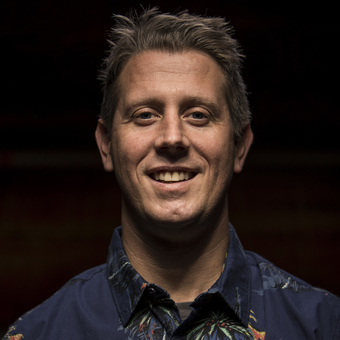 James Dodd
James Dodd is an artist who works across a wide range of mediums. He is interested in the splashes of creativity that can be found in public spaces, especially suburbia. This has many manifestations, from simple paintings to strange contraptions or sculptures that look like they have been "home-brewed in the garden shed". Since completing his Masters in Visual Arts at the University of South Australia, Dodd has gone on to create an extensive body of work that he has exhibited in both solo and group exhibitions. He challenges traditional notions of genre, fitting comfortably into a traditional gallery setting whilst also exploring new frontiers in visual street culture and the creative use of urban spaces. Painting has always been a core part of his practice. However, his impressive body of work also encompasses built structures, murals and a diverse catalogue of public art. Dodd teaches at the Adelaide Central School of Art, leads community projects and exhibits regularly across Australia.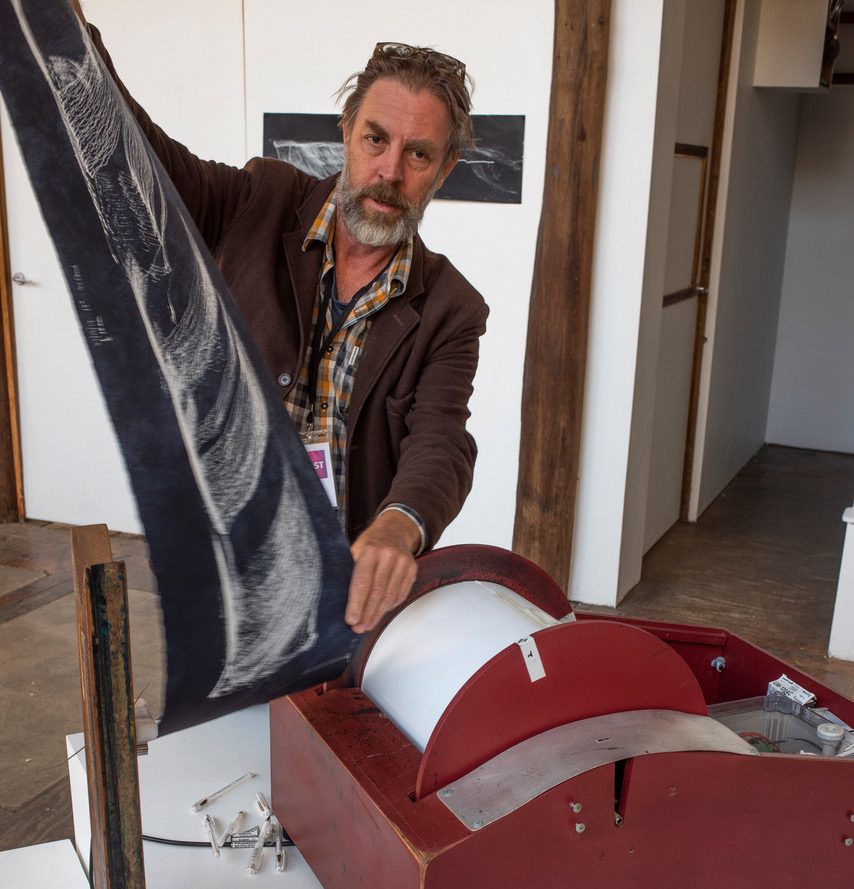 Image: Cameron Robbins with his Shadow Phase solar drawing project, 2019. Photograph: Ian Hill.
Cameron Robbins
Cameron Robbins' work makes tangible the underlying structures and rhythms of natural forces. He has produced site-specific installations and exhibitions in art centres, disused buildings and outdoor sites in Australia, Switzerland, Japan, Norway, China, Denmark, Germany and the UK, both self-funded and commissioned. 
These inquiries employ structural devices including kinetic wind or water powered mechanical systems. Their aesthetic is the result of both careful engineering and resourcefulness. The outputs of these site-specific installations include wind drawings and sound compositions. These interpretations of the dynamics and scale of the physical world suggest the complexities of the unknown. 
Cameron is based in Melbourne Australia, plays clarinet and saxophone in jazz and experimental ensembles, and studied Fine Art (Sculpture) at Royal Melbourne Institute of Technology and the Victorian College of the Arts to 1990; lectured in art and design at RMIT since 2000; awarded Australia Council Visual Arts Fellowship in 2015, and New Work Grants in 2011 and 2013, and various commissions.