The Catapult mentorship program provides creative professionals with essential funding and support to develop their artistic practice through a meaningful mentorship.
The projects of Catapult recipients show ambition, drive and dedication. Mentees engage with mentors from around the country to develop skills, realise projects and allow time to learn more about their practice.
We are thrilled to continue to offer the Catapult mentorship program, with multiple mentorships available at $5,000 for South Australian artists, craftspeople and designers.
The Guildhouse Catapult program actively encourages participation from regional practitioners.  Country Arts SA is a proud supporter of this initiative to increase the participation of regional South Australian artists and arts workers in career development.
With the generous support of The Ian Potter Foundation and Guildhouse Creative Champions, we have provided over thirty-five mentorships to Guildhouse members and in partnership with The Art Gallery of South Australia we have awarded four First Nations artists mentorships through the Catapult + Tarnanthi program.
'This opportunity has had a significant impact on my career. During the particularly uncertain and tumultuous period of COVID-19, this mentorship has been an excellent anchor for my professional practice, and served as a great way to navigate my constantly changing career plans.'
'This mentorship both grew my understanding of who it is that I am, as performer / person, while also giving me some knowledge of a specific approach to performance that I didn't know a great deal about.'
Catapult 
The Catapult mentorship program offers multiple mentorships valued at $5,000 for South Australian artists, craftspeople and designers.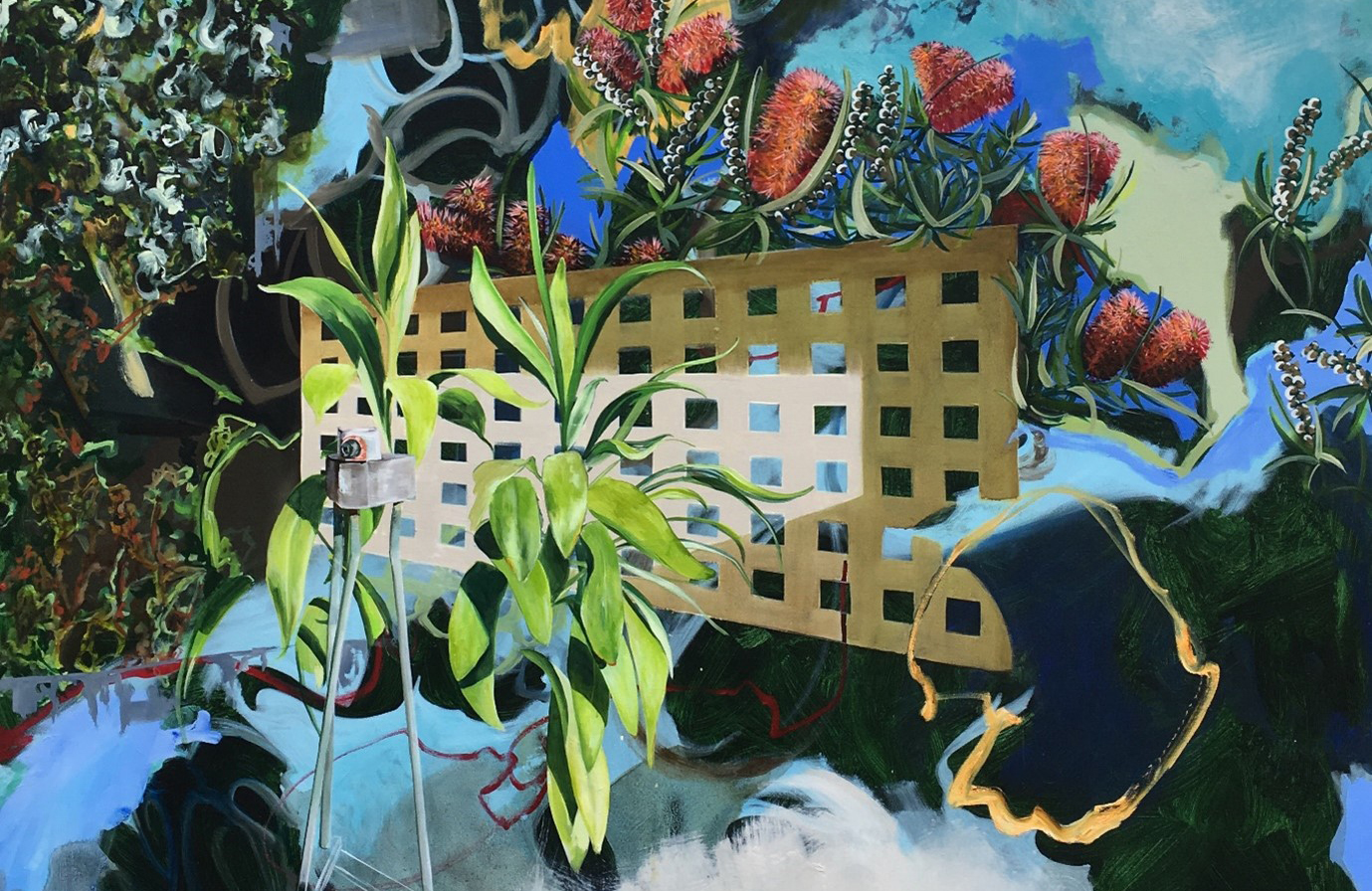 Eleanor Alice with William Mackinnon
Heather Kamarra Shearer with Sera Waters
Heather Kamarra Shearer, a respected Arrernte (regional) artist will be mentored by Dr. Sera Waters, renowned academic and textile artist, to learn new and advanced techniques in Embroidery.
Jonathan Kim with Taerim Claire Jeon
Multidisciplinary artist Jonathan Kim will work with Sydney based Jogakbo artist Taerim Claire Jeon to expand his Jogakbo paintings into material works.
Kate Kurucz with Tess Martin
Painter Kate Kurucz will work with multidisciplinary Netherlands based artist Tess Martin, learning the techniques of painted animation as well as receiving professional development support.
Michael Carney with Mark Valenzuela
Emerging contemporary artist Michael Carney will work with multidisciplinary artist Mark Valenzuela to learn new building and firing techniques to create larger scale work and installations while exploring experimental approaches to exhibiting.
Naomi Hunter with Michelle Kelly
Glass sculptor Naomi Hunter will work with metal artist Michelle Kelly to extend her practice through specialised metal fabrication techniques.
Oakey with Catherine Truman
Emerging contemporary artist Oakey will work with established jewellery and object artist Catherine Truman focussing on practice development and concepts, materials and techniques.
Orlando Mee with Tim Gruchy
Regional multimedia artist Orlando Mee will be working with digital artist Tim Gruchy, to take his software-based practice into the physical realm of the gallery by developing hardware-based interactive installations.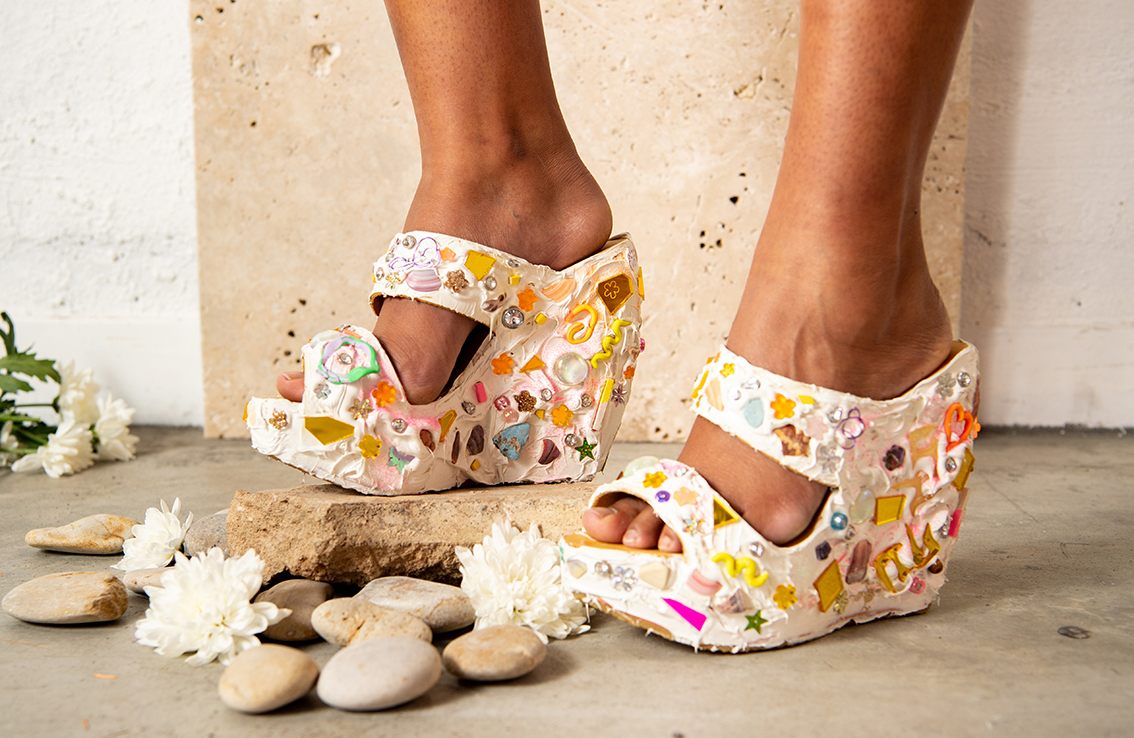 Anna Gore with Aldo Iacobelli
Multidisciplinary artist Anna Gore will work with accomplished artist Aldo Iacobelli to develop her technical skills and gain a deeper appreciation of her field of practice and it's history.
Carly Snoswell with Tarryn Gill
Textile artist Carly Snoswell will be mentored by multidisciplinary artist Tarryn Gill to explore sustainable methods of upscaling her work, creating archival artworks, and undertaking commercial gallery representation.
Kristal Matthews with Cedric Varcoe
Ngunawal woman and regional artist Kristal Matthews will be working with Ngarrindjeri and Narangga artist and experienced muralist Cedric Varcoe to develop her skills in creating large-scale public art.
Cynthia Schwertsik with Joshua Sofaer
Cross-disciplinary artist Cynthia Schwertsik will work with London-based artist Joshua Sofaer to extend her practice and build international relationships.
Dan Withey with Richard Lewer
Mid-career artist Dan Withey will undertake a mentorship with acclaimed contemporary artist Richard Lewer to refine his practice and develop strategies for a sustainable career.
Kirsten Johnston with Margaret Worth
Matea Gluscevic with Eugenia Neave
Shoemaker and artist Matea Gluscevic will be mentored by accomplished shoemaker and artist Eugenia Neave to develop her practical and sculptural skill set.
Monika Morgenstern with Sasha Grbich
Regional artist Monika Morgenstern will be working with mid-career artist and experienced videographer Sasha Grbich on pushing the boundaries of her film and animation skills.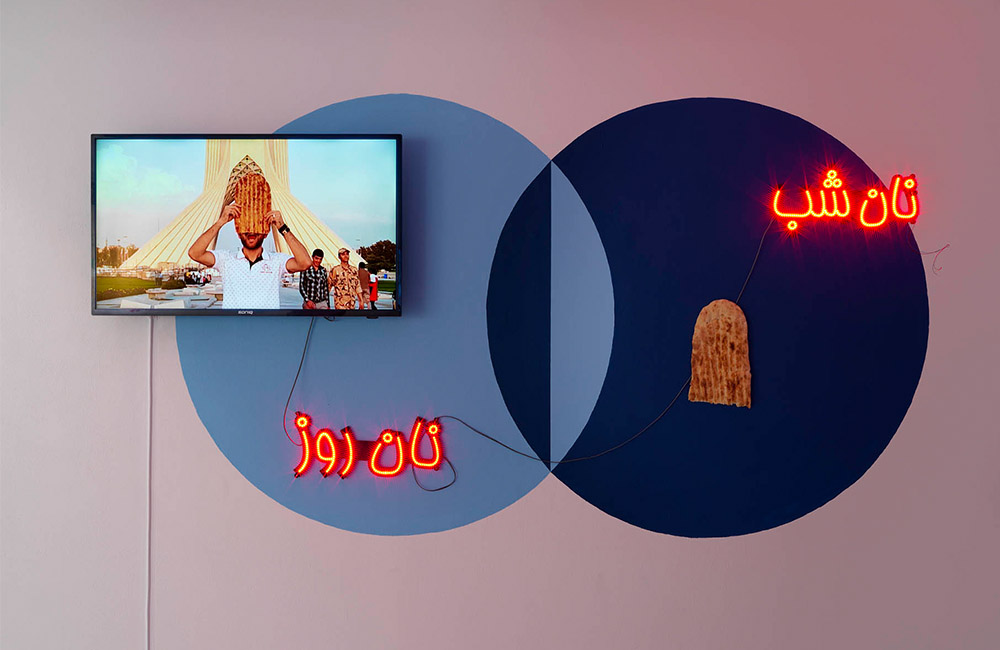 Elyas Alavi with Khaled Sabsabi
Emerging artist Elyas Alavi will work with established installation artist Khaled Sabsabi to develop his technical and conceptual skills and broaden his visual language.
Georgia Button with Nicholas Folland
Emerging multidisciplinary artist Georgia Button will be working with Adelaide-based artist and educator Nicholas Folland to develop a road map for the next 5 years of her artistic career, pinpointing opportunities that will enable her to fulfil immediate, mid-term and long-term goals as a professional visual artist.
Gus Clutterbuck with Mark Valenzuela
Mid-career ceramicist Gus Clutterbuck is undertaking a mentorship with Mark Valenzuela to evolve his conceptual development and design of large scale ceramic installation works and figurative imagery.
James Howe with Gray Hawk
Furniture designer and maker James Howe will be working with prominent Adelaide master maker Gray Hawk to develop his skills in woodworking and furniture production.
Karen Carr with Rosii Pedler
Self-taught community artist Karen Carr aims to diversify her practice by working with Rosii Pedler to develop her ceramics skills and eventually combine hand built ceramics into her stone sculptures.
Matthew Moore with Mary-Jean Richardson
Monte Masi with Hew Parham
Monte Masi will be working with Adelaide-based actor, clown and teacher Hew Parham to learn new skills relating to live performance in a contemporary art context, with a focus on contemporary clowning practice and associated techniques.
Sarra Tzijan with Christian Hall
Emerging Indian-Australian contemporary metal artist Sarra Tzijan will work with mentor jeweller and metalsmith Christian Hall to develop her technical and conceptual skills and establish her production practice.
Sam Gold with Jane Robertson and David Pedler
Ceramicist Sam Gold will undertake a two pronged mentorship to investigate body and surface treatment of clay with established ceramicist Jane Robertson and harvesting local clays with established ceramicist David Pedler.
Fruzsi Kenez with Gerry Wedd
Acclaimed ceramicist Gerry Wedd will mentor illustrator and ceramicist Fruzsi Kenez in producing large ceramic vessels with nuanced illustration techniques such as cobalt painting and sgraffito in his Port Elliot studio.
Tony Wilson with Thomas Readett
Kaunra/Ngarrindjeri/Narrunga artist Tony Wilson will be undertaking a mentorship with established artist and Education Officer for Tarnanthi Thomas Readett. Tony will be working to develop and refine his portraiture skills in addition to expanding his professional networks.
Zoë Brooks with Liam Benson
Interdisciplinary artist Zoë Brooks will work with multidisciplinary artist Liam Benson to gain deeper understanding of best practice working with community in a contemporary arts practice.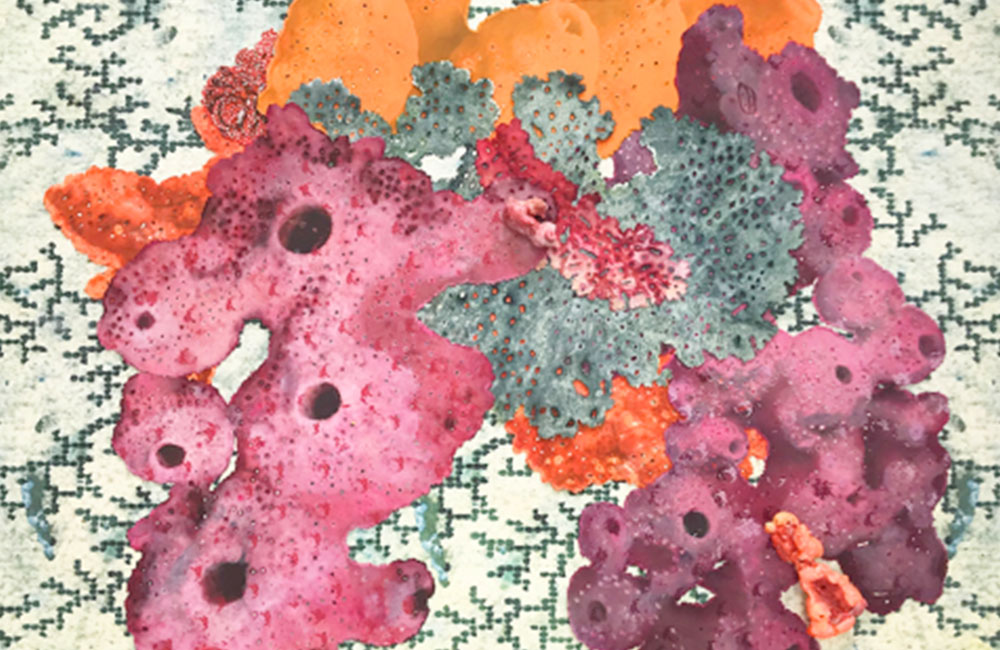 Chris De Rosa with Trent Walter
Building on her existing practice of printmaking in the expanded field, Chris De Rosa worked with mentor Trent Walker (Negative Press studio) to develop both technical and conceptual skills while investigating the art of the artist book.
Kristel Britcher with Katharine Coleman
Scottish glass artist Katharine Coleman will work with mentee Kristel Britcher at the Corning Museum of Glass in New York, developing and refining skills in the lesser known technique of copper wheel engraving, cementing Britcher's own skills as one of the few artists in Australia utilizing the technique within contemporary landscape.
Brooke Walker with Tyrone 'Rone' Wright
Expanding her environmentalist realist painting arts practice, Brooke Walker visited Melbourne to learn under mentor and established street artist 'Rone'. Through experience in scaling up, new materials and project management Brooke was trained in best practice to take her works exploring human and animal relationships to new audiences and enrich public spaces.
Dr Maarten Daudeij with Dr Gavin Malone and Karl Winda Telfer
Through conversation and time spent on Lot 50-Kanyanyapilla, Dr Maarten Daudeij informed his writing and community practice around the rights and responsibilities of artists working on unceded land, with leading thinkers and activists Dr Gavin Malone and Karl Winda Telfer.
Leonie Westbrook with Catherine Truman
Broadening her practice to encompass more experimental forms and modes of making, jeweler Leonie with mentor Catherine Truman not only extended her practice but examined the ergonomic aspects of her practice for a sustainable career.
Regine Schwarzer with Barbara Ryman
With internationally recognized NSW based enameller Barbara Ryman, jeweler Regine Schwarzer revisited her skills in traditional and Japanese enameling techniques, expanding her practice and allowing conceptual and technical growth.
Rita Kellaway with Lisa Cahill
Emerging kiln formed glass artist Rita Kellaway will work with internationally recognized glass artist Lisa Cahill to develop her business strategies, further technical skills and build a strong and supportive national network.
Tom Borgas with Jason Waterhouse
Extending the material and technical diversity of this sculptural work, Tom developed his gallery networks and art in public spaces strategies with experienced artist and gallerist Jason Waterhouse.
James Dodd with Cameron Robbins
Working with an established artist with whom he has a shared set of ideas, James Dodd was mentored by Cameron Robbins, sharing industry and technical knowledge pertinent to the specific ways of making and presenting within their field.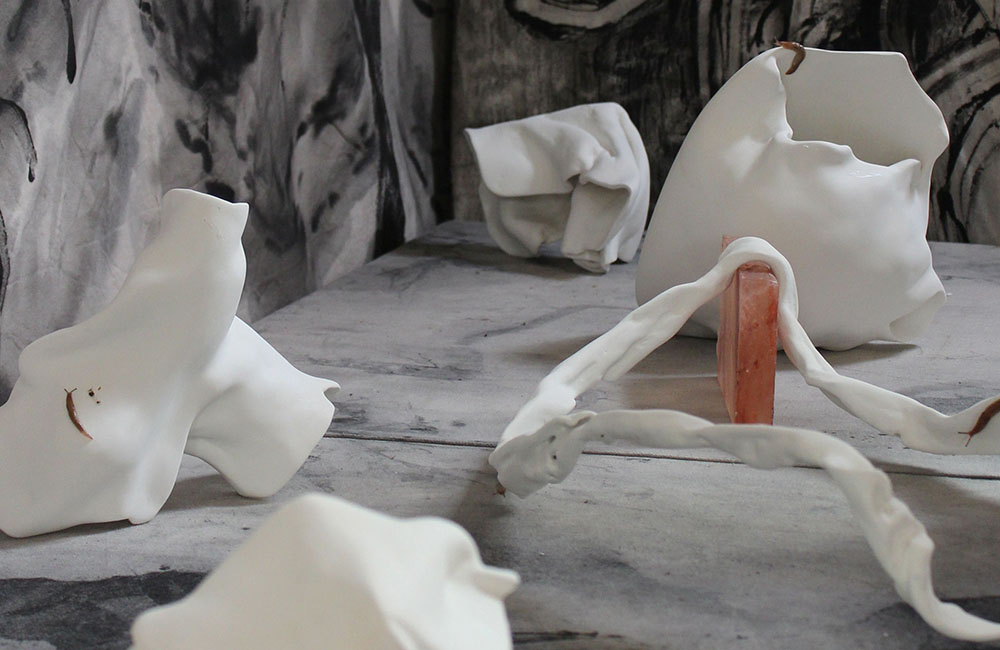 Christopher Williams with Johannes Sistermanns
Internationally renowned (and based) artist Johannes Sistermanns spent dedicated time with Christopher Williams in his personal studio to develop an understanding of the technical application of transducer technology in sound sculpture. Through critical exchange and sharing listening sessions Williams built on his already strong knowledge and experience within his field of sound art to develop compositional approaches to the design of sound environments and soundscape installation.
Bridget Currie with Tamara Hardman
Tamara Hardman brought her extensive experience and acclaim from the film industry to Bridget Currie, allowing Currie to capture and add to her sculpture and performance heavy practice through moving image.
Kaspar Schmidt Mumm with Darren O'Donnell
Expanding his experience in social arts practice, Kaspar Schmidt Mumm travelled to Canada to work with Darren O'Donell the Artistic Director of experimental art company Mammalian Diving Reflex. Schmidt Mumm developed his street performance, social data gathering and audience controlled narrative by learning from Mammalian's inner workings.
Jane Skeer with Richard Lewer
While addressing the methods and methodologies within her art practice, Jane Skeer worked with Melbourne artist Richard Lewer to push personal boundaries to undertake large scale community projects and navigate the national art industry with clarity and guidance.
Brianna Speight with Mish Grigor
Mentee Brianna Speight unpacked connections between performance and photography with Melbourne based experimental performance artist Mish Grigor. Speight and Grigor connected through conceptual and methodological cross-overs such as humour, critical theory and gender, to consolidate and strengthen Speights conceptual path.
Gail Hocking with Sasha Grbich
Working with acclaimed sound artist Sasha Grbich, Hocking undertook a deeper exploration into the body, materiality and nature interconnections already evident within Hockings work – with a particular focus on sound recording, editing and video documentation in a site – specific environment.
Lara Tilbrook with Sera Waters
Engaging with writer and maker Sera Waters, Lara Tilbrook will expand and evolve the purpose of her practice with a self-assured definition. With parallels between the artists themesof environmental preservation, cultural values and historical sentiment of adornments and objects Tilbrook will be guided by an understanding hand.
Lesa Farrant with Irianna Kanellopoulou
Working with Melbourne based master mould maker, ceramic artist Lesa Farrant learnt the complex skill of 2, 3 and piece mould making. This greatly expanded the breadth of Farrant's object making and in turn, her narrative.
Cindy Durant with Regine Schwarzer
Regine Schwarzer is a highly trained silver and goldsmith who informed Cindy Durant's understanding of specific jewellery making processes, shaping the remotely located artists practice towards an expanded sustainable practice.
Catapult + Tarnanthi 
This mentorship program provides funded opportunities for artists to work with mentors, culminating in the presentation of new work as part of the Tarnanthi festival. Tarnanthi presents the contemporary art of the oldest living culture on an unprecedented scale, in a national event held annually by AGSA.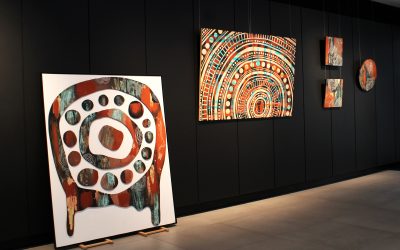 Image: Elizabeth Close, Take Nothing; Leave Nothing, installation view, Yungondi UniSA Business, 2022. Photograph Lana Adams. The Catapult + Tarnanthi 2023 mentorship sees Pitjantjatjara and Yankunytjatjara artist Elizabeth Close undertake mentorship opportunity to...

Tarnanthi is presented by the Art Gallery of South Australia with Principal Partner BHP and support from the Government of South Australia.

Images (L-R): 2019 Catapult mentee Leonie Westbrook (right) with mentor Catherine Truman. Photograph Rosina Possingham; Eleanor Zecchin, New yard, old memories, 2016. Image courtesy the artist; Matea Gluscevic. Image courtesy the artist; Elyas Alavi, Naan Bread (detail), video installation still, 2017. Photograph Grant Hancock; Chris DeRosa, Seaflora Etchings, 2018. Image courtesy the artist; Bridget Currie, work in progress, 2018. Image courtesy the artist; Tarnanthi 2021, Christina Gollan ceramic installation, Art Gallery of South Australia, Catapult mentorship program. Photograph Saul Steed; Sandra Saunders, install at the Art Gallery of South Australia for Tarnanthi 2019. Photograph Saul Steed.