Bridget Currie, Work in progress as part of CATAPULT Mentorship (detail), 2019. Image courtesy the artist.
CATAPULT and CATAPULT + TARNANTHI provides creative professionals with essential funding and support to further 

develop their artistic practice through a meaningful mentorship.

The projects of CATAPULT recipients show ambition, drive and dedication. Mentees engage with mentors from around the country to develop skills, realise projects and allow time to learn more about their practice.  

With the generous support of the Ian Potter Foundation Guildhouse has provided 9 mentorships to Guildhouse members and in partnership with AGSA awarded 2 First Nations artists mentorships through CATAPULT + TARNANTHI.
At this stage I have already acquired a great deal of skills and knowledge in mould making enriching my practice. The opportunity to work alongside such a generous mentor with such a high level of skill and expertise for her craft has been incredibly valuable. Without this opportunity to work with Irianna in her studio I would not have had access to such valued information.
Lesa Farrant
The opportunity to reflect on how I have gotten to where I am has given me a clearer vision for where I might like to see my career in five to ten years time, and more importantly, how I might get there.
Meg Wilson
CATAPULT 2018
The inaugural round of the CATAPULT mentorship program attracted a huge amount of strong, high caliber applications. The program will enable 9 artists to engage with mentors, allowing them to extend their practice through ambitious projects that will teach new skills and strengthen the scope of practice.
CATAPULT + TARNANTHI 2019
This mentorship program provides funded opportunities for artists to work with mentors, culminating in the presentation of new work as part of the city-wide festival for TARNANTHI 2019. TARNANTHI presents the contemporary art of the oldest living culture on an unprecedented scale, in a national event held annually by the Art Gallery of South Australia.
Brianna Speight, Soft Assemblies (cyclical), (detail), 2017, digital photograph, 80 x 105 cm, ed 1/3. Photograph Brianna Speight.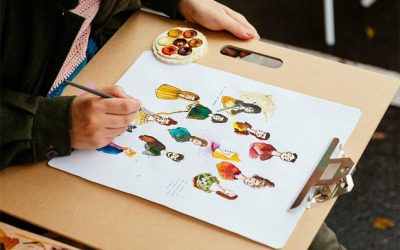 Fruzsi Kenez, live painting at George Street Piazza event by Norwood council, 2018. Photograph Andre CastellucciTime: 3 x 1.5 hour sessionsTue 14, 21 & 28 May 2019, 6:00 - 7:30 pm Pricing: $90.00 (Limited spaces) Location: Minor Works Building, 22 Stamford Court,...