Richard Bell, Not Full (detail), 2016. Photograph Julianne Pierce.
Saturday 24 August 2019
10 – 11:30am
Pricing: All: Free

Location: Starting Point: Parliament House (Front Steps), North Terrace, Adelaide
Walking Guide: Julianne Pierce

Activism and Art

Producer, curator and writer Julianne Pierce's walking tour explores political activism via places, artworks and other sites of interest throughout the city. Starting off at the front steps of Parliament House on North Terrace this tour will explore SA political history before winding south to finish up with a cuppa at the Minor Works Building off Sturt Street. Artist collective in residence at the Minor Works Building Negative Space encourage creatives, activists and thinkers to collaborate and discuss social issues that communities face.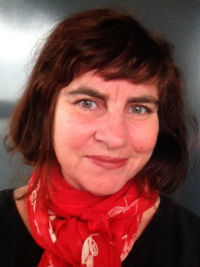 Biography
Julianne Pierce is an Adelaide-based arts producer, curator and writer. She was Creative Producer on Festival 2018, the arts program of the Gold Coast 2018 Commonwealth Games and was Creative Producer for the 2016 Adelaide Fringe. She writes a monthly visual artist profile commissioned by Guildhouse for 'The Adelaide Review'.
ART WORKS is a program of residencies and creative workshops designed to provide a city-based platform for artists to pursue new ways of working and engaging with audiences.
This initiative is delivered by Guildhouse in partnership with the City of Adelaide at the Minor Works Building.