ART WORKS is a program of residencies, curatorial mentorship and creative engagements, designed to provide a city-based platform for artists, curators and writers to pursue new ways of working and engaging with audiences.
In its third year, ART WORKS 2020 presents two Artist in Residence opportunities within the City of Adelaide Art POD, a Writer in Residence within the Adelaide City Library and an Emerging Curators Program mentored by Guildhouse, presenting three exhibitions within the Adelaide Town Hall and Mankurri-api Kuu / Reconciliation Room. These extensive artist engagements deliver on the City's Cultural Strategy 2017-23 for Adelaide to be recognised as a cultural incubator where people, enterprises and audiences flourish.
ART WORKS is delivered by Guildhouse in partnership with the City of Adelaide.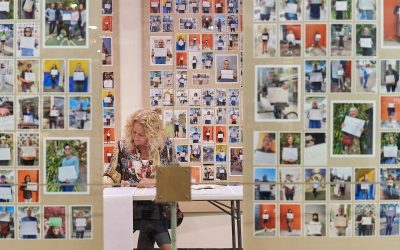 Image: Jane Skeer at work the City of Adelaide Art Pod, 2020. Photograph: Sam Roberts.Conversations About Making Art with Jane Skeer By ART WORKS 2020 Writer in Residence Susan Charlton #janeskeer #artislifeisart As the days drift on into another summer, we are...

Images (L-R): Brad Lay, installation image of exhibition Central Bio District, Minor Works Building, 2019. Photograph Daniel Marks; Jasmine Ann Dixon at work in the City of Adelaide ArtPOD, 2020. Photograph Sam Roberts; Susan Charlton in residency at the city library, 2020. Photograph Sam Roberts; Installation image of exhibition You're only human after all, curated by Steph Cibich, 2020. Photograph Sam Roberts.