Fruzsi Kenez, live painting at George Street Piazza event by Norwood council, 2018. Photograph Andre Castellucci
Time: 3 x 1.5 hour sessions
Tue 14, 21 & 28 May 2019, 6:00 – 7:30 pm

Pricing: $90.00 (Limited spaces)

Location: Minor Works Building, 22 Stamford Court, Adelaide, SA 5000
Presenter: Fruzsi Kenez

Storytelling Through Illustration
This workshop is about removing the fear of putting mark on paper, extending a journaling practice, and opening the door to creativity. No experience necessary!
Over the course of the three-week workshop, professional illustrator Fruzsi will give insights into working in the industry and take participants through watercolour techniques and some wonderful mind-opening exercises to encourage thinking outside the square. In addition to watercolour techniques, the use of POSCA pens, COPIC markers and ink will also be explored. The aim is for these skills to extend well beyond the workshops, with the aid of the take-home kit which includes your very own Moleskine journal and fine-line pen.
This workshop is perfect for budding illustrators, professional artists looking to extend their journaling practice, uni students, working professionals, and even self-proclaimed 'non creatives'. The techniques explored especially lend themselves to assisting in healing and working through mental health barriers, and finding a creative outlet to assist with the strain of every-day stresses.
The workshop fee covers three 1.5 hour sessions of tuition, all professional quality materials including brushes, watercolour paints, pens and tools in addition to some fun surprise materials and a bonus a take-home kit.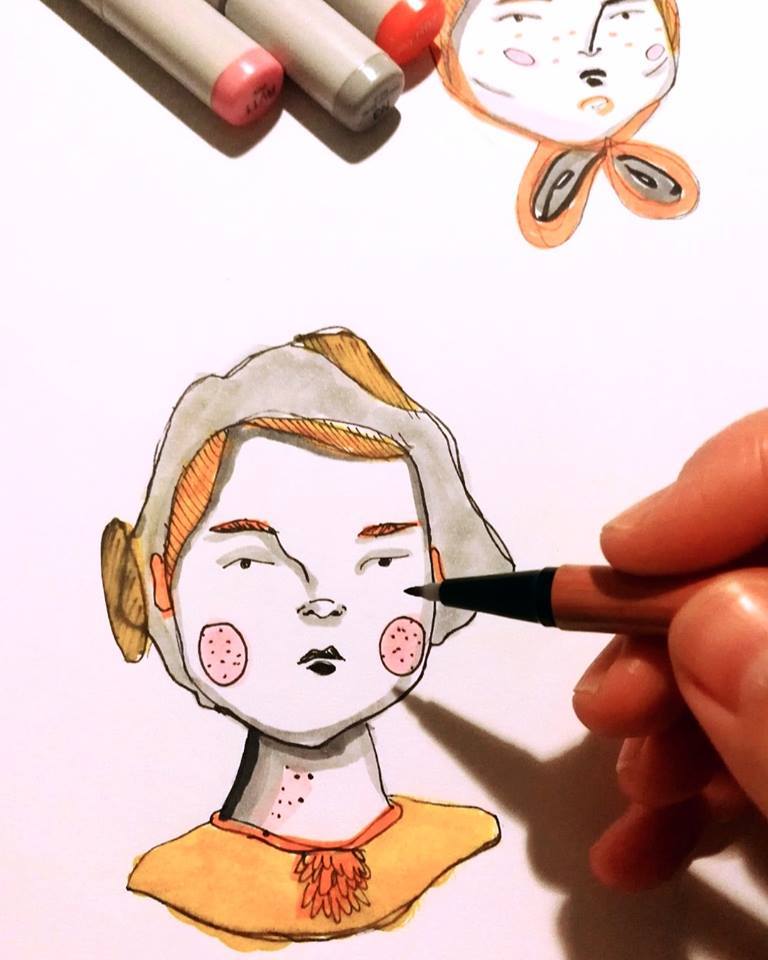 Fruzsi Kenez, Drawing study of COPIC markers and ink pen by Fruzsi 2018. Image courtesy the artist.
Fruzsi Kenez

Fruzsi (pronounced froo-shee) is an Adelaide based artist and curator, best known for her quirky portraits on wood. She is a self-professed cat whisperer and avid nature walker. She keeps her Etsy shop well stocked and creates many private portrait commissions for customers worldwide. To find out more about Fruzsi Kenez follow the below links:
Instagram: @fruzsikenezart
www.facebook.com/fruzsikenezvisualartist
www.fruzsikenez.com
This workshop is part of the ART WORKS program, an initiative delivered by Guildhouse in partnership with the City of Adelaide at the Minor Works Building.
The Minor Works Building is located just off Stamford Court between Sturt Street and Wright Street and sits within the Ergo Apartments development. The two-storey building is owned by City of Adelaide and was originally part of the Council's old Sturt Street Depot, a warehouse built for the City Engineer's Department in 1939.