Sandra Saunders, film still by Jess Wallace, 2019.
2019 Catapult + Tarnanthi
Catapult + Tarnanthi sees two exceptional Aboriginal artists undertake mentorship opportunities to further their creative practice. Spanning 2018 and 2019, Sandra Saunders and Damien Shen collaborated with their respective mentors to strengthen technical and critical skill, culminating in the showing of works in the 2019 Tarnanthi festival.
Both artists have undertaken ambitious mentorships. Wangary-based Ngarrindjeri painter and activist Sandra Saunders worked with mentor film maker, writer and painter Dr Jess Wallace to further develop her painting practice. The artists travelled from the Gove Peninsula to Eyre Peninsula in order to extend Sandra's technical skills, while also chronicling Sandra's development and activism in a documentary that will accompany the exhibition pieces.
Adelaide-based Ngarrindjeri painter and illustrator Damien Shen travelled with mentor Glenn Iseger-Pilkington to Canberra and Sydney to research representations of indigenous identity and power in national collections. Through critical discourse with curators, artists and his mentor, Damien developed a new body of work relating directly to his Aboriginal and Chinese heritage and his young children.
Mentorships are crucial to an artists development, they allow for the dedication of time and thought to the creation of new works – and in the instances of our Tarnanthi mentorships, allow for artists to build deep, long lasting connections with mentors that enable skill or conceptual development.
Guildhouse Chief Executive Officer Emma Fey says, 'We are delighted to support Damien and Sandra, and in turn, their mentors, to extend their artistic practices through this exciting initiative.
'Our goal is to support practitioners to be ambitious and invest in the development of their arts practice. This program not only provides an important mentorship but a high profile presentation opportunity through the city-wide Tarnanthi Festival in 2019.'
Tarnanthi's Artistic Director, Nici Cumpston says, 'The ambition of Tarnanthi is to provide artists with new opportunities to make and showcase their works of art. Catapult and the partnership with Guildhouse enables artists to work alongside a mentor of their choosing in a supportive and informative relationship. This is important as it provides artists with a unique chance to talk one on one with someone they can trust, share their ideas, experiment and extend their practice.'
This mentorship program provides funded opportunities for artists to work with mentors, culminating in the presentation of new work as part of the city-wide festival for Tarnanthi 2019. Tarnanthi presents the contemporary art of the oldest living culture on an unprecedented scale, in a national event held annually by the Art Gallery of South Australia.
Fey says, 'Catapult addresses a challenge faced by many creative professionals – as independent artists and microbusinesses, there is no formal organisational structure to support professional development. Taking time away from the studio is really difficult to justify when there is no safety net. Catapult allows artists to be ambitious.'
Sandra Saunders and Jess Wallace

Sandra Saunders is a Ngarrindjeri artist and activist. A champion of Aboriginal rights, she was a vocal leader of the protests over the Hindmarsh Island Bridge. Through her paintings, Saunders communicates historic narratives and continued resistance to colonisation.
Jess Wallace has a PhD in Creative Writing from the University of Adelaide and Honors in Screen Studies from Flinders University. As an undergraduate she studied visual artist at the University of South Australia while taking classes in a number of drawing and painting subject at Adelaide Central School of Art. With her background in visual arts and screen studies she has been editing artists films. She has most recently edited film with for the Unbound Collective's show titled Act 3. She has published poetry, experimental writing and arts reviews online and in print for Realtime. She is also the maker of several short films, government videos and the documentary Kumarangk-5214 for SBSi.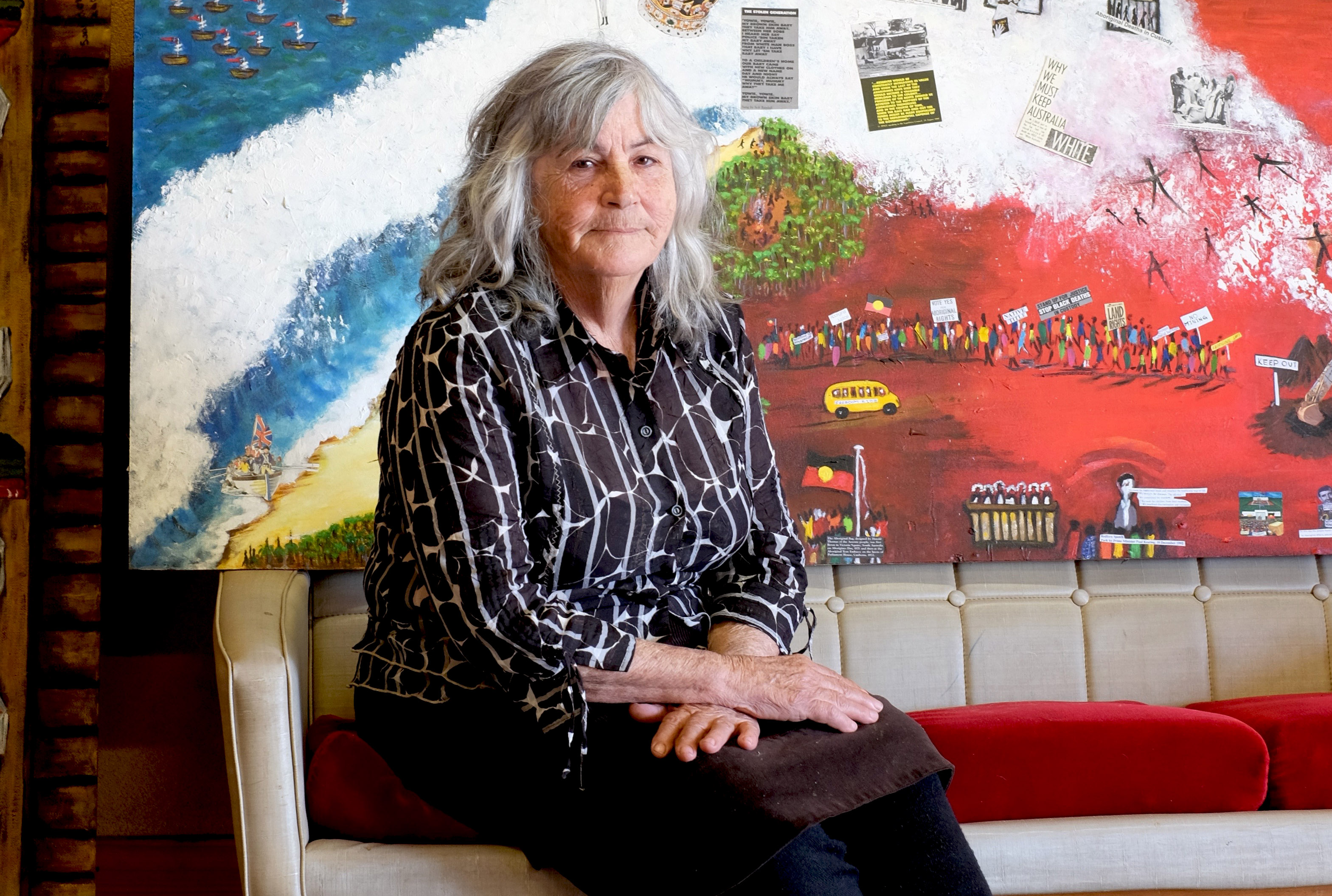 Sandra Saunders. Image courtesy the artist.
Video: Sandra Saunders on her Catapult + Tarnanthi mentorship with Jess Wallace. Videography: Jess Wallace.
Damien Shen and Glenn Iseger-Pilkington

Damien Shen is a South Australian man of Ngarrindjeri (Aboriginal) and Chinese descent. As an artist he draws on both of these powerful cultural influences to create works of intense personal meaning. In using his artistic talent to share his story he aims to open the eyes of viewers to new ways of seeing Australian identity and Aboriginal art.
Shen pushes his practice across different mediums, from time consuming, labor intensive drawings and paintings to bleeding watercolors, printmaking and photography, constantly constructing and deconstructing the world around him. Through this imagery he better understands his identity and the identity of those that help to shape the world he lives in. The content remains relevant to contemporary Australian issues around race, history and politics.
Glenn Iseger-Pilkington is a Wadjarri, Nhanda and Nyoongar man and a member of a Dutch and Scottish migrant family. He spent the first half of his life living in the Kimberley region of Western Australia and has since 1994 lived on Nyoongar Country in the South West corner of Western Australia and currently resides in Perth. Glenn undertook his formal art training at the School of Contemporary Art, Edith Cowan University, majoring in Printmaking has worked within the visual arts sector over the last decade as an arts development officer, curator, advisor and advocate for Indigenous Australian artists. Glenn is passionate about writing on subject matters which include contemporary Indigenous identity, syncretisation, colonisation, Indigenous history and lived experience.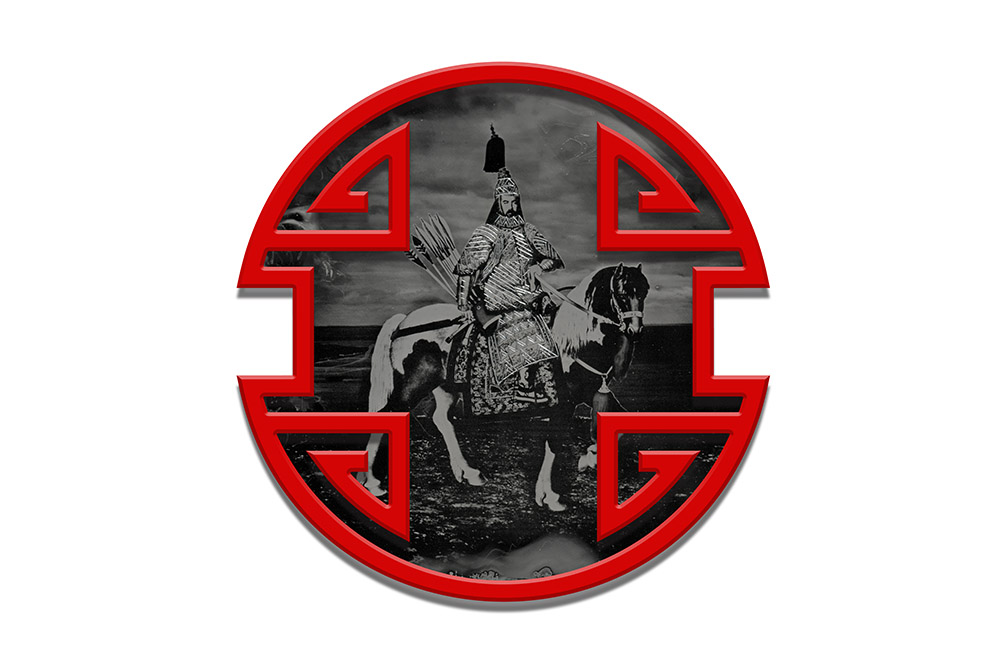 Damien Shen, A Stone from Another Mountain, Ngee (2), 2019, 80cm diam, Pigment print on aluminum, MDF, enamel. Image courtesy the artist.
Install at the Art Gallery of South Australia for Tarnanthi, 2019. Photograph Saul Steed.

Tarnanthi is presented by the Art Gallery of South Australia with Principal Partner BHP and support from the Governmnet of South Australia.