Image: Anna Dowling, Our Journey (detail), 2016. Photograph courtesy the artist.
Catapult + Tarnanthi sees two exceptional Aboriginal artists undertake mentorship opportunities to further their creative practice.
Across 2020 and 2021, Anna Dowling (with mentor Deborah Kelly) and Christina Gollan (with mentor Kirsten Coelho) will dedicate studio time to strengthening technical, conceptual and critical skills, culminating in the showing of works in Tarnanthi: Festival of Contemporary Aboriginal and Torres Strait Islander Art in 2021.
Emerging artist Anna Dowling is a descendant of the Badimia people of the Yamatji region in Western Australia. She will be working with Sydney-based established artist Deborah Kelly to develop a series of political works that explore the impact of genetics and DNA testing on Aboriginal and Torres Strait Islander communities.
Kaurna and Ngarrindjeri artist Christina Gollan will be working with renowned ceramicist Kirsten Coelho (SA) to hone her skills in a dedicated ceramics studio. She aims to develop her use of colour and expand her practice to include large works and sculpture.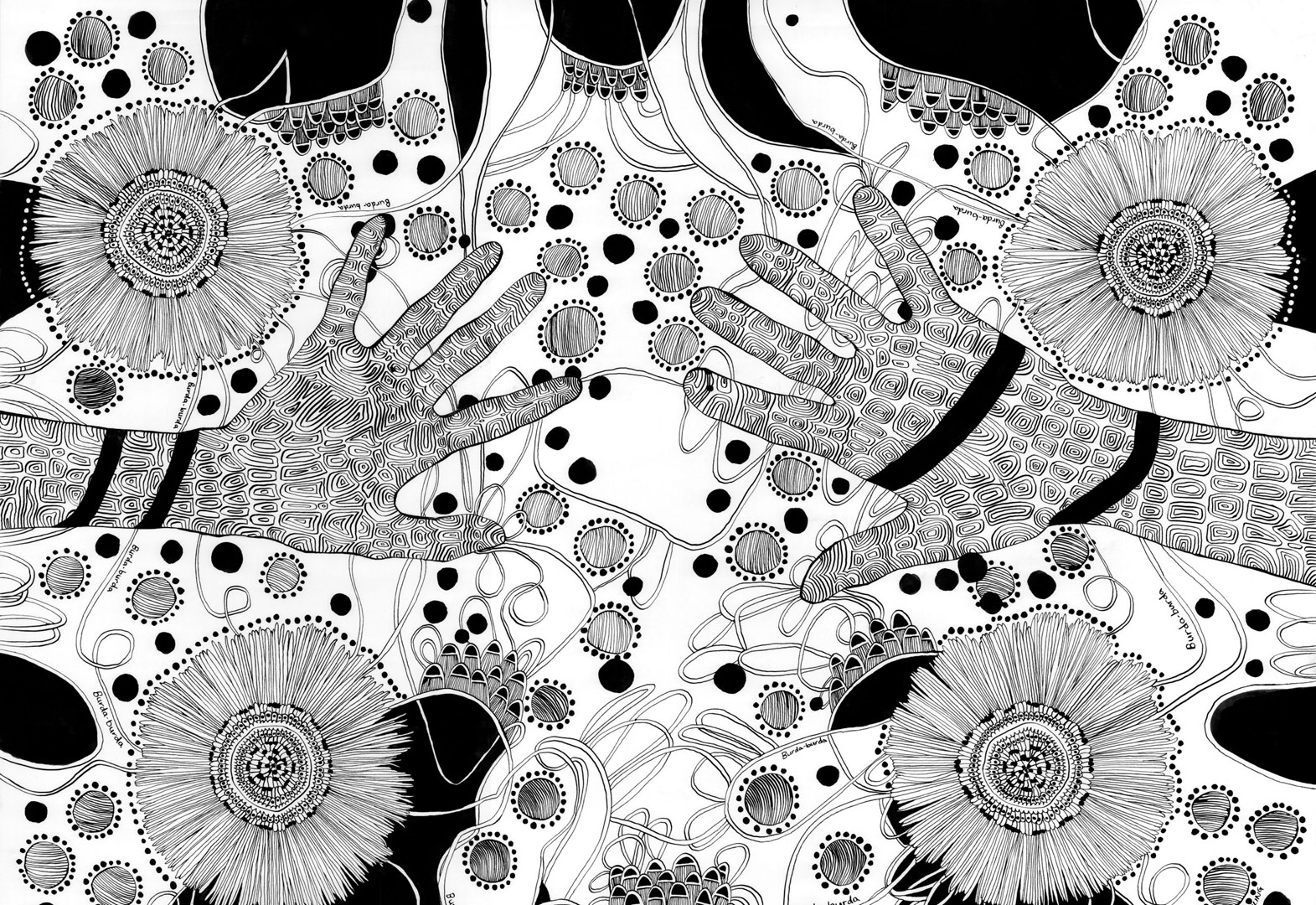 Image: Anna Dowling, Who has Been Before, 2017. Photograph: courtesy the artist.
ANNA DOWLING WITH DEBORAH KELLY
Anna Dowling was born in Adelaide, South Australia. Anna's family connections are to the Badimia people of the Yamatji region in Western Australia. Working in ink on paper, she reflects on her mixed cultural heritage and draws on traditional symbols and patterns. Anna works to create art that reflects the beauty, diversity and incredible value of Aboriginal culture. At age 21, Anna Dowling was the recipient of the 2014 Don Dunstan "Our Mob" Emerging Artist Prize. In 2015, Anna was a finalist in the National Aboriginal and Torres Strait Islander Art Awards (NAATSIA) and in 2016 was awarded the Max Indigenous Art Award (youth category winner) at Parliament House in Sydney. Anna works to create art that respects, preserves and promotes Aboriginal knowledge and perspectives in the community.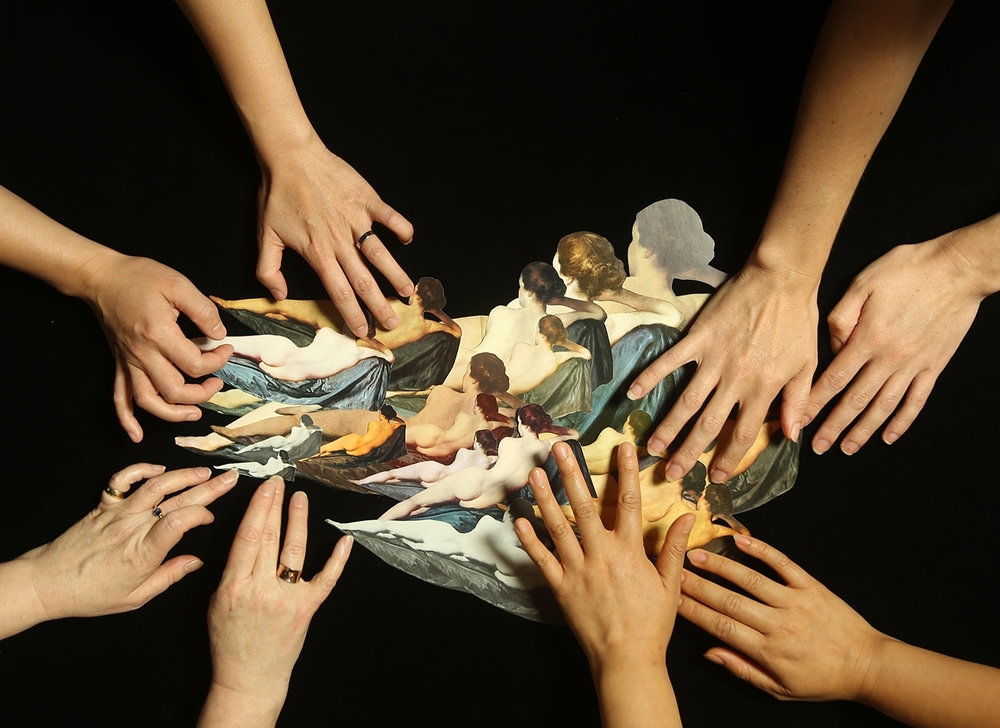 Image: Deborah Kelly, Still from Lying Women, 2016. Photograph: courtesy the artist.
Deborah Kelly
is a Melbourne-born, Sydney-based artist whose works have been shown around Australia, and in the biennials of Singapore, Sydney, Thessaloniki, TarraWarra, Cementa and Venice.
In 2017 her first international solo exhibition, Venus Envy, was shown at the Kvindemuseet in Denmark. In 2018 her second one-person European show, Life in the Ruins, was held at the Fabian & Claude Walter Galerie in Zurich.
Deborah Kelly's projects across media are concerned with lineages of representation, politics and history in public exchange, and practices of collectivity on small and large scale.
Her work has been presented in group exhibitions at MOMA PS1 in NYC, the ICA in London, the Hammer Museum in LA and the Pera Museum in Istanbul. Her works are currently touring Australia in the exhibitions Craftivism, Rococolonial and Moving Histories//Future Projections until 2020. She has won the premier award of the Fotogenia Festival in Mexico City (2019), The Fisher's Ghost Prize, The Albury Art Prize, Silver Medal at the WOFF awards in Brighton UK and several other awards.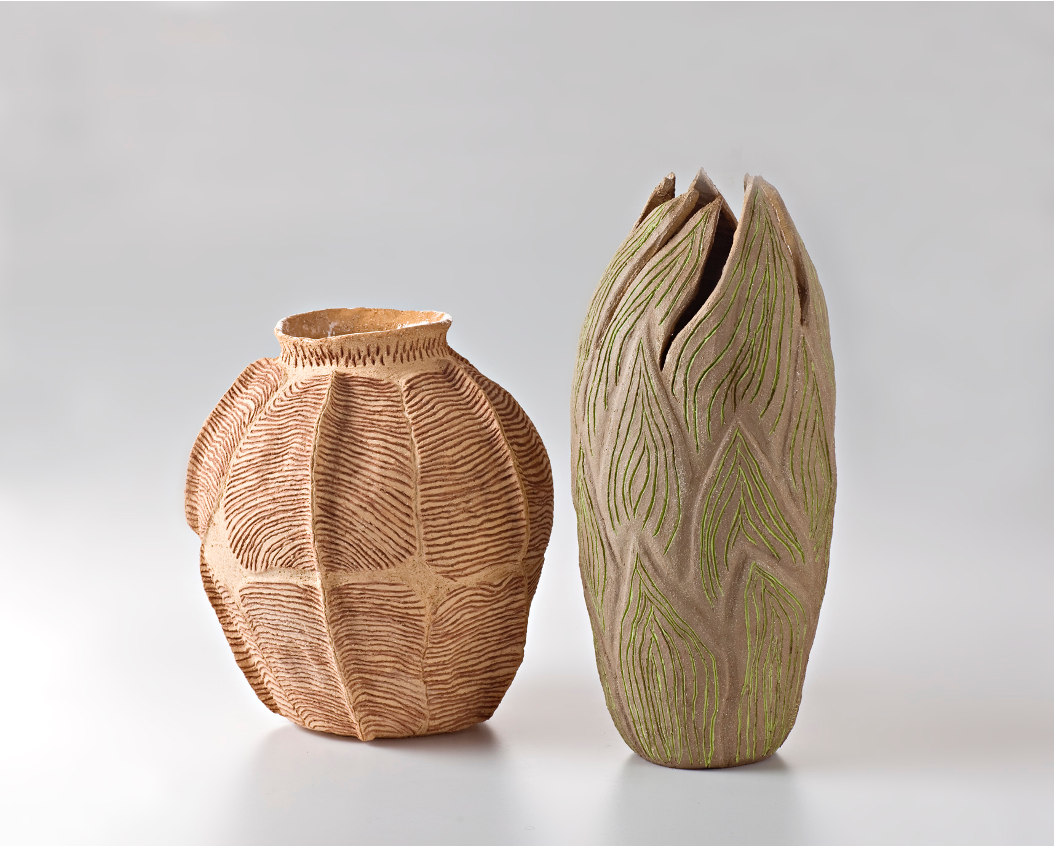 Image: Christina Gollan, Native Frangipani Grass Seed. Photograph: courtesy the artist.
CHRISTINA GOLLAN WITH KIRSTEN COELHO
Christina Gollan is a Kauna and Ngarrindjeri woman, a child of 1960's born in Adelaide. Her connection with art started in her youth, with a love of drawing and expanded to clay when she was 15, making her first clay statue at high school. Juggling parenthood with her art practice, Christina studied art at Tauondi College after her fourth child. Lecturer Silvia Stansfield was a monumental influence and support as Christina's ceramics lecturer and encouraged her to pursue a mentorship at JamFactory for further learning, and together Siliva and Kirsten Coehlo provided direction and skill development to the artist.
'I was surrounded by so many beautiful ceramic artists. Making something out of a block clay into something amazing is the most wonderful feeling ever.Even the smallest seed pods or Animals can show you life is so precious and beautiful big or small I love making things people might not notice' – Christina Gollan
Christina has exhibited as a Finalist in the Shepparton Indigenous Ceramic Award, Shepparton Art Museum (VIC) and her ceramic work is available at the JamFactory store, she has exhibited in Adelaide at the Migration Museum, Tanadanya, JamFactory and Adelaide Festival Centre.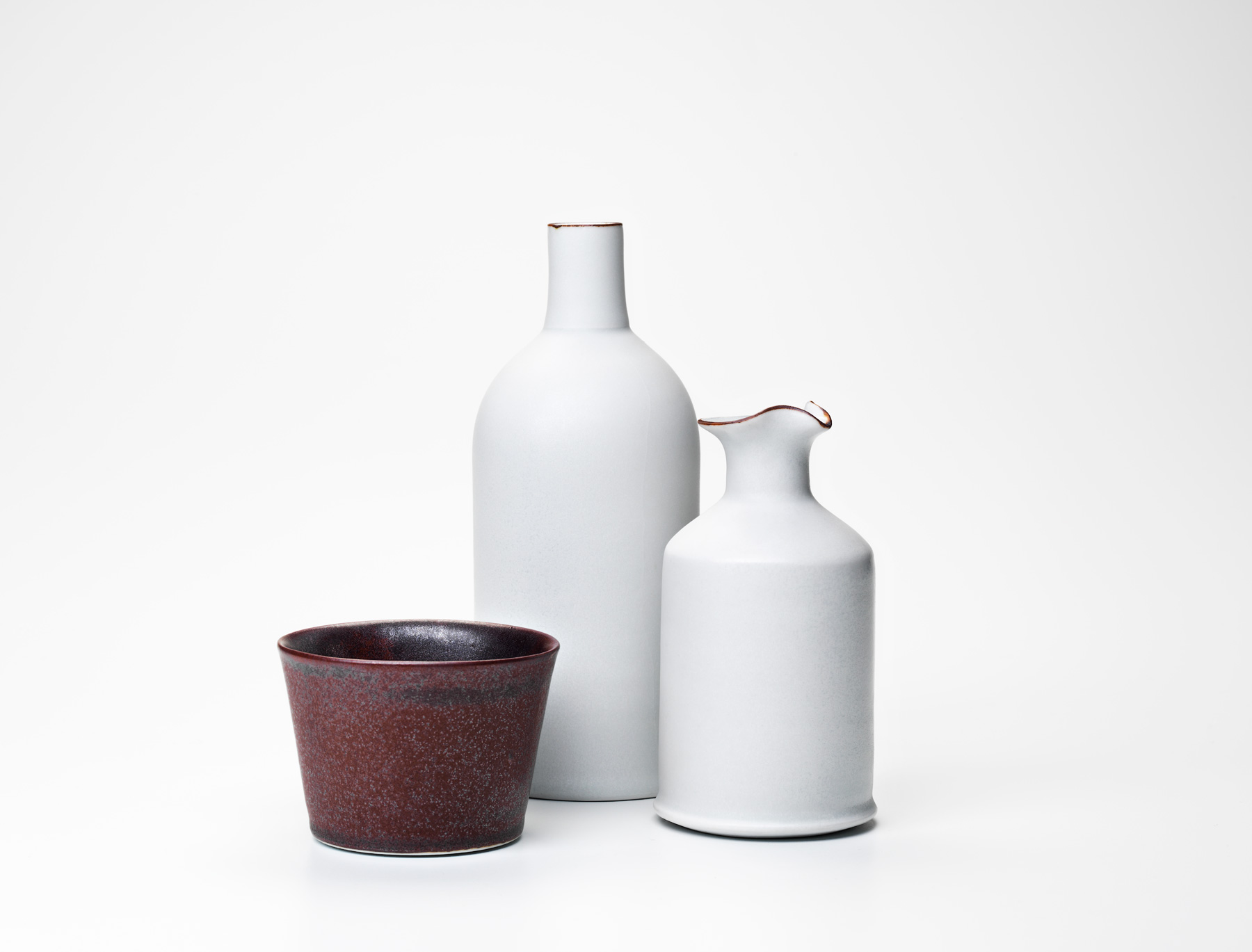 Image: Kirsten Coelho, Dwell, 2018. Photograph: Grant Hancock.
Kirsten Coelho
works in porcelain creating functional forms and vessels of other-worldly perfection that fuse the formal with the abstract. Her work has been influenced by the history of ceramics, in particular the aging surfaces of nineteenth and early twentieth-century domestic enamel wares – jugs, flask, bowls, beakers – echoes of the pleasures of daily life which she reiterates in inviolate meditations on the history, purity and order of daily rituals and routines.
Having returned to Australia from London in the late 1990s, Coelho's concern with the formal archetypes of the historical household turned to the nineteenth-century Australia settler/migrant experience. The extraordinary dreams, ambitions and failings of these experiences are referenced in the luscious thick white glazes and pared back simplicity of Coelho's works, which consider how objects and art shape history and cultural memory.
Coelho was included in the 2018 Adelaide Biennial of Australian Art: Divided Worlds curated by Erica Green. Recent solo institutional exhibitions include In The Falling Light, Drill Hall Gallery, Australian National University, Canberra (2015), touring to Newcastle Art Gallery, Newcastle (2015). Coelho accepted an invitation to undertake a residency at Tweed Regional Gallery, Murwillumbah, in 2015 which resulted in a solo exhibition at Tweed Regional Gallery the following year.
Kirsten Coelho holds a Master of Visual Art from the University of South Australia. Her work has been exhibited internationally at Sullivan and Strumpf Singapore, Art Basel Hong Kong (2017); PAD London (2018); TEFAF, Maastricht (2020); and Masterpiece London (2019).
Coelho's work is represented in numerous institutional collections including the National Gallery of Australia, Canberra; Art Gallery of Western Australia, Perth; Art Gallery of South Australia, Adelaide; Art Gallery of New South Wales; Queensland Art Gallery | Gallery of Modern Art, Brisbane;; Chatsworth House, UK; and the Boymans Van Beuningen Stichting Museum, The Netherlands. She has been the recipient of numerous awards including the City of Hobart Art Prize (2015), the Sidney Myer Ceramic Award (2012) and the Josephine Ulrick Ceramic Award (2005).
Kirsten Coelho's practice will be the subject of the SALA 2020 monograph written by Wendy Walker and published by Wakefield Press.

Tarnanthi is presented by the Art Gallery of South Australia with Principal Partner BHP and support from the Government of South Australia.