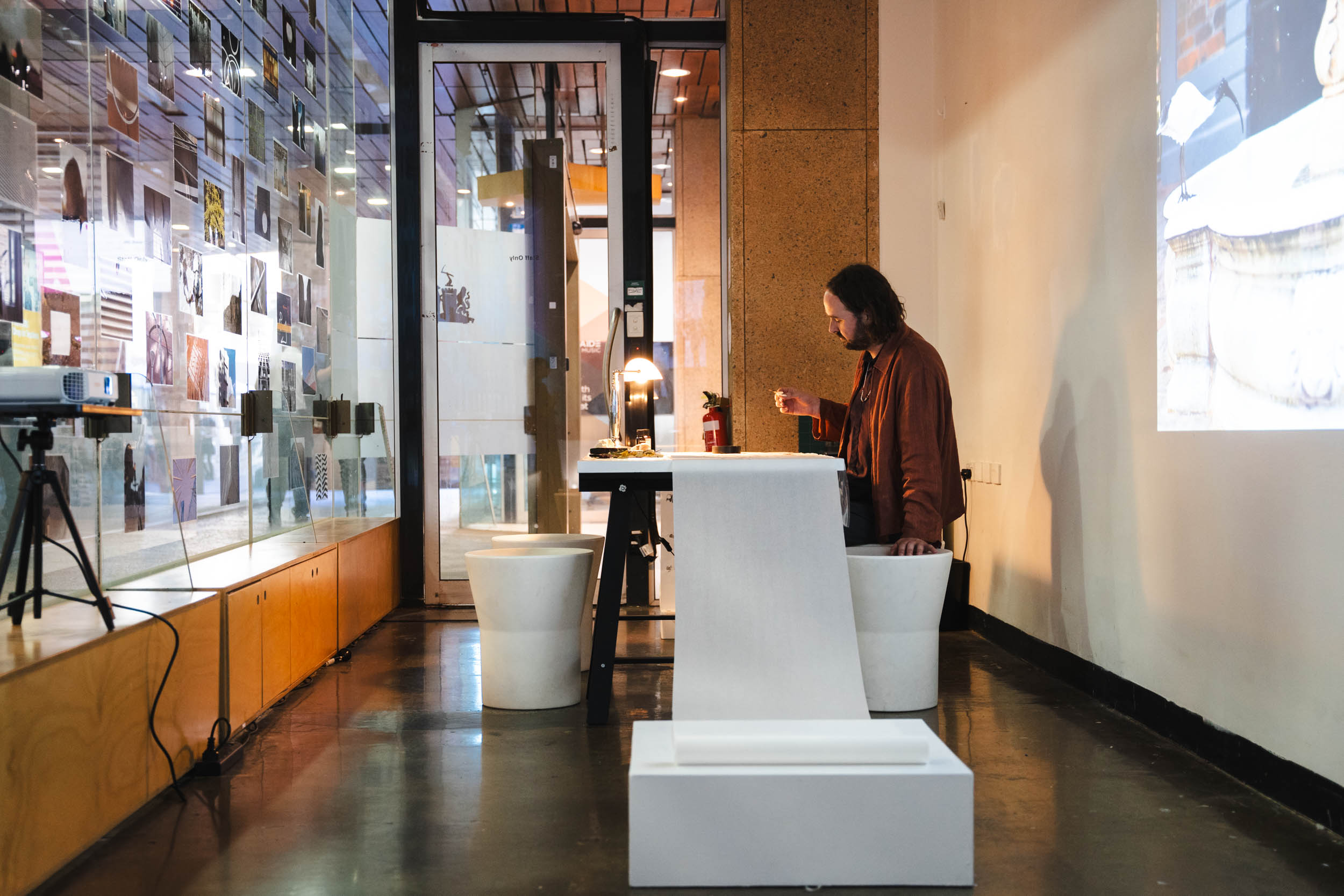 Image: ART WORKS Artist in Residence Callum Docherty, City of Adelaide ArtPOD, 2023, photograph Lana Adams.
ESSAY / Intersection
By Anna Zagala
A narrow exhibition and residency art space tucked in a breezeway between The Town Hall and the customer centre in the City of Adelaide has been Callum Docherty's base for the past four months for his evolving and shifting exhibition INTERSECTION, documenting the city centre.
Docherty, a visual artist working primarily in photography but incorporating a range of media, is adept at responding to sites. During his Sauerbier House residency, the artist walked the length of Onkaparinga River/Ngangkiparinga in McLaren Vale, returning to the studio with found objects – worn timber, shells, feathers, waste, detritus – which he then documented. At the Handorf Academy in the Adelaide Hills, Docherty similarly selected items from the historic collection capturing them with attentive precision. In both instances, the artist presented photographs of these reverentially documented objects alongside immersive banners of the immediate environment – a pool of water, the gnarly and twisted branches of a tree – as though human industry and setting would always need to be considered in tandem.
Guiding Docherty's practice is a keen sense of observation. Alert to place and attuned to animate and inanimate forces, he is interested in the intersection of culture and nature. The artist's porousness, a heightened sensitivity, is offset by clearly established parameters of engagement that frame his methodology.
At the Art Pod, this process involved preparing the space by cleaning and re-ordering its sparse furniture, a ritual that familiarised the artist with its spatial qualities including the Pod's street-facing floor-to-ceiling windows, capturing a myriad of surface reflections and layers and material austerity enlivened by the bustle of office workers and pedestrians going about their day, the hubbub of cars, scooters and bicycles, ebbing and flowing according to the cadence of city life on the other side of its walls.
Delineating sections of the long space into discrete encounters, Docherty established zones of activity governed by their own rhythms. Setting up a projector to throw an image onto its largest wall became a way of displaying images from Docherty's expeditions, scrolling on a loop with the regularity of a heartbeat. These accumulated images steadily increased to a curated selection of 150 individual shots, inclusions and exclusions governed by a range of formal considerations.
Included were images of architectural details, the geometric play of surfaces, opulent and neglected office spaces, the indistinct outline of pedestrians, cemetery gravestones crammed in check and jowl, crevices and cracks, sky and bitumen, commercial activity, and parkland views.
The glass wall opposite the projected screen became a surface onto which images printed on transparency film were fixed, arranged, and added to over time, doubling and reflecting the scrolling works on the parallel wall opposite.
An angled wall in the Pod, located closest to the street and featuring a mounted screen, created the impetus for City Suite. Changed over weekly, the screen displayed a total of 16 one-shot moving image works, capturing up to a minute of movement with a fixed camera: among them, water lilies gently shifting on a pond, the revolving door of a skyscraper, bats hanging from a tree, an LED display promoting a product, water flowing over rocks in the Himeji Garden, cars passing from an overpass, an undulating gridded surface, pigeons feasting on crumbs, a pedestrian crossing at dusk.
The movement of the artist through the city, between the quiet sanctity and order of the Pod and the metropolis, was punctuated by visitors encouraged to participate in the co-creation of a work.
At a table in the space, Docherty set up a rolled sheet of paper, unfurled with inks and objects ready for stamping. On one of my visits, it had been moved to one side. The artist explained that he had paused the work so as not to rush its production.
Like every element in this space, it had been carefully considered. Later as I walk past, the completed scroll work was displayed like a ribbon. Hung ceiling to floor, the sum of people's labour was visible to passers-by, its end furled elegantly on a plinth.
In the final week, Docherty began the process of returning the space to its original state, taking down the transparencies from the glass wall one at a time, a soft and gradual dissolution. On the last day, as a final adjustment, he shifted the angle of the projector so that it cast an image over a totally different section of the room. In this iteration, the projected image added a background layer to the very final instalment of the City Suite, in which the artist had turned the camera on himself documenting his own shifting gaze.
He had observed and participated in the biorhythms of urban Tarntanya/Adelaide across the span of a day from morning to night, a working week, the months that account for the passage of winter into spring.
Anna Zagala, 2023.
ART WORKS Artist in Residence
Callum Docherty was the ART WORKS Artist in Residence at the City of Adelaide ArtPOD from July – October 2023. The focus of his residency included a series of participatory experiences enabling visitors to collaborate with Callum in art making, a photographic print series displayed across the front window of the ArtPOD, and a series of moving image works.
ART WORKS is a collaborative program of residencies, curatorial mentorship and creative engagements, designed in partnership with the City of Adelaide to provide a city-based platform for artists, curators and writers to pursue new ways of working and engaging with audiences.
ART WORKS presents multiple Artist in Residence opportunities within the City of Adelaide ArtPOD and an Early Career Curator Program mentored by Guildhouse, presenting three exhibitions within the Adelaide Town Hall and Mankurri-api Kuu / Reconciliation Room. These extensive artist engagements deliver on the City's Cultural Strategy 2020-24 for Adelaide to be recognised as a cultural incubator where people, enterprises and audiences' flourish.
Callum Docherty
Callum Docherty (b.1981) is an Tarntanya/Adelaide-based multidisciplinary artist who has predominantly worked and exhibited throughout New South Wales and South Australia.
His experimental approach includes working with a range of mediums such as drawing, painting, sculpture, photography, installation and more recently collaborating in performance-based, site-specific live works and sound art.