Liam Fleming:

 

Light and colour
Art Gallery of South Australia
1 September – 3 December 2023
Tuesday Talk:
Tuesday 5 September 2023

12:30-1pm
Gallery 17, Art Gallery of South Australia
Join Guildhouse Fellow, South Australian glass artist Liam Fleming in conversation with Rebecca Evans, Curator of Decorative Arts & Design, Art Gallery of South Australia.
As part of his Guildhouse Fellowship, artist Liam Fleming presents new sculptural glass work alongside AGSA's permanent collection of international and Australian art. An outcome of Fleming's fellowship, this new body of work draws upon modernist sensibilities of shape, colour and line.
Fleming is well known in the Australian glass community and is highly proficient in his chosen craft, having worked in the material since age 16. More recently Fleming has turned his hand to sculptural glass work, negotiating the traditions and territories of craft and art.
For Light and colour, Fleming has selected works from the Gallery's collection, which have inspired his recent work.
The Guildhouse Fellowship was inaugurated in 2019 with the generous support of leading philanthropists, the James & Diana Ramsay Foundation, to recognise and elevate South Australian artistic ambition and is presented in partnership with the Art Gallery of South Australia. 
The Guildhouse Fellowship is really coming at a critical moment for me, when I've invested a great deal of energy into taking my work in new directions…I feel a shift occurring. Such belief and encouragement will afford me time and space to refine my practice and focus my energy entirely on making. The James & Diana Ramsay Foundation open up a spectrum of opportunities that are profoundly important for and deeply valued by artists.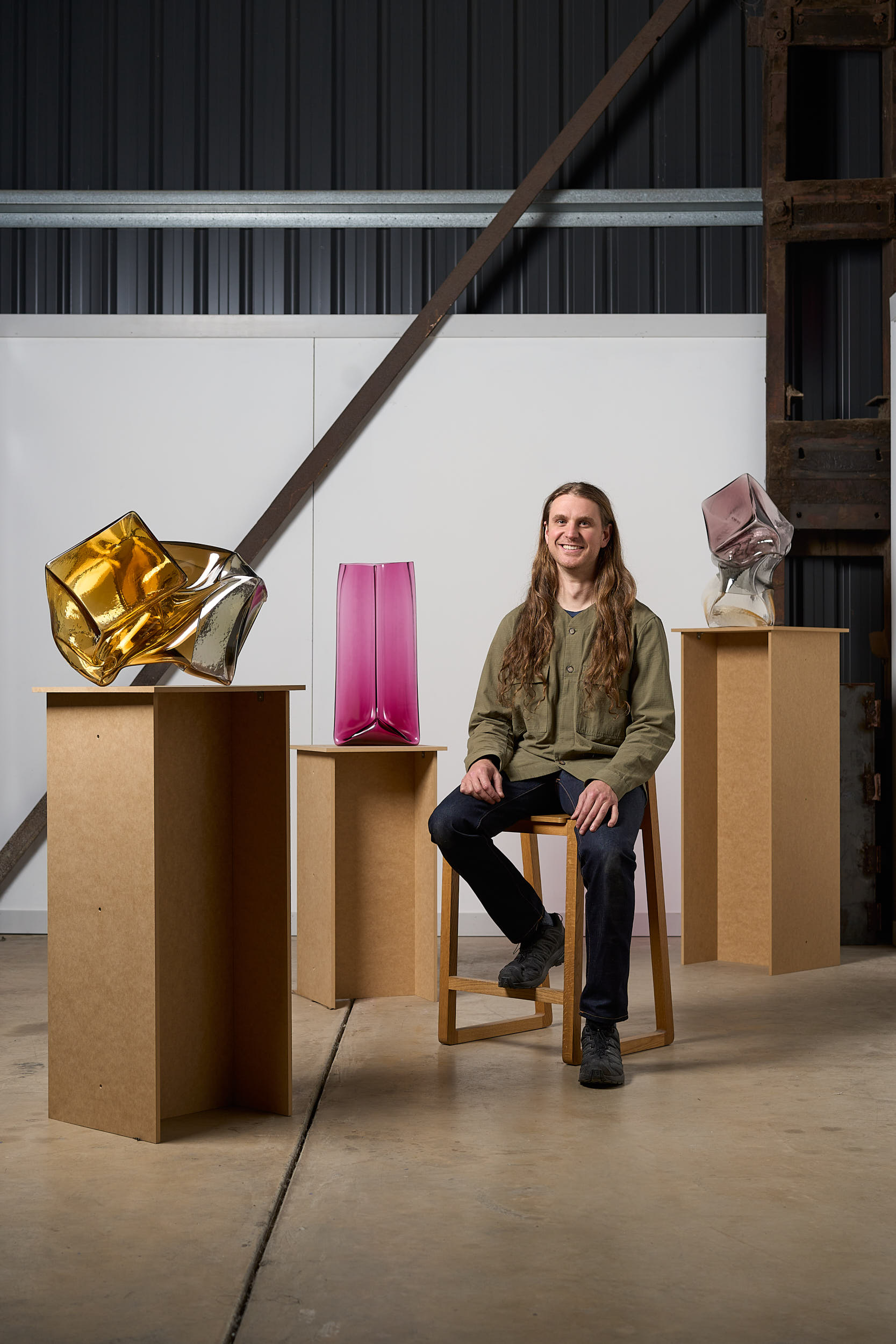 ARTIST BIOGRAPHY
Liam Fleming is a Tarntanya (Adelaide) based glassblower, artist and designer with an active practice of over ten years. Alumni of University of South Australia's visual arts program and the prestigious JamFactory glass training program, Fleming currently works  part-time as Design Manager for JamFactory Glass Studio, a position he has held since 2015. Technically trained as a production glassblower, Fleming's art practice is characterised by his unique sculptural objects. His work is often an expression of his interest  in the complicated relationship between craft, art, design and architecture.
Fleming's work has been exhibited extensively, including as an annual feature in Melbourne Design Week. Internationally, his work has been displayed as part of London Design Week, Milan Design Week and in Berlin during Australia Now. He has received numerous grants and scholarships in support of his work, including a full scholarship to attend the acclaimed Pilchuck Glass School in Washington, USA, in 2018 and an Art Gallery of South Australia artist bursary in 2020. A renowned artist in his medium, Fleming was invited as a speaker and demonstrator at the 2018 International Glass Art Society conference in Venice, Italy and the 2019 Australasian Glass conference in Whanganui, New Zealand. Additionally, he has been recognised as a finalist in several prestigious awards including JamFactory Fuse Glass Prize 2018, Art Gallery of Western Australia Tom Malone Glass Prize 2019, The Design Files Design Awards 2020 and Art Galley of South Australia Ramsay Art Prize 2021.
Fleming has been invited to undertake artist residencies in Delhi, India, Oaxaca, Mexico, Murano, Italy and Seattle, USA. In July/August this year, he will fulfil the acclaimed Artist in Residence position at Canberra Glassworks. Actively engaged in the creative community, Fleming has established an impressive network of collaborators working across disciplines, most notably with furniture designer and maker Jon Goulder in 2017and architect and designer Adele Winteridge in 2021.
Fleming works out of JamFactory and his personal studio in Adelaide, South Australia, a space he has shared with glass artists Janice Vitkovsky and Alex Valero since 2017. Within this space, Fleming facilitates a weekly drawing evening, an ongoing creative project he has hosted across studios and other spaces for over a decade. Fleming continues to exhibit frequently, with a selected piece from his Post-Production series currently on display at Art Gallery of South Australia as part of the 2021 Ramsay Art Prize. His works are held in private collections nationwide and in the public collection of the National Gallery of Victoria, Melbourne.
Images (L-R): Liam Fleming: Light and colour, Guildhouse Fellowship Recipient, Art Gallery of South Australia, Adelaide; photos: Saul Steed; Liam Fleming, photo Sam Roberts.