The Guildhouse Fellowship
The Guildhouse Fellowship, valued at over $50,000, will be awarded annually to one South Australian mid-career visual artist, craftsperson or designer. 2020 sees the second award of the

Guildhouse

Fellowship.
The Guildhouse Fellowship is generously supported by the James & Diana Ramsay Foundation and is presented in partnership with the Art Gallery of South Australia (AGSA).
This fellowship is intended for artists who have moved beyond the early years of their practice; they have a distinct artistic expression, and seek an expansive opportunity to explore, research and create. It will be awarded to an artist who can demonstrate its instrumentality to their arts practice – and thus – their contribution to the ambition and artistic excellence of the visual arts sector in South Australia.
The fellowship offers a transformative opportunity for one mid-career South Australian visual artist each year, including $35,000 to support research and development, including the creation of new work. Delivered in partnership with the Art Gallery of South Australia, the opportunity will include the presentation of new work at the Gallery.
The establishment of this fellowship acknowledges the expanse of artistic talent in South Australia.
'As a mid-career artist, receiving the Guildhouse Fellowship has been a transformative experience that has given me the freedom to focus exclusively on my practice. I have travelled abroad, strengthened and expanded local and international relationships, completed new bodies of work for an upcoming exhibition outcome at Art Gallery of South Australia, as well as cultivated ideas and works for projects well into the future. Most importantly, the Fellowship has contributed to a new confidence in myself, to reflect on my life's work to date, and has reignited my drive to realise the full potential of my art practice.'
Troy-Anthony Baylis
The Guildhouse Fellowship 2019
Troy-Anthony Baylis is the inaugural recipient of the Guildhouse Fellowship.

Troy-Anthony Baylis with his works at the Carriageworks for The National, 2019. Photograph Steven Siewert.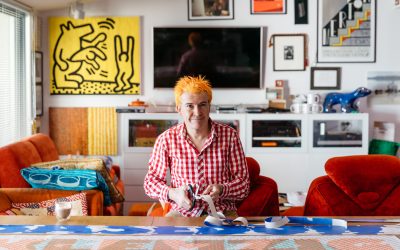 Image: Troy-Anthony Baylis in the studio, 2020. Photograph: Sia Duff.Saturday 8 August – Wednesday 4 November Location: Art Gallery of South Australia, Vestibule Featuring: Troy-Anthony BaylisThe Guildhouse Fellowship Troy-Anthony Baylis: Nomenclatures Inaugural...