Image: Jasmine Ann Dixon at work the City of Adelaide Art Pod, 2020. Photograph: Sam Roberts.
'Sometimes you have to step away from what you're used to, to see if it's what you want. My whole identity is caught up in painting. Do I still want to be an artist?'
Conversations About Painting with Jasmine Ann Dixon
By ART WORKS 2020 Writer in Residence Susan Charlton
Shared Language
The restraints of Adelaide lockdown were loosening a little more each week when I first met Jasmine at the end of June 2020. We were both re-emerging into the outside world, feeling tentative and unpractised at traversing the city and being in the same physical space with someone new. At first, we sat across the studio from each other at City of Adelaide Art Pod, where Jasmine was based as the Guildhouse and City of Adelaide 2020 ART WORKS Artist in Residence and I was visiting as the Writer in Residence. She began by sitting side saddle at her easel and I faced her from the window-seat with my laptop balanced on my knees. But as the arcs of our orbiting conversation began to find points of connection and intersection, we drifted closer together, holding up our mobile phones to share images. We were engaging in that kind of curated conversation that is mediated and annotated with material sourced from our devices – our handheld digital archives. Jasmine was working on a new portrait and a still life with flowers. I showed her some scenes from Centrepiece, the new Quibi mobile-streaming series, where florist Maurice Harris interviews fellow black creatives he admires, and designs a stunning floral display in response. And she showed me the Instagram page of art director Cindy Pham, who photographs beautifully designed books in unexpected locations. I had instinctively responded in a similar way to the collection at Adelaide City Library on my first day there as Writer in Residence a couple of weeks earlier. Through this layering of observations and images, we were not only negotiating a social space, but also circling towards a shared language to speak about painting. I had only once before written about a painter. And that was Juan Davila … for the Sydney Morning Herald. Then I was mostly talking about the artist as a public figure and the strong reactions to his subject matter. I needed to learn more about painting from Jasmine to write about her work. Thankfully she was open to that idea. Because, in a way, Jasmine is re-learning how to paint herself. We are both moving away from the known and the familiar into riskier terrain. A residency encourages that kind of leap.
On Colour
We began by talking about colour. How colour creates an atmosphere, evokes different emotions, elicits a visceral response. Right from her early art practice — before she had been taught anything about colour theory — Jasmine could identify colours and put them together to recreate any colour she saw. She had recently been watching Blade Runner 2049, the sequel to the neo-noir, science-fiction film from 1982, and felt like she was bathing in its neon colour palette. Painting and cinema seemed to share the same visual language and she learnt a lot about colours she was attracted to from watching films. On my second studio visit, Jasmine was mixing colours on a paper palette to add to her still life. The decaying remains of the flowers she was painting sat alongside her in a vase, while she referred to an iPad image on her lap to reference how they had once looked when still alive. Three months before, in March, she had posted a photo of the fresh flowers to Instagram with the message, 'please don't die before I get the chance to paint you'. Lockdown had intervened and the flowers had been in residence by themselves for three months, as they faded to a dusty, muted blue and milky-coffee brown. She has decided to paint these floral remains as well, to create a pair with the freshly cut blooms, as an expression of the passage of these COVID times.
Exact Likeness
Jasmine is best known for her photo-realist portraits, where the likeness is so exact that it is often hard to tell in reproduction if the works are paintings or photographs. This exactitude is important to her. It conveys her technique, her talent, the dedication to her practice. Painting is something she has loved and excelled in — 'a way of getting through the world'. But this demand for 100% accuracy is also draining and stressful. 'It's hard to achieve every single time'. Although photo-realism can produce a sense of awe in the viewer, it can also seem distant, impenetrable, vacuum sealed. This is something Jasmine has been feeling herself. She wants to create compelling paintings that are fulfilling for her, but that also touch other people. She wants to 'step away from hard lines', to 'experiment with the texture of paint, for it to be soft and smeared out, and still hold the trace of the brush stroke, to show the process'. But to shift from the safety of the painting practice she has developed since she was a teenager, is to question and experiment with her own identity. That questioning process was already underway when she applied to be an ART WORKS Artist in Residence.
Transfixed & Transformed
In 2017 Jasmine sold one of her paintings and hid some of the money in a clothing drawer to save for something special. It was reassuring everytime she noticed it there, over a period of two years. A purpose for the money would be clear when the time came. Back in 2012 she had been transfixed by The Devil is in the Detail, a survey of richly symbolic, narrative-realist paintings by respected Adelaide artist Anna Platten, exhibited at the Art Gallery of South Australia. For Jasmine, Platten's works 'just glowed', reconfirming her own commitment to painting and illuminating a way forward to bring more life to her work. When the Adelaide Central School of Art announced a three-day masterclass in painting and narrative led by Anna Platten, that money in the drawer had found its true purpose. The experience was transformational. And the residency followed soon after.
Only Human
Jasmine has created a new portrait during her residency that pairs with a painting of the same subject produced at the masterclass. Both works are currently exhibited in a group show at Adelaide Town Hall, curated by the 2020 ART WORKS Emerging Curator, Steph Cibich. The exhibition themes and its title, 'You're only human, after all', were inspired by these shifts in Jasmine's painting practice. Jasmine has been delving deeper into her exploration of colour, with a desire to create 'electricity and emotion' within the atmosphere of her work. For the works to be more human, perhaps. I am reminded of the 'replicants' in
Blade Runner
—
synthetic humans
bio-engineered
by a powerful corporation. Though almost indistinguishable from human beings, they can be exposed as replicants by a series of questions that test the authenticity of their emotional responses. Jasmine Ann Dixon is moving away from creating synthetic humans. Her new portraits have more of a life of their own. Their gaze is less direct and more internal, even as they are curious about something beyond the frame or sensing something from within. They are at one with their own atmospheric, emotional space — built up with layers of monochromatic underpainting, rather than placed in a constructed setting in a stand-off with the artist. The painter is present in the work, not orchestrating the scene from outside without leaving a trace. There is no confusion that these portraits might be photographs. They are not replicants, but 'cool and magical'. There is more to know about these people. There is more to know about the artist. 'Do I still want to be an artist?' she had asked. 'Turns out that I do', she replies.
*'If Dreams Were Thunder, Lightning Was Desire', from the 1971 song 'Angel from Montgomery' by John Prine, who died on 7 April 2020. The song and its lyrics were a lockdown lament.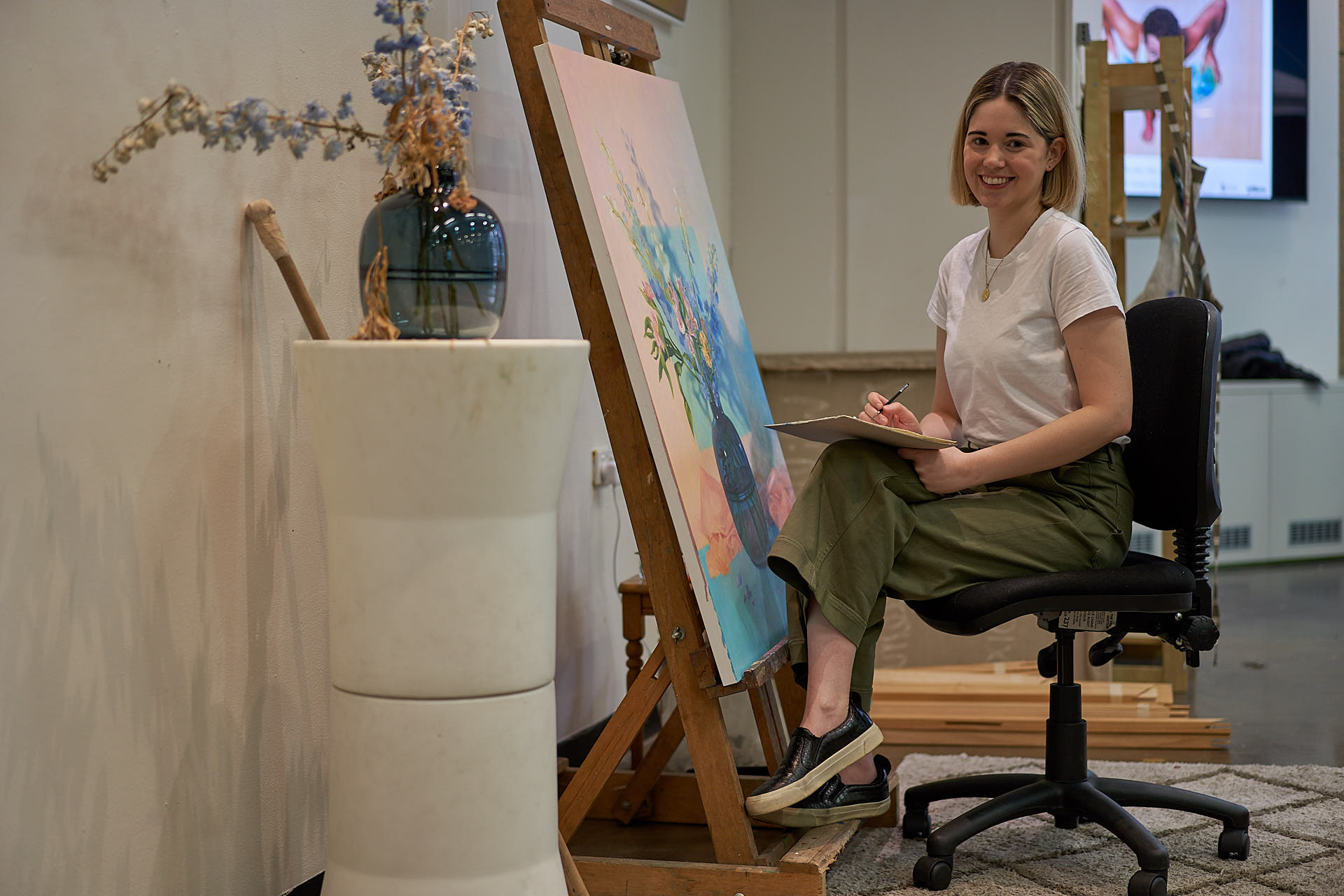 Image: Jasmine Ann Dixon at the City of Adelaide Art Pod, 2020. Photograph: Sam Roberts.
Jasmine Ann Dixon
Jasmine Ann Dixon was born in 1993 in Adelaide. From an early age she was drawn to painting and in her later years of school became particularly interested in portraiture. This passion led her to study a Bachelor of Visual Arts and Design at the Adelaide College of the Arts from which she graduated in 2014. Since then Dixon has been a part of the Helpmann Academy Graduate Exhibition, where she won the Peter Walker Encouragement Award, exhibited numerous times with Hill Smith Gallery, been a Finalist in the Emma Hack Art Prize and the Black Swan Portrait Prize and won the RSASA 2016 Youthscape Prize. Dixon's practice thus far has focused on combining textiles and colour with hyper-realistic portraits. She sees the face as the window to the soul and hopes to celebrate it in each portrait by highlighting individual's character and beauty though her detailing.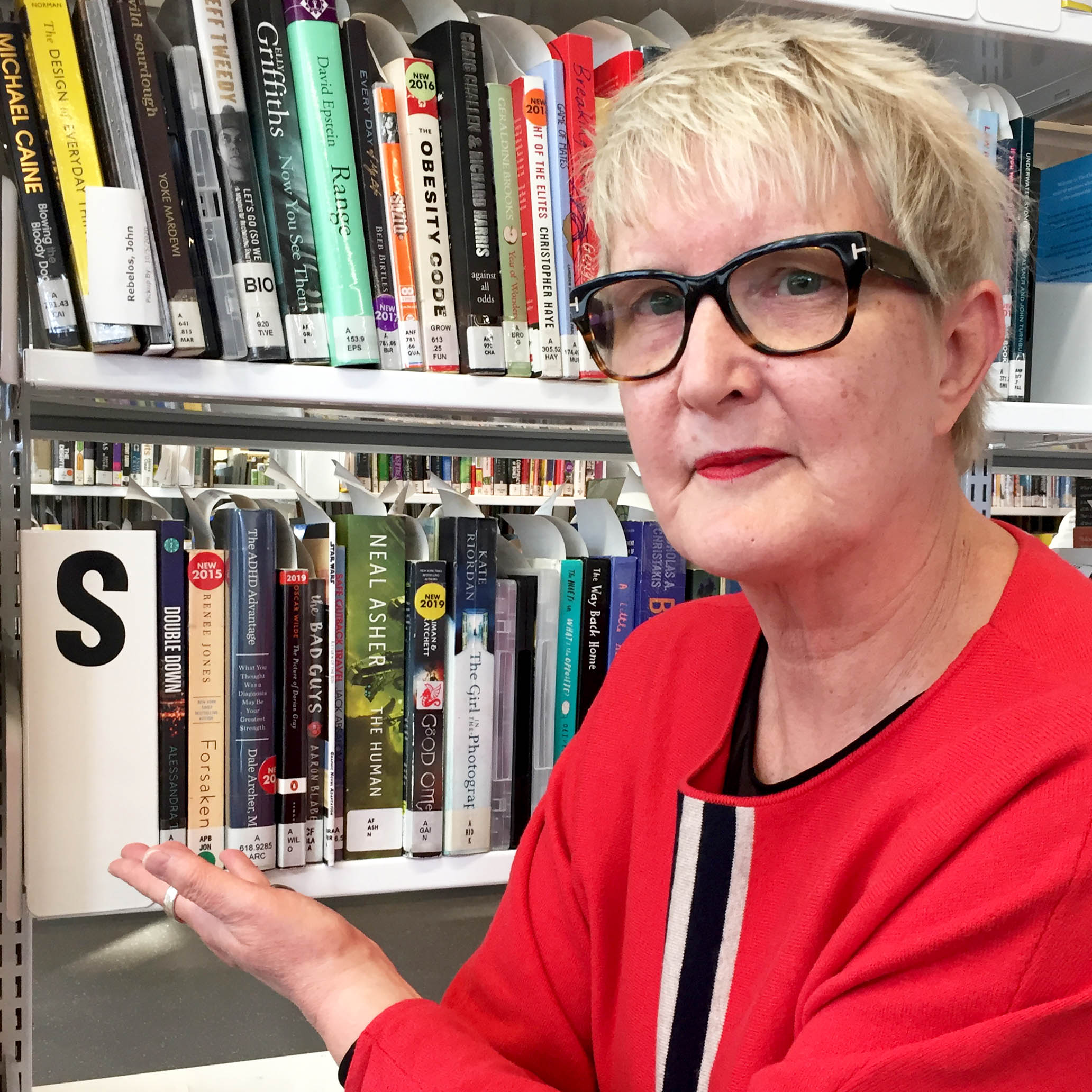 Image: Susan Charlton at the Adelaide City Library, 2020.
Susan Charlton
Susan Charlton is a writer and curator, specialising in collaborative projects with artists and archives, communities and cultures. She has recently returned to live in Adelaide after working in film, museums and archives in Sydney.
Susan's recent projects include the Unity! Strength! Justice! exhibition for NSW Teachers Federation; Museum of Love & Protest for Sydney Gay & Lesbian Mardi Gras; three Feminism & Film programs screened at Sydney Film Festival; and the exhibition This Woman is Not a Car: Margaret Dodd at The Cross Art Projects in Sydney and Ace Open in Adelaide. Susan has also been commissioned by the National Gallery of Australia to write the catalogue entry about Margaret Dodd for the Know My Name exhibition honouring Australian women artists, due to open later this year.
Susan's writing and editing skills were refined in the Print Media and Production Department of the Powerhouse Museum from 1990-94. She has written artist and exhibition texts, as well as freelance stories and reviews for the Sydney Morning Herald, Filmnews, Cinema Papers, RealTime and Art + Text, and written about Australian culture for Singapore arts magazine The Esplanade. Susan contributed seven stories to Barbara Campbell's experimental performance work 1001 Nights Cast.