Friday 8 April 2022, 2:00-4:00pm
Location: South Australian Museum, North Terrace, Adelaide
Featuring: A special panel talk and workshop with artists Peter Turner and Clem Newchurch
The Guildhouse First Nations Collections Project with The South Australian Museum
KAURNA: Still Here

Peter Turner & Clem Newchurch
Exhibition Launch and In Conversation Event
The South Australian Museum and Guildhouse warmly request the pleasure of your company for the launch event for KAURNA: Still Here.
Please join us for a special panel talk and workshop with artists Peter Turner and Clem Newchurch.
Light refreshments will be provided.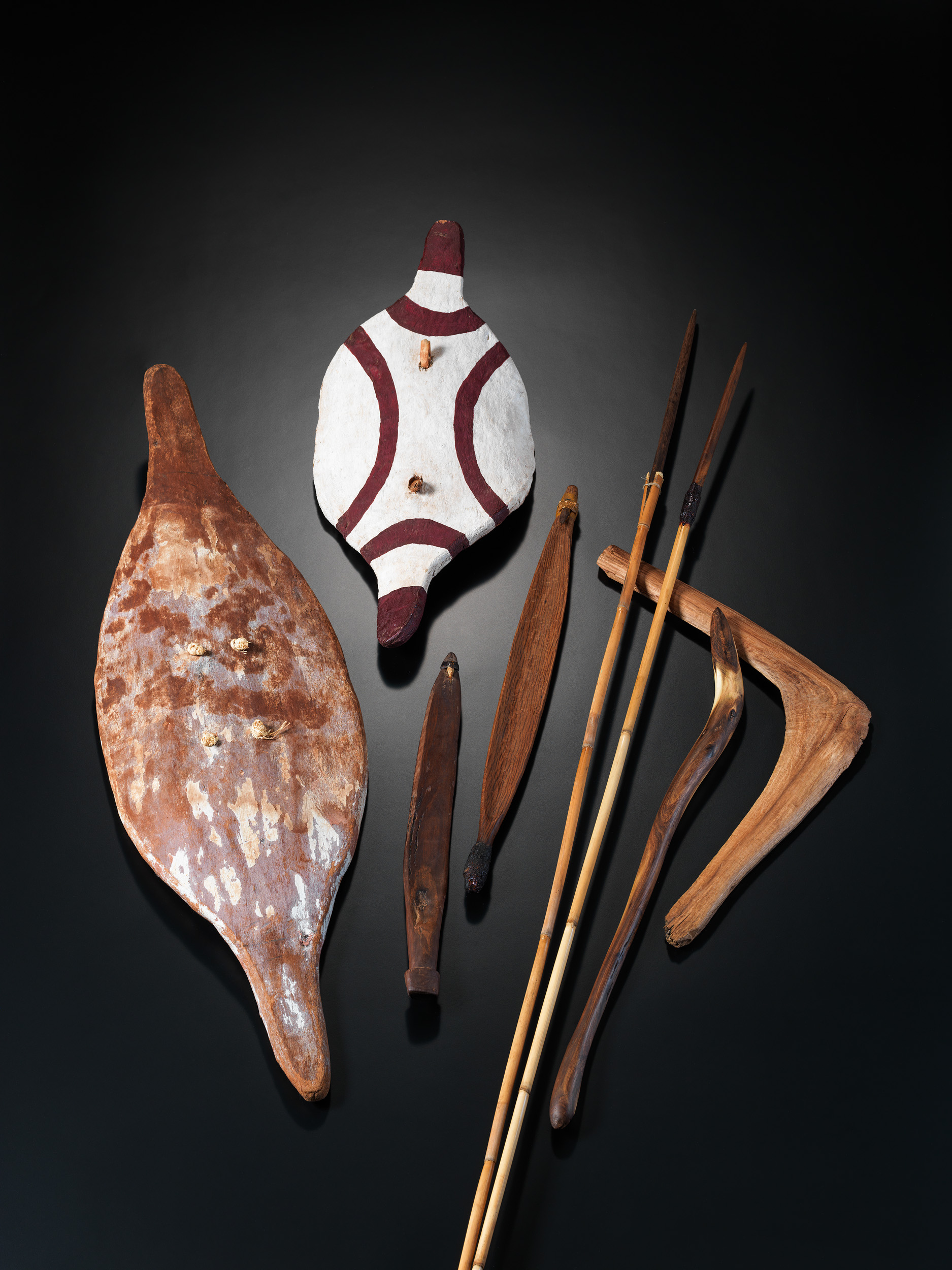 Image: Warrior Tools, (l to r) Clem Newchurch, Large Murlapaka/Bark Shield, Gum species and Ochre, 2018; Clem Newchurch, Small Murlapaka/Bark Shield, Gum species and acrylic paint, 2019; Peter Turner, Midlah/Woomera, Gum species, Emu Bush Barb, Animal Sinew and Tree Resin, 2014; Clem Newchurch, Midlah/Woomera, Sheoak, Wattle Species, Sedge species, Tree Resin, Ochre, 2018 – 2022; Clem Newchurch, Reed Spears, Gum and Wattle species, Native Water Reeds, Sinew, Tree Sap, 2018 – 2022; Clem Newchurch, Lightweight Club, Wattle Species, 2021; Clem Newchurch, Returning Boomerang, Sheoak, 2021. Photograph Grant Hancock
About KAURNA: Still Here
First Nations artists Peter Turner and Clem Newchurch have researched the South Australian Museum's collections to inspire their exhibition KAURNA: Still Here. In addition to the Aboriginal Collection their work responds to the works of George French Angas.
Drawing on their Ancestors' practices prior to European colonisation and informed by material documented by George French Angas, Peter and Clem have created carvings, painted and woven works in this celebration of continuing culture.
KAURNA: Still Here is part of the Guildhouse First Nations Collections Project, a collaborative project providing artists with the opportunity to research aspects of the South Australian Museum's extensive collection and develop a new body of work for exhibition.
About The Collections Project
The Collections Project is a collaborative project between Guildhouse and South Australia's state institutions.
This unique project provides artists the opportunity to research an area of one of the institution's collections and develop new work for exhibition. Championing the art and artists of our time while celebrating our cultural, historic and scientific heritage, The Collections Project has the demonstrated ability to provide new audience experiences while delivering long-term benefits to the artistic and career development of participating artists. 
Photographs and/or video may be taken at this event.
By taking part in this event you grant the event organisers full rights to use the images resulting from the photography/video filming, and any reproductions or adaptations of the images for fundraising, publicity or other purposes to help achieve the group's aims. This might include (but is not limited to), the right to use them in their printed and online publicity, social media, press releases and funding applications.
If you do not wish to be photographed please inform the photographer or a Guildhouse staff member.