Honor Freeman, Shape of Tears (detail), 2019, porcelain. Photograph Grant Hancock.
The Collections Project is a collaborative project between Guildhouse, the Botanic Gardens of South Australia, Flinders University Art Museum and the Art Gallery of South Australia.
This unique project provides artists the opportunity to research an area of one of the institution's collections and develop new work for exhibition. Championing the art and artists of our time while celebrating our cultural, historic and scientific heritage, The Collections Project has the demonstrated ability to provide new audience experiences while delivering long-term benefits to the artistic and career development of participating artists.
Being able to respond to AGSA's collection is an incredible privilege. The project has allowed me to explore new directions within my work whilst working with the support of a phenomenal team of people. The Collections Project is one of the most challenging and rewarding projects I have done.
Zoe Kirkwood
Not only was The Collections Project a huge boost for the visibility of my work, and an amazing opportunity to connect with very insightful people; it allowed me to redirect my work with guidance and feedback which gave me the confidence to create something I had not originally envisioned. I feel unbelievably lucky and grateful for this opportunity.
Kate Kurucz
Explore The Collection Projects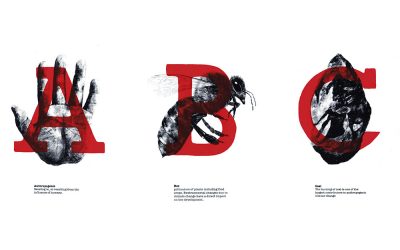 The Collections Project Jake Holmes Writing the climate Flinders University Art Museum 7 October - 13 November, 2019 Thursday 10 October, 20193 - 4pm | Artist Talk in conversation with curator Madeline Reece4-5pm | Exhibition launch South Australian...
The Collection Projects Events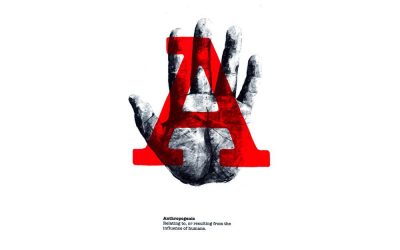 Image: Jake Holmes Writing the climate (A), 2019, screenprint, colour inks on paper. Photograph Flinders University Art Museum. © the artist. Thursday October 10, 2019 3 - 4pm | Artist Talk in conversation with curator Madeline Reece 4 - 5pm | Exhibition Launch...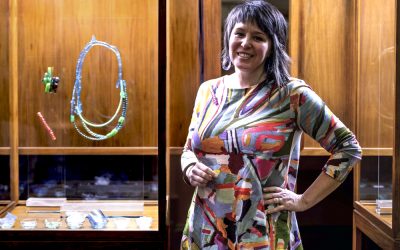 Kath Inglis and her exhibition of uncertain value at the Santos Museum of Economic Botany as part of The Collections Project 2019. Photograph Daniel Marks.Thursday 12 September, 11:00 am Location: Santos Museum of Economic Botany, Adelaide Botanic Gardens. Presenter:...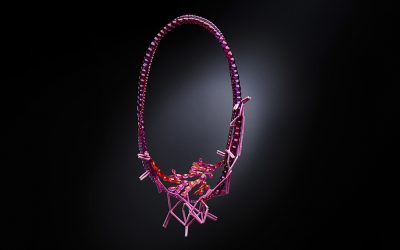 Kath Inglis, Epiphyte Neckpiece, 2019, cellophane printing on PVC, PVC heat formed with fishing line binding, lollypop sticks, paint, silk thread and stainless steel. Photograph Grant Hancock.The Guildhouse Collections Project Santos Museum of Economic Botany...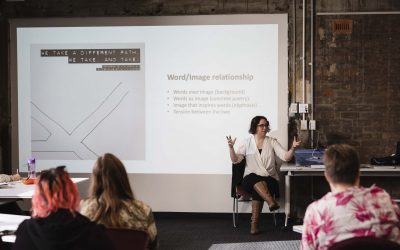 Image: Kate Larsen's Insta Poetry workshop. Photograph: Rosina PossinghamWednesday 26 February 2020, 3 pm – 7 pm Pricing: Guildhouse Members (financial) $30 plus booking fees; Non Members $50 plus booking fees Location: Boardroom at JamFactory, 19 Morphett...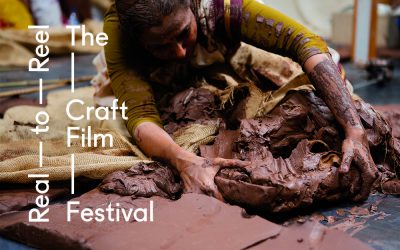 The international Craft Film Festival comes to South Australia Guildhouse is thrilled to be hosting the South Australian premiere of Real to Reel: The Craft Film Festival. Real to Reel is an international short film festival curated by Crafts Council UK aimed at...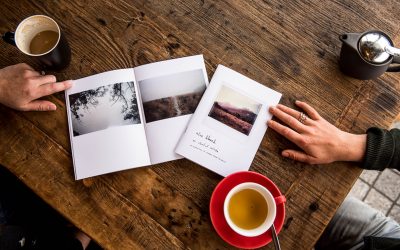 Tuesday 21 January 2020 10 am – 2 pm Pricing: Members: free Location: Guildhouse Presenter: Guildhouse Executive Officer Victoria Bowes and Artistic Programs Manager Debbie Pryor. Monthly Advice Bank sessions for Members Book in for one-on-one advice with Guildhouse'...