The Collections Project is a collaborative project between Guildhouse and South Australia's state institutions.
This unique project provides artists the opportunity to research an area of one of the institution's collections and develop new work for exhibition. Championing the art and artists of our time while celebrating our cultural, historic and scientific heritage, The Collections Project has the demonstrated ability to provide new audience experiences while delivering long-term benefits to the artistic and career development of participating artists.
The Guildhouse Collections project 2021/22 has been supported by the Government of South Australia's Arts Recovery Fund.
The Collection Projects News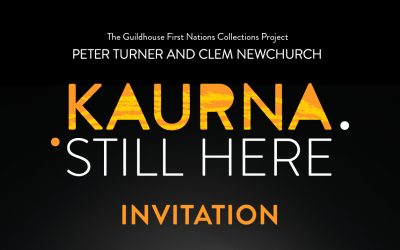 Friday 8 April 2022, 2:00-4:00pm Location: South Australian Museum, North Terrace, Adelaide Featuring: A special panel talk and workshop with artists Peter Turner and Clem Newchurch The Guildhouse First Nations Collections Project with The...
Images (L-R): Ray Harris, Untitled (pyre), (HD digital video still), 2020, photograph courtesy the artist; Kath Inglis, of uncertain value (installation view), 2019, photograph Daniel Marks; Ray Harris, Ritual Nature (installation view), 2021, photograph Brianna Speight, courtesy FUMA; Honor Freeman, Ghost Objects (installation view), 2019, photograph Saul Steed, courtesy AGSA; Dan Withey (installation view), 2015, photograph James Field; Michael Kutschbach, fuliguline (installation view), 2021, photograph Claudio Raschella; Robin Tatlow-Lord at The South Australian Museum, 2014, photograph Guildhouse.