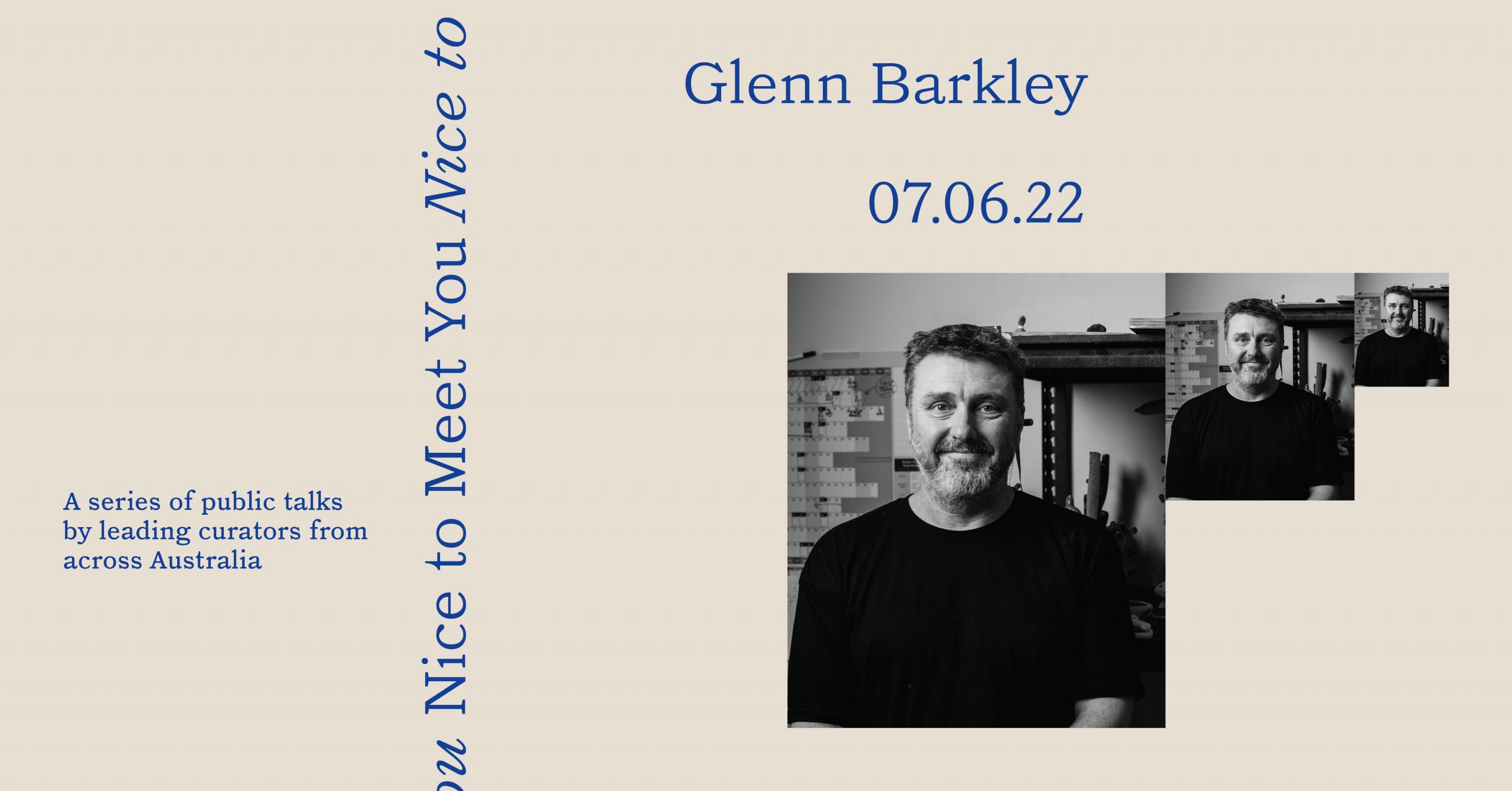 Nice to Meet You: Glenn Barkley
Tuesday 7 June 2022,
5:30 for a 6pm start
Pricing: Free (RSVP essential, places are limited)
Location: JamFactory, 19 Morphett St, Kaurna Yarta, Adelaide SA 5000
Presenter: Glenn Barkley
Nice to Meet You with Glenn Barkley
Co-presented by ACE and Guildhouse, with support from JamFactory.
Join us at JamFactory to welcome Glenn Barkley, co-founder of The Curators Department and independent artist for a conversation about some of his recent projects and some highlights of his curatorial practice.
Nice to Meet You is a series of public talks which invites visiting curators to share their knowledge and experiences with Adelaide audiences and arts communities. Speakers are invited to share their career journeys and insights into their organisation and upcoming projects with local audiences. The project is part of ACE and Guildhouse's shared motivation to create points of connection, exchange and learning within the visual arts between South Australia, Australia and other parts of the world.
This initiative has been supported by the Government of South Australia through Arts South Australia.
Speaking to a small audience, Nice to Meet You is an opportunity to connect meaningfully with the trajectory of an arts leader who engages artists and audiences through thoughtful and ambitious curation.
Glenn Barkley is a co-founder of The Curators' Department, and a Sydney-based independent curator, artist and valuer. He was previously senior curator at the Museum of Contemporary Art Australia (2008–14) and curator of the University of Wollongong Art Collection (1996–2007). Between 2007–08 he was director and curator of the Ergas Collection. 
Glenn has written extensively on Australian art and culture for magazines such as Art Monthly, Artist Profile and Art and Australia as well as for numerous catalogues and monographs. He has a diverse area of interest and knowledge including public art; artist books and ephemera; outsider art and other marginal art forms; public and private collection management and development; and horticulture.
He is currently completing a global history of ceramics to be published by Thames and Hudson in 2023 and is currently an Associate Curator of The Curators' Department. 
An established artist working primarily with ceramics, his work is represented in the collections of the National Gallery of Australia, Art Gallery of South Australia and the Art Gallery of NSW.