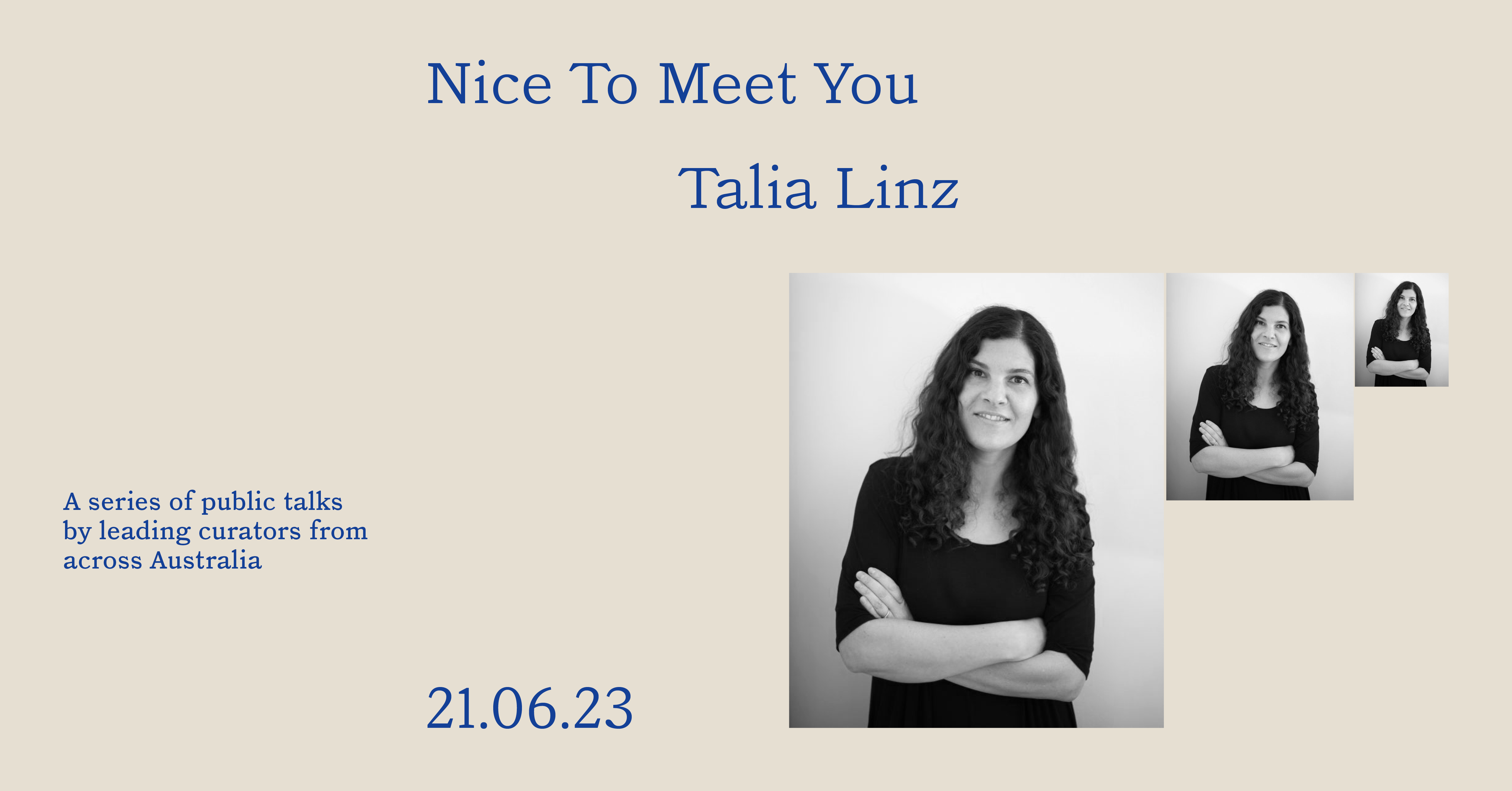 Nice to Meet You: Talia Linz
Wednesday 21 June 2023,
6—7:30pm
Pricing: Free (RSVP essential, places are limited)
Location: Adelaide Contemporary Experimental (ACE),Lion Arts Centre, North Terrace, Kaurna Yarta, Adelaide SA 5000
Presenter: Talia Linz
We are happy to book an interpreter if needed – please reach out to grace@ace.gallery if you would like to make a request.
Nice to Meet You with Talia Linz
Co-presented by ACE and Guildhouse
Join us at ACE to welcome Talia Linz – Curator at Artspace, Sydney.
Talia Linz is Curator at Artspace, Sydney, collaborating on solo and group exhibitions, new commissions, publications and multi-platform projects with contemporary artists across generations. She was recently one of the curators for rīvus, 23rd Biennale of Sydney, 2022.
Linz has worked throughout the arts in performance, radio and publishing, including as the Nick Waterlow OAM Curatorial Fellow at the Biennale of Sydney and assistant editor at Art & Australia. Her writing has been published in monographs, journals and exhibition catalogues for the National Gallery of Australia, MCA, Australian Centre for Contemporary Art, Kaldor Public Art Projects, Hatje Cantz, and the European Capital of Culture, among others.
Nice To Meet You is a series of public talks which invites visiting curators to share their knowledge and experiences with Adelaide audiences and arts communities. Speakers are invited to share their career journeys and insights into their organisation and upcoming projects with local audiences. The project is part of ACE and Guildhouse's shared motivation to create points of connection, exchange and learning within the visual arts between South Australia, Australia and other parts of the world.
This initiative has been supported by the Government of South Australia through Arts South Australia.
Speaking to a small audience, Nice To Meet You is an opportunity to connect meaningfully with the trajectory of an arts leader who engages artists and audiences through thoughtful and ambitious curation.

Images: Talia Linz, courtesy the speaker.