Image: Jane Skeer at work the City of Adelaide Art Pod, 2020. Photograph: Sam Roberts.
Conversations About Making Art with Jane Skeer
By ART WORKS 2020 Writer in Residence Susan Charlton
#janeskeer #artislifeisart
As the days drift on into another summer, we are reminded of last December and the very beginnings of this past year of crisis and calamity. Images of blazing skies, incinerated landscapes and devastated townships remain vivid in our memory. We specially think of the people of Kangaroo Island and the Adelaide Hills. They were the communities hardest hit by the bushfires in South Australia, in the days and weeks, before and after, Christmas 2019.
Artist Jane Skeer symbolically brought these two communities together in her powerful August 2020 exhibition, Embedded Landscapes. The majority of pieces in the show came from her Country Arts SA residency on Kangaroo Island, which took place just months after the brutal fires there had finally been contained. These fragile, charred and molten pieces were displayed in the magnificent spaces of Fabrik gallery in Lobethal, a Hills town that was also haunted and scarred by fire.
#beauty #process #purpose #labouroflove
An artist like Jane Skeer is made precisely for these times. For Jane — the current Guildhouse and City of Adelaide 2020 ART WORKS Artist in Residence — Art is Life is Art. She immerses herself in her immediate surroundings, sensitive to people and objects in their own cultural and material settings. She is always on, always observing, always collecting, always assembling. Wherever she is, whether it be the back streets of Adelaide, her Norwood studio, Mount Gambier, the Central Desert region, Daydream Island Resort, Aichi Prefecture in Japan or Fort Kochi in India, she is always an artist in residence.
A former inhabitant of Kangaroo Island, Jane Skeer returned to the island in May 2020 in a state of shock, breathing in the enormity of all the destruction, whilst also taking respite in its seas, skies, regrowth and recovery. Her residency produced many daily outcomes — both playful and sombre — and gradually a body of work began to emerge from all that beauty and horror. Gathered together at Fabrik gallery, the collected works created a sublime monument to fire-ravaged communities and country, within the streaming light and ethereal spaces of the old woollen mill.
#outoftheashes #signsoflife #hope
Setting the scene like theatrical backdrops were a series of fiery red, orange and black drawings made by 'violently' smashing burnt xanthorrhoea stems onto large sheets of art paper. These works were an explosive record, straight from the fireground. Beyond their fiery surface marks, they held deep within them the energy of Jane's very physical and emotional labour in the landscape.
From their centre rose a strong group of figures, found from amongst the island's fallen trees. Resembling sculpted busts in shape and scale, they were presented on tall, elegant plinths, creating a formidable presence. Walking within the group there was a strong sense of witnessing the shattering of old, ethnographic representations and the rise of Aboriginal fire knowledge, country and culture. Of needing to heed their warnings.
Alongside, hung a tributary of metal from a dissolved car engine, melted in the fire's unimaginable heat, and a roadmap of Australia, criss-crossed with handdrawn fire symbols. Pages of Jane's diary on display, illustrated plans for a billboard-sized public artwork, constructed from the fire-damaged remains of 50 road signs — a project which she intends to gift back to the KI community.
It was an utterly compelling show, which also included an earlier major work made from a wall of ratchet straps, formerly used to tie-down loads on trucks transporting goods across the country. The exhibition was an ode to regional communities, embedded in landscape and material culture. All sitting perfectly in the context of the old mill with its voluminous spaces, high windows and stained cement floors – the remains of a fading industrial purpose and passing historical moment.
#conqueringfears #lovewhatyoudowhatyoulove
Jane Skeer is both a mature woman and an emerging artist. Like the final runner in a staggered relay race, she seems to be coming from a long way back, but is gathering incredible speed on the final turn and coming home full pelt. She has a heightened sense of urgency, as well as a deep sense of responsibility — to herself and to others. 
She tells the extraordinary story of applying to go to art school for the first time when she was in her forties. To prove to her adult son that it was never too late to embark on something new, she jumped into her car and drove straight to the Adelaide Central School of Art. Turning up at the front desk she declared, 'I think I can paint'. It was a now-or-never impulse, but all the courses were sold out and had been filled. She feared that if she left the building, she would never come back. By the time she had driven home there was a call to say that the school had found a space for her. She would be starting painting, drawing and sculpture classes the following week. 
Before that fateful day, she had not studied art as a subject nor ever been to an art gallery. She had a reputation as a great chef, had the best manicured garden in the street, and was always decorating and staging massive, theatrical parties. She drew for her children and went all-out for them to win the best costume award during Book Week. As a parent, she joined the art committee when her daughter was at Loreto College and noticed that the strongest submissions for the school's exhibition and art prize were by artists who studied at Adelaide Central School of Art. It was a future foretold. 
At first, art school was intimidating and Jane didn't like being judged or the competition of grading. But she found her true calling in the visual language course and an 'expanded field' beyond the constraints of traditional forms. Art was much more than painting. She began to employ whatever was at hand, at first using waste material as her paint, and was drawn to disused and found materials with all their ingrained stories and emotional residues. She loved the process of being directed by the material and giving works time and space to reveal themselves, sometimes in multiple ways.
#lovestudio #howareyou #shotoniphone
A first experience of Jane and her work might be found through her abundant Instagram page — a daily, sometimes hour-by-hour, record of how she is responding to her immediate world through her art practice, and how that work might evolve over time. Among her current works are a series of exquisite geometric patterns, inspired by a residency in India. They began as repeated symbols in a graph-paper diary; were then reproduced as large-scale, poster-sized gridded wall works; and are now being repeated over layers of rich colour — transforming from minimalist abstraction to more expressive painterly forms. 
It's also possible to trace the path of her dedicated documentation project of life in South Australia under Covid, which she started during lockdown in April 2020 by asking colleagues and passers-by how they felt in 'these crazy times'. Some of the early responses included 'trapped', 'upside down', 'oddly calm', 'might combust'. More recent replies have a sense of a longer-term perspective, including 'missing my son (Sydney) seeing him soon', 'scared for the future', 'disconnected, but strangely connected at the same time' and 'it's created a shift'. The collection of contributors, photographed holding their handwritten responses on card, now runs into the thousands and is part artwork, part social-history project, part art therapy. An important archival project worthy of any collecting institution. 
A new work emerging as part of her ART WORKS residency involves photographing the abstracted beauty of Adelaide through images of mark-making, surface layers, colour blocks, faded signage, strange palimpsests, textures and silhouettes, revealing past lives of the city on the surface of it's structures and walkways.
#dreaming #nowtheworkgetsinteresting
In the five years since her graduation, Jane Skeer has established herself as a prolific, energetic artist, working collaboratively with found materials to create dramatic, site-specific, sculptural and installation works. Her role-call of exhibitions, commissions, prizes, residencies and mentee/mentorships in just five years is a dazzling achievement. Her time as an 'emerging' artist must surely be up. The challenges of being a mid-career artist lie ahead.
We know the story so far. Stay close to Jane's Instagram account to catch the next exciting episode.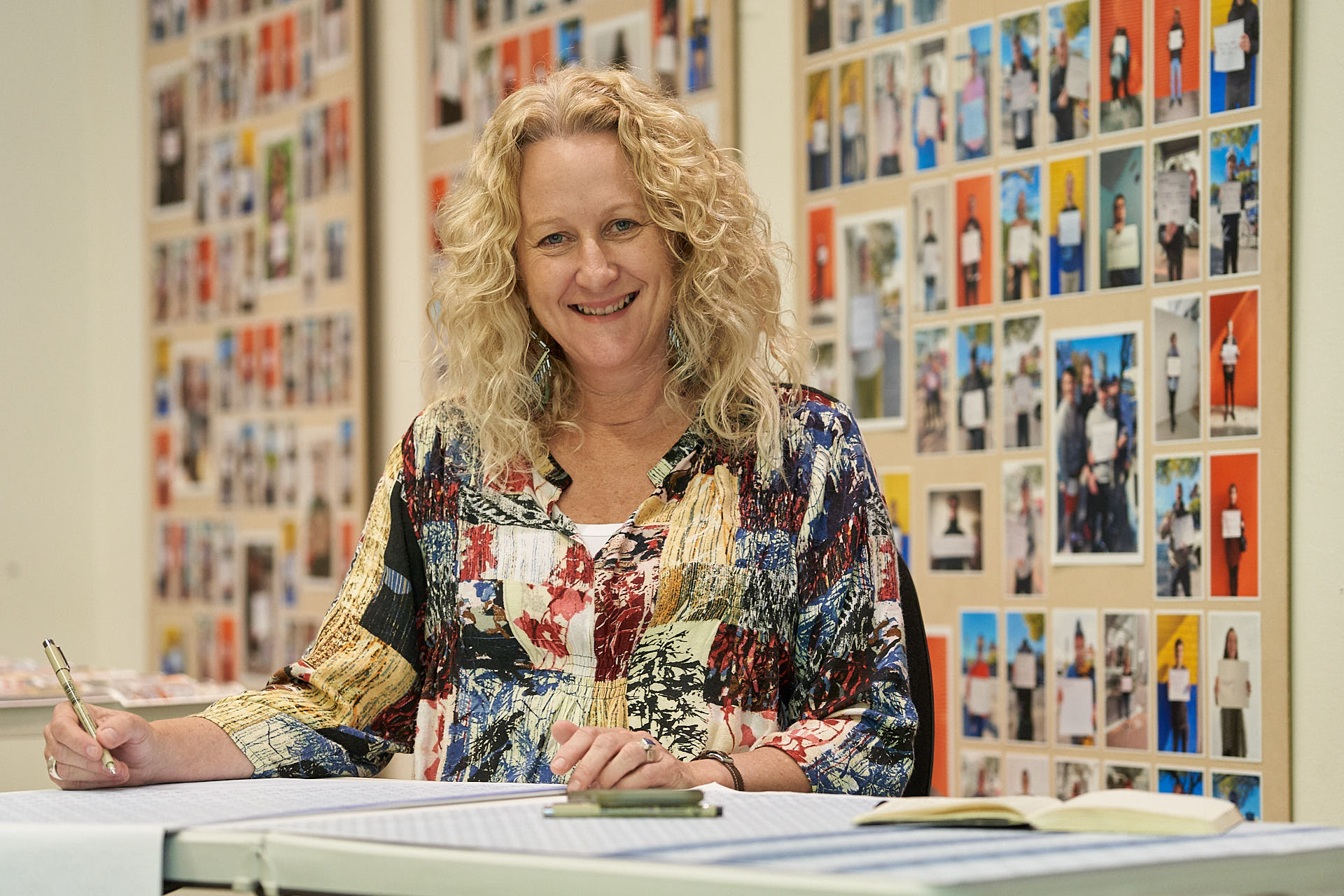 Image: Jane Skeer at the City of Adelaide Art Pod, 2020. Photograph: Sam Roberts.
Jane Skeer
Jane Skeer lives and works on Kaurna Land. She predominately works in sculpture and installation, creating works in response to her observations of people, objects and materiality. Skeer re-presents familiar ready-made objects imbued with their associated sensory/haptic memories, highlighting the vitality she sees in them. A physical process of assembling material en-masse allows her the time and space to inhabit, contemplate and work collaboratively with the material. Jane Skeer primarily works site specifically, building installations experientially that modify space and comment on our past histories. She is fascinated with materials that come from the landscape; they wear the landscape embedded in their surface. She finds herself constantly drawn to regional Australia, emotively responding to these lived experiences.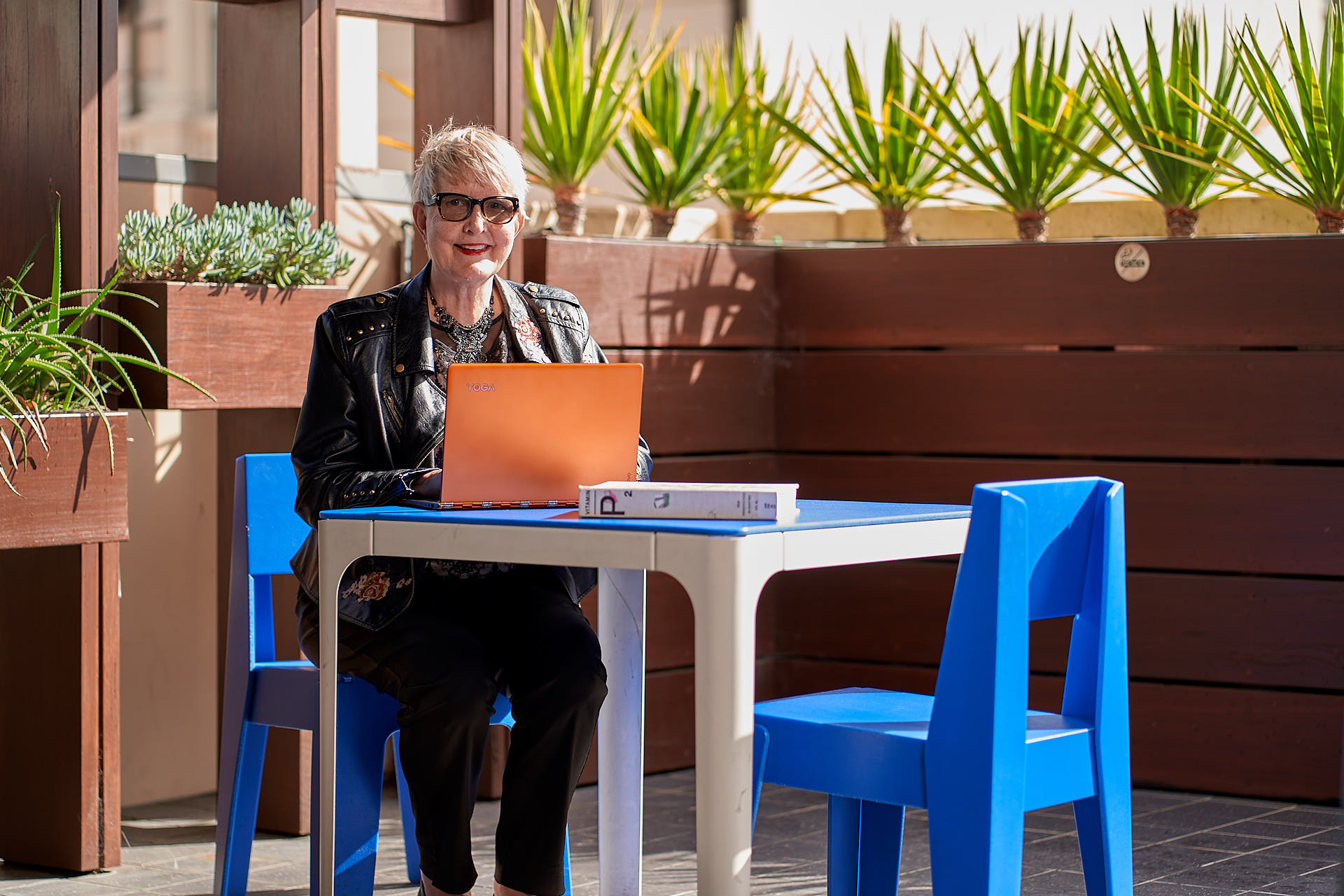 Image: Susan Charlton at the Adelaide City Library, 2020. Photograph: Sam Roberts.
Susan Charlton
Susan Charlton is a writer and curator, specialising in collaborative projects with artists and archives, communities and cultures. She has recently returned to live in Adelaide after working in film, museums and archives in Sydney.
Susan's recent projects include the Unity! Strength! Justice! exhibition for NSW Teachers Federation; Museum of Love & Protest for Sydney Gay & Lesbian Mardi Gras; three Feminism & Film programs screened at Sydney Film Festival; and the exhibition This Woman is Not a Car: Margaret Dodd at The Cross Art Projects in Sydney and Ace Open in Adelaide. Susan has also been commissioned by the National Gallery of Australia to write the catalogue entry about Margaret Dodd for the Know My Name exhibition honouring Australian women artists, due to open later this year.
Susan's writing and editing skills were refined in the Print Media and Production Department of the Powerhouse Museum from 1990-94. She has written artist and exhibition texts, as well as freelance stories and reviews for the Sydney Morning Herald, Filmnews, Cinema Papers, RealTime and Art + Text, and written about Australian culture for Singapore arts magazine The Esplanade. Susan contributed seven stories to Barbara Campbell's experimental performance work 1001 Nights Cast.