Image: Tom Borgas, Armature Gateway (Hyperobject), 2020. Photograph: courtesy the artist.
Emerging artist Tom Borgas predominantly made work for indoor spaces, and recognised the need for a mentor while expanding his portfolio to realise ephemeral works as permanent installations. Tom worked to overcome technical obstacles with the help of his CATAPULT mentor Jason Waterhouse – a Victorian artist, gallerist and educator with an extensive oeuvre of sculptural work.
We interviewed Tom about what it's been like to undertake this mentorship and the impact it has had on his practice so far.
Describe your practice.
Developed through an oscillation between digital and analogue processes my work is an investigation of the space between image and object, virtual and physical, maker and viewer. That's a pretty basic summary that I roll out. The reality is my work is a distillation of a lot of complexity. Some of the things I've been thinking/reading/making about recently include: The geology of digital media, the technomythtology around the immateriality of digital networks and devices, Modernism's obsession with dust, Geodesic domes a catalyst for social connectivity, the politics of surveillance capitalism, the architecture of Herzog and DeMeuron, the shifting nature of the countryside.
My practice is foundationally sculptural but currently extends across a range of different platforms including installation, gallery and project work, public art, large scale commissions as well as performative interventions at events and festivals. I also run workshops and lecture in sculpture. Working in lots of areas has become an important part of making my practice sustainable and means I don't need another job to support my making. It also means I get to connect and collaborate with a wide range of people including architects and developers, art consultants, gallerists, arts administrators, fabricators, artists as well as students, young people and members of the general public.
What were your aims for your practice when you applied? Did they change during the course of the mentorship?
One of the main goals that I initially proposed was to develop a wider skillset in working with more permanent materials for larger scale sculptures – things that could handle being outdoors but also more archival solutions to indoor works. This would involve studio visits and discussions around where the materiality of my practice is currently at in the hope of developing some new ways of working and maybe even some new technical skills. In addition to this, I was also keen to have someone experience to honestly critique my practice – its content, concepts and their relationship to my career trajectory.
Although the details of the mentorship changed (I ended up visiting Jason's studio in Kyneton quite a bit) the main aims remained and served as a great basis for our discussions and activities.
How did you decide on and approach your mentor?
This is the third time I've worked towards having a mentor. The previous two times I choose not to follow through on applying for funding to support those proposals. Both times, I felt there wasn't enough of a relationship already there for things to be of benefit. In thinking about who I'd like to approach for a Catapult mentorship, I figured it needed to be someone who I knew a bit about already. It was also important that the relationship was reciprocal. So it was great to finally follow through on a project like this with someone who I knew a bit about already. Things felt very comfortable from day one and I truly believe the time we've spent together has been beneficial for both people and for our ongoing relationship.
What aspect of your mentorship has had the biggest impact so far?
For me, having the support to go and invest significant time, be in the same space and develop a solid relationship has had the biggest impact on this experience. It means that conversations can be deeper and more honest. It means feeling more supported. It means that more is possible individually but also collaboratively.
What advice would you give artists who are considering undertaking a mentorship?
I think the best advice I can give to someone thinking about applying for a mentorship is take the time to find the right person. Be patient and don't just see this as a chance to have something funded. Spend a good amount of time thinking about who you are, how that relates to your practice, and the possibilities with regard to where your practice could go. Think about who are the people that support you already and what might be a whitespace within that network.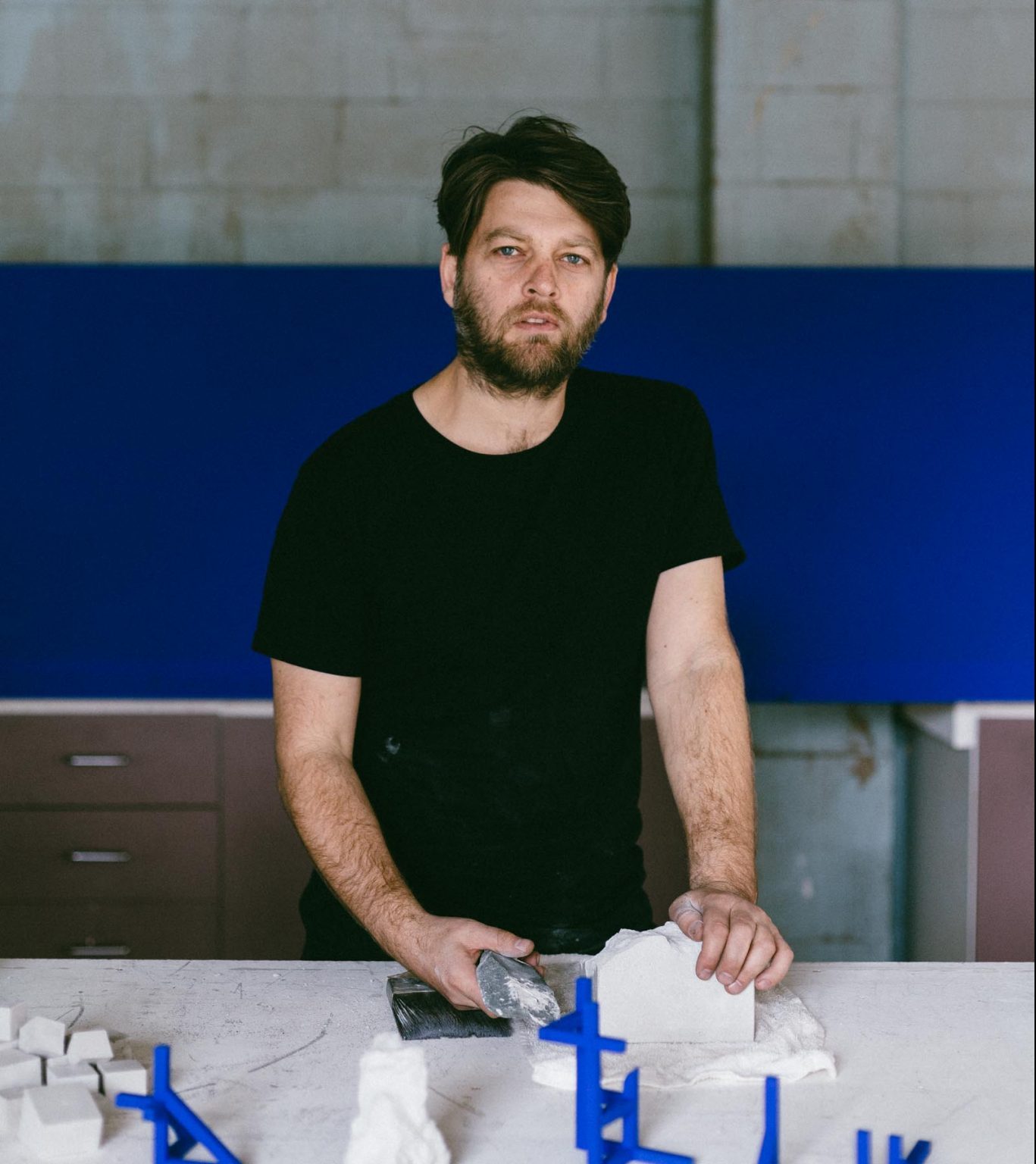 Tom Borgas
Tom Borgas is an Adelaide based artist working from a sculptural foundation across multiple platforms including gallery and project work, public sculpture, festival interventions and performance. Developed through an oscillation between digital and analogue processes his work is an investigation of the space between image and object, virtual and physical, maker and viewer.
Tom has exhibited at shows and galleries around Australia including PICA (Perth), The Jam Factory (Adelaide), Artisan (Brisbane), Salamanca Arts Centre (Hobart), MARS gallery (Melbourne), Stockroom (Kyneton) and as part of the 2018 Kyneton Contemporary Art Triennial. Commissioning bodies include Urban Art Projects, Golden Age Group, The City of Brisbane, Rockhampton City Council, The Hilton Adelaide, Splendour in the Grass, the City of Adelaide and Renewal SA. Tom's practice has also received support through contributions from the Australia Council for the Arts, Arts South Australia, Copyright Angency, NAVA and The Helpmann Academy.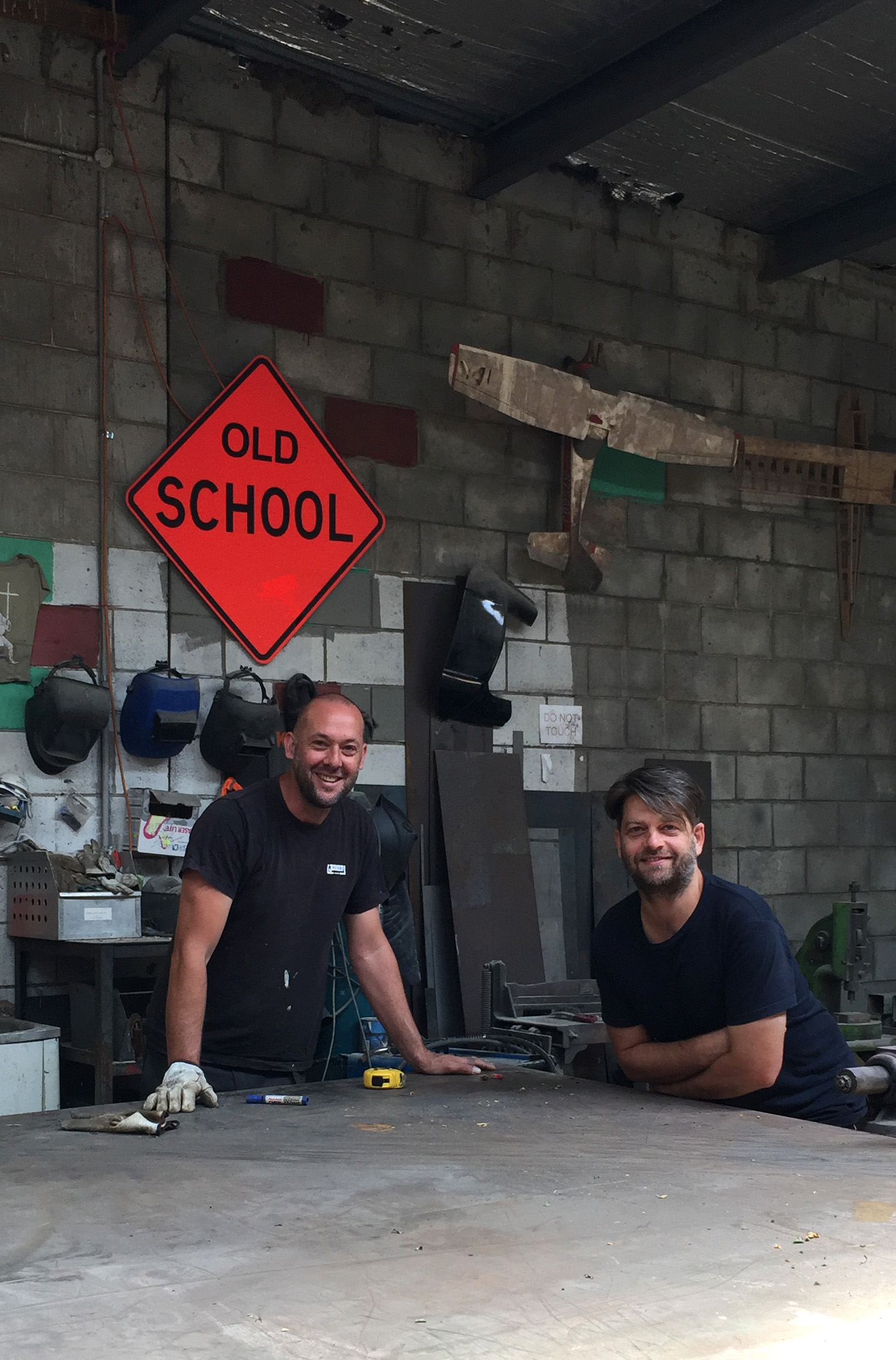 Image: Jason Waterhouse and Tom Borgas in Jason's workshop.
Jason Waterhouse
Jason Waterhouse's sculptural practice is underpinned by ideas of contemporary architecture, urbanization and how we live with the 'stuff' around us. In Waterhouse's studio, ubiquitous objects such as the body of a car, a gardener's shed, pencils, tools and tree branches undergo series of interventions resulting in a hybridized object that occupies an uncanny space between the past and the present, the natural and the manufactured.
Jason Waterhouse competed a BFA in sculpture (Monash University) and completed Honors at the VCA in 1999. Over the last 18 years Waterhouse has exhibited his work extensively throughout Australia and, in 2005, was awarded the Moreland Sculpture Prize. Since then he has been exhibited in the prestigious Helen Lempriere, the McLelland Sculpture Prize, the Melbourne Prize for Urban Sculpture, Sculpture by the Sea, Woollahra Small Sculpture Prize and most recently the Paul guest Drawing prize. Waterhouse has held solo exhibitions at Linden Contemporary, Dark Horse Experiment, Stockroom, &Projects and Scienceworks Museum. Waterhouse's work is held in significant private and public collections and has been commissioned to create major public works for the City of Ballarat and Hepburn Shire, Victoria.