Image: Kasia Tons, Beyond Homeostasis 2020-21, photograph Dave Laslett.
The Collections Project: Kasia Tons
The Botanic Gardens and State Herbarium of South Australia, at the Santos Museum of Economic Botany
Contemporary artist Kasia Tons proposes an exploration of the symbiotic relationship held between plants and humans using hand embroidery, and soft sculpture. With an aim to highlight the importance that plants have had and continue to play part in human evolution, the final works will reference stories of past practices in myth, medicine and nutrition alongside visions of the future that emphasizes environmental connection and value through individual care and responsibility.
The Collections Project: The Botanic Gardens and State Herbarium of South Australia, at the Santos Museum of Economic Botany
The Collections Project at the Botanic Gardens of South Australia (BGSA) is a collaborative project between Guildhouse and the Botanic Gardens that provides artists with the opportunity to respond to the extensive collection of the Adelaide Botanic Gardens and develop new work for exhibition at the Santos Museum of Economic Botany. Home to an amazing permanent collection, much of which dates back to the original museum display 130 years ago, the Santos Museum of Economic Botany is the last Museum of its kind in the world. Artists working with BGSA will not only have access to this collection but also the Garden's living collection, library and State Herbarium.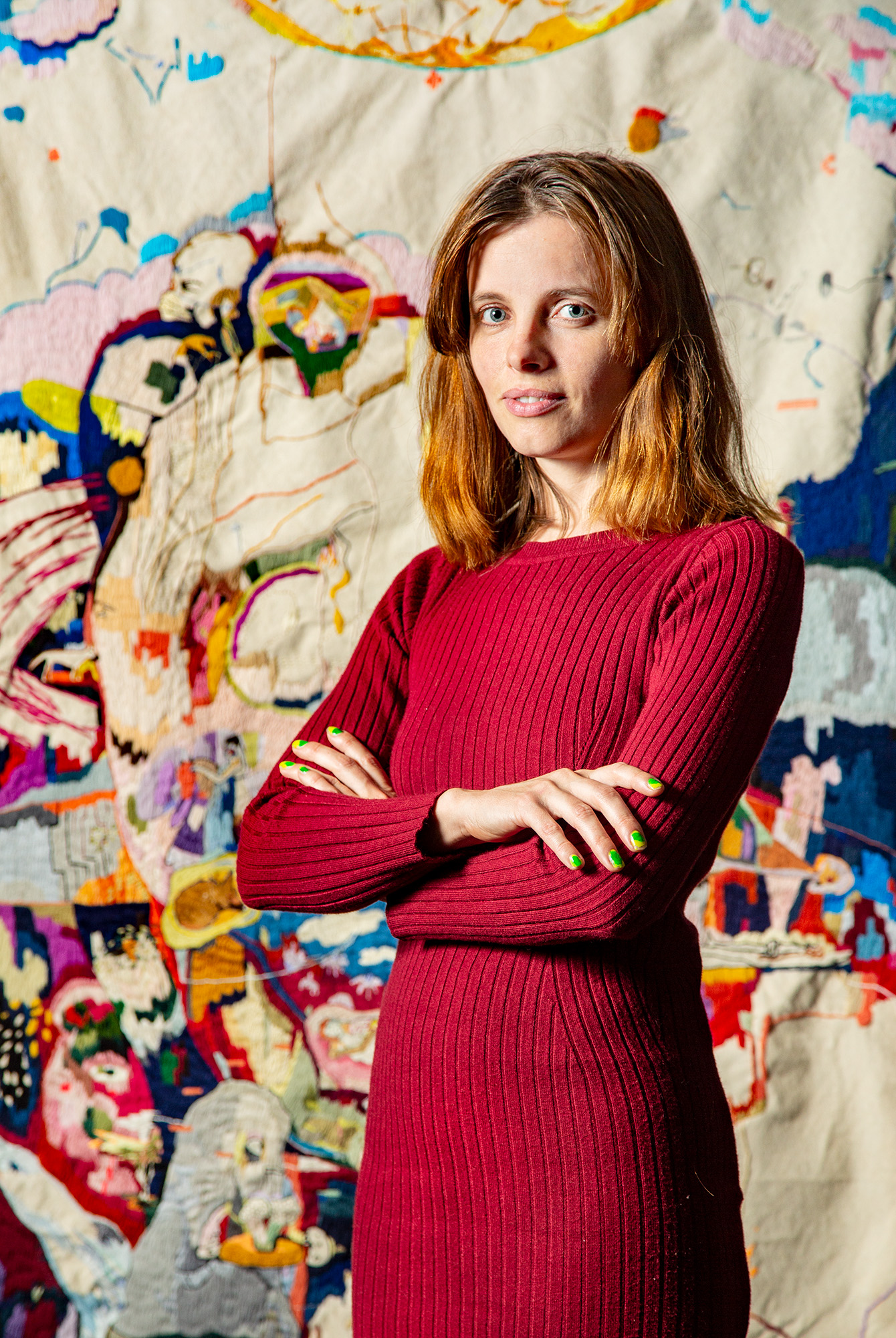 Kasia Tons, Ramsay Art Prize 2021, Art Gallery of South Australia, Adelaide. Photograph Saul Steed.
Kasia Tons
Kasia Tons is an Adelaide born and based textile artist working with hand embroidery, soft sculpture and wearables work sits somewhere between art, fashion and craft. Her process is slow and intuitive, with a colourful, loose aesthetic and recurring personal symbology through which she explores universal themes of mental health, technology use and our connection with the environment, one another, and ourselves.
Mask making has become an important way in which she explores these topics, due to their inherently psychological nature and expansive history of uses to connect the wearer with something beyond or within themselves that is hidden. She works between her off grid home camp in the Adelaide Hills and an inner-city studio with a tangle of threads, fabric scraps, found materials and beads.
She has participated in residencies in Iceland, the USA, Latvia, and the Slovak Republic. The Mark Rothko Art Centre, Latvia holds two of her pieces as part of their permanent collection and her work was selected as a finalist for the 2021 Ramsay Art Award.

https://kasiarosetons.com/