Image: Elyas Alavi, Louise Haselton and Kate O-Boyle at Flinders University Museum of Art, photograph Brianna Speight.
Announcing The Guildhouse Collections Project artists and partner institutions:
Seven talented South Australian artists have been selected to undertake The Guildhouse Collections Project in 2022, working with five major cultural institutions to produce new responsive works of art.
The appointed artists are Elyas Alavi, Kate O'Boyle, Chelsea Farquhar, Louise Haselton, Clem Newchurch, Kasia Tons, and Peter Turner.
The Guildhouse Collections Project is a highly sought-after residency program that provides behind-the-scenes access to collections held by the Flinders University Museum of Art, The Botanic Gardens and State Herbarium of South Australia at the Santos Museum of Economic Botany, Adelaide Symphony Orchestra with Adelaide Festival Centre and the South Australian Museum.
From early career to established practitioners, the selected artists represent a diverse range of creative practices including sculpture and performance, video, textiles, poetry, and Aboriginal carving and weaving.
Occurring throughout 2022, the project provides a rare opportunity for our important state collections to be re- imagined in a contemporary artistic context. Each artist works closely with the curatorial team of the host institution to access and research the collection, working toward an exhibition of new responsive work. Each residency is a paid position with a total investment of $70,000 in payments to creative practitioners including artists, essayists, photographers and designers across the program.
"We are delighted to work with our cultural partners to appoint such a diverse group of talented practitioners at various stages of their artistic careers. Each has demonstrated a clear intent to explore an important collection held in South Australia and respond with new work that extends their artistic practice and offers something anew to audiences."
The Collections Project artists & partner institutions:
Flinders University Museum of Art:
Elyas Alavi
Kate O'Boyle
Louise Haselton
Adelaide Symphony Orchestra with Adelaide Festival Centre:
Chelsea Farquhar
The Botanic Gardens and State Herbarium of South Australia at the Santos Museum of Economic Botany:
Kasia Tons
South Australian Museum:
Clem Newchurch
Peter Turner
Flinders University Museum of Art: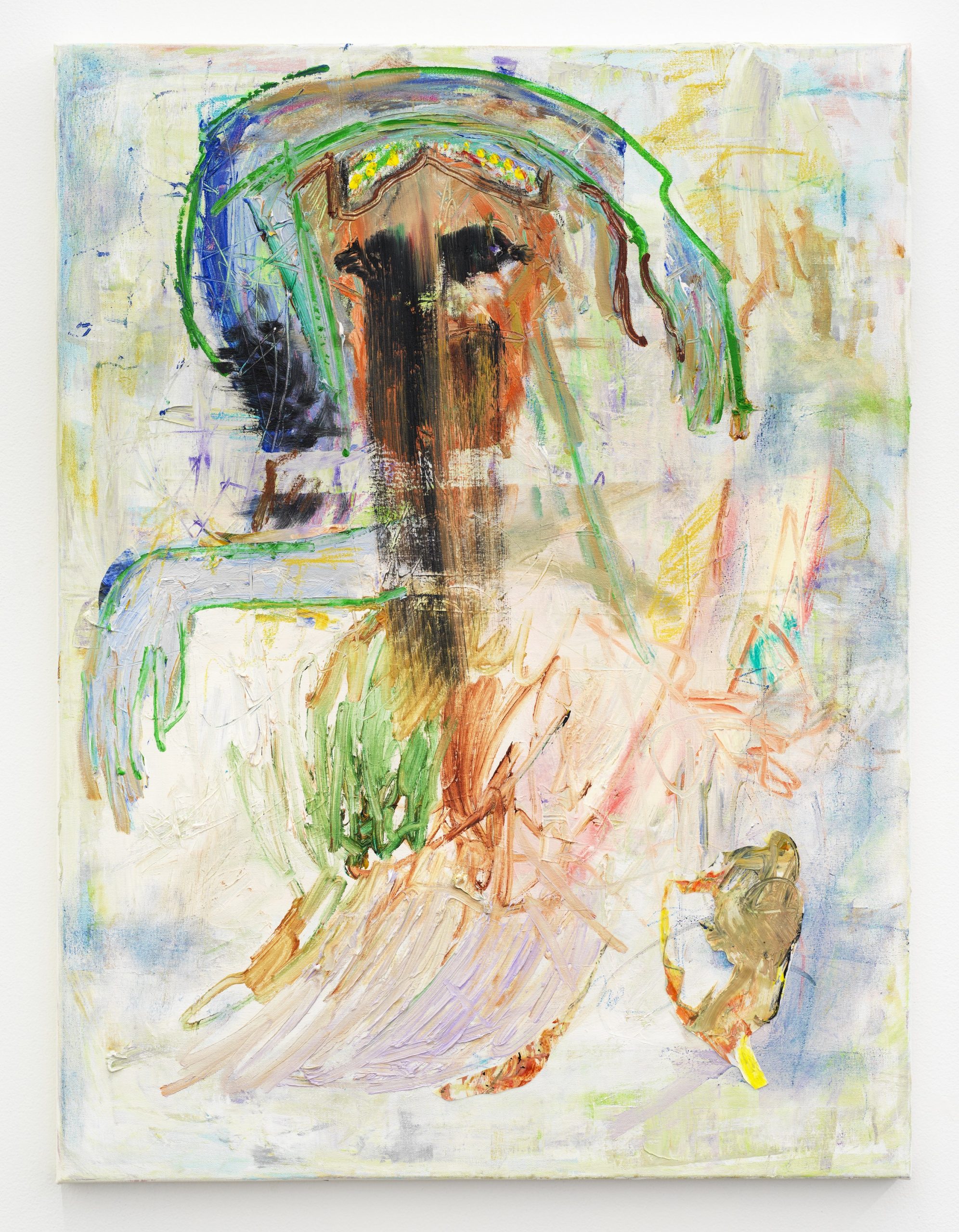 Image: Elyas Alavi, untitled, 2021, oil on canvas, 110×76cm, photograph Grant Hancock.
Elyas Alavi
Elyas Alavi is a Tarntanya (Adelaide) based artist and poet whose practice across visual art and poetry addresses issues around displacement, trauma, exile, gender and sexual identity. Reflecting on his Hazara background, Alavi uses his particular experiences and contemplations as an epistemological model for the dislocation of peoples.
Alavi graduated from a Master of Visual Arts at the University of South Australia in 2016 and a Bachelor of Visual Arts (Honours) in 2013, and has exhibited at Mohsen Gallery (Tehran), Firstdraft (Sydney), Robert Kananaj (Toronto), IFA (Kabul), Chapter House Lane (Melbourne), UTS gallery (Sydney) as well as ACE Open, FELTspace, Nexus Arts, CACSA Project Space and Sauerbier House (all Adelaide). He is the recipient of a 2019 Anne & Gordon Samstag International Visual Arts Scholarship, and in 2020 completed a Master of Fine Arts at Chelsea College of Arts, University of London.
Alavi has published three poetry books in Afghanistan and Iran, receiving critical acclaim and a number of literature prizes: International Peace Poetry Prize winner, Tajikistan (2011), The Annual Reporters Poetry Prize, Tehran (2009), Young Poets Book of the Year, Iran (2008) and Afghan Young Poets Prize. He regularly runs art and poetry workshops in schools and community centres in Adelaide.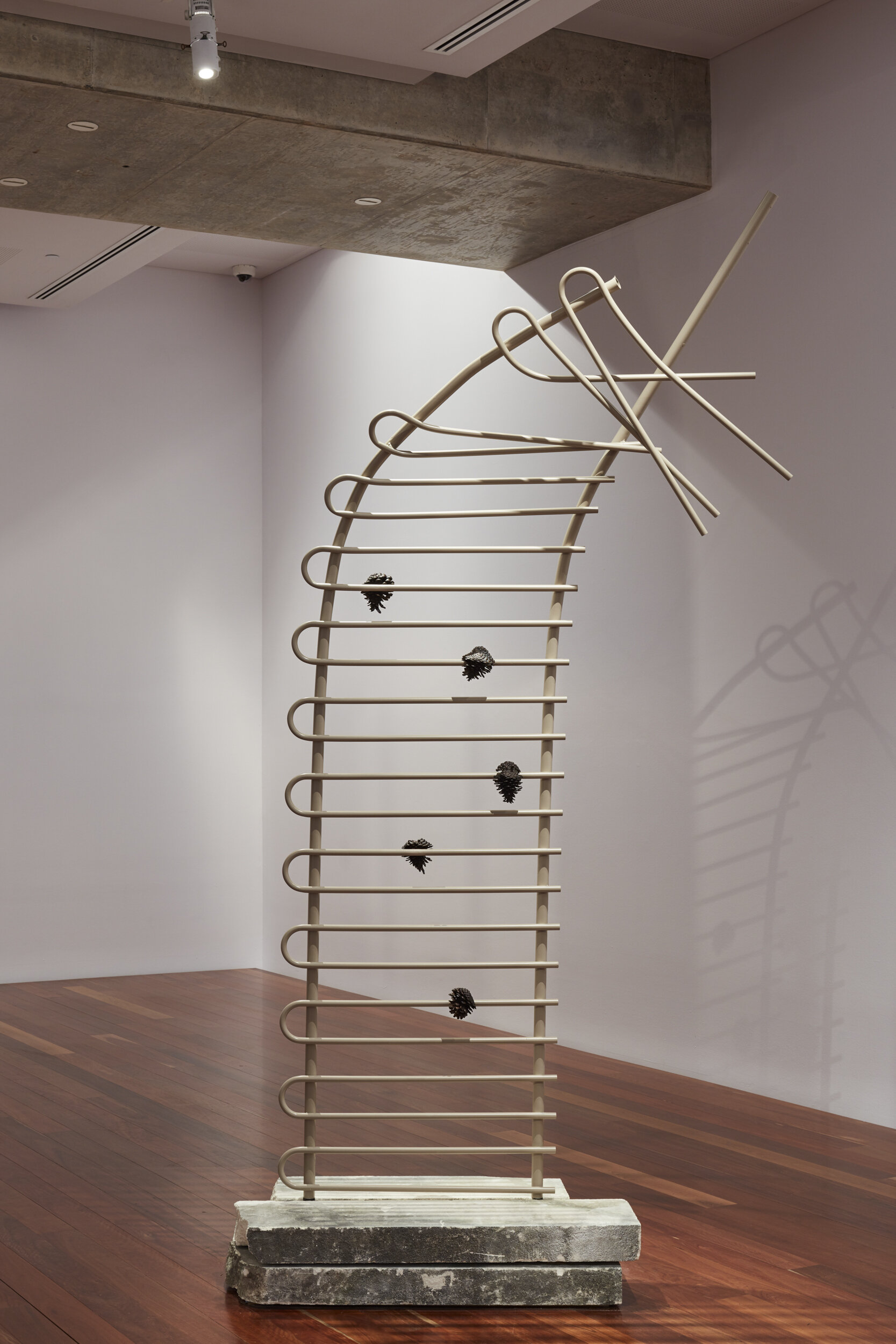 Image: Louise Haselton, Like Cures Like, photograph Sia Duff.
Louise Haselton
Louise Haselton is a visual artist whose extensive practice employs a range of presentations. Her practice explores the inherent qualities of everyday materials, seeking connections and relationships between seemingly disparate materials and objects gathered from the world around us.
Haselton was awarded a Bachelor of Visual Art in 1990 from the University of South Australia and in 2002, a Masters of Fine Art (sculpture) from RMIT University, Melbourne. She has undertaken a number of artist residencies including at Sanskriti Kendra, Delhi, India, Phasmid Studios Berlin, Germany, and Blackstone Art Centre, Papalankutja, Western Australia. She has held solo exhibitions at The Experimental Art Foundation, The Samstag Museum of Art, The Contemporary Art Centre of SA and Greenaway Art Gallery, Adelaide.
She has participated in numerous group exhibitions, notably, the pleasurable, the illegible, the multiple, the mundane, ArtSpace, Sydney, curated by Talia Linz and Fabrik: conceptual, minimalist, and performative approaches to textiles, The Ian Potter Museum of Art, Melbourne, curated by Jane O'Neill. In 2019 Haselton's practice was the subject of the SALA Wakefield Monograph, titled Act Natural. This publication was accompanied by a major solo exhibition at The Anne and Gordon Samstag Museum of Art. Haselton has had a concurrent career as a visual arts educator. She was employed as a tutor/lecturer in visual art and design at Swinburne University, Melbourne, from 2000-02 and at The University of South Australia as Foundation Studio Coordinator 2003-17 and Studio Head of Sculpture/Installation, 2015-19.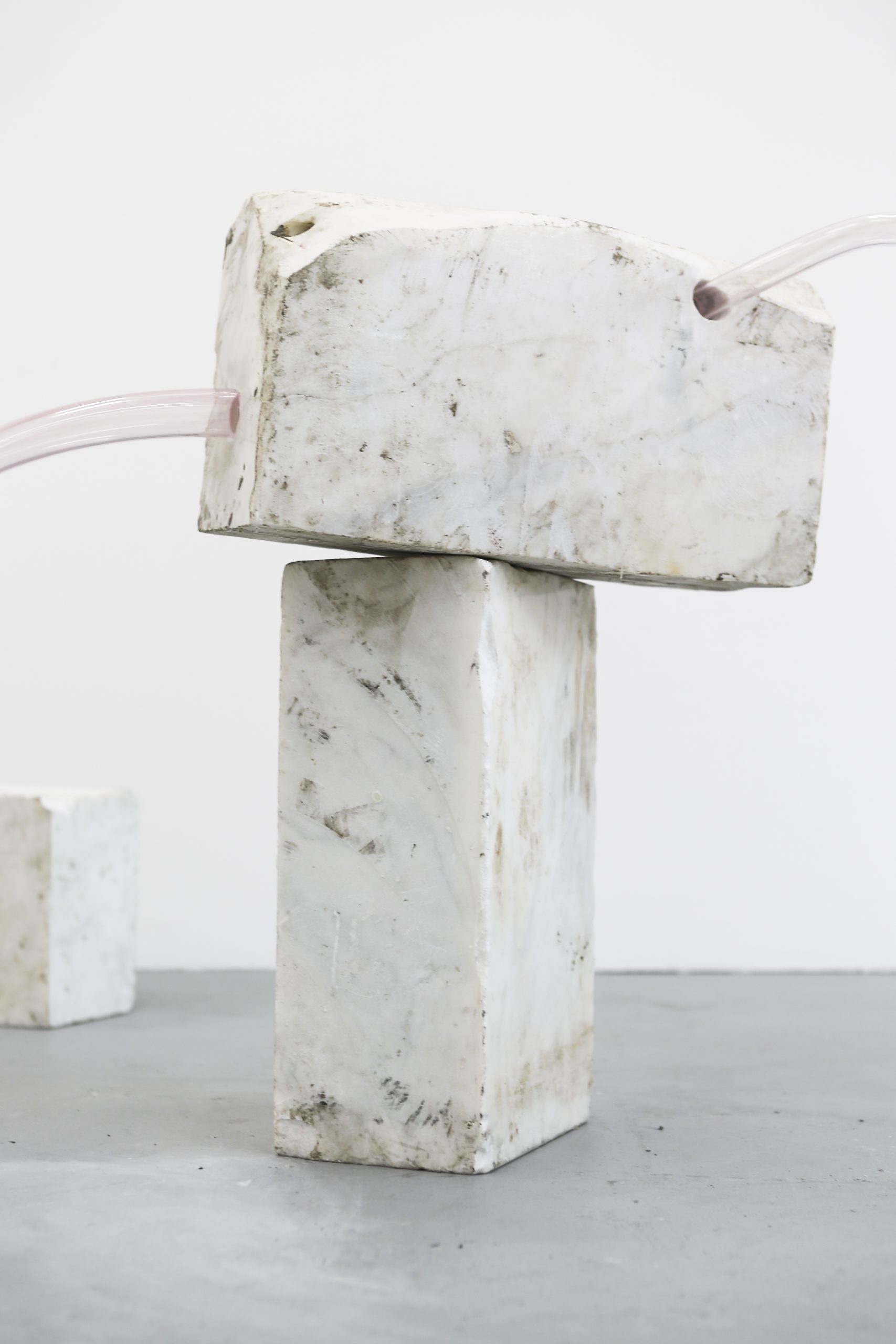 Image: Kate O'Boyle, Voids and Votives (detail), photograph Lauren Dunn.
Kate O'Boyle
Kate O'Boyle is an emerging artist based between Tarntanya and Narrm, who works across installation, sculpture, performance, and digital media. Kate's practice considers the role materiality plays in divinity and acts of worship.
Kate has exhibited at Murray Art Museum Albury (MAMA), Channels festival, Runway Magazine, Seventh Gallery, Critical Path, Site Eight, FELTspace, KINGS ARI, Holy Rollers, and the National Art School. She has been awarded several academic scholarships, the Blau Trust award, the James Martin Award for Outstanding Graduate, and the Guildhouse/FELTspace Graduate Award.
The Botanic Gardens and State Herbarium of South Australia at the Santos Museum of Economic Botany: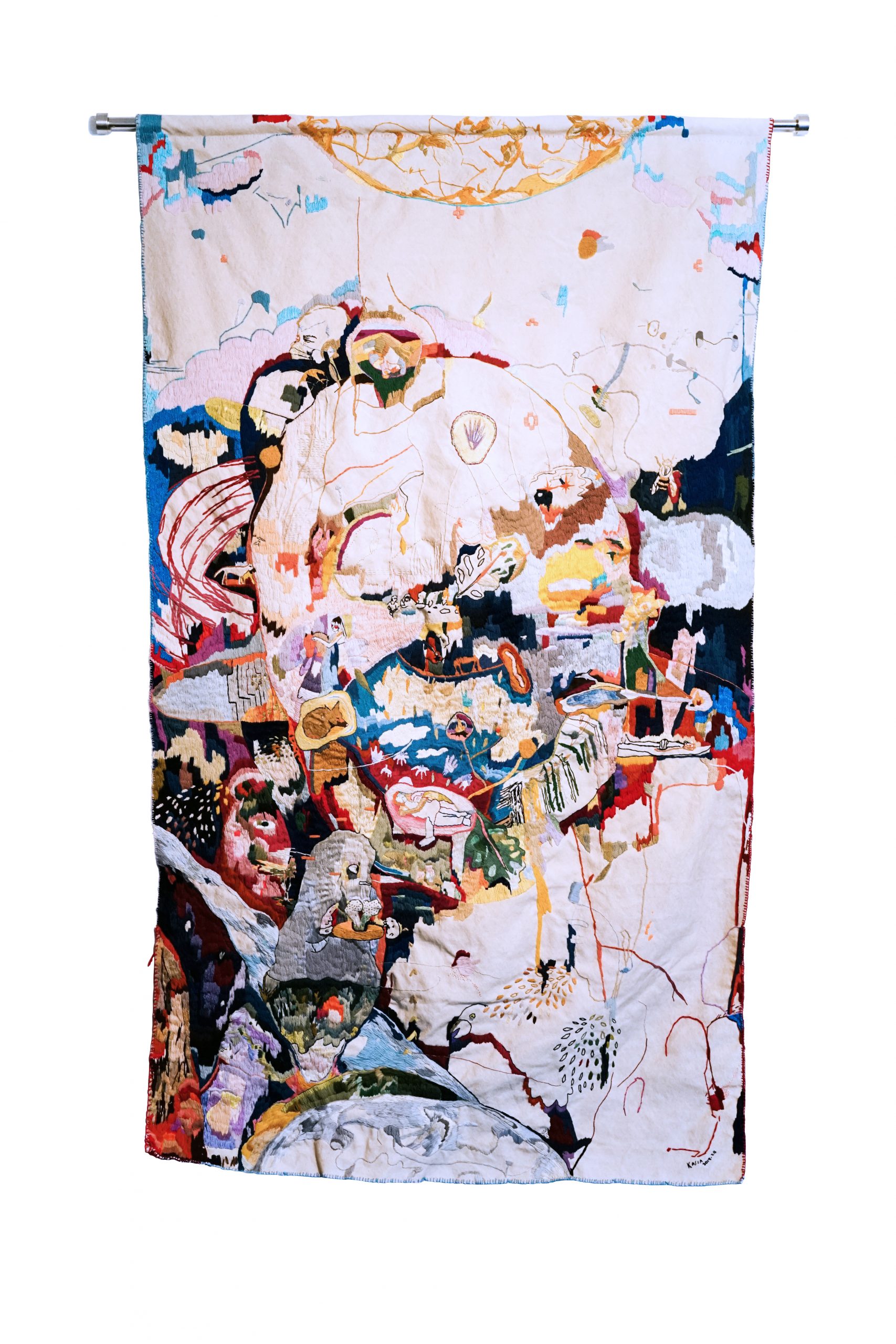 Image: Kasia Tons, After, 2019-20, photograph Madisyn Zabel.
Kasia Tons
Kasia Tons is an Adelaide born and based textile artist working with hand embroidery, soft sculpture and wearables work sits somewhere between art, fashion and craft. Her process is slow and intuitive, with a colourful, loose aesthetic and recurring personal symbology through which she explores universal themes of mental health, technology use and our connection with the environment, one another, and ourselves.
Mask making has become an important way in which she explores these topics, due to their inherently psychological nature and expansive history of uses to connect the wearer with something beyond or within themselves that is hidden. She works between her off grid home camp in the Adelaide Hills and an inner-city studio with a tangle of threads, fabric scraps, found materials and beads.
She has participated in residencies in Iceland, the USA, Latvia, and the Slovak Republic. The Mark Rothko Art Centre, Latvia holds two of her pieces as part of their permanent collection and her work was selected as a finalist for the 2021 Ramsay Art Award.

https://kasiarosetons.com/
Adelaide Symphony Orchestra with Adelaide Festival Centre: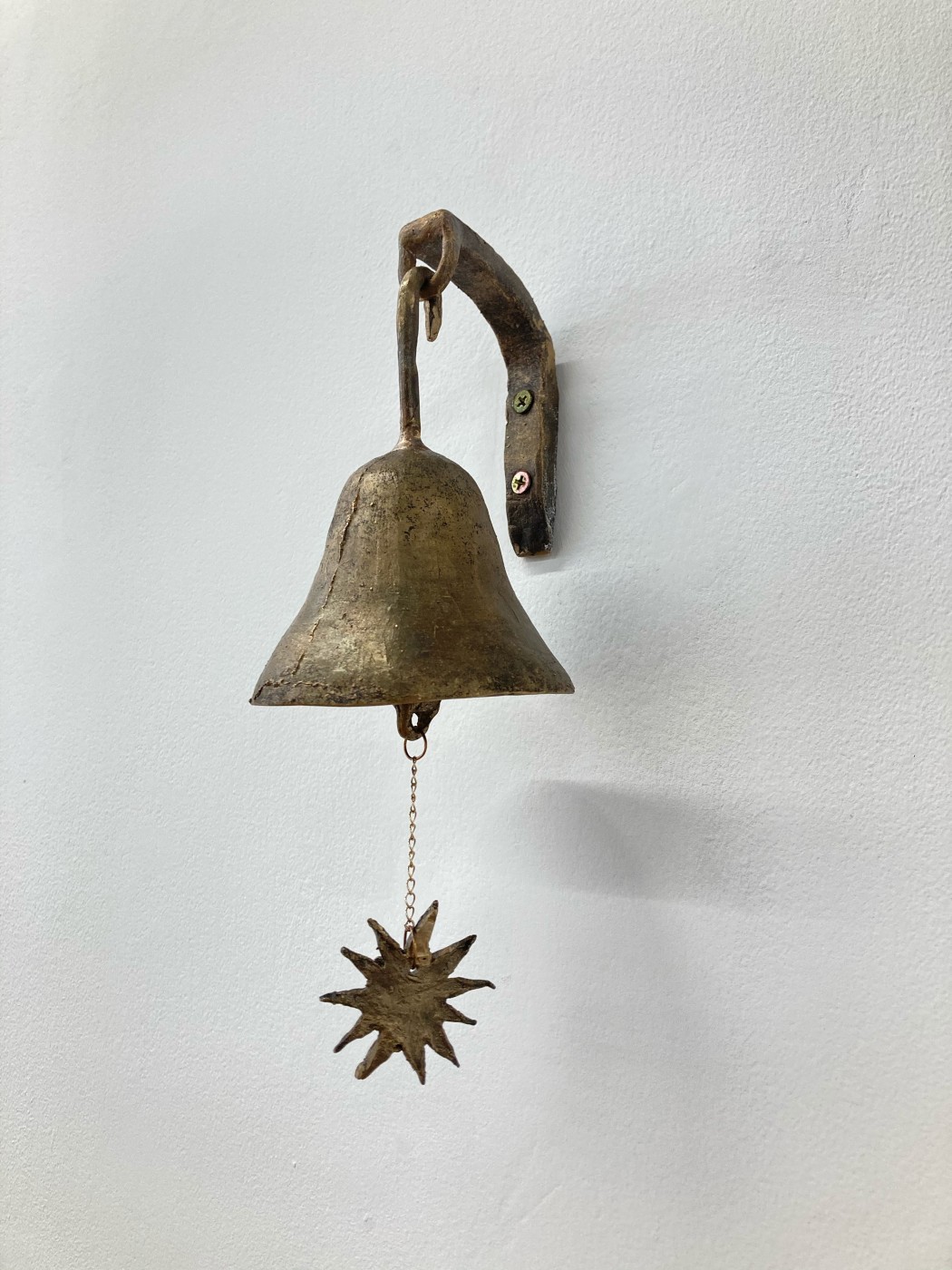 Image: Chelsea Farquhar, bronze bell, 2020, photograph courtesy the artist.
Chelsea Farquhar
Chelsea Farquhar is a South Australian based emerging artist who utilises sculptural and performative outcomes to highlight moments of exchange and collaboration.
Farquhar graduated with first class honours from the Victorian College of the Arts in 2020 where she received the West Space Window Exhibition award to exhibit in 2021. In 2017 Farquhar graduated with a Bachelor of Fine Arts from Adelaide Central School of Art and in 2018 received a Carclew Fellowship. In 2022 Chelsea will be undertaking a residency at Watch This Space gallery in Alice Springs NT.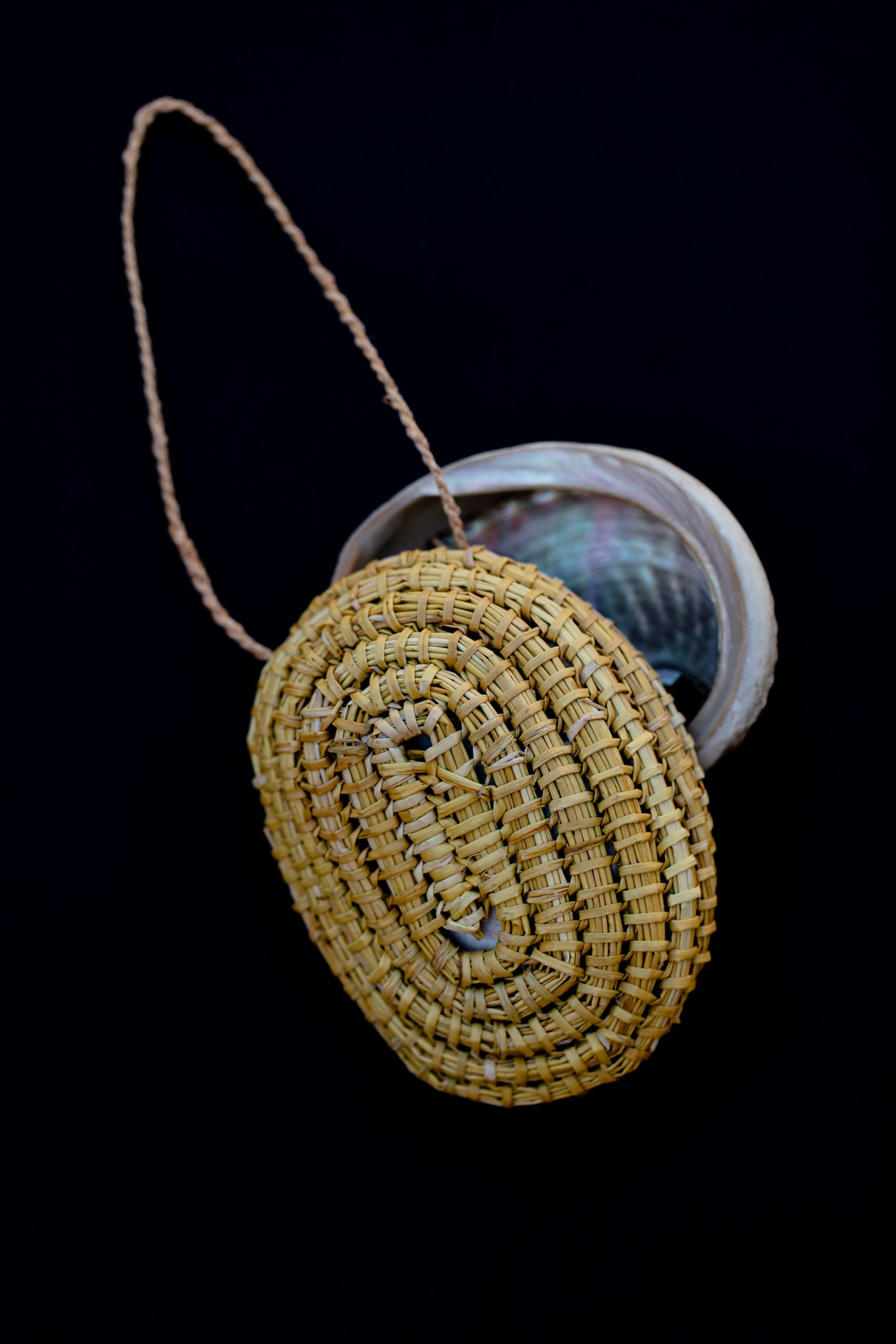 Image: Clem Newchurch, abalone shell fire carrier, photograph Rosina Possingham.
Clem Newchurch
Emerging First Nations Writer/Director, Clem Newchurch, was born in Adelaide and raised at Aldinga Beach in South Australia. He has Ancestral connections to Kaurna, Narungga, Barngarla, Kokatha and Ngarrindjeri Nations.
Clem has worked in a number of education and community service roles, including Aboriginal Community Education Officer/Aboriginal Secondary Education Transition Officer in various schools. Clem has also been employed as a Community Development Officer in local government, as well as facilitating cultural workshops within schools and through various other organisations as a Sole Trader.
Clem recently wrote and directed two documentaries for NITV's short documentary series, 'Our Stories', in partnership with producer, Albert Jamae, and cinematographer, Brad Halstead, on both productions. 'The Butterfish Mob' (2018) was nominated for a South Australian Screen Award in 2018 and aired as part of the Adelaide Film Festival in 2018. More recently it has been broadcast on national television in Australia on NITV and in the USA on FNX (First Nations Experience). Clem's second production 'Big Al's Big Dream' (2019) also aired on Australia's NITV channel.
Clem also produces artwork in several different mediums, including carving, weaving and string making using natural materials as well as other visual and digital art forms. Clem is committed to sustainable practices, and his work has been exhibited in Tarnanthi in 2019 and was part of a touring exhibition in Roxby Downs, Port Augusta, Adelaide, and Port Lincoln.

https://www.instagram.com/clemnewchurchart/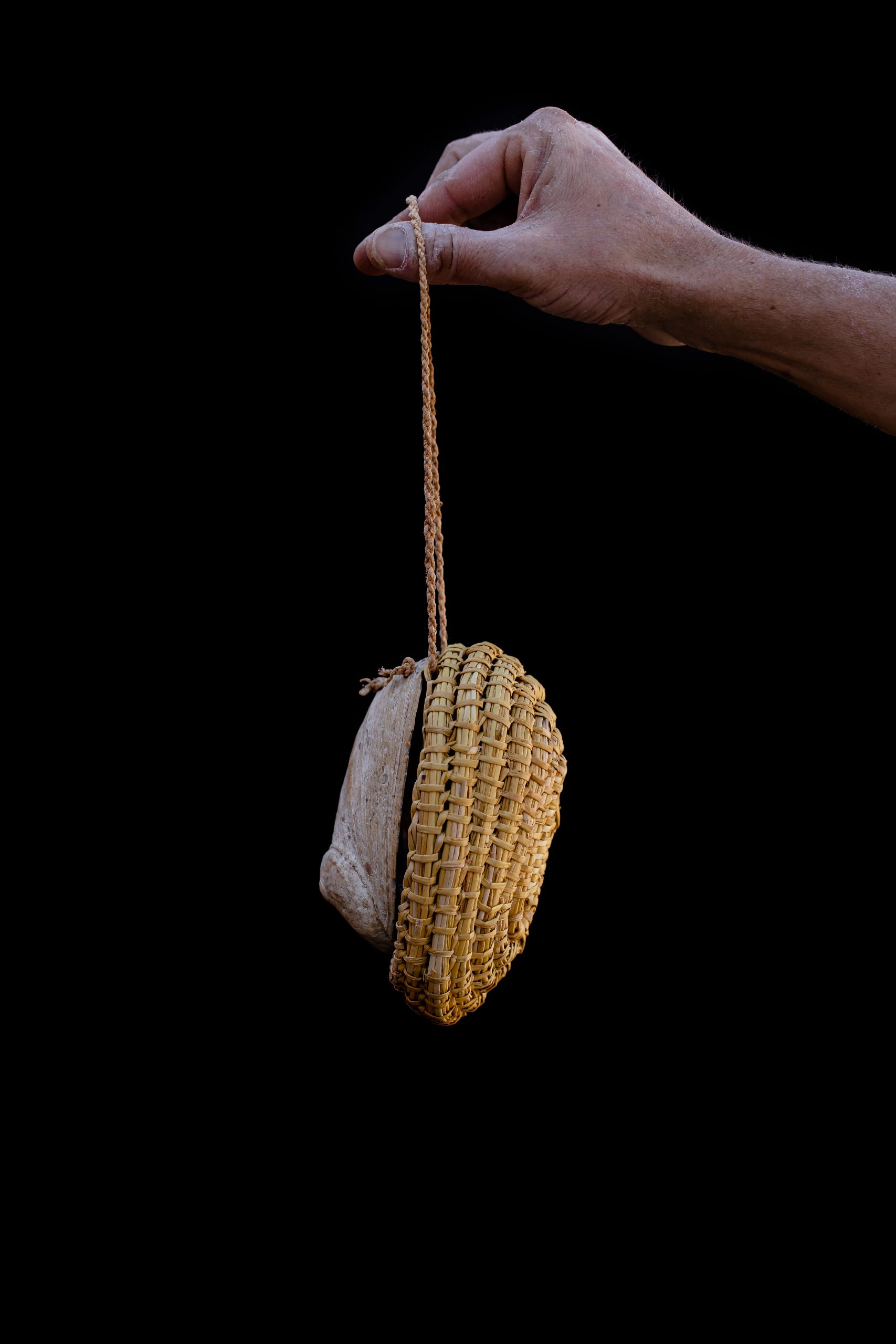 Image: Clem Newchurch, abalone shell fire carrier, photograph Rosina Possingham.
Peter Turner
Born on Kaurna land in 1968, Peter is 53 years old. He is a Narungga man who has lived on his grandmother's country in the town of Wallaroo since he was a child after his parents made it their home in the early 1970's, He continues to this day, to reside there with his own wife and children. His eldest son in now a Private in the Australian Army.
Peter's grandfather was a Kokatha and Yankanyjatjara man from the central and western desert regions of South Australia. His direct bloodlines travel as far up as Alice Springs with his great grandmother being a full-blooded Aboriginal woman from the Arrernte tribe in the Northern Territory. He is also the direct descendant of Kanarto, a well-documented Kaurna woman who was later known as Mary Ann and recorded in the writings of Norman Tindale under the name of "Kudnarto".