Kath Inglis, Epiphyte Neckpiece, 2019, cellophane printing on PVC, PVC heat formed with fishing line binding, lollypop sticks, paint, silk thread and stainless  steel. Photograph Grant Hancock.
The Guildhouse Collections Project
Santos Museum of Economic Botany
Adelaide Botanic Garden
2020 Call Out
Expressions of Interest for The 2020 The Guildhouse Collections Project with the Botanic Gardens and State Herbarium of South Australia is now open.
The Guildhouse Collections Project with the Botanic Gardens and State Herbarium 2020 provides artists with the opportunity to research the Garden's extensive historical, scientific and living collections.  Beginning in February 2020, the research period will allow time for an artist to create responsive new work for exhibition at the Adelaide Botanic Garden in October 2020. The Collections Project has a rich history of connecting artists with state institutions, examples of previous collaborations with Flinders University Art Museum, Art Gallery of South Australia and the Museum of Economic Botany.
The presentation opportunity in 2020 will expand outside of the Museum of Economic Botany and may take the form of an incursion, workshop, performance or event. Unlike The Collections Project in previous years, the 2020 iteration will take place outside the Museum of Economic Botany. The outcome will be defined during the research period through key milestone meetings between the artist, Guildhouse and MEB staff, determining the needs and possibilities relevant to the artist's practice and within Gardens.
Key Dates:
Monday 2 September: Applications open
Tuesday 12 September: Artist Talk and call out information session
Tuesday 1 October: Applications close
Monday 14 October: Recipient Announced
late January: Successful recipient begins research
October 2020: Research presentation

One of Guildhouse's key objectives is to promote contemporary visual art, craft and design. The Collections Project provides a unique opportunity for Guildhouse to promote our members to broad, new and diverse audiences.
The core aims of the project are to:
promote public understanding, appreciation and enjoyment of visual art, craft and design
provide economic and artistic opportunities for creative professionals
offer professional development opportunities for visual art, craft and design practitioners
develop new and diverse audiences for participants
Application Process
1. Download The Collections Project Guidelines for full information before starting your application.
APPLICATION DEADLINE: 5PM TUESDAY 1 OCTOBER 2019

Eligibilty
The Collections Project 2020 is open to artists/artist teams who are Guildhouse Accredited, Allied or Associate Members. For more information on becoming a Guildhouse Accredited or Associate member go to: https://guildhouse.org.au/membership/.
The project is not available to artists currently undertaking University studies
The opportunity is open to artists living and working within South Australia
Selection Criteria
Artistic Merit;
Strength of research and project proposal, including your interest in working with MEB;
Potential for engaging MEB visitors through visual art, craft and/or design
Capacity to deliver the project proposal outcomes to a high standard of craftsmanship and in a professional manner.
Short Listing & Final Selection
Proposals that best meet the selection criteria will be shortlisted by Guildhouse.
Final selection will be made by a selection committee comprised of representatives of MEB, Guildhouse and an external contemporary artist.
Short listed applicants may also be required to attend a short interview with the selection committee. Times and dates to be advised.
Successful artists will be notified by mid October 2020
Artist Fees
Selected individual artists or artist teams will be paid a total fee of $4000 (ex. GST).
$2000 will be paid initially upon signing of contracts.
A final payment of $2000 will be issued on acceptable completion of the project and submission of an artistic report.
More Information
The Collections Project is administered by Guildhouse, full information can be found at www.guildhouse.org.au or contact us on 8410 01822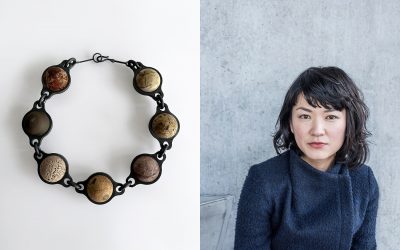 2023 Guildhouse Fellow announced, artist Kyoko Hashimoto explores a more sensitive and sustainable future. Guildhouse, the Art Gallery of South Australia and the James & Diana Ramsay Foundation are delighted to announce South Australian contemporary jeweller Kyoko...