Image: Aunty Lynette Crocker and Brad Darkson, Guildhouse, Lion Arts Precinct, 2022. Photograph Lana Adams.
Voice of the Artist
Unceded Seeded (Ngampa)
Brad Darkson in consultation with Aunty Lynette Crocker, Ngangki Burka Senior Kaurna woman.
Supported by the City of Adelaide
This artwork can be seen on the Northern side of the Guildhouse building, Lion Arts Precinct.
reVision: Community Launch Event
Sunday 21 August, 2—4pm
All welcome, RSVP essential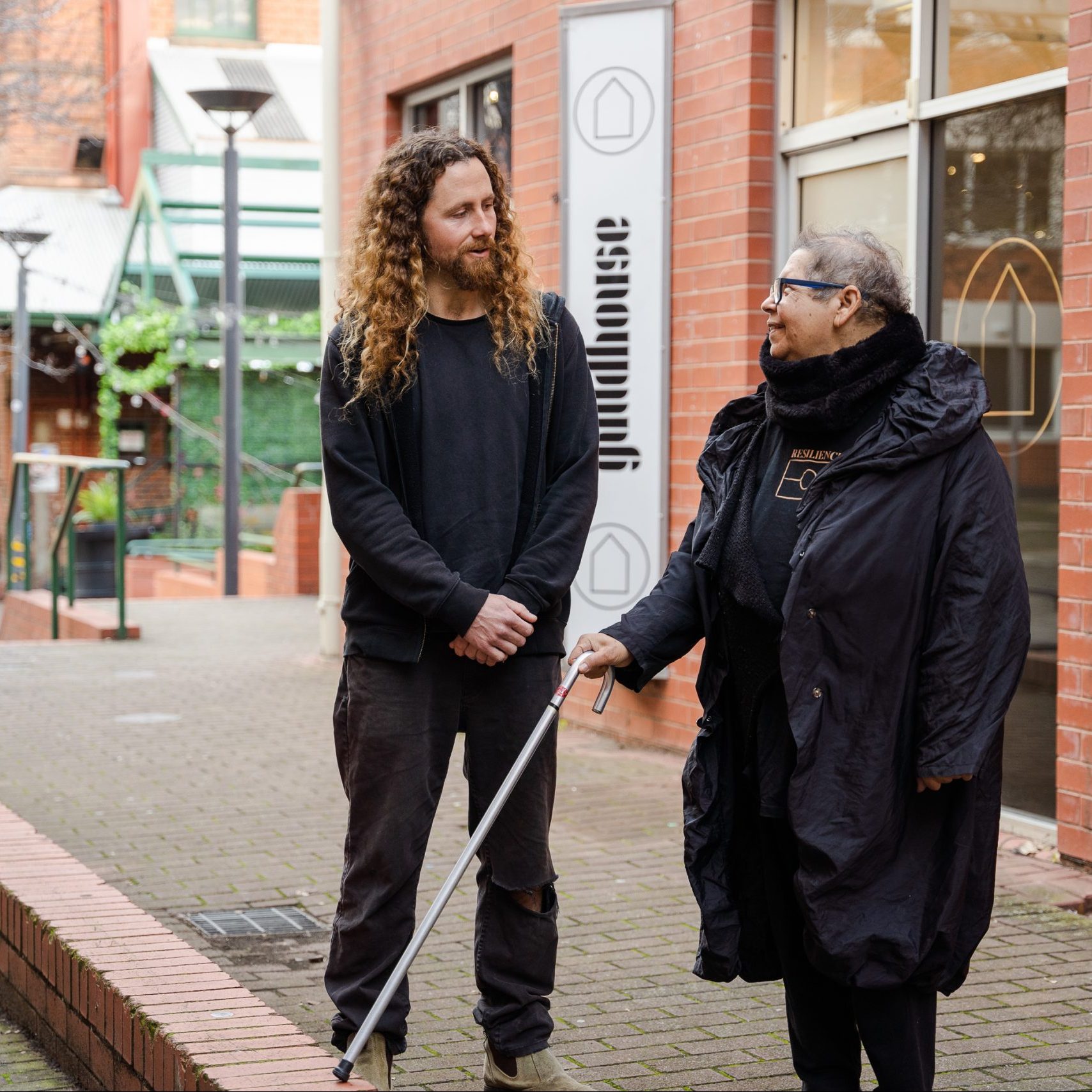 Brad Darkson has worked in consultation with Aunty Lynette Crocker, Ngangki Burka Senior Kaurna woman to create Unceded Seeded (Ngampa).
Supported by the City of Adelaide, the Guildhouse Voice of the Artist commission is an opportunity to inspire, comfort, subvert, and respond to the times we are living in, signalling solidarity to the artistic community and inspiration to pedestrians and passers-by.
Ngampa, a perennial root vegetable, represents the regenerative and healing practices needed on Kaurna land.
Unceded Seeded (Ngampa) references the land on which the artwork is installed. It acknowledges the Kaurna culture that has always existed within the land, and it highlights the need for everyone to walk together and work together in healing Country. This is not just a job for First Nations people, and everyone that resides on Kaurna land can celebrate and partake in practicing Kaurna culture. Everyone can feel a sense of custodianship for, and kinship with, the land. The use of neon in this instance acts as a beacon of truth, and in homage to the classic neon motel sign, the red and green allude to the aesthetic of 'No Vacancy'.
Ngampa (Kaurna word for Yam Daisy) is a perennial root vegetable, high in starch, and a staple food source for Kaurna. When eaten raw it has a sweet coconut flavour and when cooked is similar to potato. It can be made into flour and used to bake cakes and bread. The Kaurna way to cultivate is through digging up the smaller tubers leaving the large ones to continue into the next season, with the digging promoting further spread and growth. Growing Ngampa gives the land the chance to heal through regenerative agricultural practices.
Brad Darkson is featured the series In the Studio presented in partnership with InReview and Guildhouse. Read on to find out more about Brad's studio practice and some of the back story to his collaboration with Aunty Lynette Crocker.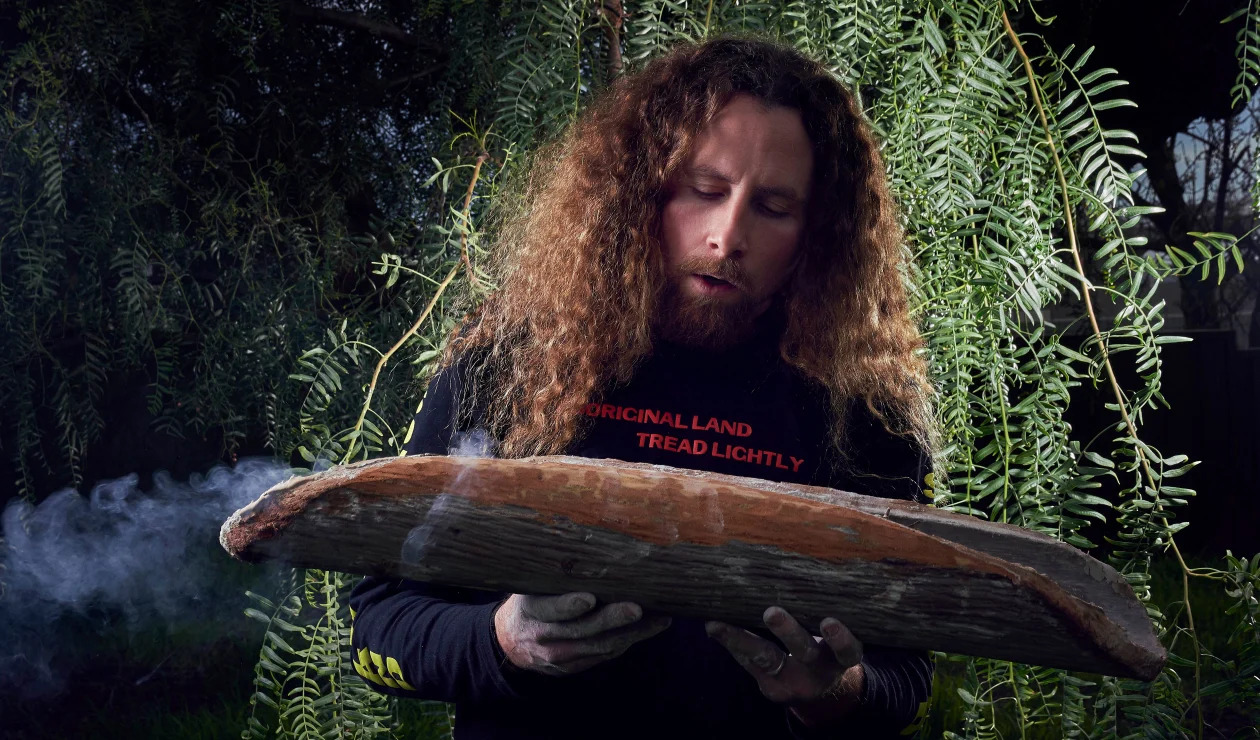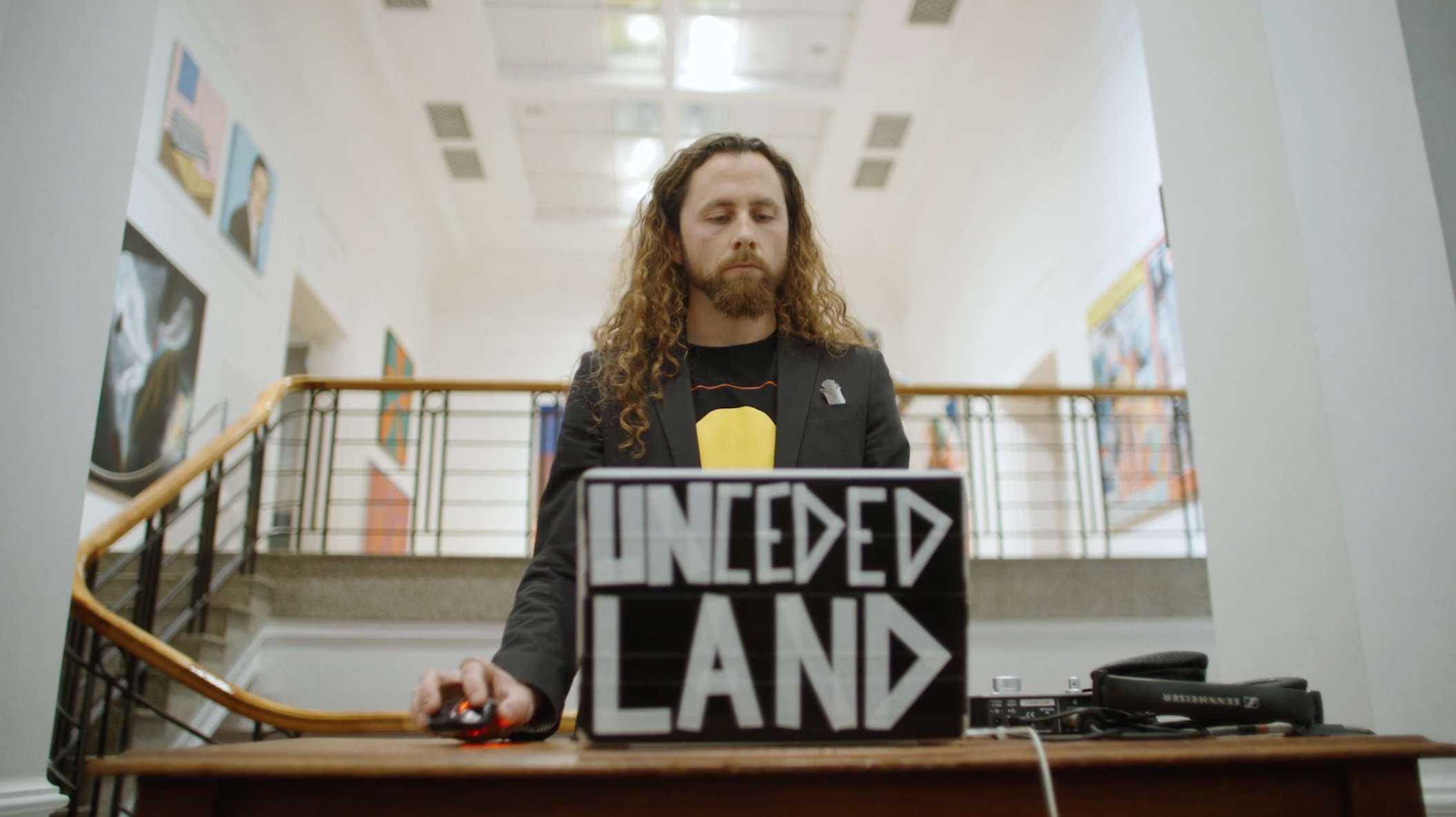 Image: Brad Darkson. Image courtesy fine print.
Brad Darkson is a South Australian visual artist currently working across various media including carving, sound, sculpture, multimedia installation, and painting. Darkson's practice is regularly focused on site specific works, and connections between contemporary and traditional cultural practice, language and lore. His current research interests include hostile architecture, bureaucracy, seaweed, and the neo-capitalist hellhole we're all forced to exist within. Conceptually Darkson's work is often informed by his First Nations and Anglo Australian heritage. Brad's mob on his Dad's side is the Chester family, with lineages to Narungga and many other Nations in South Australia from Ngarrindjeri to Far West Coast. On his Mum's side he's from the Colley and Ball convict and settler migrant families, both arriving in 1839 aboard the Duchess of Northumberland.
In 2015 he completed a BFA at the University of South Australia and in 2017 he completed an MFAD at the University of Tasmania. Selected exhibitions include Make Yourself Comfortable I (solo exhibition) Post Office Projects 2022, Neoteric (group exhibition) 2022, Experimenta Life Forms (international triennial of media art) touring 2021 – 2024; Adelaide//International (group exhibition) Samstag Museum 2020; International Symposium on Electronic Art (South Korea) 2019; VIETNAM – ONE IN, ALL IN (Country Arts SA national exhibition) touring 2019 – 2021; The Return (group exhibition) Dark Mofo 2018; LOSS. GAIN. REVERB. DELAY. (solo exhibition) Vitalstatistix 2017.
Darkson currently sits on the board of The Australian Network for Art and Technology and the Guildhouse Artist Advisory Group.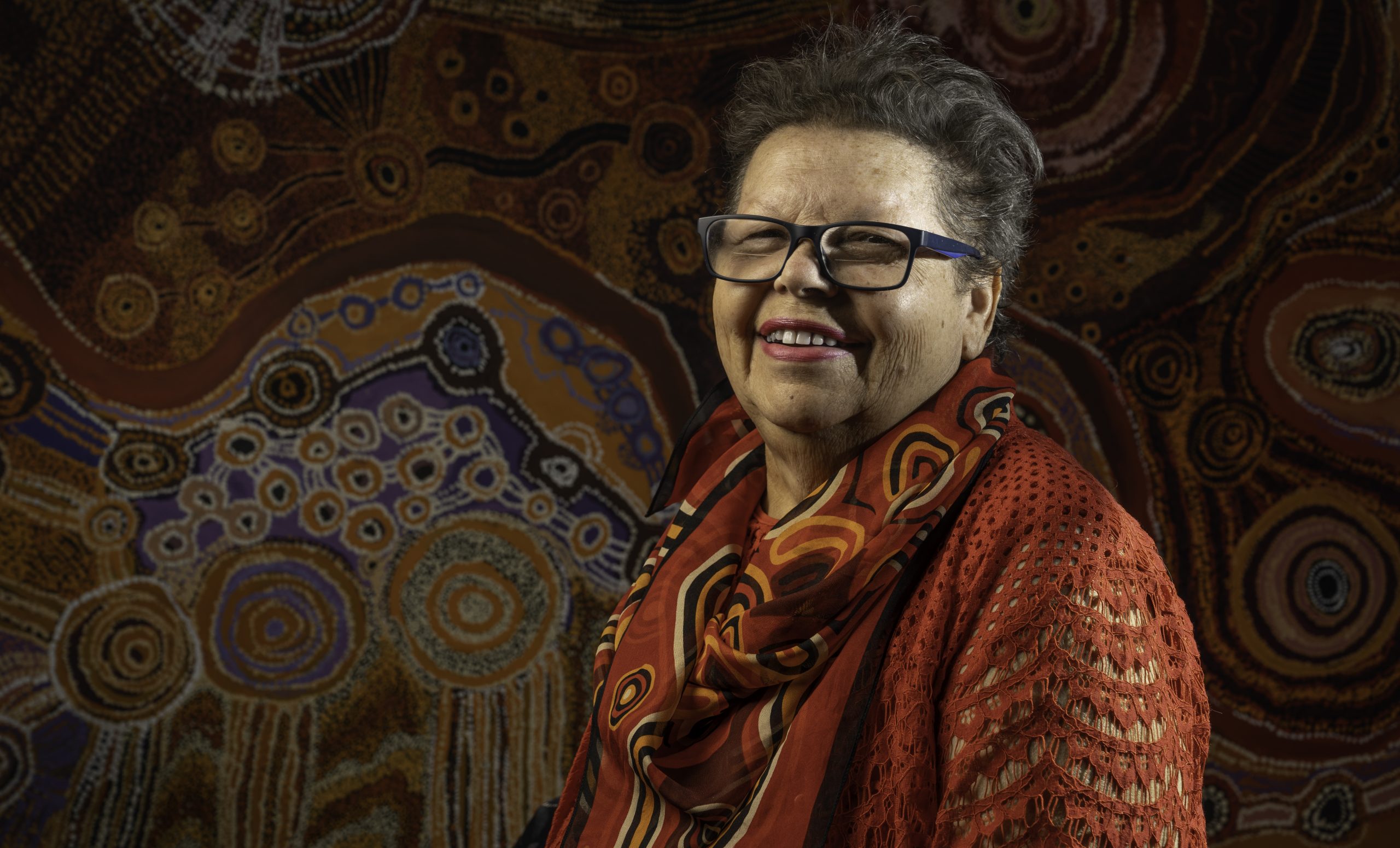 Image:
Aunty Lynette Crocker,
Ngangki
Burka Senior Kaurna woman. Photograph Colleen Raven.
Aunty Lynette Crocker is a Ngangki Burka, Senior Kaurna Woman, and she has served on a wide range of community and local government committees for Aboriginal affairs. She has helped develop Reconciliation Action Plans for the Campbelltown, Adelaide, and Marion City Councils.