Image: Sera Waters with her work Falling: Line by Line, 2018 for the Ramsay Art Prize. Photograph: Nat Rogers.
Announcing the 2020 Guildhouse Fellow: Sera Waters
Guildhouse, the Art Gallery of South Australia and the James & Diana Ramsay Foundation are delighted to announce South Australian visual artist Sera Waters as the 2020 Guildhouse Fellow. The Guildhouse Fellowship, valued at over $50,000, was inaugurated in 2019 with the generous support of South Australian philanthropists, The James & Diana Ramsay Foundation, to recognise and elevate South Australian artistic ambition. The selection panel for the 2020 Guildhouse Fellowship comprised Art Gallery of South Australia Director Rhana Devenport ONZM, Guildhouse Chief Executive Officer Emma Fey and Sebastian Goldspink, recently announced curator of the 2022 Adelaide Biennial of Australian Art. The panel were unanimous in their decision, and said they were 'impressed by the calibre and diversity of applicants. This year's award is an important and worthy recognition of Waters' work.' Sera Waters' practice is driven by an investigation of truth-telling, informed by her own settler colonial inheritances, made manifest in home-craft, hand-based folk ingenuity, décor, pattern and textiles. Arcing from the historical evidence to contemporary manifestations, Waters casts light on these seemingly innocuous and unofficial objects as potent reminders of normalised traditions and hierarchies of gender and colonisation. As Waters explains, 'Led by a feminist ethics of care and literally taking matter into my hands, I transform matter to present alternative pathways into a more survivable future.'
'This opportunity, which comes rarely, if at all, in an artist's life, is one I have dreamed of for my art practice. The invaluable fellowship enables me to go forward for the next year knowing I am supported to make the best work I can. I am so looking forward to undistracted studio time, accumulating momentum, and pushing my art in expansive directions.'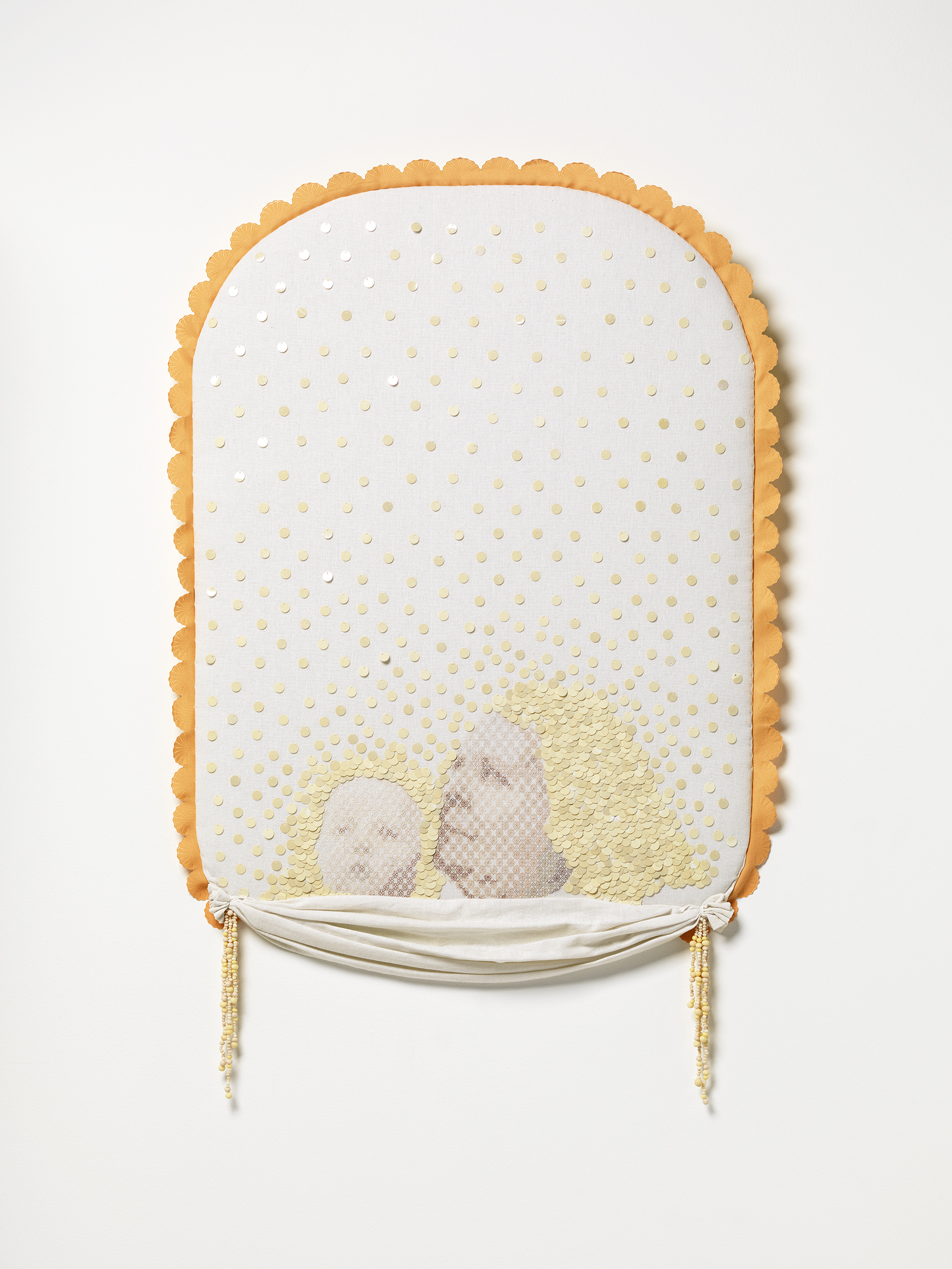 Image: Sera Waters, Basking, 2017. Photograph: Grant Hancock.
ARTIST BIOGRAPHY
Sera Waters is an Adelaide based artist, arts writer and academic. Since being awarded a Ruth Tuck Scholarship in 2006 to study hand embroidery at the Royal School of Needlework (UK), Waters' art practice has been characterised by a darkly stitched meticulousness. Her embroideries and hand-crafted sculptures dwell within the gaps of Australian histories to examine settler-colonial home-making patterns and practices, especially her own genealogical ghost escapes. Major exhibitions include Dark Portals, at the Lawrence Wilson Art Gallery, University of Western Australia (2013), Sappers and Shrapnel at Art Gallery of South Australia (2016),and Going Round in Squares at Ararat Gallery TAMA (2019). In 2017 she was the recipient of the inaugural ACE Open South Australian artist commission, where she staged her solo exhibition Domestic Arts. This exhibition will tour South Australian regional galleries from September 2020 with Country Arts SA. Her works are held by the Cruthers collection of Women's art, Ararat Regional Gallery, the Art Gallery of South Australia and private collections nationwide. Waters is a studio member of The Incinerator, Thebarton, lecturer at Adelaide Central School of Art, and is represented by Hugo Michell Gallery.