The City of Adelaide is commissioning new public artworks by local artists to add vibrancy to main streets and laneways in hospitality, retail and community hubs across the City and North Adelaide.
Part of the City of Adelaide's $20m+ Reignite Adelaide program, the initiative is designed to give back to our community, celebrate and support local traders and businesses and provide employment opportunities for creatives.
Delivered in partnership with Guildhouse, the $300,000 initiative will see nine new public artworks brighten and activate key precincts.
Sunny's / 1000 Island / Cry Baby
Tristan Kerr
Titled 'Power People', the site-specific mural by Tristan Kerr celebrates the origins of the site and the history of manufacturing post-war machinery, and the evolution to a burgeoning hospitality and entertainment destination right in the heart of Adelaide CBD. The contrasting geometric shapes across the two facades reflect these two eras, coming together with unique architectural lighting referencing the timeless neon lighting found in the surrounding night-time precinct.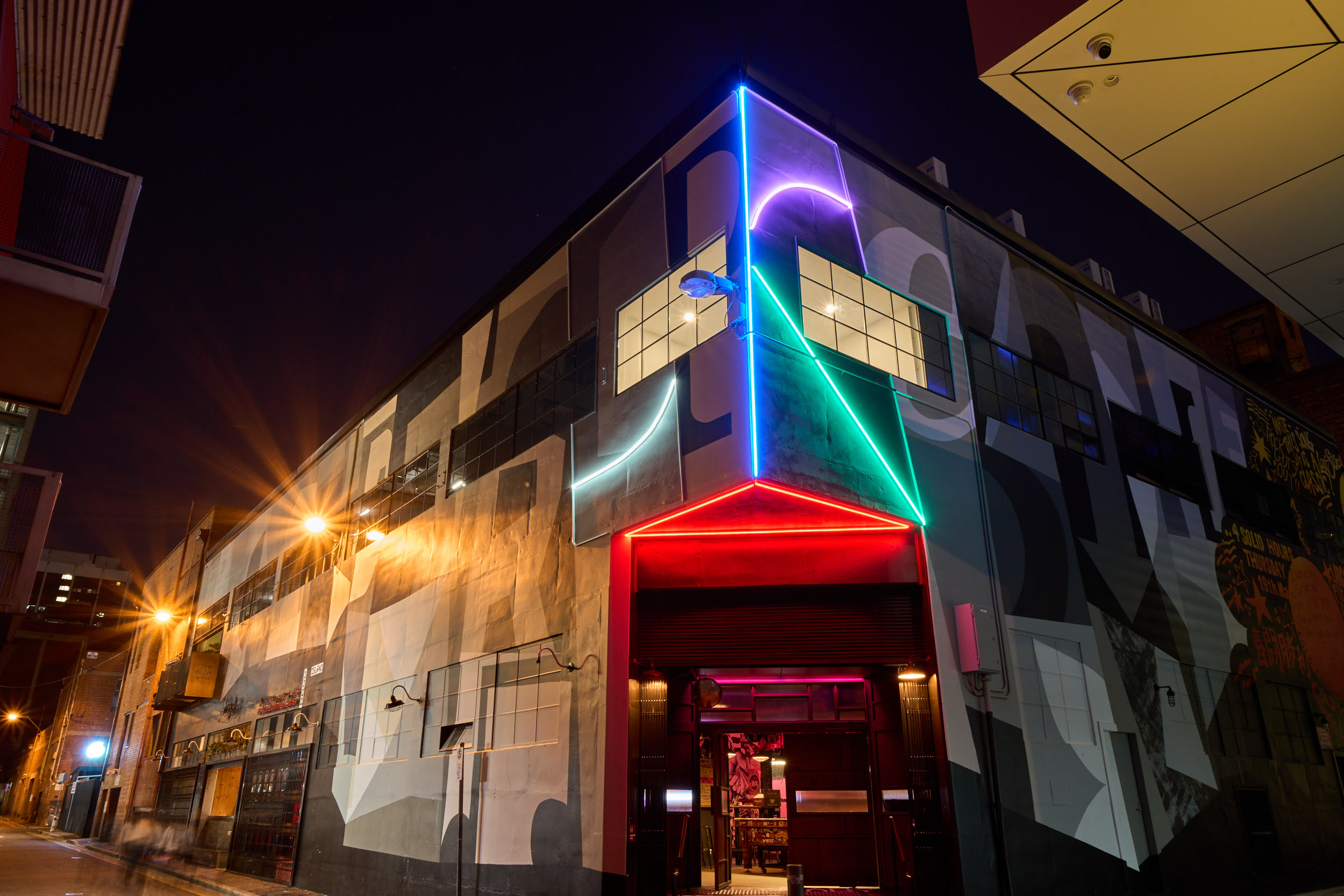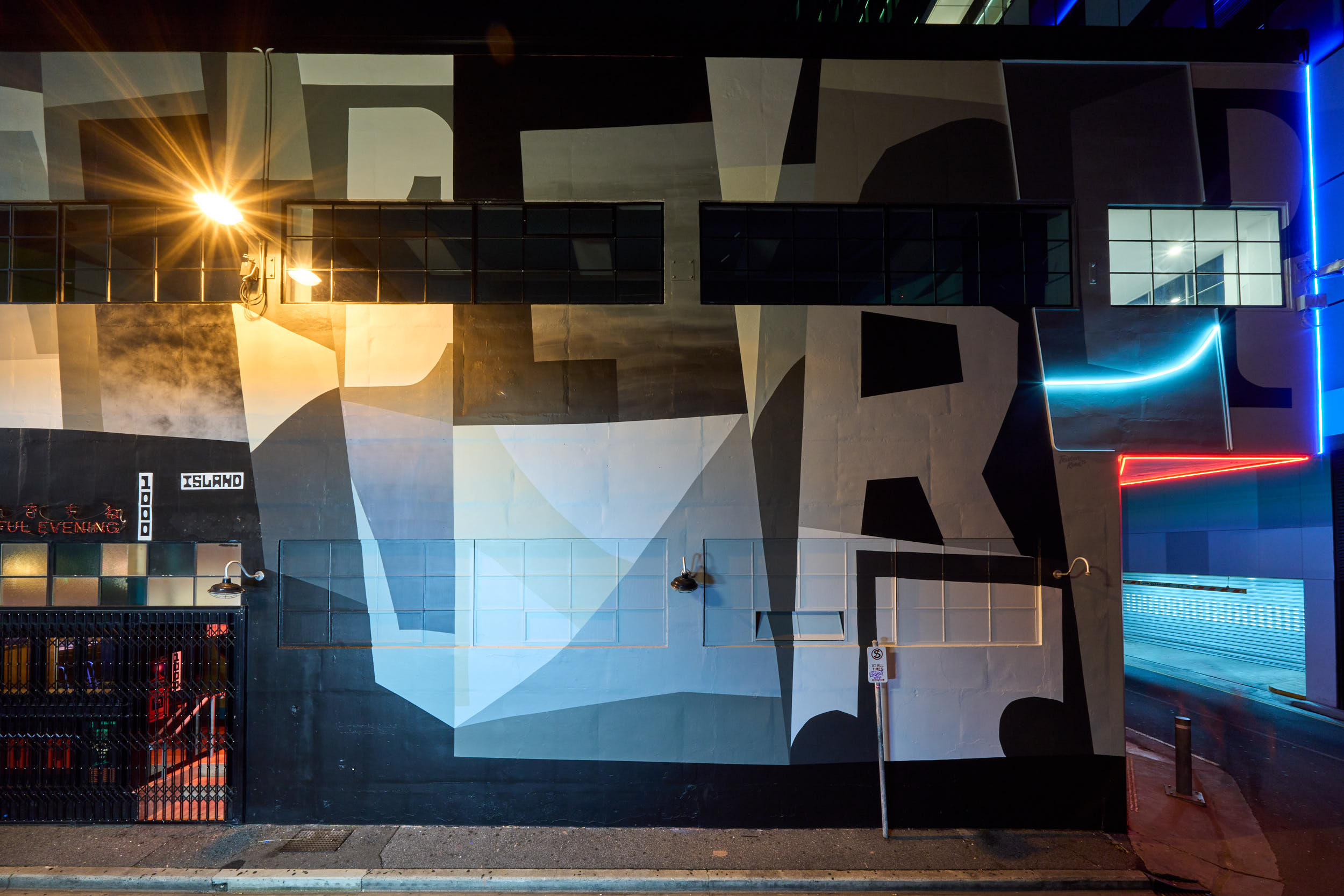 Images: Artwork by Tristan Kerr. Photographs Sam Roberts.
Tavistock Lane
Dave Court and Shane Cook
The public artwork, with its bold colours, shapes and gestural visual language, celebrates Adelaide's East End, synonymous with Adelaide's festival season, along with references to Cook's Aboriginal totem, the Tawny Frogmouth and images of the Adelaide Hills. The artwork also contains augmented reality, making it a unique, interactive experience for audiences.
With support from Amalfi Pizzeria Ristorante, Ted's Cameras, Crowne Plaza (Kyren Group) and Enrico Rizzon.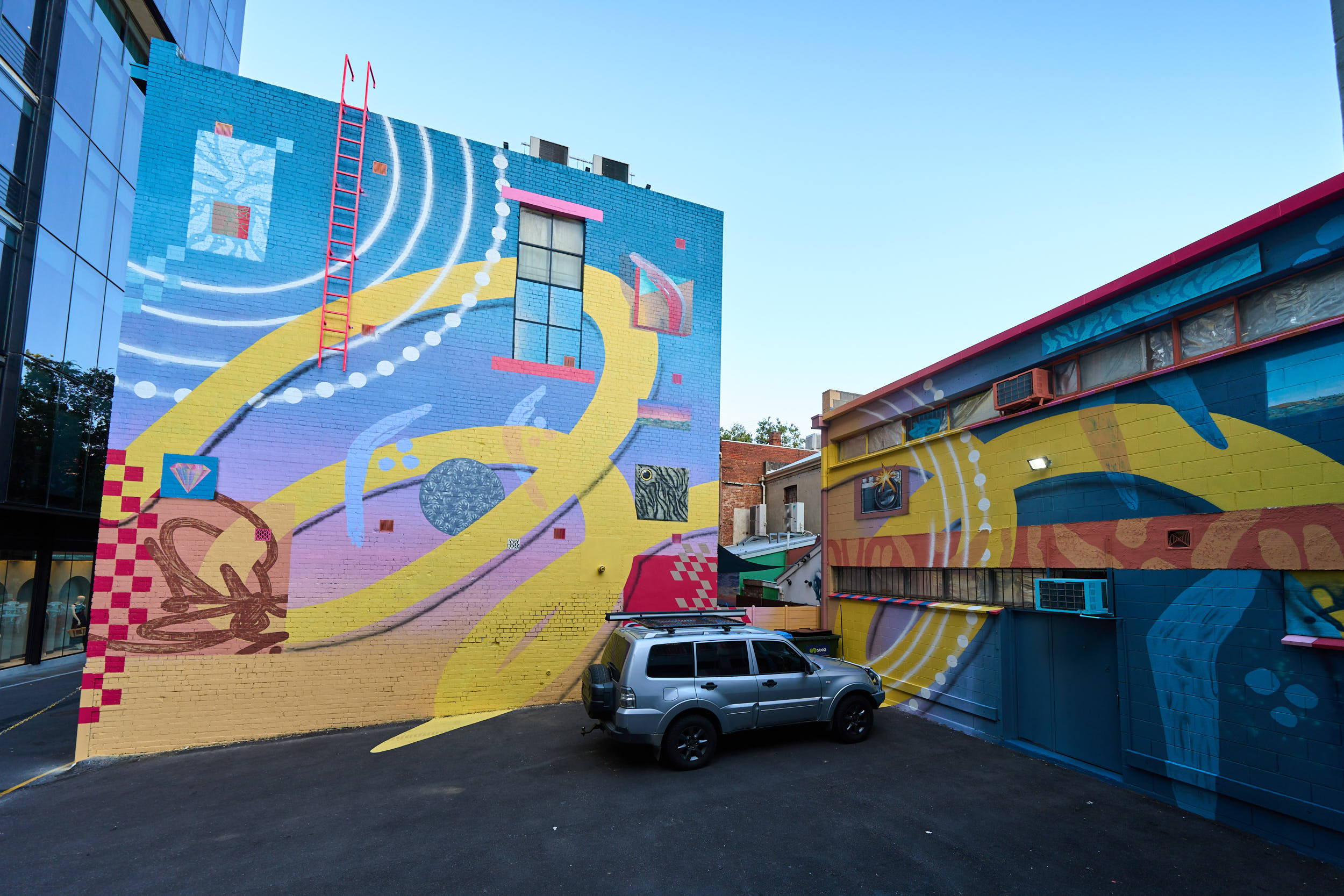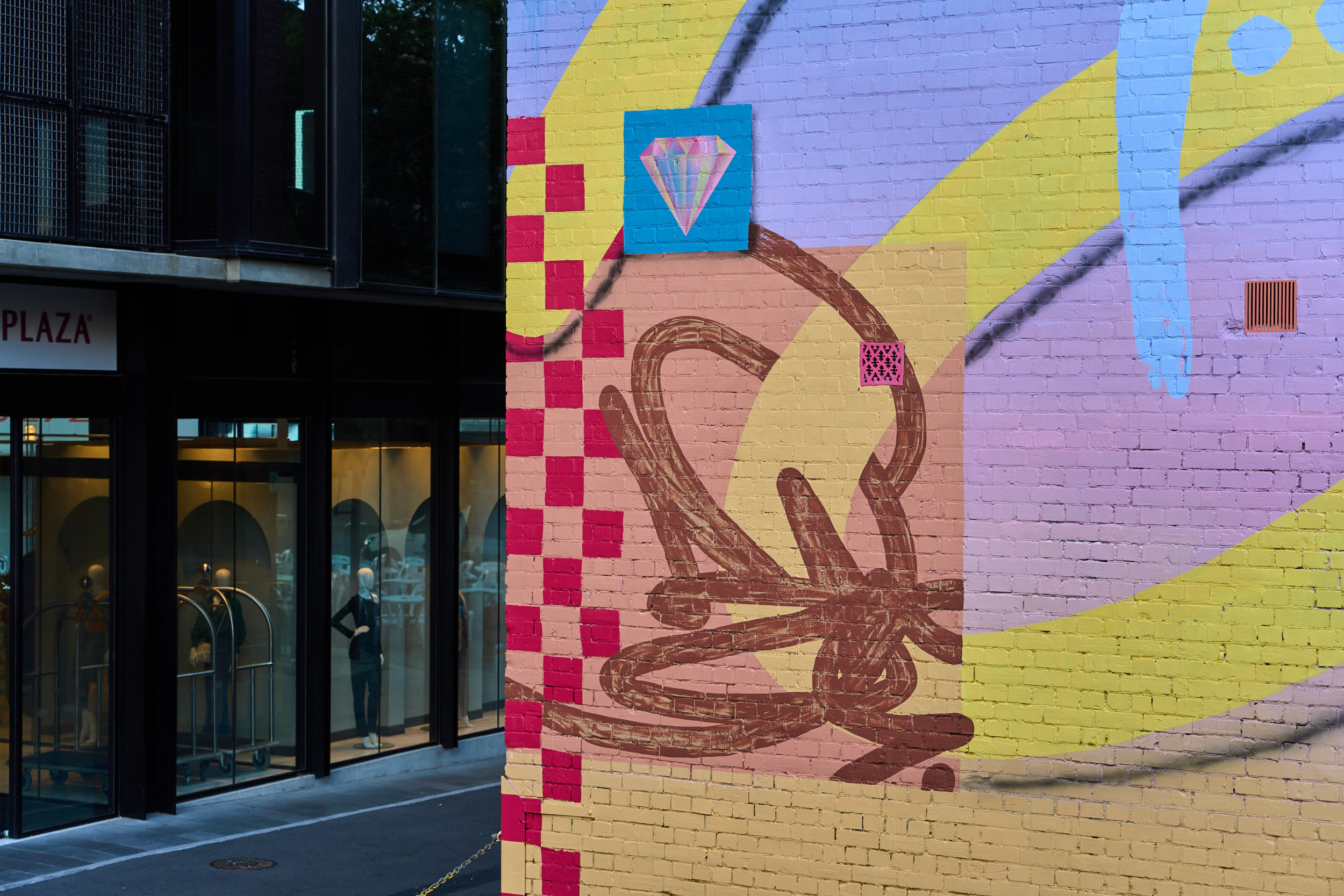 Images: Artwork by Dave Court and Shane Cook, Tavistock Lane. Photographs Sam Roberts.
Aquinas College
Jacob Logos
This new public artwork responds to the Aquinas College mascot whilst rejuvenating the streetscape.
Of his work 'Wolf at the Door' Jacob says "Deeply layered in a multitude of symbolic interpretations, the wolf plays an important role as mascot for the College. The representation of the constellation is a reminder of our intrinsic connection to the divine. Lucere et Ardere – The light that keeps the wolf from the door."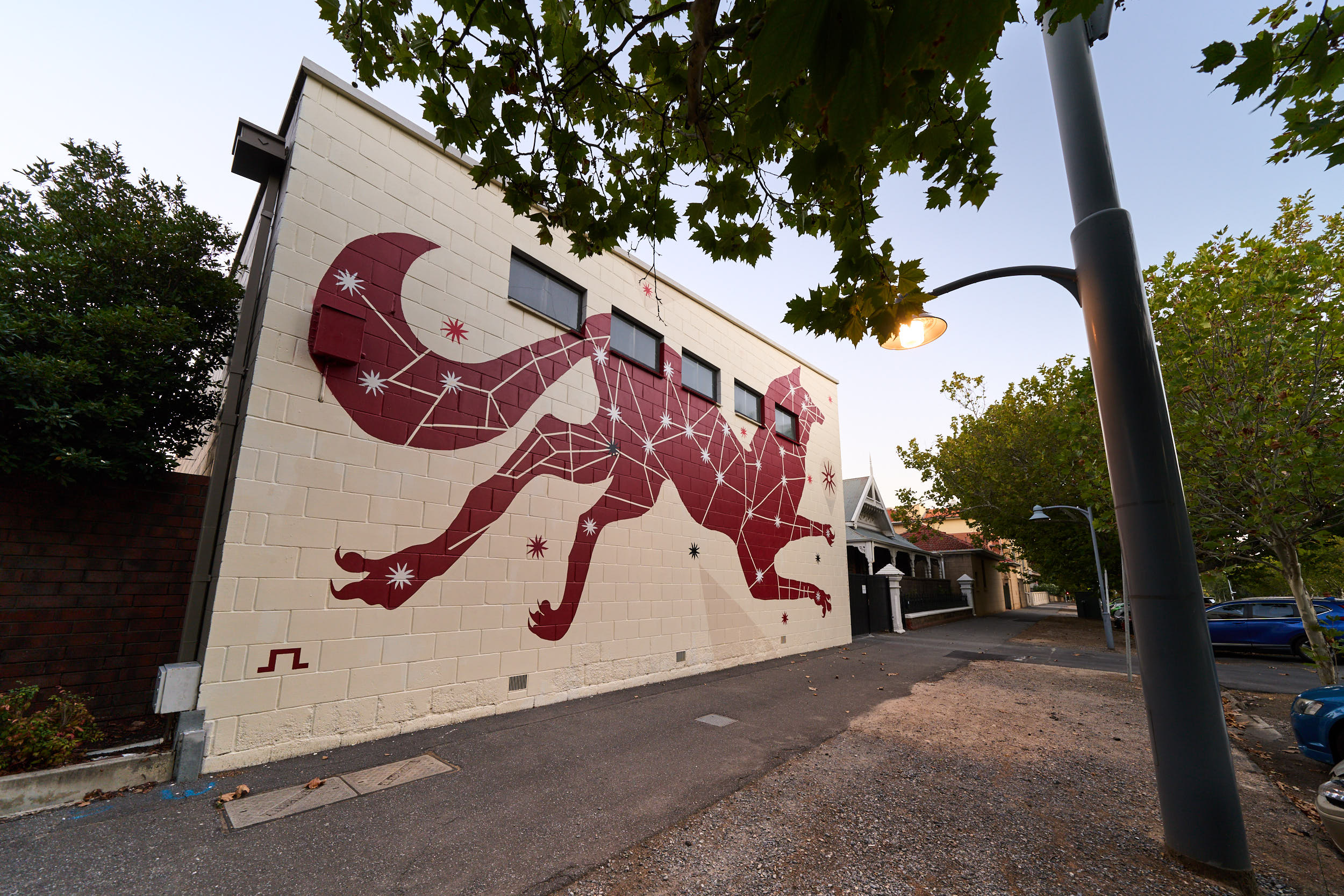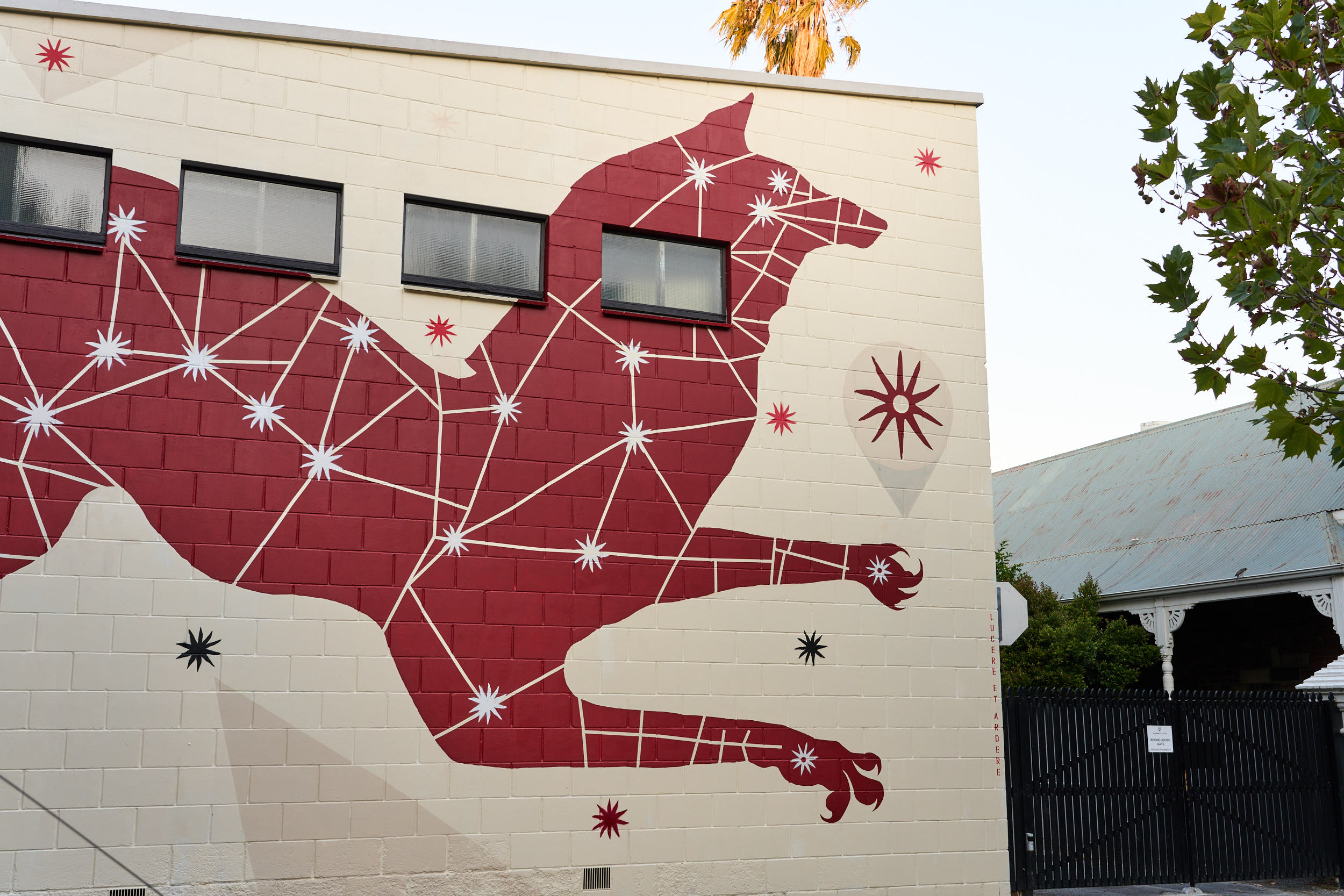 Images: Artwork by Jacob Logos, Aquinas College. Photographs Sam Roberts.
Hutt Street Cellars & Arab Steed
Jack Fran
Local artist Jack Fran was engaged to provide concept designs for public artworks on Hutt Street Cellars and Arab Steed Hotel, creating two bold, colourful designs.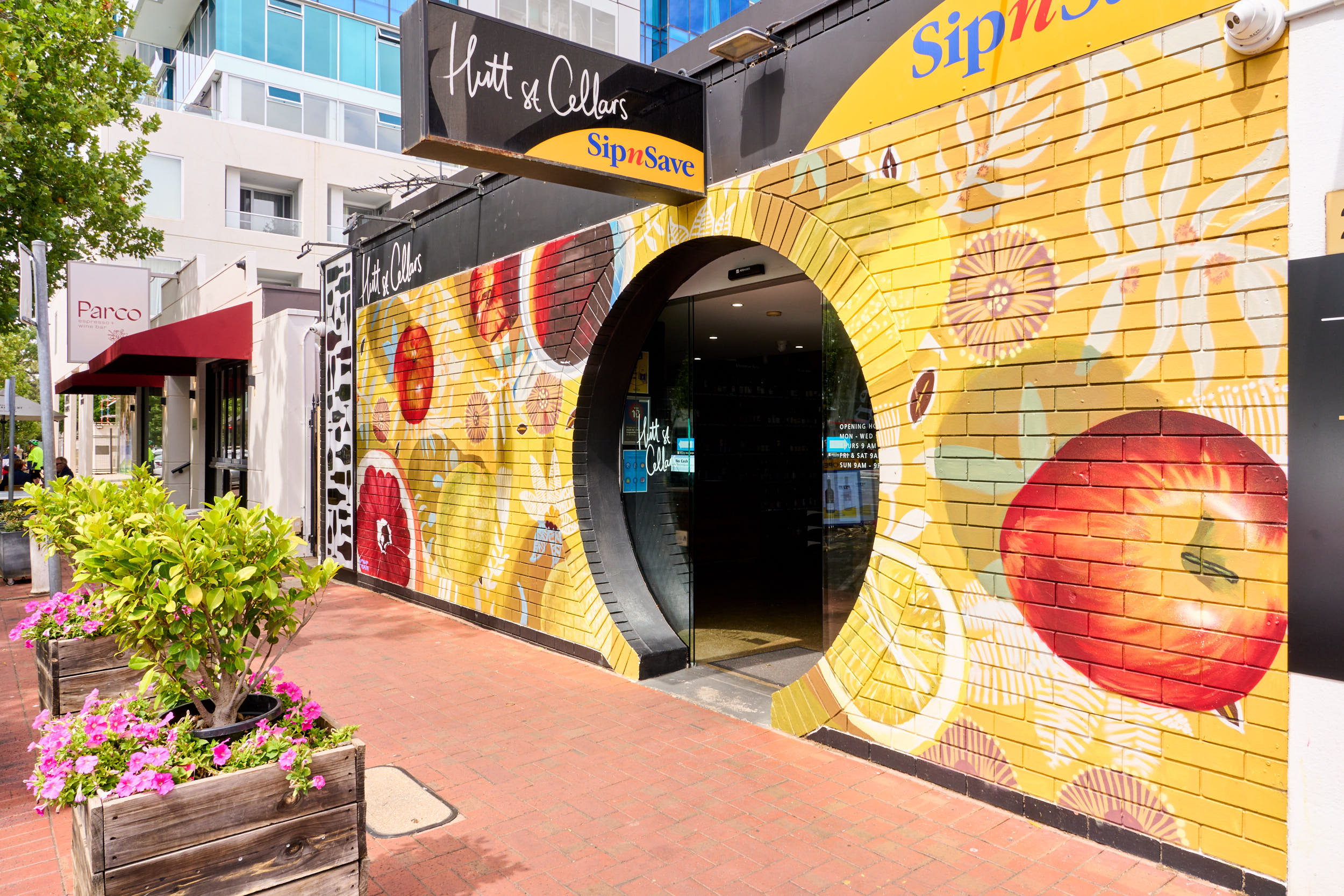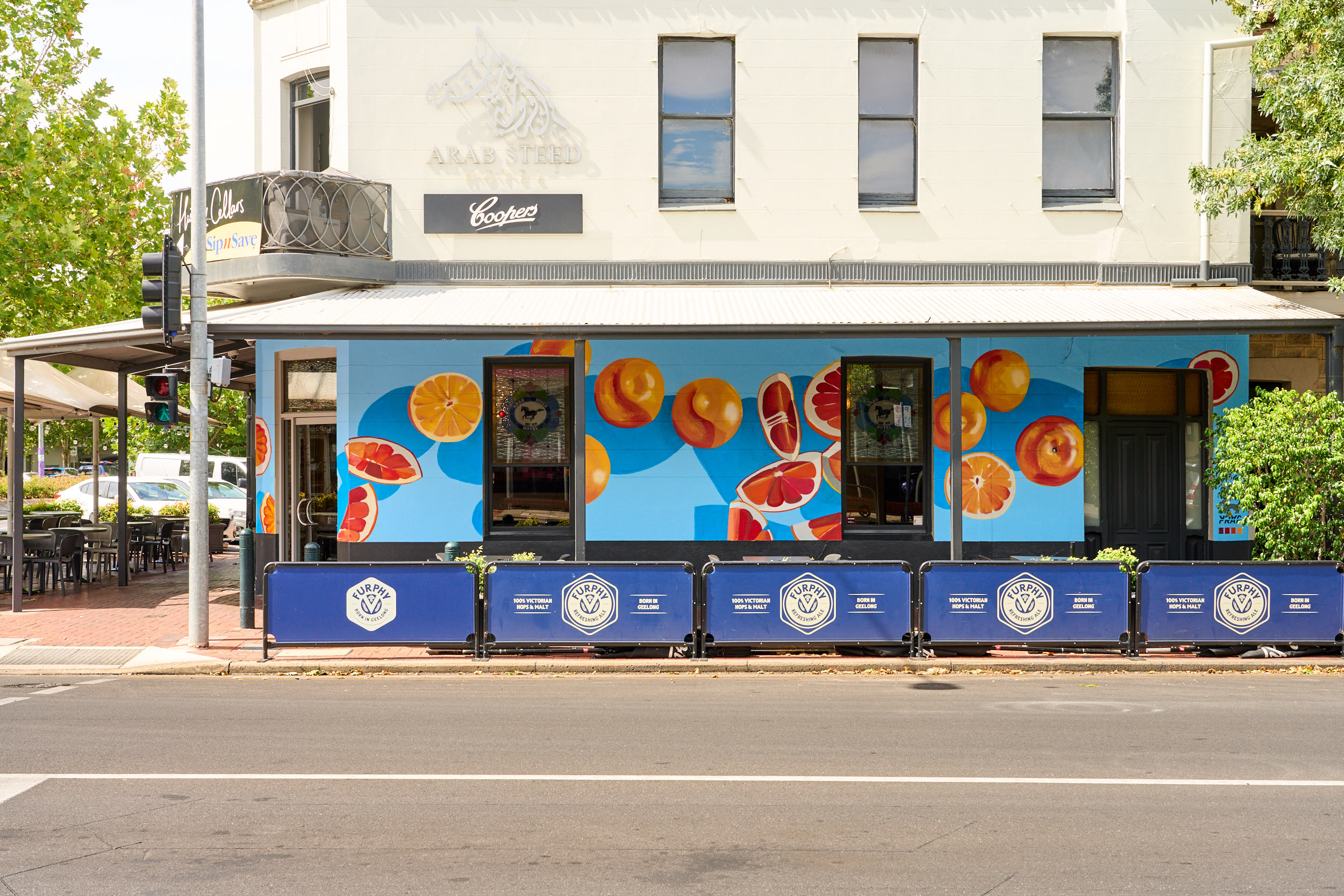 Images: Artwork by Jack Fran, Hutt Street Cellars and Arab Steed. Photographs Sam Roberts.
Coffee Branch
Nicky Create
South Australian artist Nicky Create was commissioned to design a vibrant mural referencing coffee botanicals for Coffee Branch on Leigh St, Adelaide.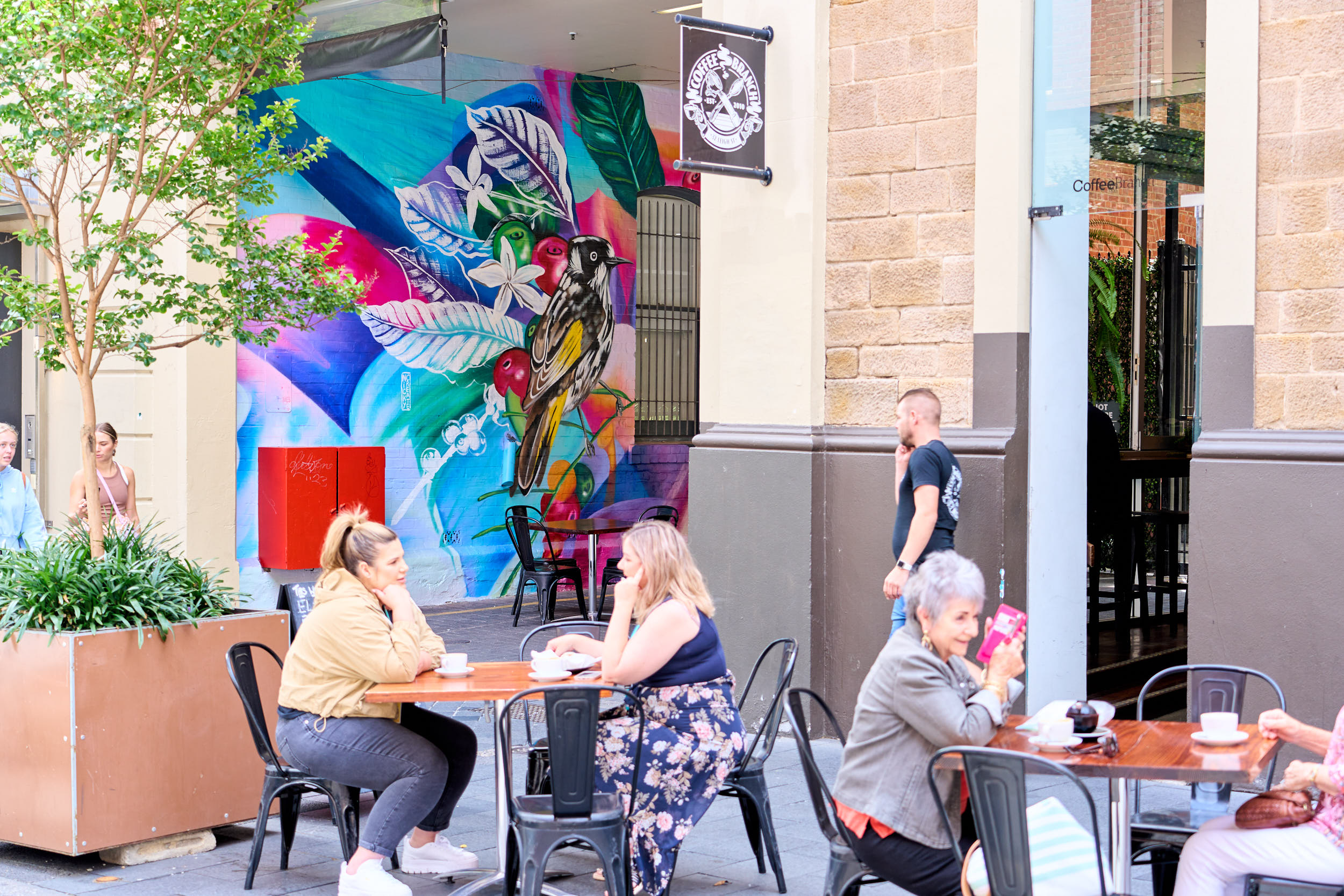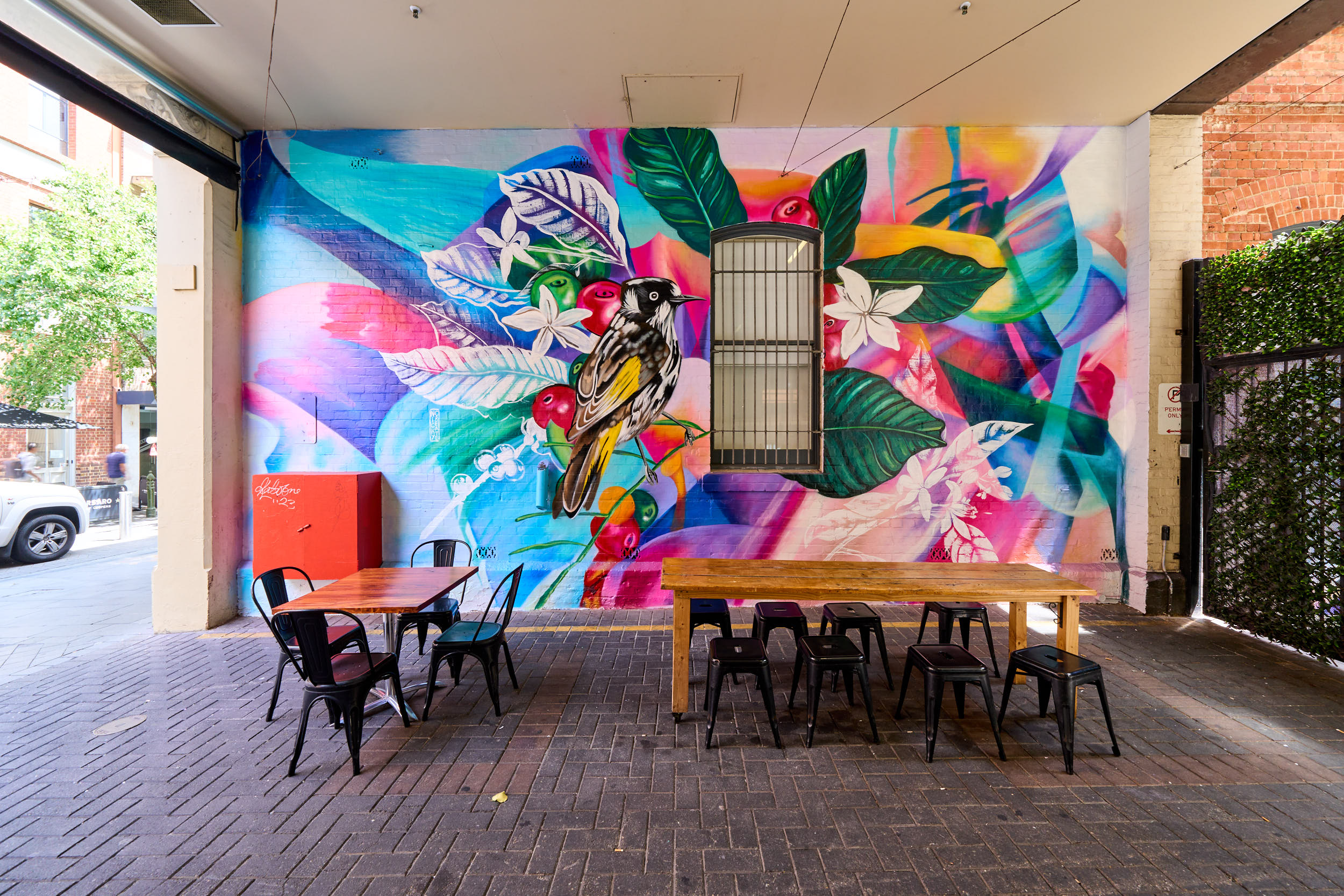 Images: Mural by Nicky Create. Photographs Sam Roberts. 
Guildhouse Professional Services
Harness South Australian creative excellence.
Guildhouse offers a range of customisable professional services to support organisations and individuals to engage with South Australia's exceptional artists, craftspeople, and designers.

As the peak industry body for professional visual art and contemporary craft in South Australia, Guildhouse has contributed to a vibrant artistic community for over 50 years. We are trusted for our deep understanding of artistic practice, sector knowledge, unique networks and a highly experienced team. Guildhouse works with over 1000 artists from diverse artistic practices.