Kath Inglis and her exhibition of uncertain value at the Santos Museum of Economic Botany as part of The Collections Project 2019. Photograph Daniel Marks.
Thursday 12 September,
11:00 am
Location: Santos Museum of Economic Botany, Adelaide Botanic Gardens.
Presenter: Kath Inglis, Tony Kanellos and Debbie Pryor
The Guildhouse Collections Project
Santos Museum of Economic Botany
Adelaide Botanic Garden

Kath Inglis Artist Talk and 2020 Call Out information session
Join Kath Inglis for an Artist Talk  discussing her 2019 The Collections Project research and exhibition of uncertain value on Thursday 12 September, at the Santos Museum of Economic Botany (MEB).
Kath undertook a five month research period with the Botanic Gardens of South Australia's collection, and through the lens of 'value' examined the marine algae collection. In particular Kath's new artwork provokes considerations around the impact of plastic waste on marine health and the notion of material value within the discipline of jewellery. The project not only enabled Kath to research marine algae but also afforded her the time to explore the materiality of her primary material, PVC.
This session will be followed by a in conversation with MEB Curator Tony Kanellos and Guldhouse Artistic Programs Manager Debbie Pryor about the 2020 application process and potential outcomes.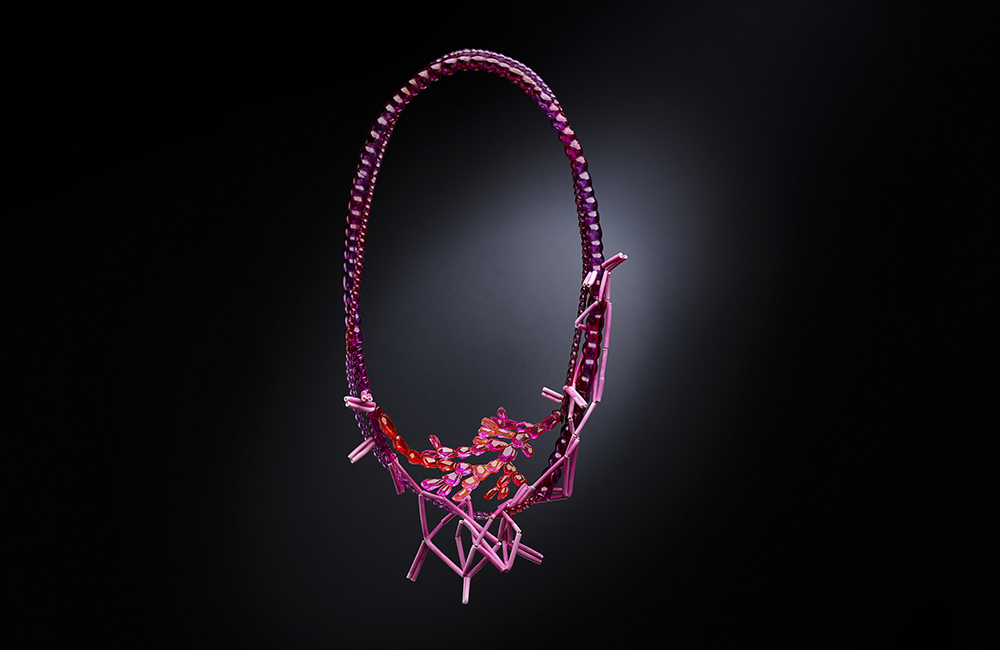 Kath Inglis, Epiphyte Neckpiece, 2019, cellophane printing on PVC, PVC heat formed with fishing line binding, lollypop sticks, paint, silk thread and stainless steel. Photograph Grant Hancock.
About The Collections Project

The Collections Project is a collaborative project between Guildhouse, the Botanic Gardens of South Australia, Flinders University Art Museum and the Art Gallery of South Australia.
This unique project provides artists the opportunity to research an area of one of the institution's collections and develop new work for exhibition. Championing the art and artists of our time while celebrating our cultural, historic and scientific heritage; The Collections Project has the demonstrated ability to provide new audience experiences while delivering long-term benefits to the artistic and career development of participating artists.
Photographs and/or video may be taken at this event.
By taking part in this event you grant the event organisers full rights to use the images resulting from the photography/video filming, and any reproductions or adaptations of the images for fundraising, publicity or other purposes to help achieve the group's aims. This might include (but is not limited to), the right to use them in their printed and online publicity, social media, press releases and funding applications.
If you do not wish to be photographed please inform the photographer or a Guildhouse staff member.