Image: Sera Waters, Future Traditions (installation view), 2022. Photograph Saul Steed.
This opportunity, which comes rarely, if at all, in an artist's life, is one I have dreamed of for my art practice. The invaluable fellowship enables me to go forward for the next year knowing I am supported to make the best work I can. I am so looking forward to undistracted studio time, accumulating momentum, and pushing my art in expansive directions.
Sera Waters:

 

Future Traditions
Art Gallery of South Australia
26 November 2022 – 16 April 2023
In this second iteration of the Guildhouse Fellowship, South Australian artist Sera Waters imagines a new future for us all – one where ancient textile traditions can craft hope in the face of climate change.
Waters is well known for her revival of endangered ways of making, whereby age-old embroidery techniques are restored to comment on our complex and often confronting colonial histories. In this exhibition, the past paves the way for a new future and by reclaiming the traditions that our great-great-great-grandmothers performed we can move, together, towards an alternative liveable future.
Critically Future Traditions hinges on community and those who have kept this knowledge alive over generations. A shared space, the exhibition includes experiments, artefacts, texts, events, workshops and works of art.
The Guildhouse Fellowship was inaugurated in 2019 with the generous support of leading philanthropists, the James & Diana Ramsay Foundation, to recognise and elevate South Australian artistic ambition and is presented in partnership with the Art Gallery of South Australia. 
Images: Sera Waters, Future Traditions launch, Art Gallery of South Australia, 2022. Photographs Lana Adams.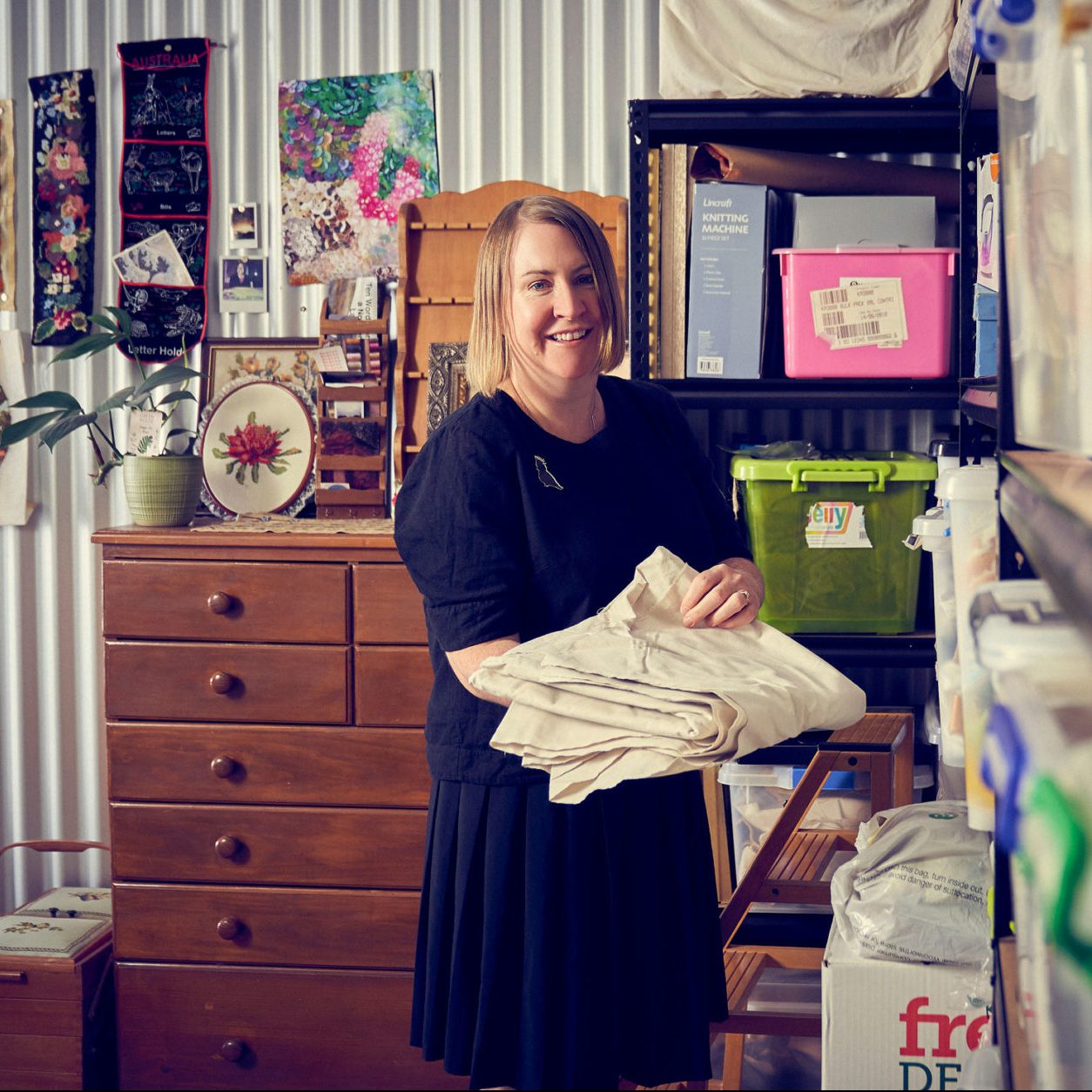 Image: Sera Waters in the studio. Photograph Aubrey Jonsson, courtesy InReview. 
ARTIST BIOGRAPHY
Sera Waters is an artist living upon Kaurna Country, in the Adelaide region of South Australia. Her research and art practice dwell within historical gaps to examine the ongoing legacies of settler colonial homemaking, specifically domestic textiles, hand-craft traditions, and patterns passed along family lines. In 2006 Waters was awarded a Ruth Tuck Scholarship from Carclew Youth Arts to study at the Royal School of Needlework, UK, which propelled her investigations into textile traditions and their tangled roots. Waters holds Bachelor of Visual Arts with Honours (University of South Australia, 2000), a Master of Arts in Art History (University of Adelaide, 2006), and in 2018 completed a PhD at University of South Australia, supervised by Emeritus Professor Kay Lawrence, focusing upon what she has termed 'Genealogical Ghostscapes'.  
Waters exhibits across Australia and internationally. In 2017 she was awarded the inaugural ACE Open South Australian artist commission and created her solo exhibition Domestic Arts. This toured South Australian regional galleries in 2020 and 2021 with Country Arts SA (presented in partnership with ACE Open). In 2020 Waters began developing her 'Future Traditions' project, enabled by the Guildhouse Fellowship (with Art Gallery of South Australia, supported by the James & Diana Ramsay Foundation), as well as instigating projects such as #survivalistsampler and #climatebadges (with the SA Artists for Climate Action group). Since 2020 Waters has also been commissioned to make new work for Eucalyptusdom (Powerhouse, Sydney), and was selected for Free/State: 2022 Adelaide Biennial of Australian Art, curated by Sebastian Goldspink. The series of embroidered Storied Sail Cloths exhibited in the biennial travelled to the Busan Biennale 2022: We, on the Rising Wave, in South Korea, curated by Haeju Kim. Other major exhibitions include Dark Portals, at the Lawrence Wilson Art Gallery, University of Western Australia (2013), Sappers and Shrapnel at Art Gallery of South Australia (2016) and Going Round in Squares at Ararat Gallery TAMA (2019).
Waters' works are held by the Cruthers collection of Women's art, Ararat Regional Gallery, the Art Gallery of South Australia, Powerhouse and private collections nationwide. Waters is a senior lecturer at Adelaide Central School of Art, writes for national and international publications, and is represented by Hugo Michell Gallery.