Journey Beyond: Artist in Residence Exhibition
Image courtesy Journey Beyond.
Journeys – celebrating 90 years of The Ghan
Over nine colourful decades, The Ghan has inspired pioneers, adventurers, royalty and artists alike. It has a rich Australian history and a true connection with the landscape through which it travels.
Ten diverse South Australian and Northern Territorian artists respond to their experience of the train journey, and the land, in this special exhibition celebrating The Ghan's 90th year.
Thom Buchanan | Daniel Connell | Anna Dowling | Sam Gold | Robert Habel | Kerryn Levy | Haneen Martin | Mervyn Rubuntja | Lauren Simeoni | Julie White
Adelaide Parklands Terminal
June 1 – August 31 2019
This project is presented by Journey Beyond and Guildhouse.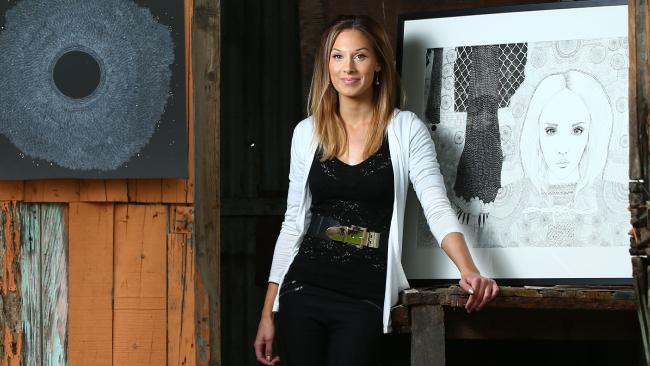 Anna Dowling was born in Adelaide, South Australia. Anna is a descendant of the Badimia people of the Yamatji region in Western Australia. Working in ink on paper, she reflects on her mixed cultural heritage and draws on traditional symbols and patterns.
Anna's reflection of her time on The Ghan:
For me, the journey on The Ghan emphasised how the landscape changes significantly across Australia. I experienced contrasting desert and tropical environments that differ starkly.  Along the journey, grassy plains transition into warm desert sands and then into a busy tropical backdrop.
In my work; Tropical Desert, I incorporated camel tracks, footprints, termite mounds and other natural elements that represent the shift in environments that is seen from the windows of The Ghan as travelers enter the Northern Territory.  The handprint reflects a viewer at a window and is also drawn from reflections on the Aboriginal art seen in Nitmiluk (Katherine) Gorge.
Arriving in Nitmiluk Gorge, we explored ancient sites where traditional Aboriginal art remains on the sandstone walls of the gorge.  Along with handprints, paintings of round crocodile eggs were featured in a light ochre and have lasted there for thousands of years. The eggs were traditionally eaten by Aboriginal people. It was important to signify local food sources through the ochre art so that people passing through and future generations would know how to survive in the area. My work Crocodile Eggs is a reflection of these depictions.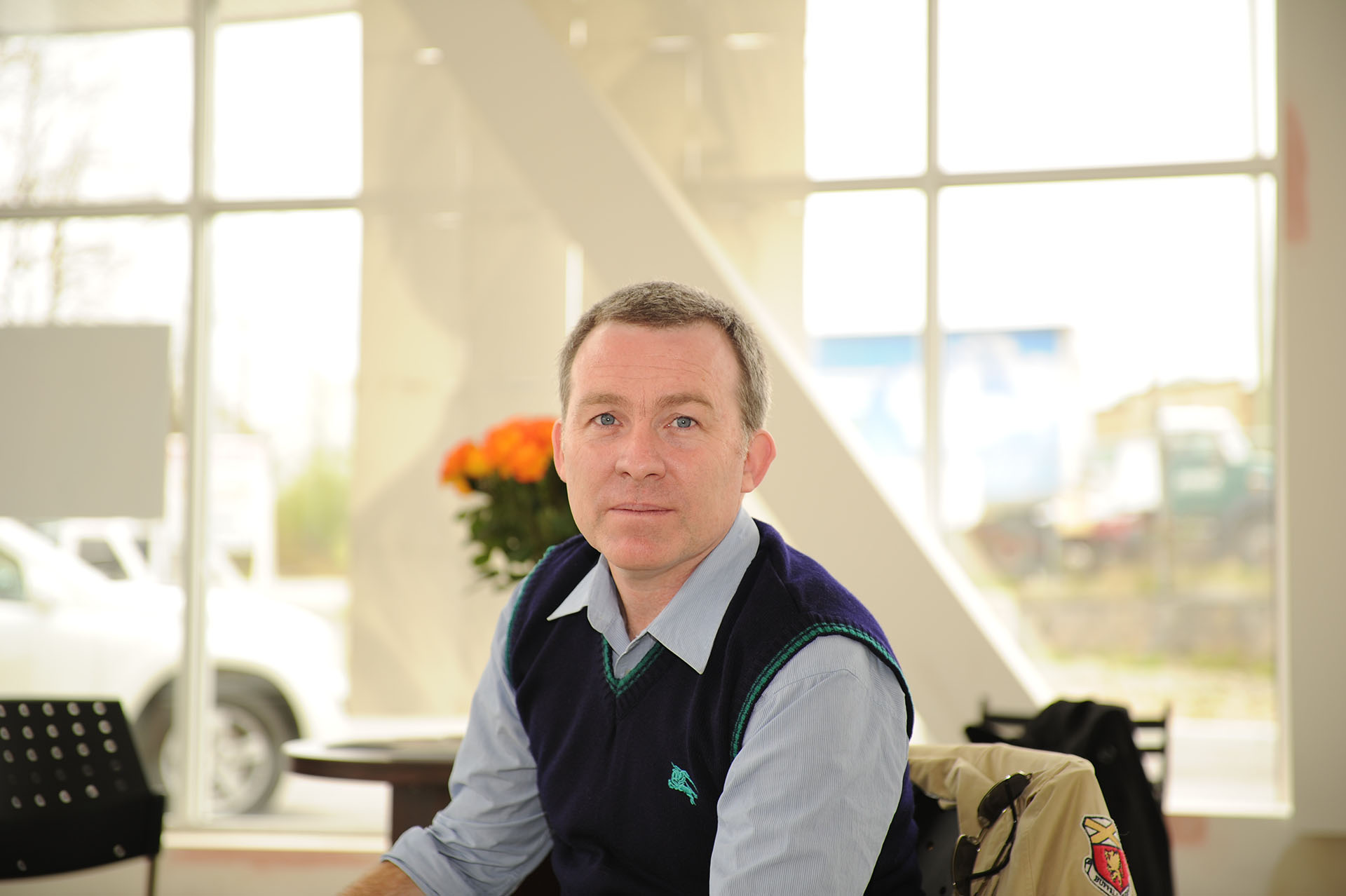 Daniel Connell is an Adelaide based artist whose practice is primarily socially engaged. He is curious about belonging and exclusion and the processes that occur to blur the boundaries between the two states. Daniel has lived and worked in India and worked closely with migrant communities for most of the last 25 years.
Daniel's reflection of his time on The Ghan:
On the journey down a narrow strip through the human and physical landscape of the centre of this continent I learnt the names of some of the countries we cut through: Larrakia, Warray,, Jawoyn, Yangman, Mudburra, Walpiri, Arrente, Arabana, Kokotha, Nukunu, Kaurna. It struck me, how that Northern belief of progress and economic growth, has so much informed my world view but it seems so small when applied to this land. In front of the vast, unrelenting harshness but also delicate vulnerability of this landscape, harmony, slowness and sensitivity seems to be the only right response. You can't fight this land and you can't judge it. You can ask, but it keeps its secrets of survival locked away. You can see the sky and its colossal movement it seems, in its entirety.
We travelled from tropical scrub, paper barks, humidity and termites to red dirt to dead flat plains of black shiny glass rocks, maybe a carpet of tektites fallen from space, to soft greys of flat and purple ranges and cold rain in a matter of hours rather than months. Today's rapidity hastens one's thoughts to the so-many people who walked it for more 60 000 years and then in the last 200 with camels. There are layers of many different travelling people over this route.
Most of the cameleers were Muslim. Before I left on this trip, I visited the oldest Mosque in Australia in Little Gilbert St, Adelaide. The broad West Terrace and Sturt Streets used to accommodate camel trains. The Muslim community there has changed now. Maybe art can give a pause in this journeying so we can turn, face to face with our fellow travellers and see we are all on this same train together.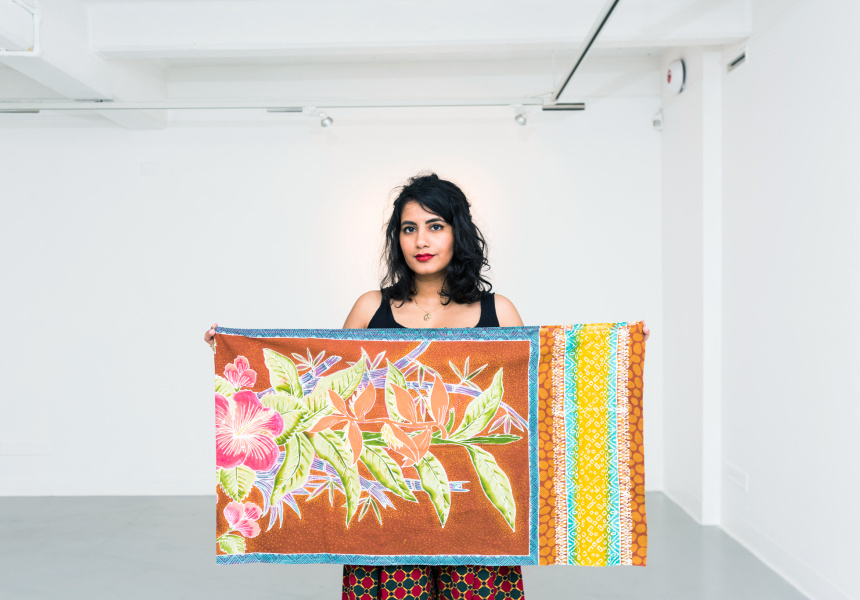 Haneen Martin is a South Australian artist, curator and producer based in the Northern Territory.
She embraces a physical style of art making, requiring intensely tactile processes in order to engage with her culture and the world around her, following her own ethos: if you can create your own environments, you cannot be an outsider. Haneen uses these processes to tap into her Arab and Malay roots, as a means of formulating a personal and mystical connection between the artist, the work and the viewer. Haneen's work is a deeper exploration of what it means to be an outspoken woman of colour in Australia ranging from negotiating pride in her culture through food while recognising and examining the higher beauty standards we hold ourselves to in order to be accepted in our day-to-day lives.
Haneen's reflection of her time on The Ghan:
The first time I remember registering what The Ghan was, the family was putting money together for my grandfather so he could take the trip once the line had been reinstated. So, when I first learned about the trip, I knew that I had to take my father with me so he could experience it too. Since I am an Adelaide girl living in Darwin, Dad had to fly up north in order to take the trip with me. This trip, steeped in rich Australian history, deeply connected with other cultures, created a homecoming for me in 2019.
It took me from banana leaves to gum leaves. After moving to Darwin for more familiar tropical scenery in line with my native Malaysia, I grew to appreciate my father's perspective of the changing scenery out the train windows and his need to spot gum trees like the ones around their suburban garden in Adelaide. Him a sixth generation Australian and myself a migrant, my perception of the world around me differs drastically from my father's, which is exactly what made him a perfect guest on the journey. His idea of familiar scenery reaffirmed my ever-developing concepts of home and for the first time in my life, I confidently told people that I was going home.
Julie White

Julie White is a South Australian based textile artist who makes art fashion accessories. Her hand drawn prints are instantly recognisable. Bold, original and fun, her collection of silk scarves and specialty socks are collectable and timeless. Building on the tradition of contemporary Australiana, Julie White's images of native flora and fauna capture the mystery and excitement of the bush, the desert and the sea, with an exuberance that is entirely her own.
Julie's reflection of her time on The Ghan:
Travelling on The Ghan from the top end of Australia to the bottom was an absolute feast of inspiration. It was hard to capture it all in just one scarf! I was really inspired by the changing landscape and the flora and fauna seen in every location – from tropical plants and giant termite mounds in Darwin, to the flowers in Alice Springs and rainbow opals in Coober Pedy – the scarf evolved to capture the landmarks of the journey like a memory captured in time. It was amazing waking up every day to look out the window and see the landscape completely transform from the day before! 90 years is a fantastic achievement and it has been an honour to be part of the journey!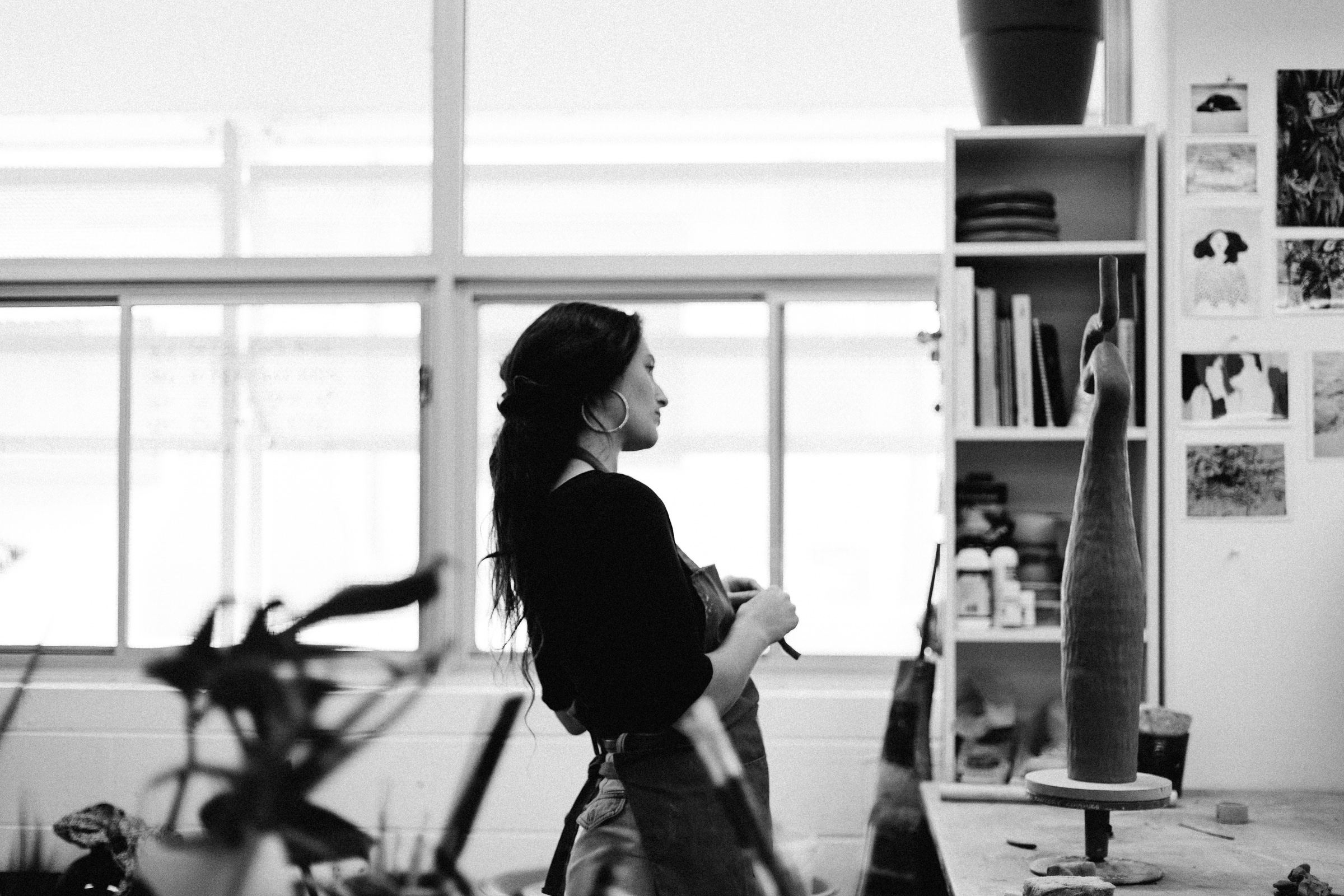 Kerryn Levy

My aim as an artist and maker is to bring people together through a shared love of clay, landscape and beautiful objects.
Through the production of beautiful, tactile, everyday objects, I can form relationships with people, connect people with objects, objects with place, and place with people.
Using traditional ceramic processes of wheel-throwing and hand-building, I create objects that remember my touch and long to be held. These objects have a connection to the human body that formed them, and the landscape whence they came.
I am particularly influenced by the natural environment, the Australian landscape and human interaction with, and within it.
Kerryn is yet to travel on The Ghan. She is one of three artists who will be hosting demonstrations on board the train as part of the 90 days of celebration.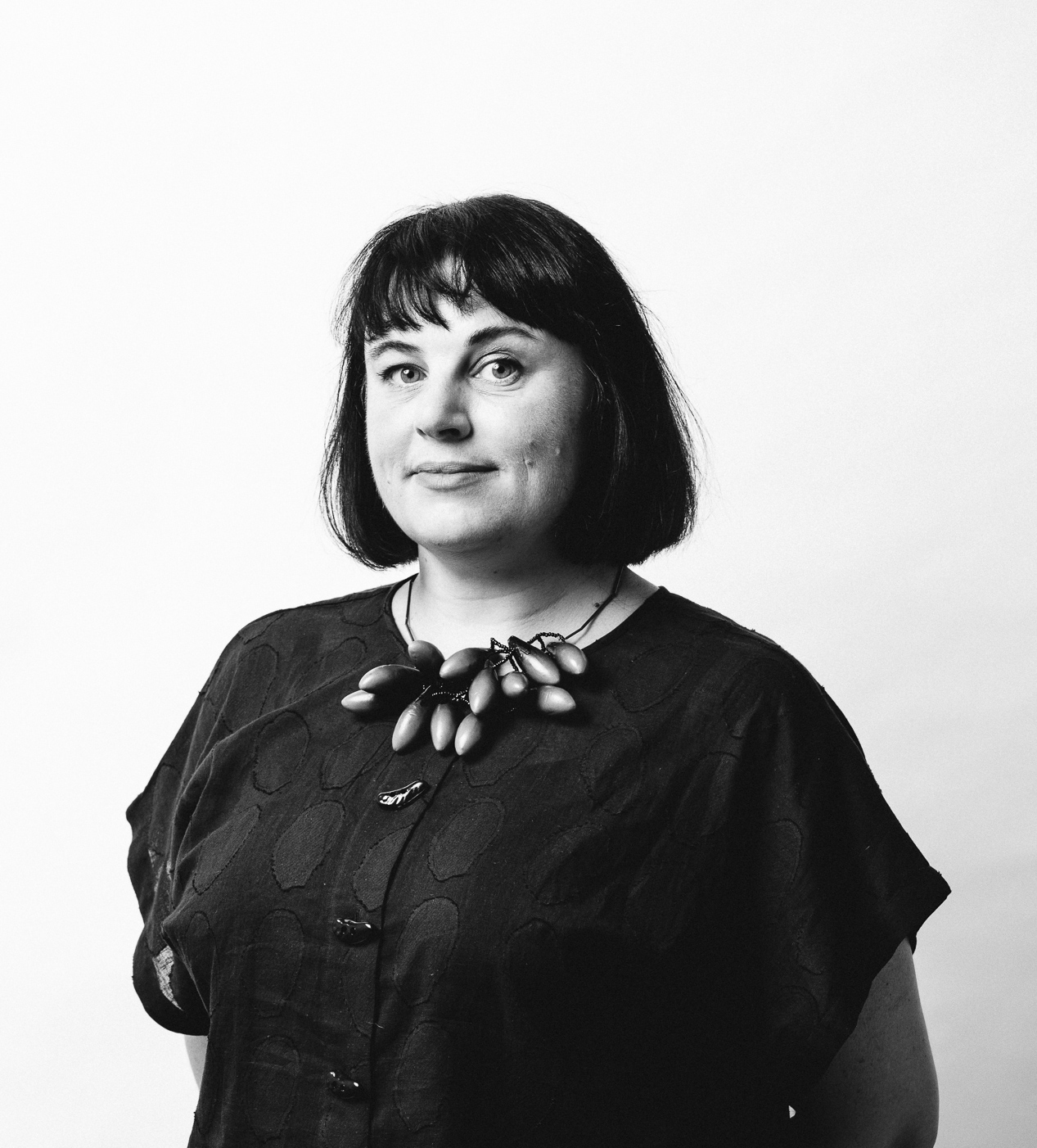 Lauren Simeoni

Adelaide based artist Lauren Simeoni's work is a homage to the senses – a wearable passport to a whimsical 'other' reality, finding the beautiful and seductive in what is otherwise thought of as mundane. The rich colours and textures of found objects are important triggers of inspiration, and a limited pallet provides more possibilities. Her work toys with mass-production processes and she frequently reconfigures mass produced objects to create interactive conceptual jewellery and 2D works.
"I tend to make one-off neckpieces. I like the historical and cultural references of wearing a 'garland', 'wreath', or gifting a 'lei' to acknowledge place. Inspired by adornment of Indigenous cultures, I give my work a contemporary spin by using artificial plants, combined with other non-precious and precious materials.
For this work I wanted to conceptualise the ancient Australian landscape. I found by using an immediate malleable medium like clay I could examine natural forms intimately and be guided by learnt history; and an inherent knowledge of nature to build these stick structures. A reduced pallet of black and white porcelain combined with a few signature materials and my intent is always the same – a lei to signify place."
Lauren is yet to travel on The Ghan. She is one of three artists who will be hosting demonstrations on board the train as part of the 90 days of celebration.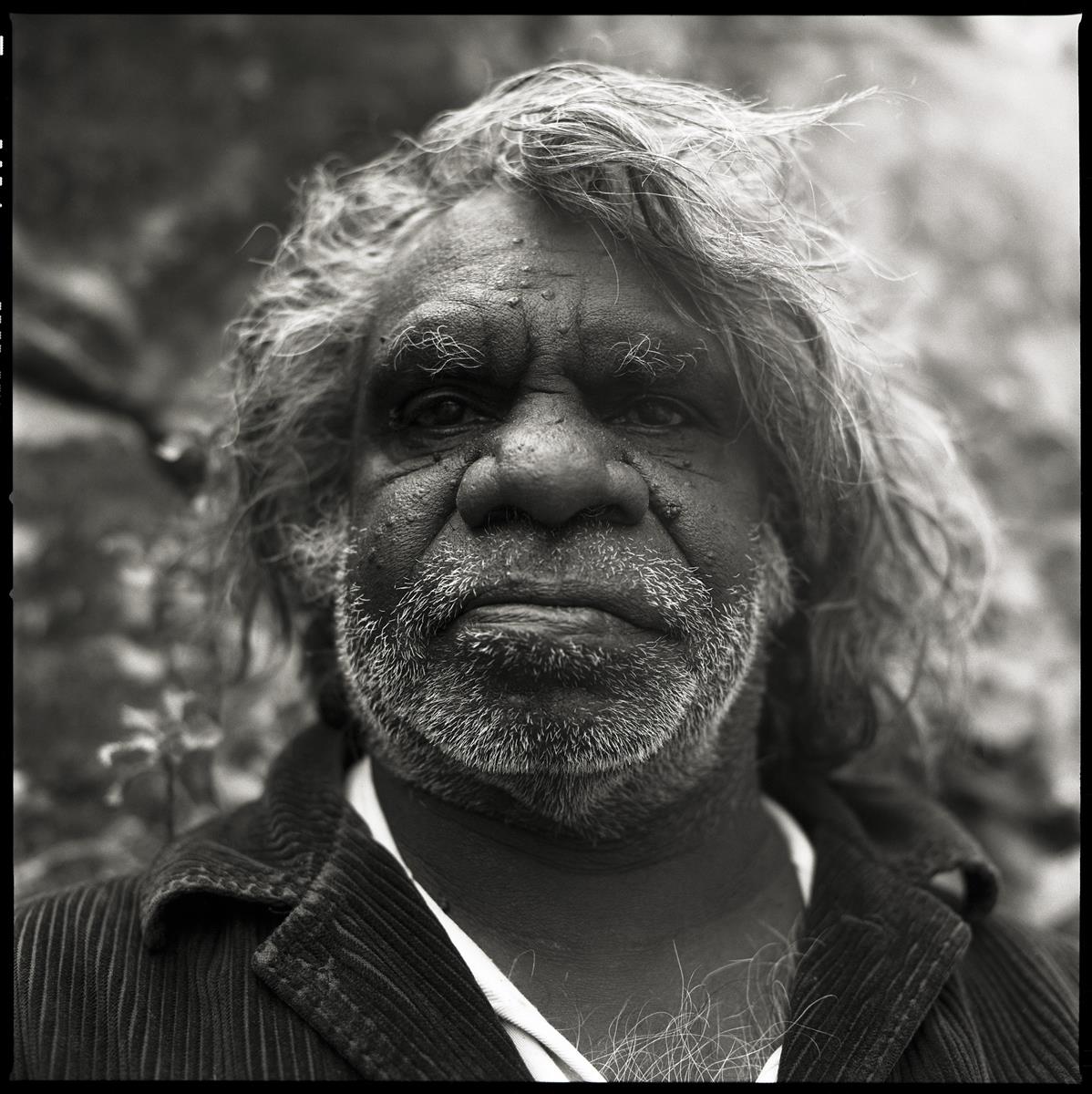 Mervyn Rubuntja

Mervyn Rubuntja was born at the Telegraph Station in Alice Springs. His mother Cynthia (Kamara) Obitja was a Western Arrernte woman. His father was the late Mr Wenten Rubuntja Pengarte, a famous painter.
His father was an important role model for Mervyn. He was a senior lawman and a respected member of his community. He fought for Aboriginal rights and protection of the land, working alongside the Central Land Council and assisting in the Mabo agreement.
Mervyn has followed in his father's footsteps painting in the watercolour style that his father taught him. When Mervyn was 13 years old, his family moved to Hermannsburg. This is where Mervyn first saw watercolour paintings as he watched his uncles Maurice, Oscar and Keith Namatjira painting like their father Albert. Arnulf Ebatarinja, another uncle, kindled Mervyn's painting talent when he gave him some watercolour paperboard and taught him to paint.
Mervyn's family moved back to Alice Springs in 1975 and he began to paint with Basil Rantji who taught him how to mix colours.
Mervyn is yet to travel on The Ghan. He is one of three artists who will be hosting demonstrations on board the train as part of the 90 days of celebration.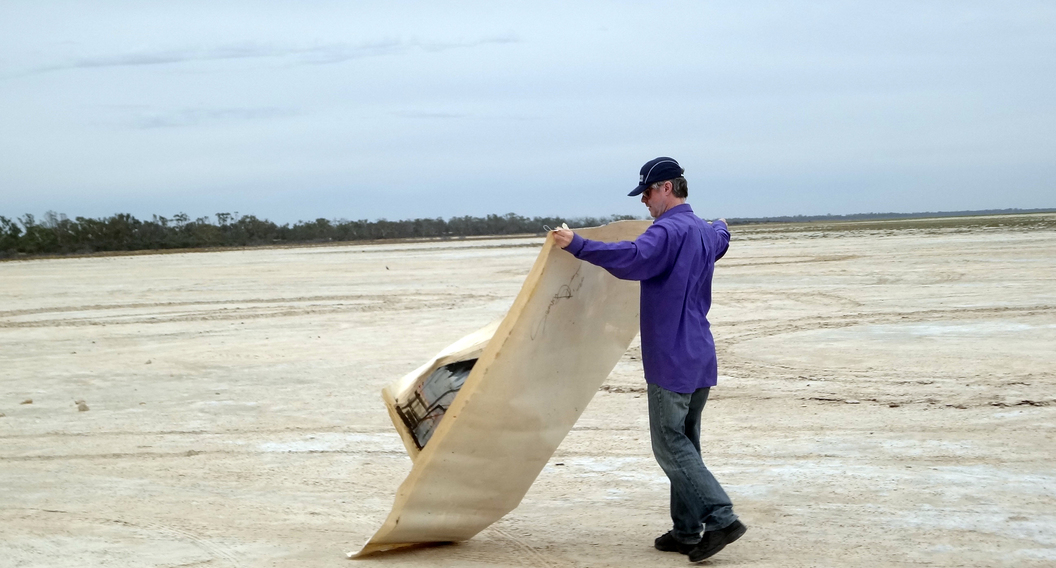 Robert Habel

Painter Robert Habel is based in Adelaide, however, he grew up in Northern Tasmania where his family home overlooked the mountains and Tamar Valley. Inspired by his surrounds and the diversity of environments within close proximity, Habel began painting 'en plein air' as a student of fine art.
Today he continues to do so, enjoying a direct connection with his subject matter and the urgency of the process that imbues his work with a sense of energy. While some works are further developed in the studio, Habel is careful to preserve his initial response to his subject. With a general interest in human intervention in the landscape, he is attracted to the aesthetic potential of the dynamic, contemporary nature of industrial sites and those often topical and contested environments affected by changes in the climate.
Robert's reflection of his time on The Ghan:
My response to travelling north to south in a luxury vessel was to work with both the internal closed spaces of the train and the wide expanse and infinity space of the great outdoors.
The series of small oils merge imagery from the inside of the train and the view from the train. These views and reflections meet and interplay at the dividing plane of the train window.
The large oils tackle the issue of the overwhelming space and infinity views over the desert landscapes. With everything as the subject matter orientation can become elusive.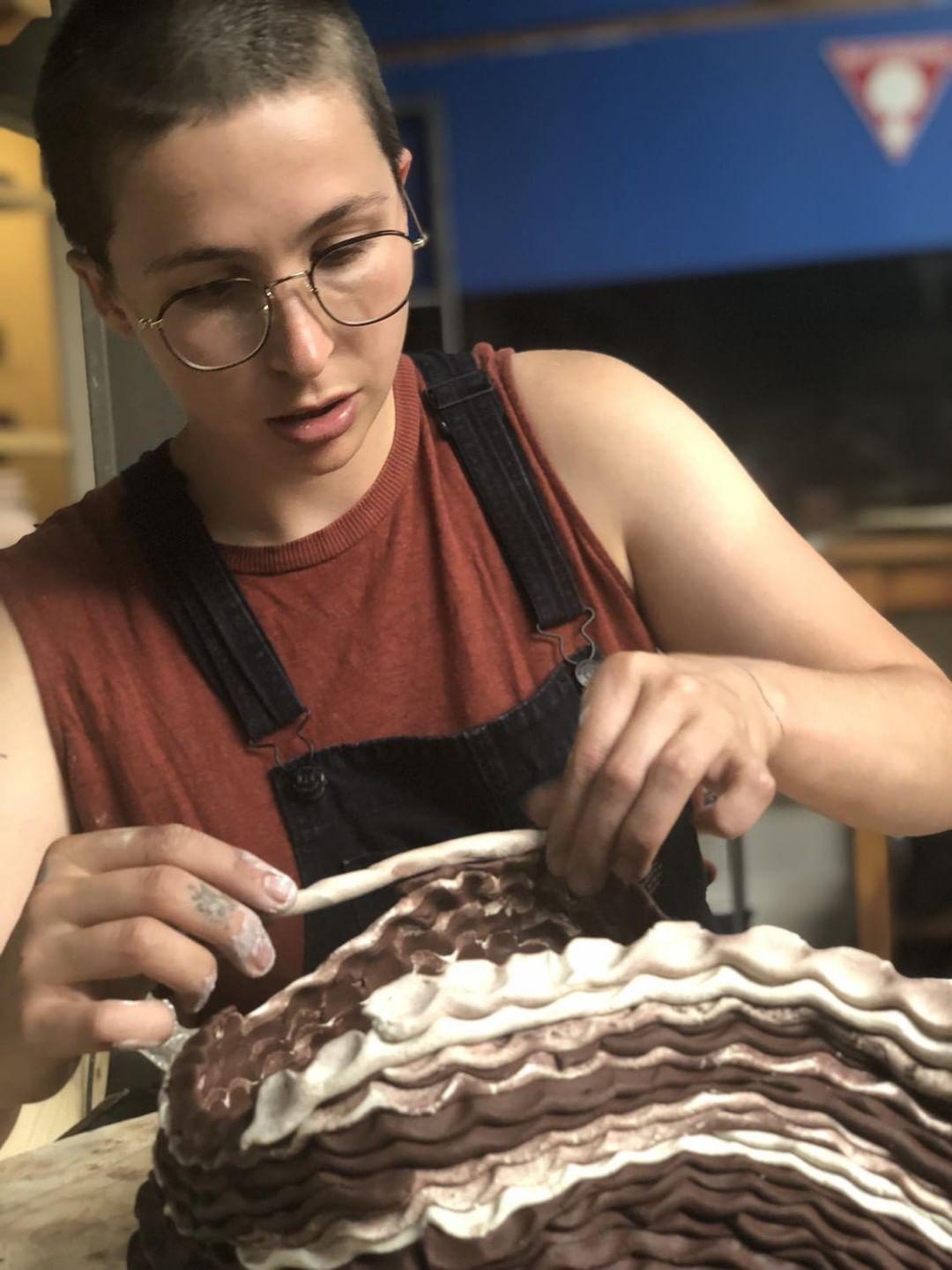 Sam Gold

Adelaide based Sam Gold works in raku, porcelain and stoneware clays producing ceramic installations that fuse architectural and organic where the construction process is informed from her previous training as a furniture maker.
With a practice as an art therapist recently her work has been influenced by the intersectionality between the arts and health, the mark of the maker being embodied into clay as a cathartic way to self-regulate.
Sam's reflection of her time on The Ghan:
The experience of travelling on The Ghan is a lifetime dream, it exceeded a lot of my expectations. When I stepped onto The Ghan I felt I had been transported into an elegant and warm place. I took notice of so many of the interior details that stood out to me, openly recording anything that felt it could play a role into the work I would create. The Ghan was a really welcoming environment and I feel really grateful to have been given the experience.
My trip was from Adelaide through to Marla, Alice Springs and Katherine landing in Darwin. Each of the sites we were able to experience guided tours. I really connected with this part of the journey, the visuals, colours, shapes and forms of the landscape really fed into the final outcomes for what I have made for the exhibition. I have played around with a technique that I am beginning to master and reinterpreted some sketches and vivid memories that stood out the most for me during the trip. In particular, the variations in earth tones from one place to the next led me to select and pair new and old clay bodies, ones that speak directly to the change of earth and the richness within that. This has resulted in me being able to make a limited edition, very bespoke collection of works for the exhibition.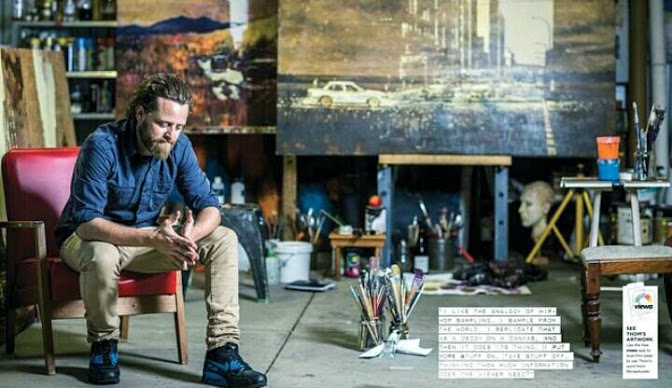 Thom Buchanan

Adelaide based Thom Buchanan's work reflects a fascination with time and the built environment, from large-scale live painting to layered works on canvas.
Strong attention to the vanishing point, is the invitation to enter his work which are sometimes ghostly, often mixing dark and light tones, to try to draw the viewer through an imaginative timescale that encompasses future built environments – utopian and dystopian, enhancing the layered pasts he feels we still inhabit. Any future vision should attempt to communicate with and through the thousands of years of history that precedes it, from Indigenous understandings and uses of place, through to contemporary migrant experiences. I aim to create images that work both away and towards, into past and future, using fusion and decay. I am fascinated by the tensions between natural and built environments, between moving forwards and being still, and between the living and the dead.
Thom's reflection of his time on The Ghan:
Nostalgic, majestic and totally encapsulating are words to describe the journey on The Ghan. Witnessing the epically beautiful landscape whilst trying to absorb its magnitude, ponder in thought and render in the residue of the experiences, is an altogether staggering way to travel. The metamorphoses and changing scenery was such a powerful and grounding vision that it has left a cerebral imprint that will last a lifetime.
This expedition is truly a unique way to experience and understand our complex story, our Indigenous history, landscape and culture. It has certainly exposed me to the wonders of this great land, to the magnificent and epically picturesque county we call Australia, in all its facets.
Travel and adventure is the researcher as well as the best teacher to encourage response and reflection.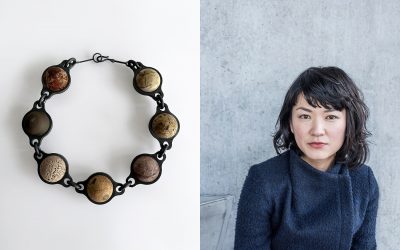 2023 Guildhouse Fellow announced, artist Kyoko Hashimoto explores a more sensitive and sustainable future. Guildhouse, the Art Gallery of South Australia and the James & Diana Ramsay Foundation are delighted to announce South Australian contemporary jeweller Kyoko...