What's On & Opportunities
Neville Cichon, A Line Has Been Drawn, 2016, 28 x 24 cm. Photograph Neville Cichon.
Guildhouse is dedicated to connecting you with sector news, events and opportunities.
The events, exhibitions, opportunities, studio spaces and equipment listed here are independent from Guildhouse. Please follow the links or contact information provided to for further information.
Some of this content is available to members only, and will require you to login to view.
If you would like to submit content for promotion on the Guildhouse website or social media platforms please use the link below.
Guildhouse is all about connecting creatives with opportunities.
We share a variety of opportunities on offer through our partner organisations and the wider industry. In this section you can explore a variety of art prizes, commissions, proposals, call outs, residencies, mentorships, career development, grants and funding opportunities.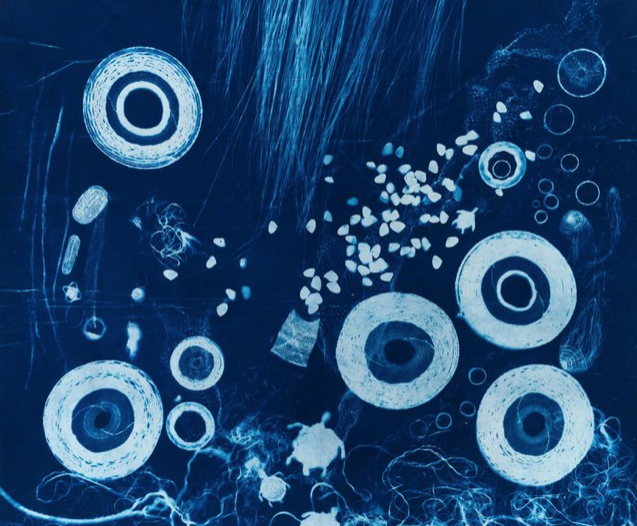 Tarnanthi: Open Hands
16 October, 2020 – 31 January, 2021

Open Hands is this year's inspiring focus exhibition of Tarnanthi, the Art Gallery of South Australia's annual celebration of contemporary Aboriginal and Torres Strait Islander art.
Open Hands pays tribute to the work of senior artists who pass on vital cultural knowledge to younger generations as the future leaders of their Aboriginal and Torres Strait Islander communities. Through the act of making, they channel deep connections to Country and culture as they relate knowledge and expertise, stories and experiences.
Through a variety of media – including painting, works on paper, photography, moving image, sound installation, weaving, ceramics and sculpture – Open Hands honours the ongoing and often unseen work of women in communities to maintain culture. Keeping these stories alive and sharing knowledge is deeply embedded in everyday cultural life across Australia.
AGSA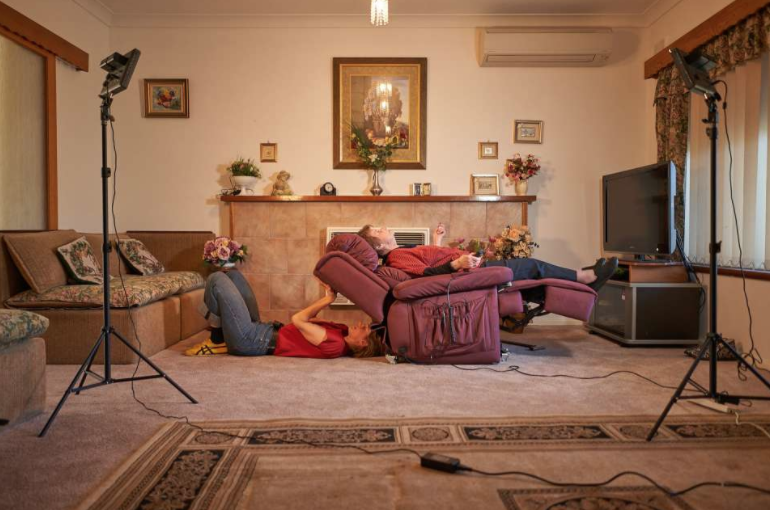 If the future is to be worth anything: 2020 South Australian Artist Survey
12 September – 12 December

Recent events have exposed how truly our lives are enmeshed with those of others – with potential for support and harm in both a micro and macro sense. What brings together the artists featured in this exhibition is an engagement with a world beyond art, directed towards thoughtful and productive experimentation, the re-imagining of self and structures, and creative tactics for strength, vulnerability and survival.
If artists can show you the world as they see it, what we learn from a project that situates itself here, in South Australia, is about new and local perspectives on the way culture is formed, how art is made and what counts as art.
If the future is to be worth anything: 2020 South Australian Artist Survey celebrates the breadth of art practice and critical perspectives emerging from South Australia's artistic communities. Presented in partnership with SALA – South Australian Living Artists Festival, this major exhibition outcome for ACE Open will support ten artists/collectives based in South Australia to present ambitious new work commissions. The Survey has been developed through state-wide research and studio visits led by ACE Open's Artistic Director, Patrice Sharkey, and Curator-in-Residence, Rayleen Forester.
Aida Azin
Kate Bohunnis
Sundari Carmody
Carly Dodd
fine print
Yusuf Hayat
Matt Huppatz
Tutti Arts
Sandra Saunders
Emmaline Zanelli
ACE Open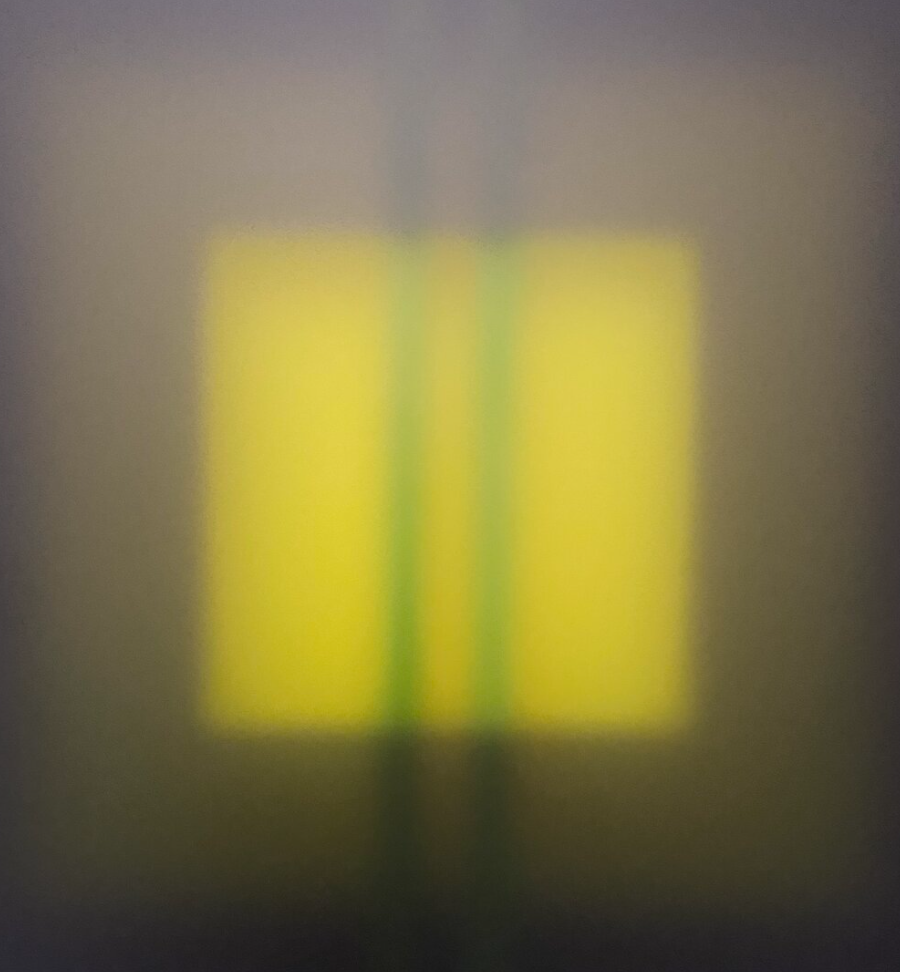 Monika Morgenstern, Fenestra
24 September – 24 December, 2020

In her art practice Monika Morgenstern researches mystical experiences and encounters with the numinous. She aims to bring to light something that does not exist in an accepted paradigm. She uncovers and reveals how the mystical exists in present-day society, and how these issues may be in presented in a contemporary art context.
Her artworks rely on the interaction of light, space and the viewer. The work is not about the object itself, but rather about perception; the viewer becomes a participant through their gaze. Monika is interested in the interchange between the viewer and the work and regards it as integral to the success of her practice.
Collective Haunt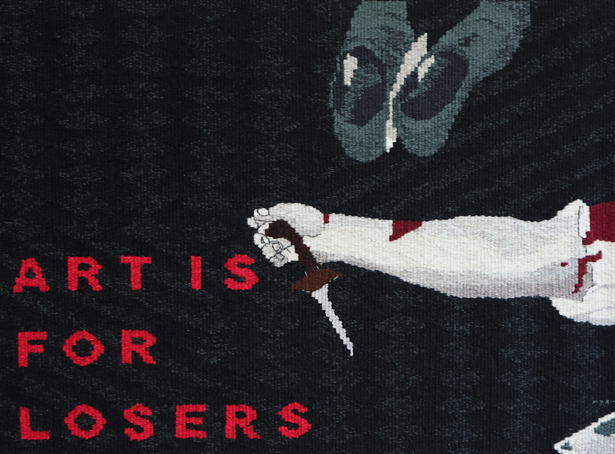 Michelle Driver, Melochromatic
24 September – 24 December, 2020

Utilising the ancient medium of hand woven tapestry, Michelle challenges the norms of society by creating a creeping sense of discord that intrigues and discomfits.
Collective Haunt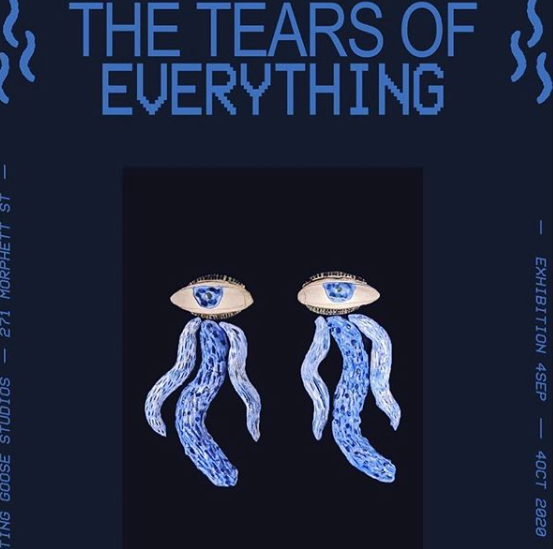 Cassie Thring, The Tears of Everything.
4 September – 4 October, 2020
A new solo exhibition by Cassie Thring based on a little known but well loved fable of despair and repair.
Floating Goose Studios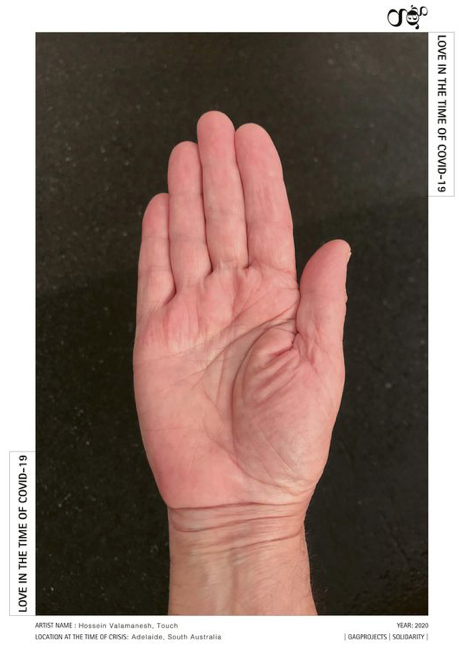 Love in the time of COVID-19
from 4 September, 2020

LOVE IN THE TIME OF COVID-19 is an innovative contemporary art project that provides a marker for the extraordinary state of the world in 2020. Organised through GAGPROJECTS, Adelaide, artists were invited to contribute works in response to the pandemic, as a way of sharing art in difficult and isolating times. Their images present a diverse range of responses to the crisis, reflecting the uncertainties, fears and hopes of this time.
The project resulted in 133 prints by Australian and international artists, which were viewable online and available to purchase individually as on-demand digital prints through GAG PROJECTS. Seen in its entirety for the first time at AGSA, this important series has been acquired for the collection through the generous support of Susan Armitage.
AGSA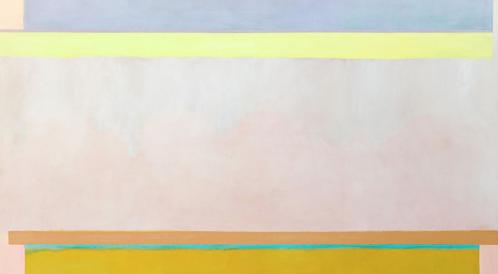 Chromatopia
from 4 September, 2020

Francis Bacon famously wrote that 'all colours will agree in the dark'. The painter's enigmatic quip hints at the effect that colours have on each other, and on us. This display explores how and why artists use colour – for personal, political, philosophical or perceptual purpose.
Chromatopia features recently acquired works by international and Australian contemporary artists, including Virginia Cuppaidge, Jitish Kallat, Tracey Moffatt and Gareth Sansom, but was inspired by a rarely seen work acquired more than half a century ago. Harvest, painted by Dame Laura Knight on the cusp of the Second World War, is a tonic for our times and the inspiration behind this spectral journey.
AGSA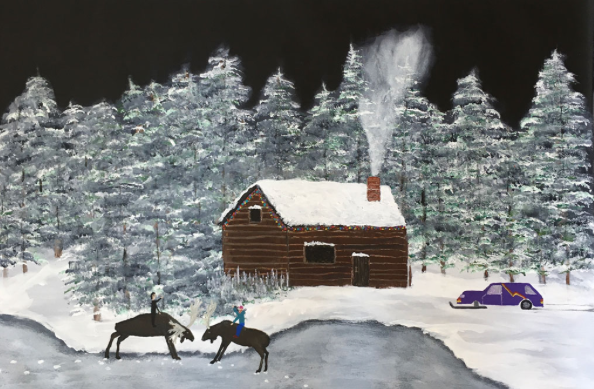 Marc Etherington, Cave Paintings
8 October – 9 November, 2020
Hugo Michell Gallery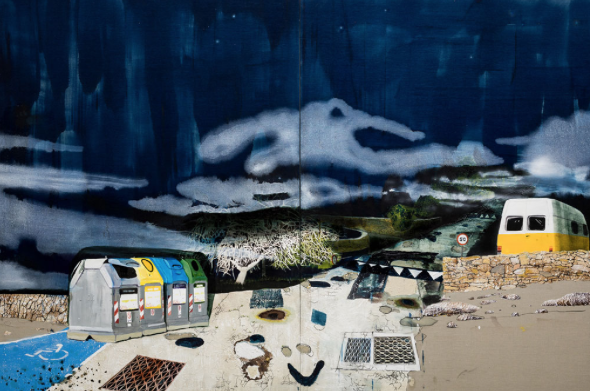 William Mackinnon, Learning to love the wind
3 September – 3 October, 2020
Hugo Michell Gallery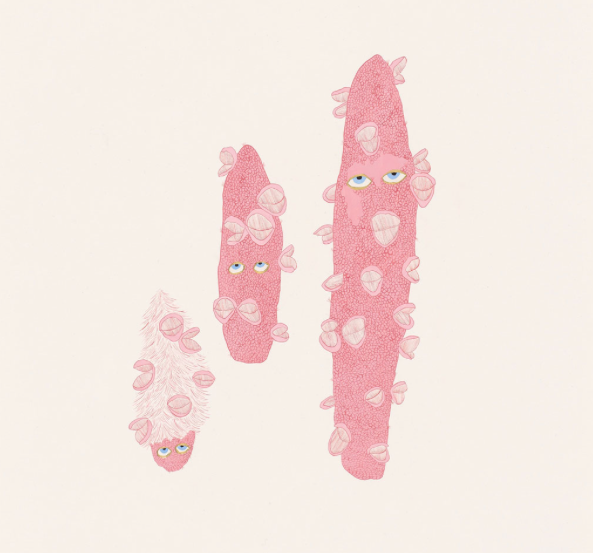 Pip Ryan, Flesh Creepers
3 September – 3 October, 2020
Hugo Michell Gallery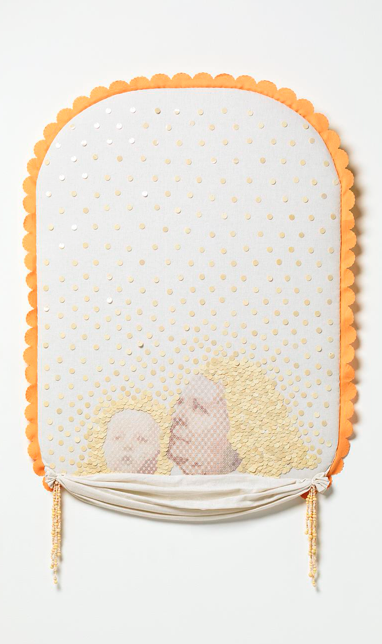 Sera Waters, Domestic Arts
26 September – 1 November, 2020

In Domestic Arts Sera Waters delves into her own family history to unravel the complexities of settler colonial home-making and the contemporary significance of traditional home-crafts.
Large-scale sculptures and intricate embroideries are used to re-imagine the familial home, celebrating the knowledge and creativity of 'women's work', while interrogating it's complicity in forms of colonisation and privilege.
Fabrik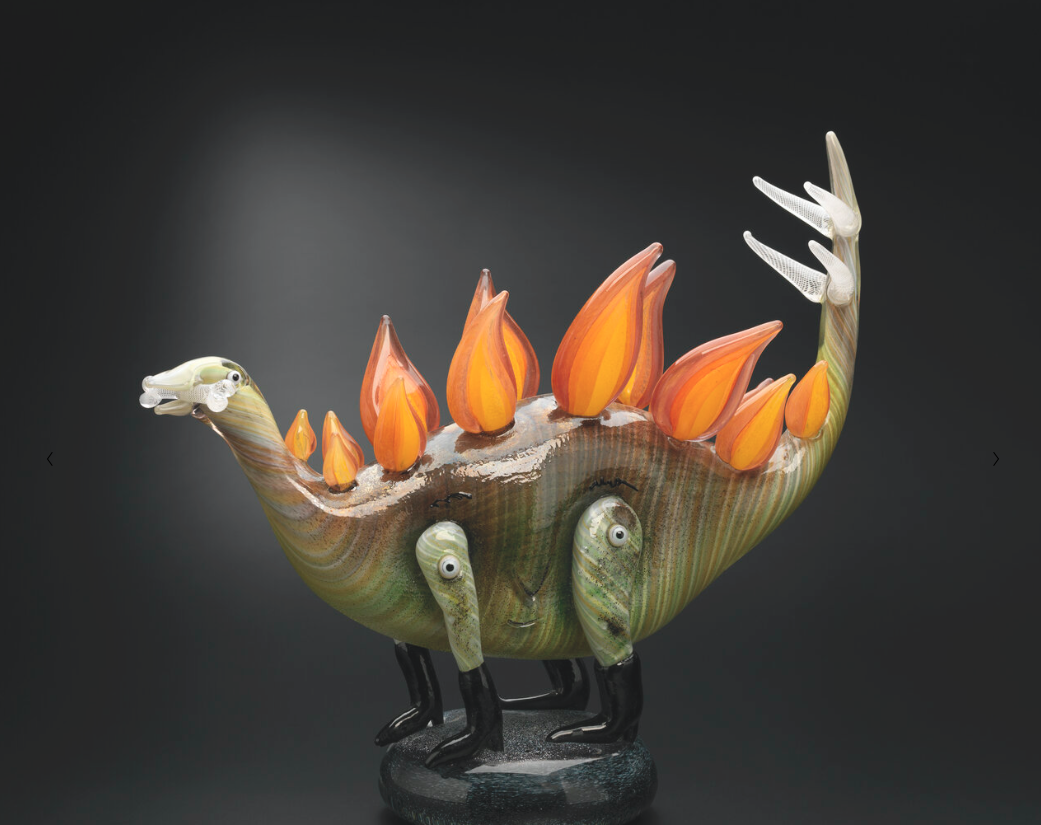 JamFactory Icon 2020 Tom Moore: Abundant Wonder
9 October – 22 November, 2020

JamFactory's Icon series is an annual solo exhibition celebrating the achievements of South Australia's most influential visual artists working in craft-based media. Tom Moore's engaging, sophisticated and technically challenging hybridised animal/plant sculptures – and the fantastical worlds they inhabit – are embedded in the history of glassmaking and scientific discovery. His artworks are disarmingly playful in their use of narrative to critique the pressing social and environmental concerns of our contemporary epoch.
JamFactory Adelaide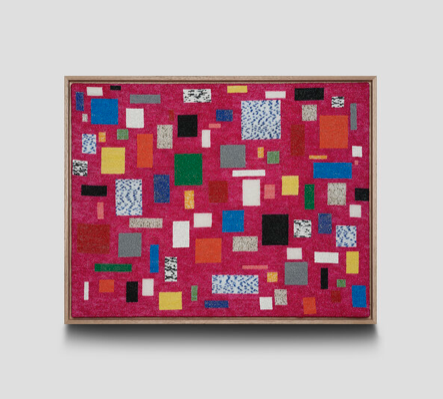 Peta Kruger, Used
9 October – 22 November, 2020

Adelaide-based artist and jeweller Peta Kruger redefines the waste matter of our material culture in her new body of needlepoint works. Otherwise discarded soft plastics are imbued with new value as Kruger responds to our current global plastic crisis. Kruger is a previous tenant of JamFactory (2011-2013) and an alumna of its Associate program in the Metal Design Studio (2009-2010).
JamFactory Adelaide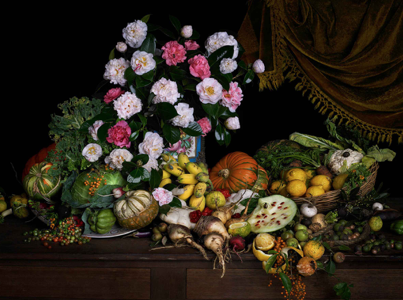 Robyn Stacey, as still as life
9 October – 22 November, 2020

Robyn Stacey: as still as life leads audiences into the tantalising world of the still-life tradition.
Stacey is one of Australia's leading photographic artists whose fascination with the still-life genre inspired the selection of works for this exhibition. Through the contemporary medium of photography Stacey brings historical collections to life on a monumental scale, interrogating what these collections may have meant for their original owners and interweaving personal historical narratives.
Curated by Anouska Phizacklea.
MGA is unique among Australian cultural organisations with a dedicated focus on the collection of Australian photography. It is custodian of some 3,400 nationally significant photographic works.
MGA acknowledges City of Monash and Creative Victoria for the support of this exhibition.
Flinders University Museum of Art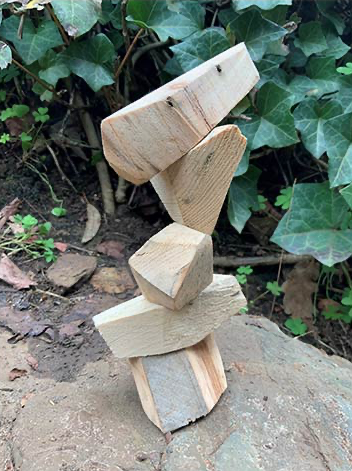 Jake Holmes & Alden, Rocks in the river
26 September – 31 October, 2020

An exploration of parenting as part and alongside artistic practice.
Sauerbier House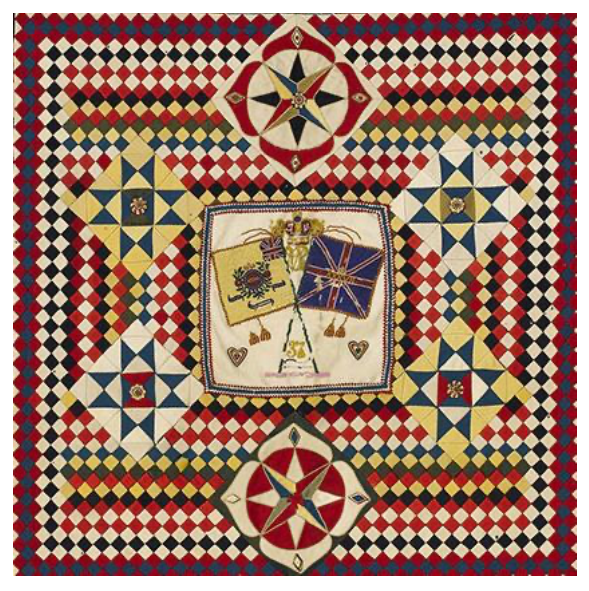 War and Pieced: The Annette Gero Collection of Quilts from Military Fabrics
10 September – 19 December, 2020

War and Pieced brings the art form of 'military intarsia' quilts back to vivid life with some 25 breathtaking examples primarily from the Napoleonic Wars through the Crimean War of the mid-19th century to the late 19th century British colonial wars in India and southern Africa. In Adelaide, they are joined by military portraits, uniforms and Napoleonic prisoner-of-war items.
'Military intarsia' quilting is a craft that was widely practised in European armies of the 18th century before spreading to Britain in the 19th century. Scraps of discarded military and dress uniforms made from felted wool – often no more than a couple of centimetres in size – were repurposed to construct spellbinding textile mosaics with the most intricate and beautiful geometric patterns. Each piece is laid flat, in a fashion similar to marquetry or intarsia woodwork, and in some examples the quilt is built-up with layers of fabric, embroidery or beads to create flags, uniformed figures, coats of arms and more.
These rare military quilts stand as a testament that beauty can still be derived from the most terrible of circumstances.
The David Roche Foundation House Museum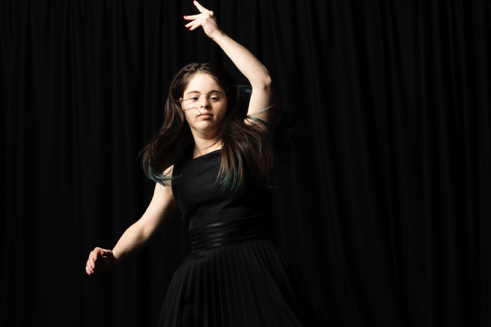 Restless Dance Theatre, Seeing Through Darkness
from 4 September, 2020

Directed by Michelle Ryan of Restless Dance Theatre, Seeing Through Darkness responds through performance to the work of Expressionist artist Georges Rouault. As Ryan states, the imperfect form of the body and the troubled soul of the work resonate with how people with disability can feel and be perceived. Some may be confronted while others may see beauty in difference.
Seeing through Darkness is an immersive experience, one that is both a participatory exhibition and a fifteen-minute performance, in which elements of dance, music, lighting design and moving image are assembled. Outside performance times, visitors will be able to transform the space themselves – by means of their own shadow, cast in vibrant colour in overlapping arcs on gallery walls.
AGSA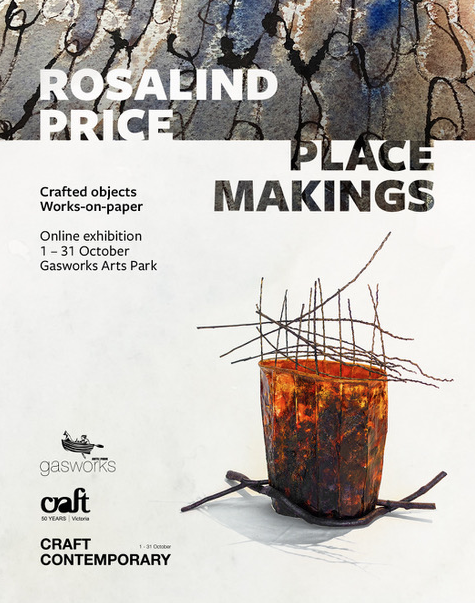 Rosalind Price, Place Makings
26 September – 1 November, 2020

"Welcome to my new exhibition. It's
online only
, and runs from now until 31 October. Simply click
HERE
to see the work and hear the thinking behind the making.
Like many of us, I've spent the last few months tethered to home. This show is the outcome of paying attention to my own neighbourhood and working with foraged materials. Online, you can see each piece close-up if you switch to full-screen. Or click 'Artwork Details' to read about the work." – Rosalind Price
Online, Craft Victoria's Craft Contemporary Festival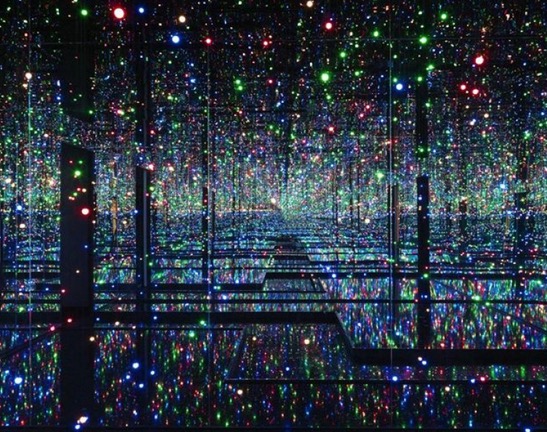 Enter Yayoi Kusama's Infinity Mirror Room
From her celestial Infinity Mirror Room to her expansive dot paintings, revolutionary Japanese artist Yayoi Kusama creates art you remember. While it isn't exactly the same as walking into one of her all-consuming installations, this 14-minute video created by The Broad Museum in LA (with a score by composer Geneva Skeen) is pretty stunning. It's best watched in the dark.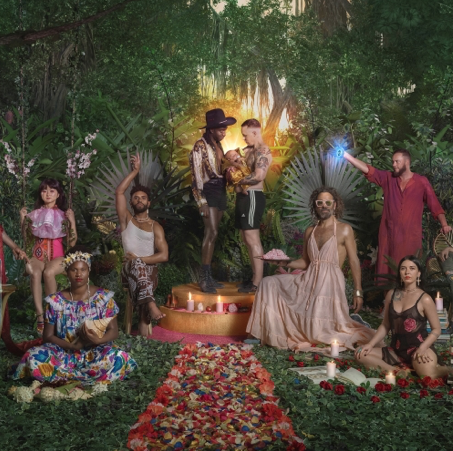 Amos Gebhardt, Small acts of resistance
16 October – 28 November, 2020

Amos Gebhardt presents Small acts of resistance, an expansive new multi-channel video installation demonstrating the power of kinship and community.
Across three screens, we witness acts of communal care play out within a variety of Australian contexts. Gebhardt uses portraiture, dance, song and play to tell stories of survival, strength and evolution as a means by which to celebrate more expansive notions of being. Animal and plant worlds coalesce, highlighting our similarities when it comes to small acts of resistance.
Samstag Museum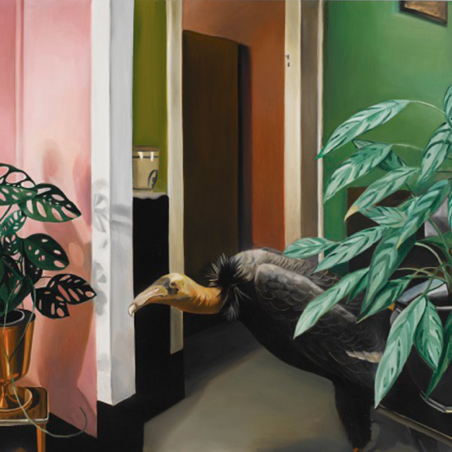 Anne Wallace, Strange Ways
16 October – 28 November, 2020

Strange Ways is the first major survey exhibition of Samstag scholar Anne Wallace, and includes works from the early 1990s through to the current day. Born and raised in Brisbane in the 1970s and now based in Melbourne, Wallace's highly accomplised figurative paintings are as much about the textural as the pictorial.
Wallace has an uncanny ability to tap into shared psyches, drawig upon the language of pop culture to combine the familiar with the unfamiliar. The moments conjured capture a tension between the real and imagined; there is sexual and social confusion, vulnerabilty and violence, alienation and lonliness, feelings of abject, and fantasies of power and revenge.
Spanning thre decades and bringing together works from public and private collections, this is the most comprehensive survey of Wallace's practice to date.
Samstag Museum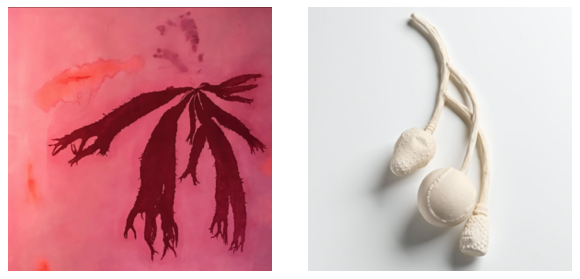 Chris de Rosa & Lesa Farrant, Ebb

1 October – 1 November, 2020

Artist friends Chris de Rosa and Lesa Farrant, both of whom live on and are influenced by the coast, have created individual and collaborative works. Shoreline walks have provided inspiration and, in some cases, the actual materials for the work in the exhibition.
The artists have a shared concern and interest in the combination of marine organisms and shoreline detritus: a reflection of the effects of human activity on the natural marine environment. Both have also been inspired by the work of two 19th century female naturalists working in South Australia, one collecting marine algae specimens in the Encounter Bay area, the other illustrating a book on the wildflowers of South Australia.
While de Rosa's work is primarily print based, her approach combines traditional and non-traditional techniques and materials. For Ebb, she has created both 2D and 3D works which reflect her continuing fascination with marine plants and algae.
Farrant has produced porcelain assemblages depicting local and introduced species that grow on the fragile sand dunes and coastal strips near her home. She combines these with porcelain casts of natural and foreign objects found on the seashore, created from plaster moulds of sea shells, sticks, plastic bottles and straws.
West Gallery Thebarton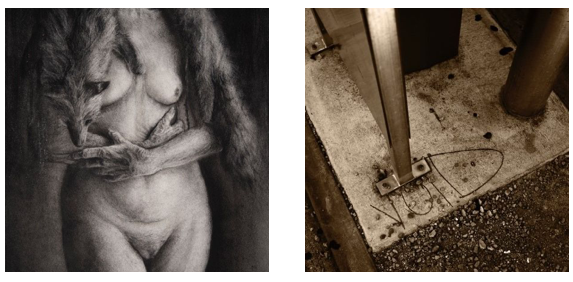 Margaret Ambridge & Mark Fitzgerald, Walk on By

1 October – 1 November, 2020

Walk on By features drawings by Margaret Ambridge and photographs by Mark Fitz-Gerald. Both artists are interested in the details that are often unnoticed, the small moments in time that are deserving of attention. When does the inconsequential become monumental and vice versa?
Ambridge's sensitive and atmospheric charcoal drawings continue her celebration of the intensely personal through her ability to connect with individuals. Her technical mastery encourages viewers to participate in this process by allowing them to physically experience the stab of a cactus spine or the caress of animal fur. Well, almost…
Fitz-Gerald is also interested in capturing images of the overlooked and of fleeting memories of time that most of us just 'walk on by'. With a long career as a professional photographer working in pathology, he applies his forensic lens to the messages and marks hastily drawn into wet concrete: spontaneous gestures that have become memorialised in our footpaths yet remain largely unseen.
West Gallery Thebarton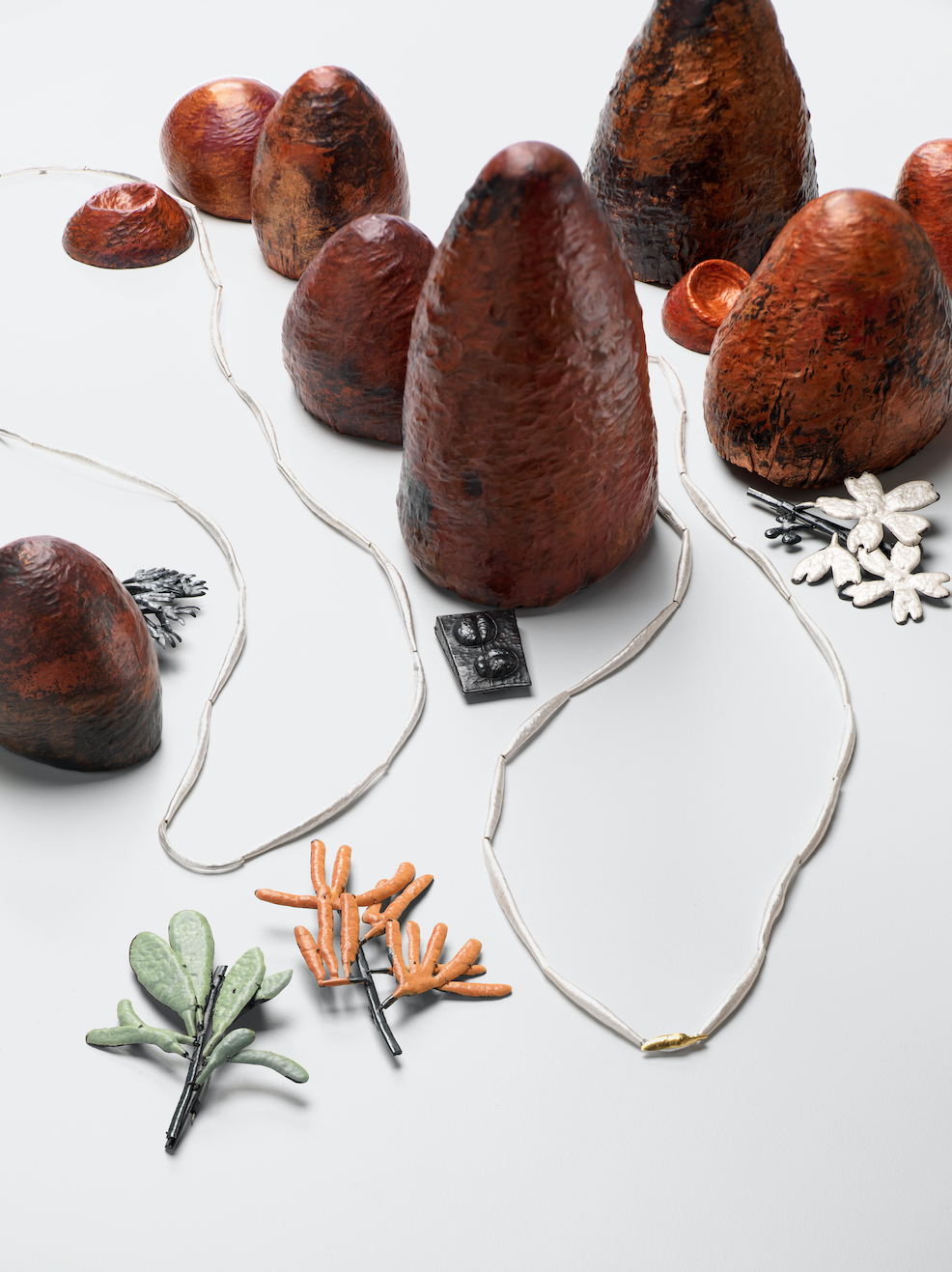 Julie Blyfield, Embrace
8 September – 3 October, 2020

Works inspired by the artists trip to the Bungle Bungles in the Kimberley WA
The National Jewellery Gallery, Christchurch, New Zealand

Kirsten Coelho: In focus
1 August – 4 October, 2020

This display showcases Kirsten Coelho's distinct practice of crafting porcelain vessels to honour the everyday. A selection of Coelho's fine forms will be placed in dialogue with Russell Drysdale's 1949 painting 'Woman in a Landscape' which inspired the artist and her work. Coelho is this year's SALA feature artist and her Wakefield Press monograph will be available in the Gallery Store.
AGSA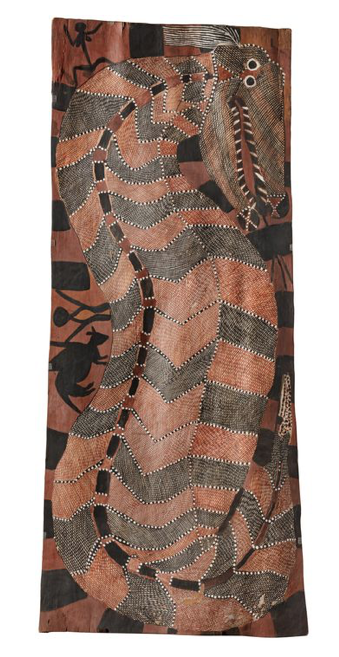 Converging Currents: Bark painting from Arnhem Land
from 4 September, 2020

Converging Currents presents key works from the Gallery's collection by artists from across Arnhem Land – from the stone country of the Bininj Kunwok people in the west to the saltwater homelands of the Yolŋu in the northeast.
In Arnhem Land, as in many Aboriginal societies, knowledge is shared through the act of making and by passing on important protected cultural stories from one generation to the next. Displayed to reveal specific intergenerational groupings, this exhibition of more than thirty bark paintings and sculptures affirms the continuity of culture across time and place.
Integral to the display is a series of new acquisitions that further highlight important cultural and familial lineages and creative relationships between artists.
AGSA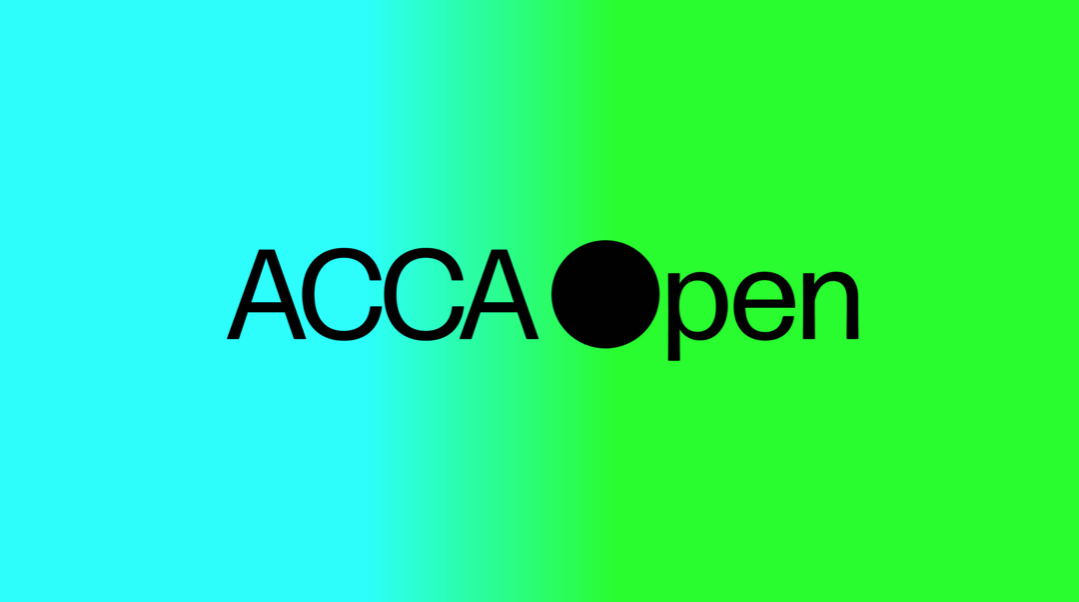 ACCA Open: Digital Commissions
19 August – 1 November, 2020

ACCA are excited to announce the six projects selected for ACCA Open, a new commissions series for contemporary art projects in the digital realm.
Artists Archie Barry, Zanny Begg, Léuli Eshrāghi and Sean Peoples, and collaborators Madeleine Flynn and Tim Humphrey, and Amrita Hepi and Sam Lieblich will each receive $8,000 to create a new work to be presented by ACCA on digital platforms. Two works will be released at each stage over the following three dates: 19 August, 16 September and 14 October August 2020.
Devised as a way for ACCA to continue to work with and support contemporary artists during the COVID-19-related gallery closures and disruptions, ACCA Open was an invitation for Australian artists and collaborations from all backgrounds, career levels and practices to submit ideas for projects that could be presented through digital platforms.
ACCA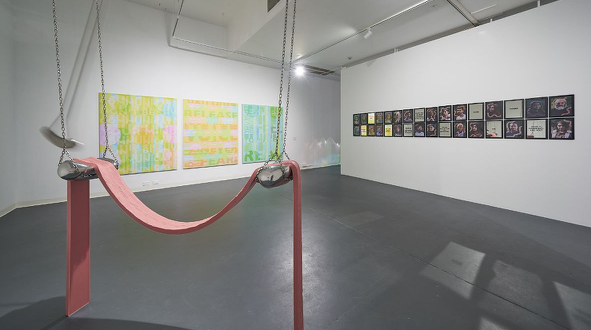 West End Art Talks
Saturday 21 November 2020
Hear from some of South Australia's most celebrated contemporary artists in this series of free artist talks held at ACE Open, JamFactory and Samstag Museum to coincide with exhibitions of new work by each artist.
2pm: Kirsten Coelho at Samstag
3pm: Survey artists at ACE Open
4pm: Tom Moore & Peta Kruger at JamFactory
5pm: post-event drinks at West Oak
The Designer Maker Revolution
Podcast series by Adrian Potter

In the podcast series The Designer Maker Revolution Adrian Potter talks with designers and makers about their lives and especially about how and why they do the things they do. Cross material and cross discipline this series investigates what makes creative people tick.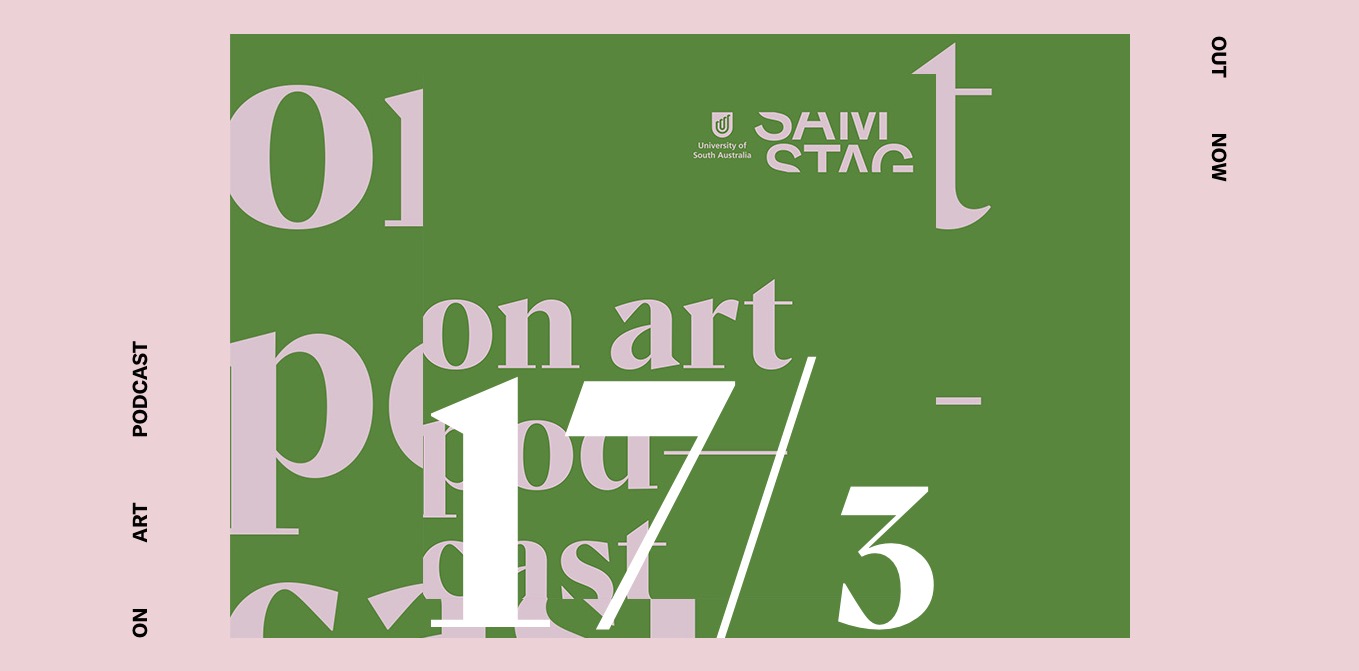 ON ART podcasts
by Samstag Museum

Samstag will be focusing their efforts on digital channels for the time being and will continue to share their exhibitions with you through their Publications & Podcasts.
Expereince their ON ART podcast series of talks and discussions that follow the lead of contemporary art.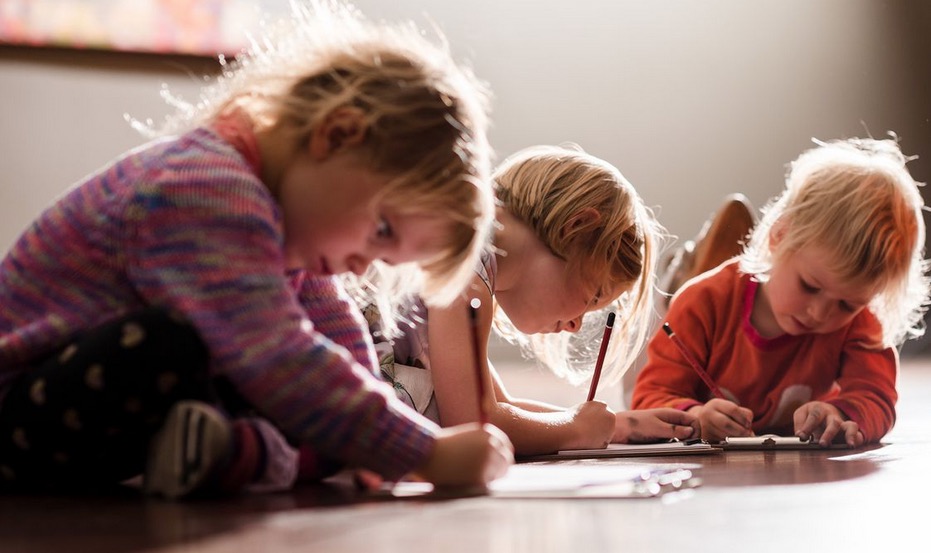 Start at Home Activities
from AGSA

Available through the Art Gallery of South Australia's website are extensive activities for children and families to create art at home to engage and inspire families and broader audiences in these unprecedented times.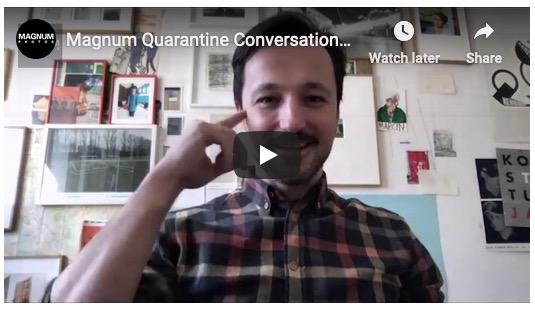 Magnum: Quarantine Conversations

A new video series, Quarantine Conversations, will see two randomly selected Magnum photographers engaging in unedited dialogue about work, current affairs and everything in-between. For the first episode, Rafal Milach and Newsha Tavakolian discuss guilt, dreams, and seeing yourself in the other, as well as Tavakolian's new project. Magnum will be uploading new work by their photographers on their Instagram feed; a talk with Martin Parr will also be live-streamed on 03 April 2020 at 16:00 GMT.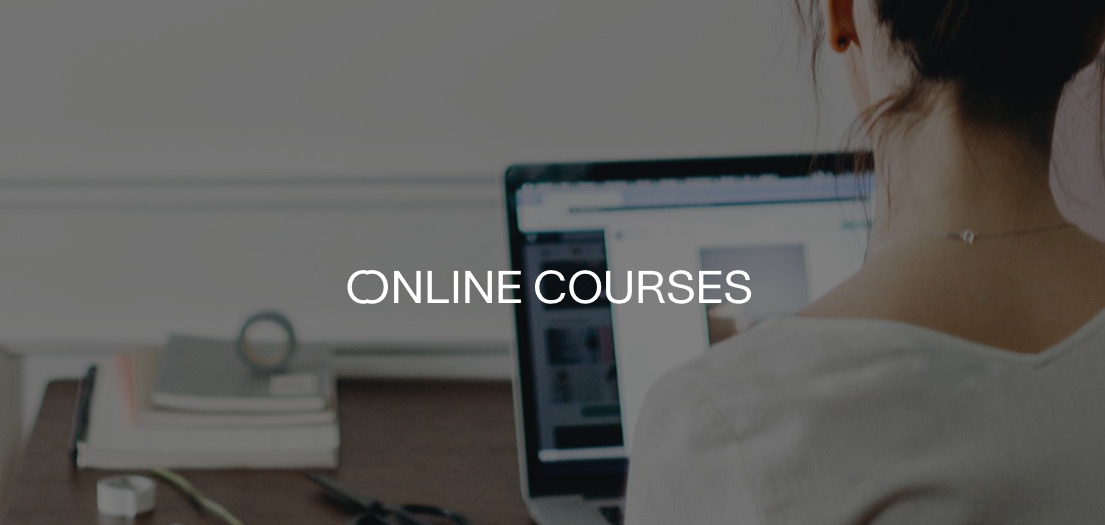 Learn online with AFTRS
AFTRS offers a range of online courses developed and delivered by top industry practitioners.
They combine the latest in industry-relevant contemporary practice and theory into all our coursework. You will walk away with skills and knowledge that can be immediately applied, and return to update and renew as needed.
The AFTRS course catalogue supports all levels of development, from introductory skills for beginners right through to advanced development for industry practitioners wanting to sharpen their skills or take on new ones.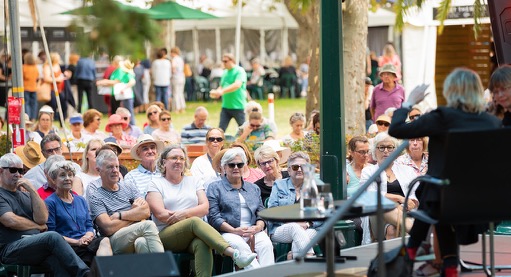 Writer's Week at Home Kit
From the Adelaide Festival

Writers' Week Session Podcasts
Immerse yourself in the amazing range of literary minds once more by listening to one (or all!) of our AWW podcasts now online.
Read one of our Top 10 Writers' Week Books
Available from our favourite bookshop, Imprints (they are open for business and also deliver!) get lost in one or all of these wonderful books that were this year's best sellers in the book tent:
Cut out Girl: A story of War, Bart van Es
The Science of Fate: The New Science of Who We Are – And How to Shape our Best Future, Hannah Critchlow
Greenwood, Michael Christie
Celestial Bodies, Jokha Alharthi
Disappearing Earth, Julia Phillips
Adults in the Room, Yanis Varoufakis
And the Weak Suffer, Yanis Varoufakis
The Weekend, Charlotte Wood
Sand Talk, Tyson Yunkaporta
Superpower: Australia's Low-Carbon Opportunity, Ross Garnaut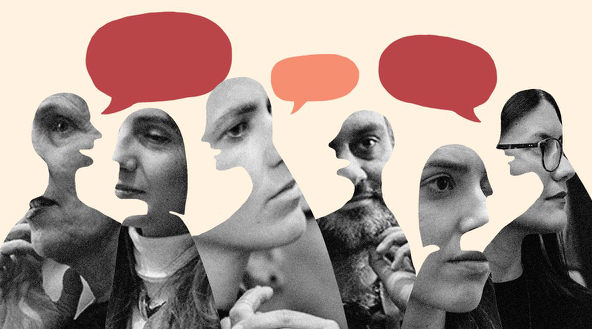 fine print LIVE
an IRL intervention
fine print issue 24, COMMUNITY, is to be presented in a new and as-yet-unexplored way, contributing an expansive new work as part of If the future is to be worth anything: 2020 South Australian Artist Survey.
COMMUNITY is two-fold: online and IRL.
The online issue takes as its starting point the overlapping themes of the exhibition; counter culture, the cosmos, identity, politics and history; furthering the conversation around them and drawing out their links.
Through an intimate sequence of live performance set within the exhibition space and alongside a special series of digital commissions, the live issue will animate art criticism, making the written word visible and audible through a collaborative spirit, and creating a public space for criticality and discourse around some of the most vital ideas in current practice.
ACE Open

Watch live-performances at the Tate in London
Congolese choreographer and dancer Faustin Linyekula had already travelled to London when his show at Tate Modern was cancelled due to coronavirus. He made the most of it though, and filmed his performance in the moody, empty mid-century industrial gallery with fellow performers who had also made it to London for the show. Each of the Tate's four galleries (the Britain and Modern in London, Tate Liverpool and Tate St Ives) also displays works online, and there's a series of videos, podcasts and online classes to keep you going between visits.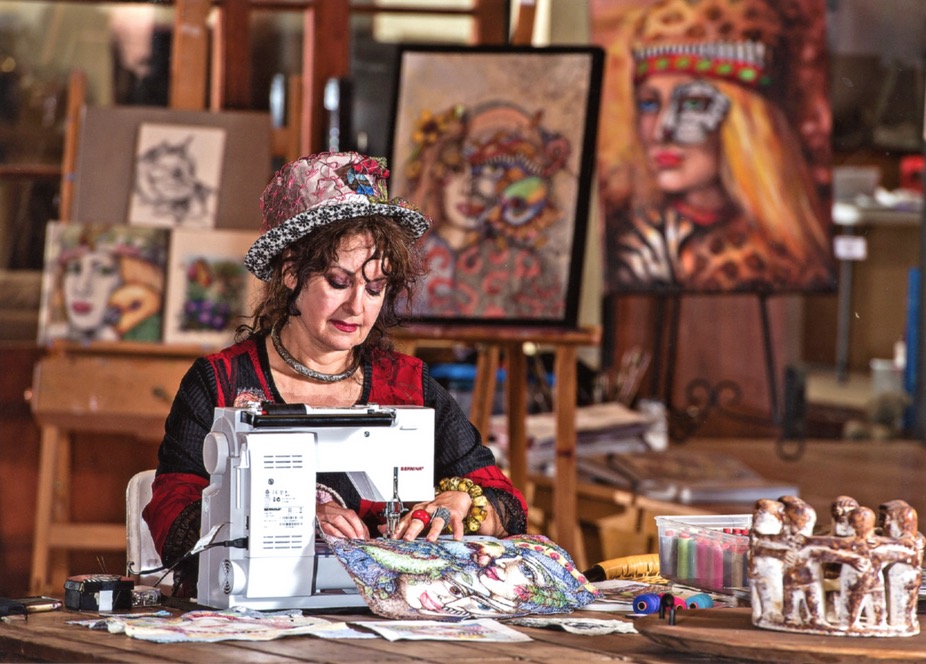 Textile Art with Cheryl Bridgart | Colour In Your Life
Textile art and fine art freestyle machine embroidery with textile artist Cheryl Bridgart Join Cheryl in her studio as she demonstrates her incredible freestyle embroidery technique. Textile art techniques and tutorial for beginners or artists of all ages and skills.
In this fine art TV show episode Cheryl Bridgart is interviewed by Colour In Your Life. In this episode Cheryl Bridgart demonstrates machine embroidery and textile art creating a fantasy abstract portrait. Cheryl's extraordinary talent and imagination for freehand embroidery is utterly mesmerising. Watch as she shares her tips for creating beautiful textile art on a freestyle sewing machine.
ICP presents: Photography from Isolation to Communication
The International Centre of Photography (ICP) in New York is offering a program of lectures by international experts including Elinor Carucci, Ben Gest and David Campany. Topics covered include how to turn your personal life into an editorial assignment, photobook editing, and digital post-processing. Each speaker will be delivering a series of three lectures, priced at $35 and delivered via Zoom.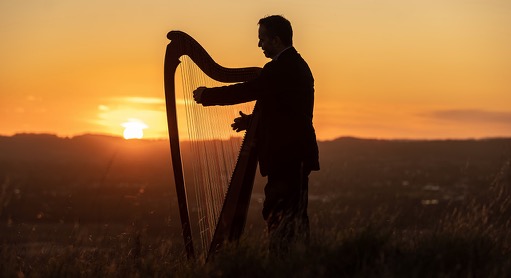 Listening Pleasures
From the Adelaide Festival

AF Concert Recordings
Thanks to our friends at ABC Classic, you can listen to some of the exceptional concerts from our 2020 Festival online:
UKARIA Chamber Landscapes
The Heath Quartet perform a beautiful program of Beethoven and Tippett.
Acclaimed violinist, Anthony Marwood was joined by cellist Timo-Veikko Valve, and pianist Stefan Cassomenos for an electrifying concert of Beethoven and Shostakovich in One Among Many.
Chamber Landscape's curator and harpist, Marshall McGuire and his ensemble Ludovico's band were joined by soloists soprano Bethany Hill and oboist Ben Opie for a program showcasing works by female composers for The Female Voice.
150 Psalms:
A Celebration of Life – performed by Netherlands Chamber Choir with The Norwegian Soloists' Choir, The Tallis Scolars and The Song Company, conducted by Peter Dijkstra
Berlin Philharmonic Digital Concert Hall
The Berlin Phil have made their extraordinary digtial archive of live-recordings and movies free for everyone. Just redeem voucher code BERLINPHIL and receive free access – time to indulge!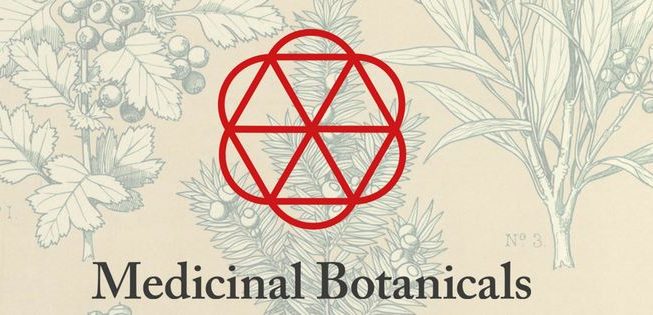 We'd like to invite members to share their interest in potential future projects. The Medicinal Botanicals Project brings together artists with botanist and pharmacologists to celebrate the important connection between people, plants, science and culture. Throughout 2019 – 2020 diverse partners will come together to produce and exhibit artwork, present symposia and host discussions in a variety of settings.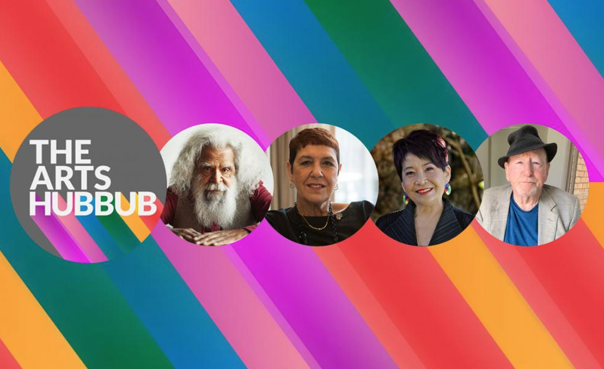 The difference between older and Elder: The ArtsHubbub episode 9
Featuring Uncle Jack Charles, N'arweet Dr Carolyn Briggs AM, Annette Shun Wah and Tony Barry.
In a culture which fetishes youth, The ArtsHubbub takes time out to value experience, celebrate age, and honour wisdom. We learn about the difference between getting older and being an elder, discover how elders reconnect us with culture, and discuss the importance of sharing your experience with younger artists.
ArtsHub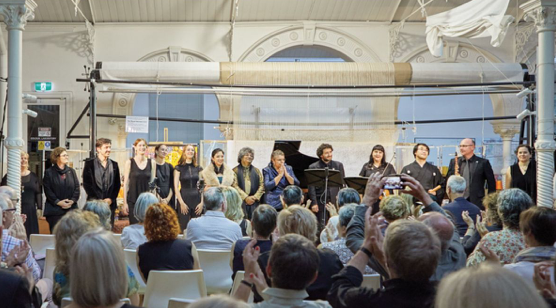 Australian Tapestry Workshop: WOVEN SONG + ABC Classic
In February 2020 the ATW continued its exciting collaboration with Deborah Cheetham AO and Short Black Opera presenting 'WOVEN SONG' to Australian audiences for the very first time as part of the 2020 Asia Triennial of Performing Arts (Asia TOPA).
This recording will be available to stream online until 30 October 2020.
Recorded live in concert at the Australian Tapestry Workshop, South Melbourne, on February 15, 2020, by ABC Classic. Producer Jennifer Mills. Engineer Chris Lawson.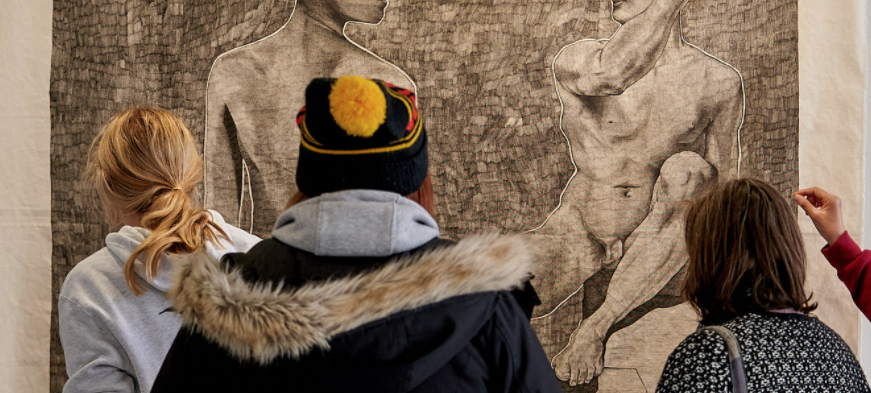 SALA Podcast
The SALA Podcast aims to engage South Australian visual artists and arts industry professionals in interviews about their arts practice and creative lives, and in discussion about topics relevant to the arts. The SALA Podcast is available wherever you get your podcasts.
SALA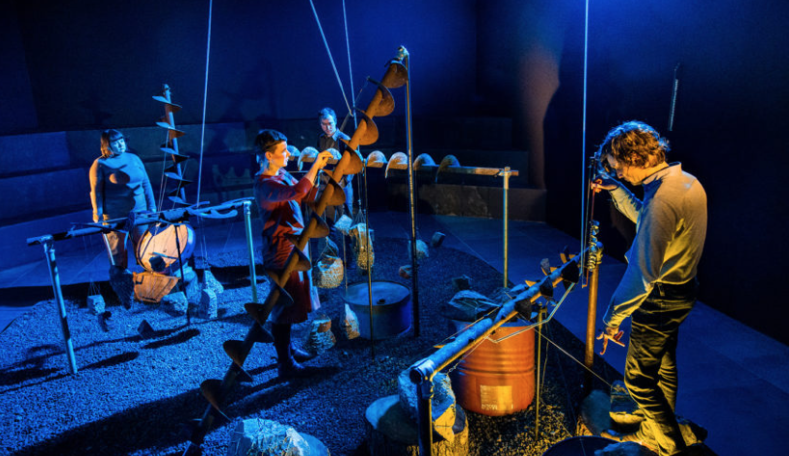 Online recording of Megan Cope's work 'Untitled (Death Song)'
When Rio Tinto blew up the 46,000-year-old Juukan Gorge rock shelters in the Pilbara in May, the traditional owners of the land, the Puutu Kunti Kurrama people, told the ABC they were in mourning.
They were "deeply troubled and saddened" by the mining megacorp's act of destroying this place of significance, severing a millennia-long tether to the land and their past.
Megan Cope's work 'Untitled (Death Song)' captures this pain – but also extends beyond it.
"People say 'Wow, it's like you predicted Rio Tinto,'" Megan tells CityMag, "but colonialism is predictable. It's predictable because it's violent."
The Quandamooka woman and artist responded to the 2020 Adelaide Biennial of Australian Art Monster Theatres theme with 'Untitled (Death Song)', a piece that is an extension of a previous work, 'Old Kahibah', but with a new twist.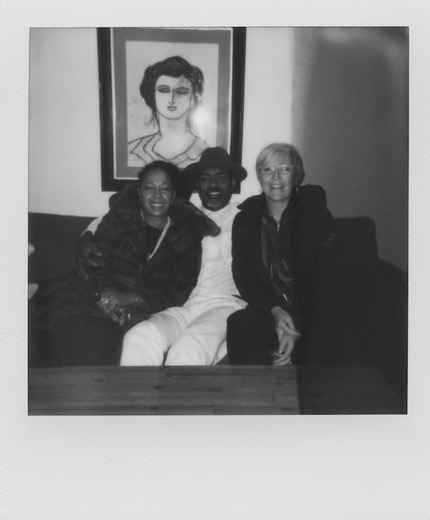 David Zwirner: Dialogues

With Covid-19 causing the temporary closure of its physical galleries, David Zwirner has expanded its digital presence. This includes its podcast series Dialogues, for which several makers or thinkers are invited to discuss how art shapes, elevates and shifts our experience. Lauded as one of the best visual art podcasts by the Financial Times, the series enters its third season with an exciting group of artists, writers, curators, and editors. New discussions will be airing every other Wednesday, with upcoming episodes including a conversation between photographer Tyler Mitchell and writer, curator, and cultural critic Antwaun Argent. Current, and past, exhibitions are also accessible via David Zwirner's online viewing rooms, including Wolfgang Tillman's Blushes #76.
JamFactory

There are many ways to connect with JamFactory, virtually, from wherever you may be.
Head to their online shop and support the many independent artists and designers whose livelihoods are currently vulnerable, read the latest articles on Marmalade and connect with them on social media ( Instagram and Facebook) where they will be sharing a variety of inspiring and uplifting content.
Artisans' Vise
Shared studio/workshop facility
1/5 Waverley Ave, Edwardstown
"Artisans Vise is a makers dream space"
They have room for more designer/makers in their collegial, extensive factory.
They are ideally located in an established industrial area close to suppliers and manufacturers at 1/5 Waverley Ave Edwardstown
Access to workspace and a professional range of woodworking and metal equipment is available.
Current members are Gray Hawk, Andrew Bartlett, Taku Kamikawa and James Howe.
For further information please contact Gray Hawk
M: 04 1142 1713

Gate 8
Gate 8 Workshop have short to mid term project spaces available.
They have different spaces and equipment available depending on your project with prices starting from $85 per week (exGST and outgoings).
Send them an email about you and your project through to Jess Loughlin (jessloughlin@internode.on.et)
or for more info visit
The Mill Adelaide
Situated in the heart of the Adelaide CBD, The Mill's Artist Studios provide space for visual artists and makers of any discipline to operate an affordable studio in a professional and arts-compatible environment. Current and past uses include sculpture, ceramics, woodworking, illustration, fashion, painting, photography and more.
Expect: Your own designated open studio space (approx 15m2), 24hr studio access, wifi and access to shared spaces (workshop, kitchen and meeting space). Leases start from 3 months.
George Street Studios
36 George St, Thebarton SA
Studio space is currently available and suitable for artists, designer makers and artisans working across furniture, sculpture and mixed medium. We welcome expressions of interest from artists and makers at all career levels. Younger and emerging artists are encouraged and will be offered access to learn from experienced practitioners.
For further details or to organise a visit please contact Tony Rosella
M: 0402 114 702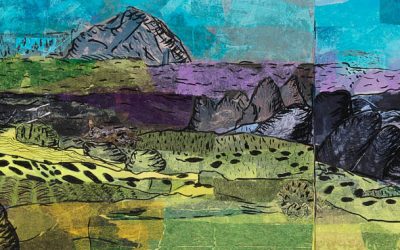 Image: Susan Bruce, Mythical Place (detail), 2018. Photograph courtesy the artist.Tracing the Anthropocene is a collaborative partnership between Guildhouse and the South Australian Museum as part of the project STEAM Incubator Series: A creative exploration of...