Image: SA Artists for Climate Action, Climate Badges, installation view, 2020. Photograph: Sam Roberts.
Zoe Freney is a South Australian artist, arts writer and educator. She is also one of the primary members of local artist collective, 'SA Artists for Climate Action' who founded #climatebadges in 2019 as a public incentive for artists concerned about climate action.
A

selection of the collective's badges, letters, and social media posts are featured in Our Future in the Landscape, an exhibition exploring urban and ecological responses to climate change, currently

on display at the Adelaide Town Hall

.

In this interview with curato

r Steph Cibich, Zoe

and the collective

discuss

the collaborative nature of the project and its ability to inspire positive climate action in our community.
Our Future in the Landscape is presented as part of the ART WORKS 2020 Emerging Curator Program, delivered by Guildhouse in partnership with the City of Adelaide.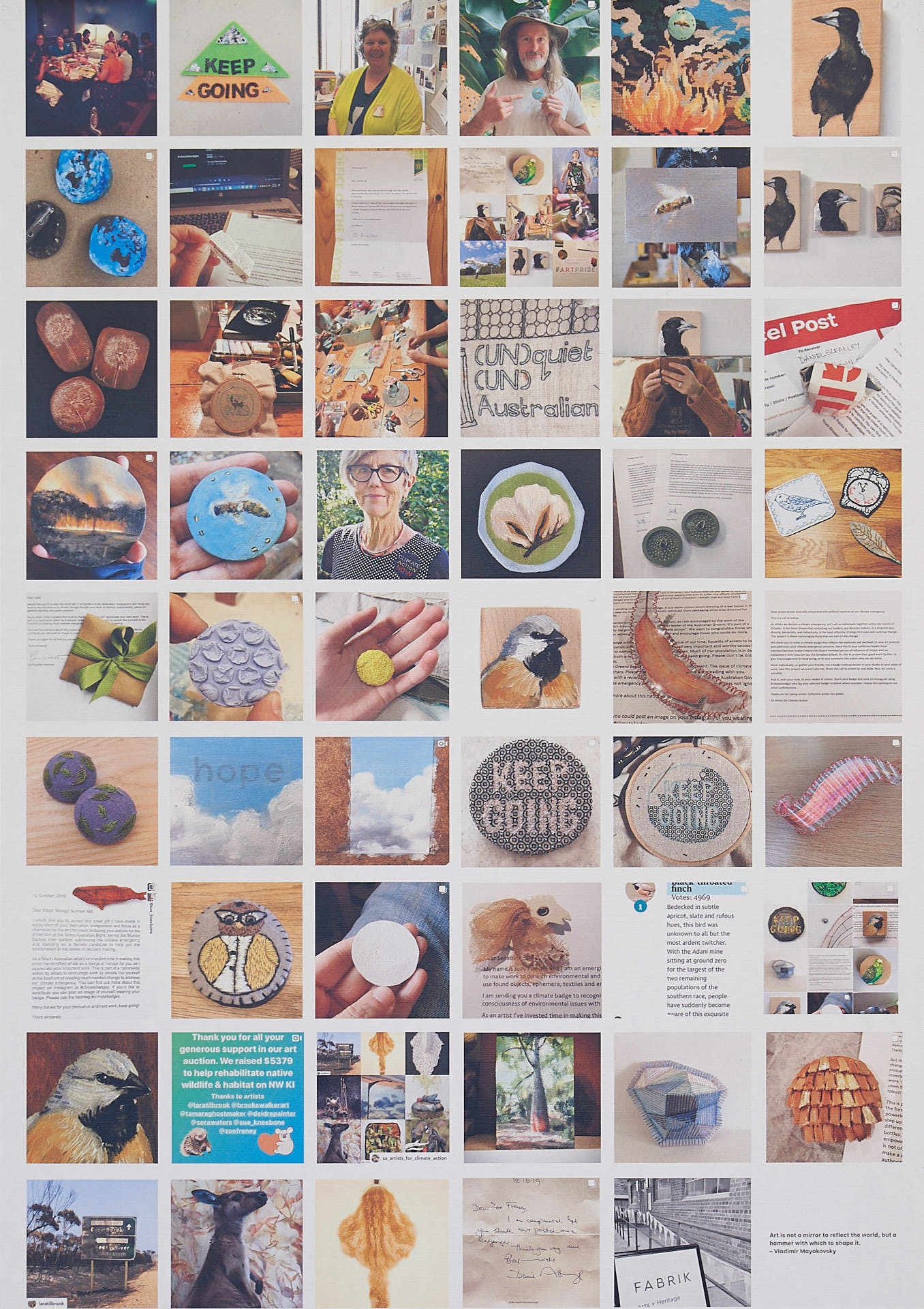 Image: SA Artists for Climate Action, Posters, selection of badges, letters and social media posts by artists and recipients involved in the #climatebadge project, 2020. Photograph: Sam Roberts.
How would you describe SA Artists for Climate Action?
We are a collective of South Australian artists who became discouraged and concerned about the lack of visible action on the climate emergency within the arts locally and nationally. We wanted to instigate positive action as a way to encourage and empower other artists to use their existing skills and knowledges to make positive statements. The idea was to encourage artists to send Climate Badges to those they saw taking action against climate change. These could be people from the grass roots level to celebrities. Artists were encouraged to send letters of thanks with their Climate Badges, and to share their badges and recipient responses on Instagram
.
Can you briefly describe the sample of works featured in this exhibition and what ideas led to their production?
The works on display in this exhibition come directly from the Climate Badges action. These include posters made from collages of Instagram screen shots, showing the diversity of the badges made by many artists. We had a great response from artists and badge recipients and wanted to show the extent of these in the posters. The great thing about Climate Badges as a project is that it combined social media impact with artworks and actions in the real world.
The badges are sent to recipients who are seen be doing positive climate action. How do you decide what badge to make and who to send it to?
We asked artists to use their existing skills to make badges. This way, we were recognising that most artists are busy people who may not have the means to commit to climate actions that took them away from studio practice or paid work for long periods. We left it very open for artists to nominate their badge recipients, with the guidelines that it should be someone who is making change. Some of the climate warriors selected to be badge recipients include Greens Senator Sarah Hanson-Young; State Greens MP Mark Parnell; local champion for the environment and Greens candidate Major 'Moogy' Summer AM; and further afield, Prince Charles; and David Attenborough. One of the badges displayed in the exhibition will be sent to Jacinda Ardern when the exhibition is over.
What kind of response have you received from the community?
The responses from both artists and badge recipients on #climatebadges on Instagram was very positive. Many artists were pleased to have a way they could contribute to a cause they cared greatly about but felt powerless to contribute meaningfully otherwise. Many artists have received positive feedback from their badge recipients, who have posted images of themselves wearing their badges on social media or sent letters of thanks via the mail. The tactility of the badges and notes of thanks that have changed hands in real life makes a contrast to the ephemeral nature of the social media platform. We hoped this would be an ongoing project but were overwhelmed by the need for badges of thanks for those who stood up to fight for the environment against the background of last summer's huge bush fire events. There has been little activity on the #climatebadges since the onset of COVID-19 and associated restrictions so maybe the project has run its course. Or perhaps, as the economy begins to recover, we will need the badges again more than ever, to recognise that we don't want to see environmental protection sacrificed to economic recovery.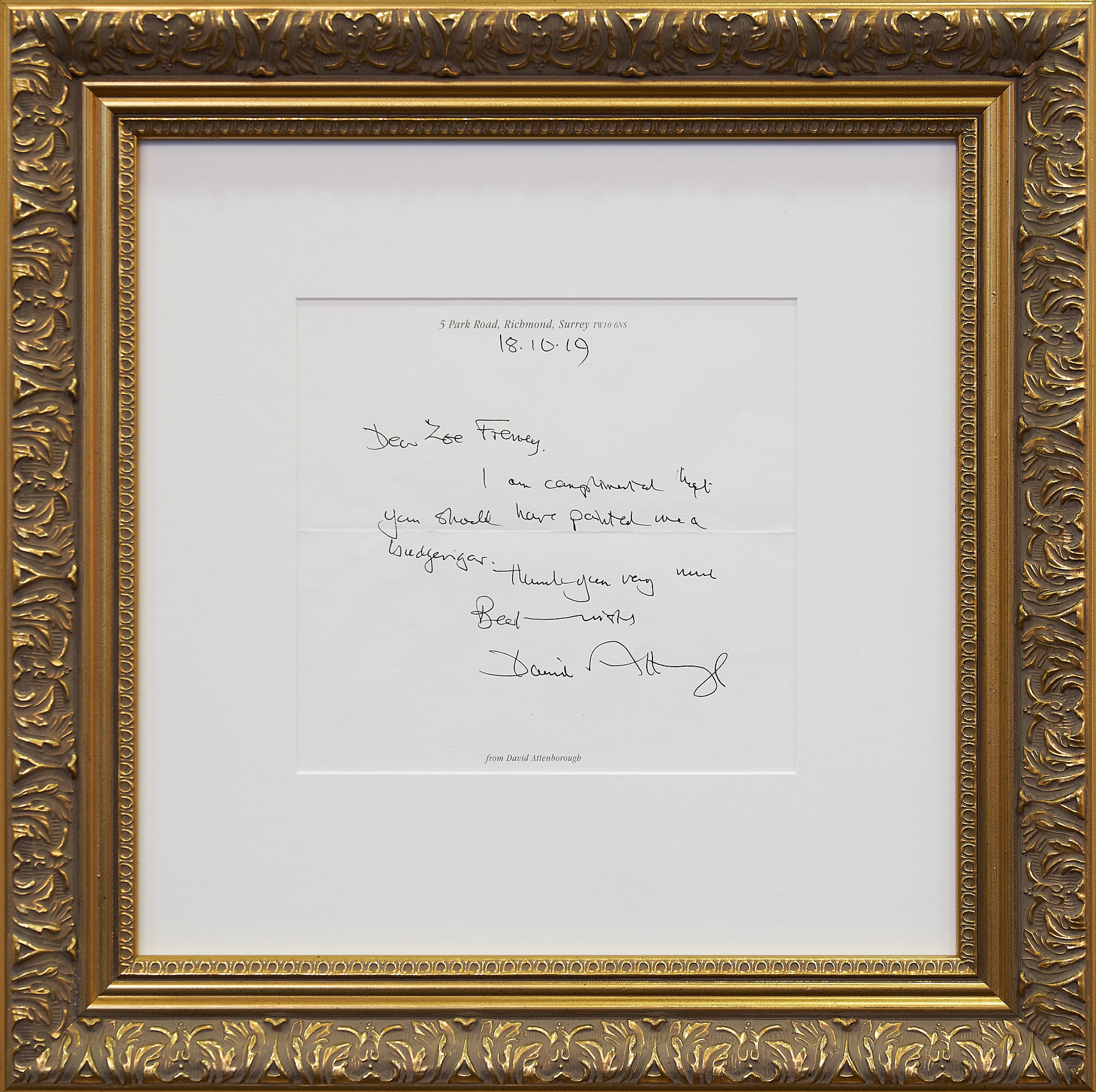 Image: SA Artists for Climate Action, Letter from David Attenborough, 2020. Photograph: Sam Roberts.
The exhibition features a letter addressed to you (Zoe Freney) by Sir David Attenborough. Would you mind sharing the story behind this letter?
I was painting little bird badges. My son loves birds and was interested in the whole project so I asked him who he wanted to send a badge to. He immediately said Sir David Attenborough. While the project also aimed to recognise grass roots environmental activists, I agreed that Attenborough was a worthy recipient. His documentaries have been a strong influence on me since my childhood, and I've shared this with my own children. I find it harder to watch his more recent programs that deal with environmental destruction and loss of species, they are too sad. Throughout his decades-long career Attenborough has seen the extent of change in the environment and this has led him to be an outspoken advocate for the environment. I'm sure he gets hundreds or thousands of letters a week but I really wanted to send him a token of my family's appreciation for his work and his activism. I feel like it's very special that I can use my artwork to reach someone who has meant a lot to me for such a long time. And of course, he's such a kind person that he sent me a hand-written letter of thanks. I wish I could have thanked him for this, but a thank you letter for a thank you letter seemed a bit silly. I hope he knows how much his letter and his life-long work means to me.
How do you think #climatebadges reflects or challenges urban and ecological responses to climate change?
This is a great question! We think what the climate badges project does is to acknowledge how helpless many people feel in the face of the vast and complex issues of climate change. As artists, many of us are working multiple jobs to make a living, we are time poor, and we feel we don't have the means to make meaningful change. We look to our leaders to recognise the threat facing humanity and all creatures and ecosystems and to make appropriate policy change. SA Artists for Climate Action met at a point when we all felt particularly helpless and frustrated that the government was not leading in this area. We also felt that arts governing bodies were not making meaningful statements about climate action. We recognise the Climate Badges project is small and ultimately won't prevent mines going ahead or logging in old growth forests, but it is a way of encouraging artists to lend their voices in supporting those who may be in positions to make change.
How do you think the works on display by SA Artists for Climate Action connect with the space and location of the Adelaide Town Hall?
The works are shown against a backdrop of a grand and imposing interior, where important decisions are made by local government that have direct impact on the community, such as urban and environmental planning. It is a positive and democratic reflection that the Town Hall is open to showing works that reflect the concerns of the community, and for the Adelaide City Council to have had the courage to make a declaration of a Climate Emergency.
The exhibition is titled Our Future in the Landscape, which draws attention to the challenges facing our future as we know it. Do you find this concept disheartening, or do you prefer to view the current climate crisis as an opportunity to bring communities together?
Honestly, I (Zoe Freney) feel very disheartened when I think about our future and the climate. Our response to the COVID-19 pandemic shows we are capable to make change when presented with a crisis we can see, but we are less able to respond to the 'idea' of climate change – even though its impacts are also being felt in the present. However, as we have seen, crises do bring communities together. The positive, generous actions of the Climate Badges project is an example of the many ways people react to crisis. I hope we can engender more of this caring and community response in future and that our future in the landscape looks very different to our arrogant, ignorant colonial past.
SA Artists for Climate Action (Sera Waters, Deidre But-Husaim, Sue Kneebone, Tamara Baillie, Zoe Freney)
Local artist collective 'SA Artists for Climate Action' founded #climatebadges as a public incentive for artists concerned about climate change. This group of artists initiated the project out of frustration for government inaction and a lack of activity in the arts industry to combat what many view as a growing climate emergency. Participants are encouraged to make their own climate badge to be sent to someone who they believe is doing positive climate action. The badges are made by artists, teachers, children, and various members of the community. As the project continues to grow, recipients include neighbours, council members, politicians, environmental activists, other artists and international figures (including David Attenborough). Artists and recipients are encouraged to share their experiences on Instagram using the hashtag #climatebadges.